This is the third installment of how to go cruising on a trailerable powerboat (and do it with limited time, on a tight budget, and possibly alone; although it's always better to share an adventure) with this section focusing on outfitting your boat and tow vehicle. As we've discussed, the boat would serve as an RV while in transit and then be launched at different cruising grounds around the country. In this installment, let's look at some necessary equipment to make this cruise (which could potentially stretch two to three years) more of a lifestyle and less like camping.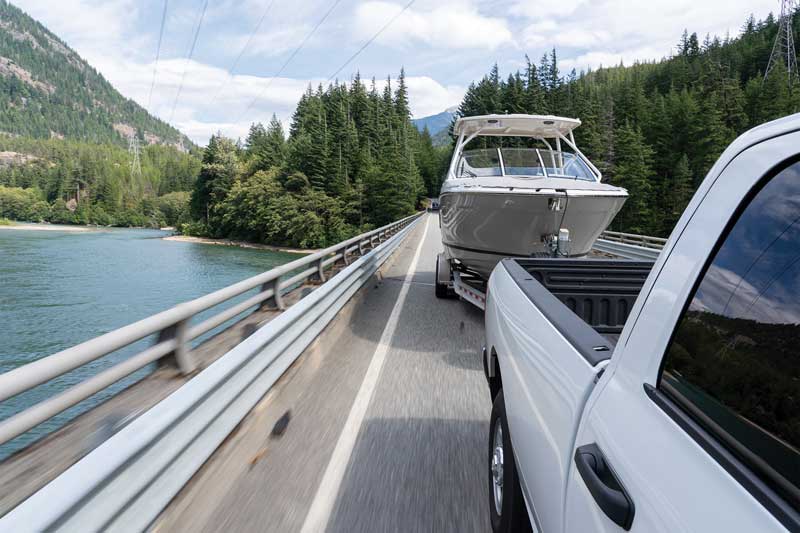 Stuff for the Boat
We've determined that we're looking at a 24- to 30-footer that can make quick miles on a trailer and get launched at the best places. This means there's at least one cabin, a head, a galley, and some decent stowage space for extended living. Although you may cruise dock-to-dock, you'll still want to carry enough stuff to be able to stay out for longer periods of time. Here are some ideas on how to outfit the boat to be able to stay on the hook for a week or so at a time. 
Electronics: Unless you're buying a new boat that comes with a suite of the latest navigation and communication technology, you may consider upgrading whatever is aboard. New cartography packages, combined with at least a VHF radio, are necessary for safety. A satellite phone is a good idea for cruising in remote areas in Alaska or down in Mexico, although you'll probably not need to invest in single side band (long distance) radio communications. Radar and AIS will be very helpful if you plan to make night passages or cruise in foggy areas. Don't forget a good depth finder for anchoring or even a full sonar system if you like to fish. An autopilot is a given, especially if cruising singlehanded, because nothing exhausts you quicker than hand steering. 
Finally, invest in a good entertainment system, which doesn't have to be elaborate. A decent stereo for tunes and maybe a TV to play movies. A large laptop will work for this too. A way to get near-shore WiFi (like a booster antenna) will let you stay connected as well as entertained. Some of the above (like navigation and entertainment) can be done with personal electronics without breaking the bank. 
Comfort: A good-sized refrigerator will let you pack plenty of perishable stores even if you expect to be reprovisioning fairly regularly. A watermaker may not be needed for coastal cruising if you plan to put in each night, but if you want to head to the Bahamas or down to the Sea of Cortez, having a way to resupply with fresh water is critical to not feel like you're living in a tent. 
The need for shelter from the elements is important, too, whether you're trying to stay out of the rain or need a respite from the beating sun. Extending canopies work great to cover the cockpit or deck so you can enjoy the outdoors. 
Another issue is having enough space not only for you, but also for visitors. Friends and family will want to visit, and a second bunk (or a convertible settee) will let you have guests for short stints. Make sure your own bunk is comfortable, so you don't wake up every morning with a backache. Boat mattresses are usually skimpy chunks of foam, but you can get custom bedding made or add a topper to make your sleeping arrangements more plush.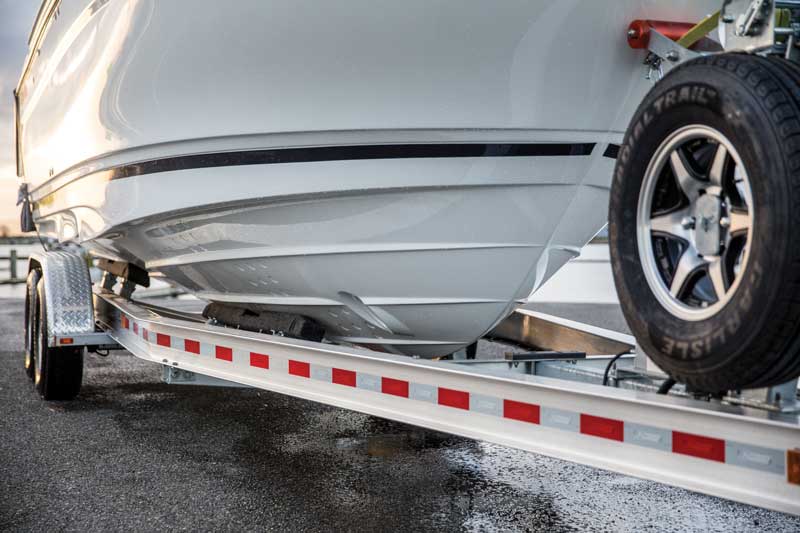 Power: Consider upgrading the house battery bank with larger or more modern power storage technology. Fridges, autopilots, and watermakers are power hungry, so adding solar panels may help keep the bank topped up. If there's room, you may even consider a small generator to save hours on the primary engine(s). An integrated genset (plumbed to the ship's main fuel supply) is ideal, but you can also carry a portable gas-powered Honda generator to put on deck only when needed. 
Safety: A good portion of your budget will need to be dedicated to safety items like a good dinghy that will let you get ashore quickly or even act as a backup in case the boat sinks or catches fire. A way to carry a dinghy and outboard (and launch it easily) will need to be worked out because towing a dinghy uses more fuel and can be unsafe in certain circumstances. A small life raft in a valise case is good even if you plan to be only a few miles off the coast because getting out of the water increases chances of survival exponentially. Flares, PFDs (for guests too), and a handheld dewatering pump are a given, as is plenty of extra line to tie up in a blow.
A not-so-obvious safety item is ground tackle, which is your anchor, chain, and windlass. Setting up the windlass with a remote will help singlehanders drop the hook on their own, and there's no better way to get a good night's sleep than a big anchor. Plow anchors are the most popular, but carry a small secondary to tie up fore and aft or as a backup. Small boats like these may be weight sensitive, so carrying 200 feet of chain isn't realistic; that may limit where you can anchor. A line/chain combination will be needed. Finally, have a reliable way to get the latest weather forecast. A simple satellite messenger such as InReach will get you basic weather info in a pinch. 
Stuff for the Tow Vehicle
We've discussed the three-fourths or one-ton pickup that will be needed to tow some of these trailers. But these vehicles will need to do more than just tow—they'll need to be your overflow storage space for extra gear or a pet. A model with an extended cab will help stretch the space as will a camper shell where you can put well-labeled tubs so you can get to winter clothes, tools, fishing tackle, dry stores, and other gear that's not needed daily on the boat. For smaller boats, a Sprinter van (with a towing capacity of 5000-7500 pounds) may work and will add tons of storage (and roadside sleeping) options.  
Spares and tools for both the trailer and the vehicle are a given, and don't forget to get roadside assistance for both the vehicle and the trailer because they're usually priced separately. 
This is just an overview of what will be needed, and some items will change depending on where you'll cruise most of your time. Although you may not be far from shore, you will be far from home, so carrying a lot of stuff is necessary for a sustainable and successful cruise. 
By Zuzana Prochazka
---
To catch up on Part 1 in this series, check out Buying a Trailerable Boat. To read Part 2, visit the Boat, Motor, and Tow Vehicle. Stay tuned for Part 4 in the August issue of PropTalk Magazine.