Currently, these are the new boats and products expected to be at the 2023 Annapolis Powerboat Show. However, sometimes things change, and more boats/products could be added last minute, so be sure to check for updates as we get closer to the show dates. For all the details you need for visiting the show, check out our guide to the Annapolis Powerboat Show.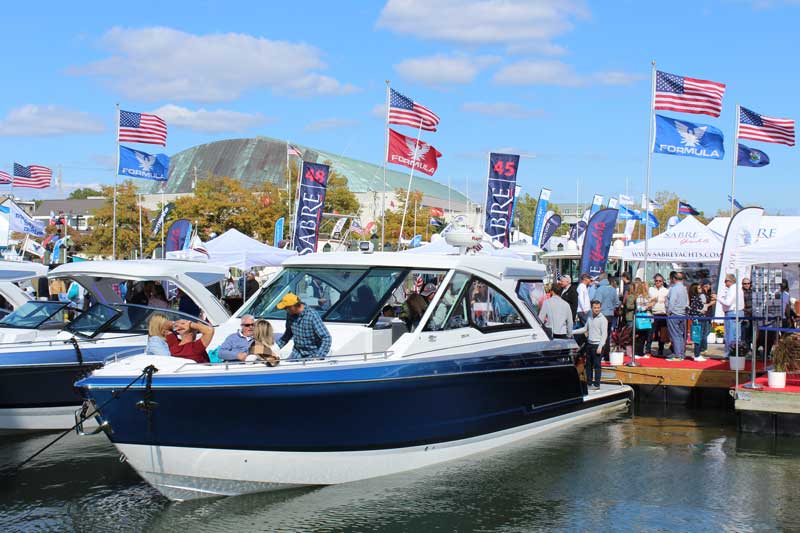 New and Premiering Boats
For updates, visit the New and Premiering Boats page on the Boat Show website. 
AluminusRay
This company custom builds any type of aluminum boat with lengths from 17-30 feet. The boat is built with marine grade aluminum 5083 that will last for generations with proper maintenance, and the manufacturing process is very efficient to keep the cost down. Everything is CAD designed and hatched out on a 3D model before it is precisely cut on CNC machines, and then hand welded. The boats are comprised of all aluminum and stainless components to prevent rust from salt water. Dock H, Baltimore Boating Center.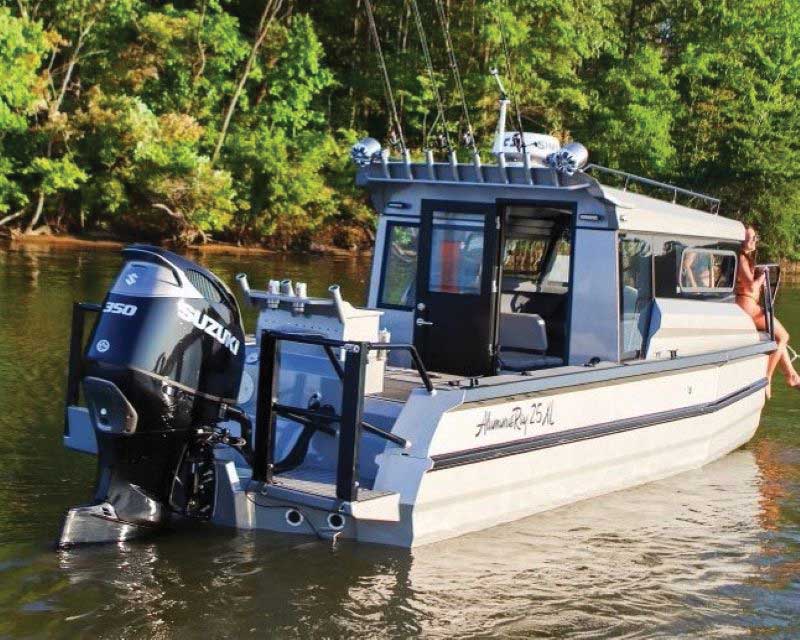 Candela C-8
The Candela C-8 DC glides silently above the water at speeds of up to 27 knots thanks to a combination of innovative electric propulsion and hydrofoiling. With a longer range and higher cruise speed than any preceding electric boat, the C-8 delivers an unparalleled and comfortable sea experience. A full charge takes just 30 minutes with DC-charging. Range is 57 nautical miles at 22 knots. Candela, Dock K2.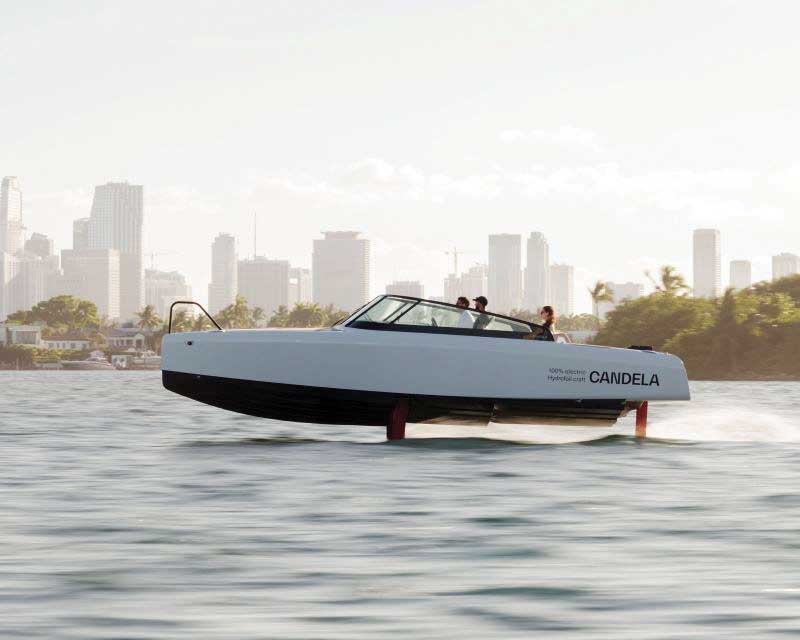 Contender 26BAY
The 26BAY offers the performance and fishability you can expect from a Contender along with the versatility to take you deeper into the bays and backcountry than ever before. Combining the world class running surface of the 25BAY with some new updates and modifications, the 26BAY displays Contender's continued dedication to innovation through fishability and performance. Dock C, Cedar Point Marina.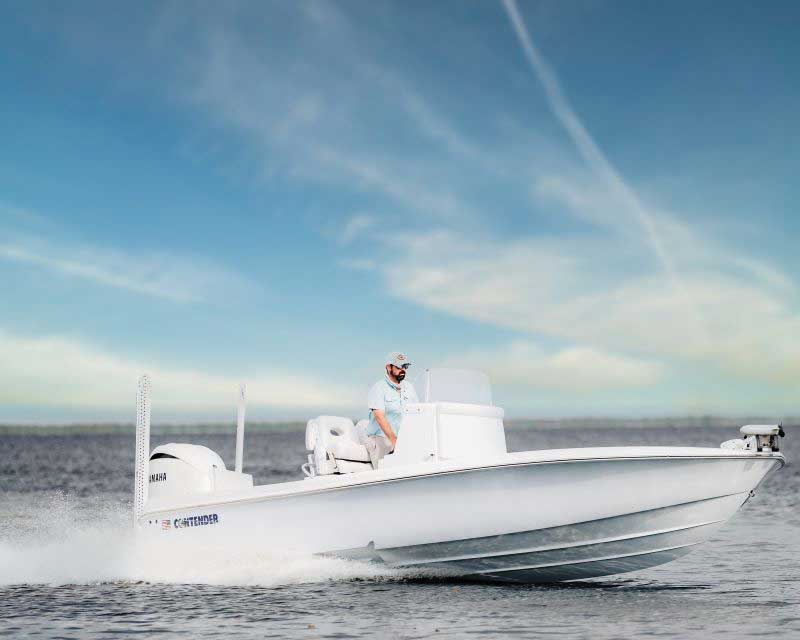 Donzi 39VRZ
Showcasing a race-proven running surface, all new aerodynamic T-Top design, and interior styling unlike anything on the water, the new Donzi 39VRZ is a game changer in many ways. With triple Mercury Racing 400R V10's, this brand-new model is poker run ready! Dock C, Total Marine.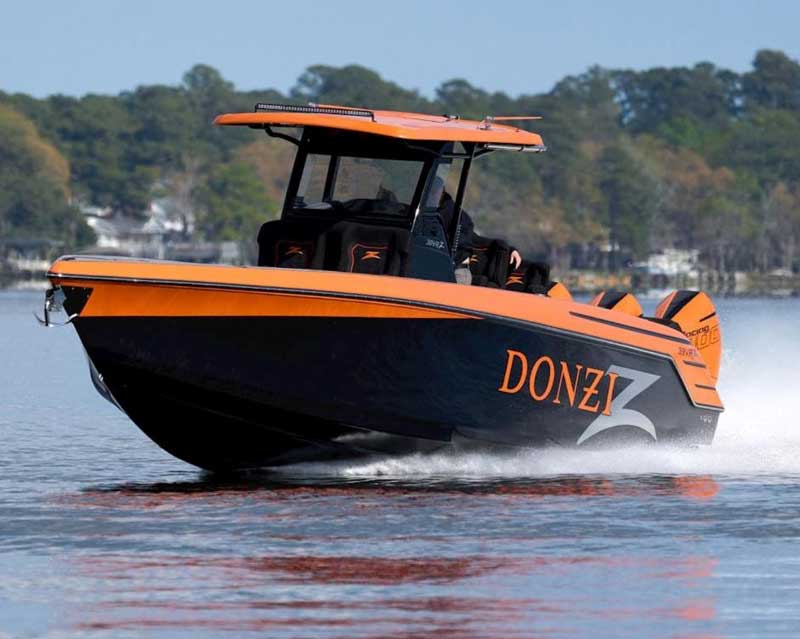 Everglades Boats
Stay tuned for details on a new offering from Everglades Boats! Annapolis Boat Sales, Land 7. 
Fountain 39DX
At its heart, the boat boasts the awe-inspiring power of the Mercury Triple Verado 400M engines, propelling you through the water with unparalleled grace and velocity. This is the world's first high performance dual console! Visit Total Marine at Dock C.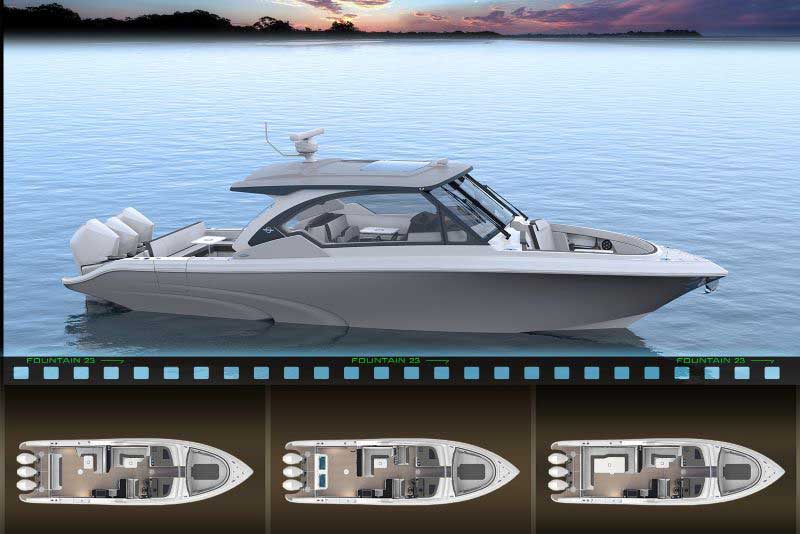 Ingenity EL2+
Focused on bringing sustainable solutions to the marine industry, Ingenity integrates the latest in environmentally conscious propulsion technologies into the most demanding boating applications. With its swimplatform, the EL2+ is 25.5 feet long overall with a beam of eight feet, six inches. It can accommodate up to 10 passengers and can reach a top speed of 25 knots. At lower speeds, its fully charged 126 kWh battery can support a complete day out on the water. Recharge times range from overnight to as little as 1.5 hours depending on which charger option customers choose. Guests may sign up for demonstration rides each day of the show. Annapolis Hybrid Marine, Dock F2.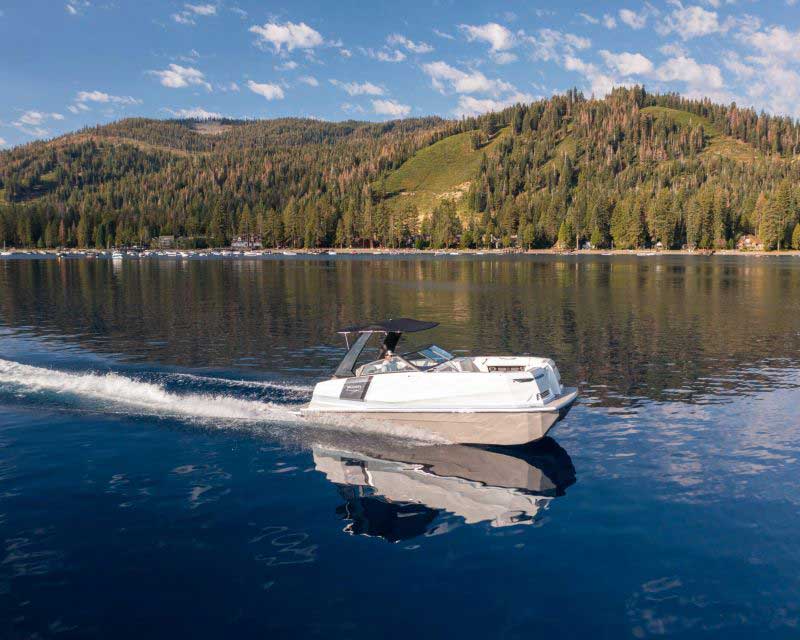 Kencraft Bay Rider Bay 219
The KenCraft Bay Rider Bay 219 is a bay boat built like a big center console. With bronze thru-hulls, 10 inch wide stringers, and a ton of standard features, this boat is a great option for someone who spends as much time cruising with their family as they do fishing with friends. A shallow 12-inch draft and 14-degree deadrise at the transom set this boat up to do well in shallow water and have the sharp entry to cut through chop when the weather gets rough. Intrinsic Yacht & Ship, Land 17.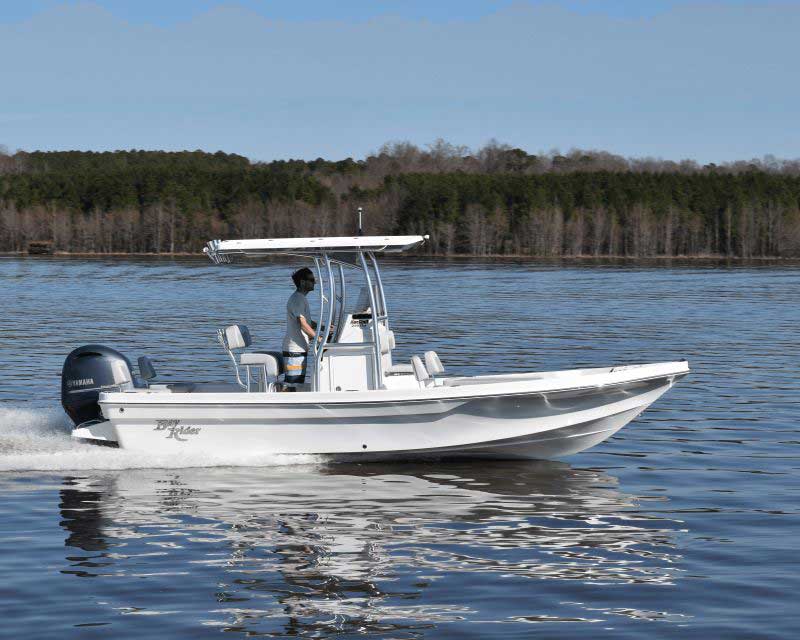 Kencraft Bay Rider Skiff
The KenCraft Bay Rider Skiff 2060 is the KenCraft experience in the most compact form. Built with the best of materials and construction techniques typically reserved for larger boats, the Bay Rider Skiff 2060 is a great boat to cruise the creek, hit the sandbar, or do some shallow-water fishing with family and friends. Intrinsic Yacht & Ship, Land 17.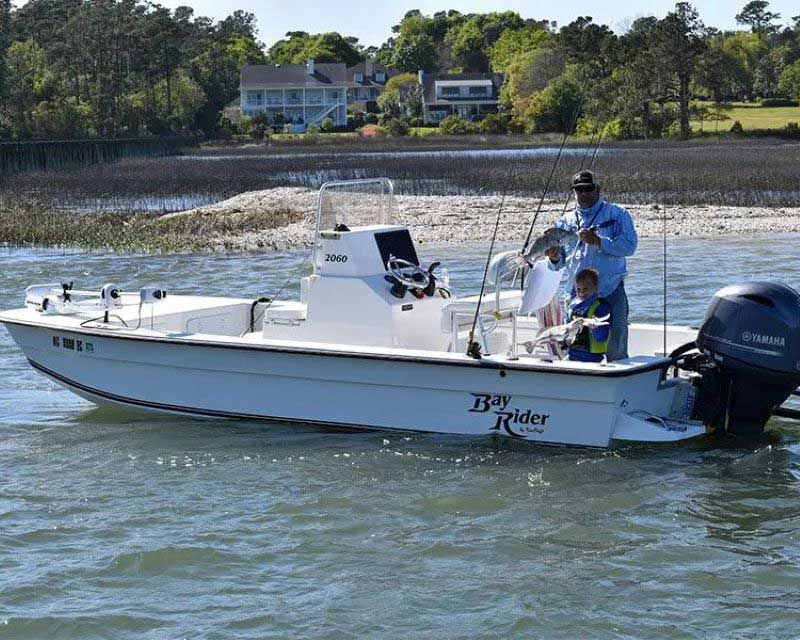 Laguna Catamaran Dinghy
The Further Customs Laguna Catamaran Dinghy is an ultra-stable and responsive inflatable catamaran designed with a wide-open bow and generous floor space, providing room for extra guests and gear. It is reinforced with extra protective layers of military grade PVC and impact protective strips and can be easily transported by the included wheeled carrying bag. The Laguna 330 and 290 will be on display at Dock F2, Annapolis Hybrid Marine.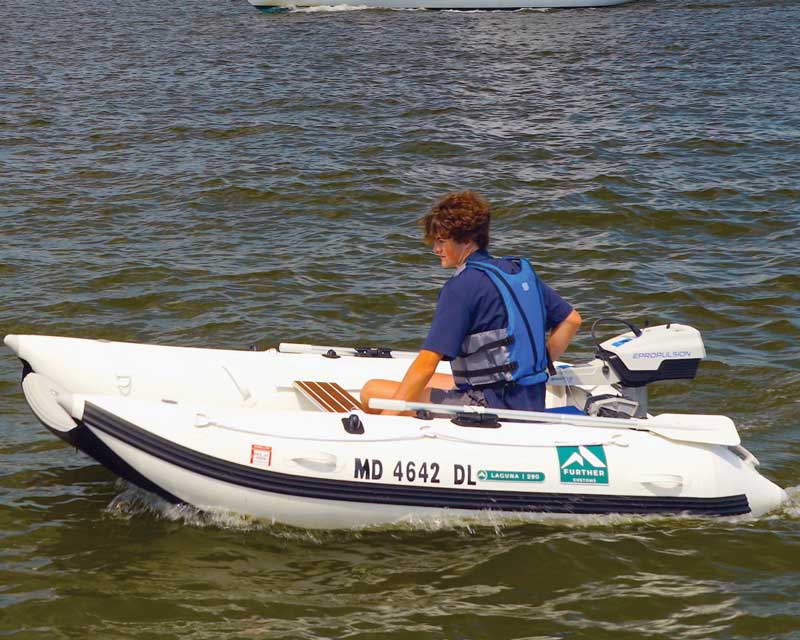 Princess V50
The all-new V50 features the latest dynamic exterior design from Princess Yachts, voluminous space, and exceptional performance synonymous with the brand's V Class range. This yacht offers a ton of customization options, starting with the option of an enclosed or open main deck configuration with L-shaped seating or a sunpad aft leading to the spacious saloon and helm seating. Dock A, Viking Sport Cruisers.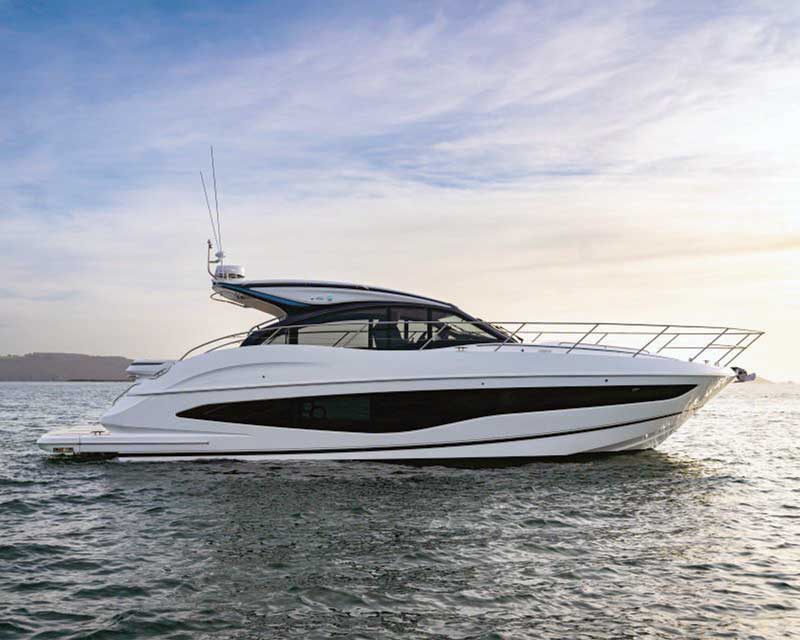 Regal LS9
Engineered for an amazing day boating experience, the LS9 features premium craftmanship and thoughtful design choices from the standard power hardtop, edge-to-edge seating, standard 12-inch displays with digital switching, the standard power platform that lowers and raises with the touch of a button, the optional SandbarSubs, and more. Regal, Dock H.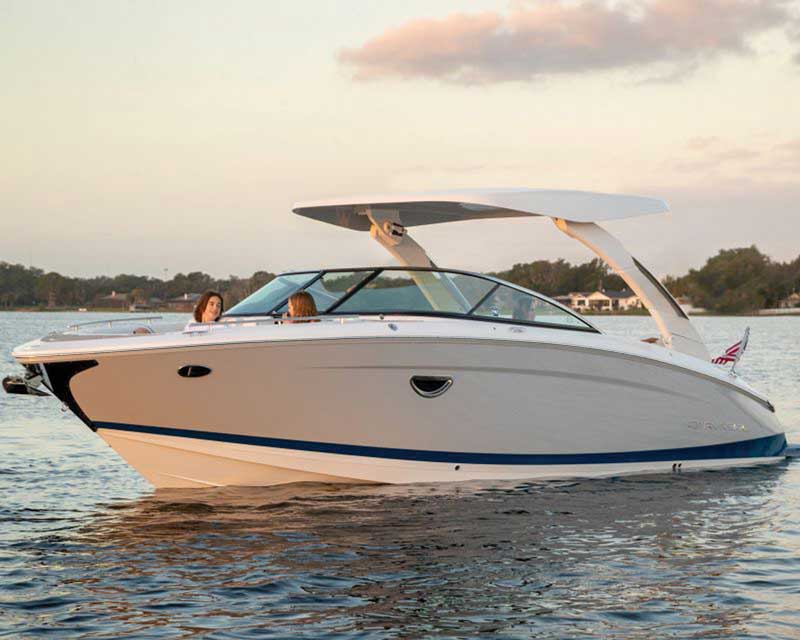 Solara S-310 Coupe
The new Solara S-310 Sport Coupe combines the best of overnighting, cruising, watersports, and fishing. With innovative convertible seating areas, your deck space can be transformed for any occasion. The full-size cabin, with a standalone wet head, is a luxurious respite. The fully enclosed helm area allows for boating in any weather. And the Solara Standard ensures this boat is equipped with everything you need to make your time on the water more enjoyable. Dock F2, Pocket Yacht Company.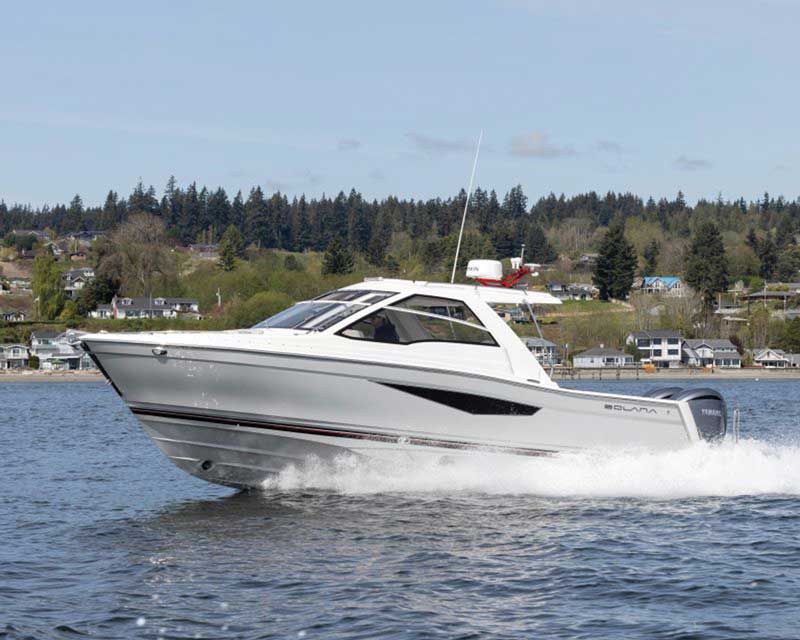 Sportsman 231 Heritage with Seakeeper Ride System
This boat's family-focused design revolves around fun on the water. This boat's hull was designed to run on a single outboard engine, and the offshore hull design ensures a safe, dry, and comfortable ride. The oversized hardtop is standard, and it this model has a certified capacity of up to 12 people. The Seakeeper Ride is a first-of-its kind vessel attitude control system. Key benefits include up to 70 percent of underway pitch and roll elimination, coordinated turn (automatically adjusts the heeling of angle of your boat during turns), auto trim, list/level control (never allows vessel list from movement onboard, wind, uneven load, prop torque, etc.), and hole shot control (optimized to allow for faster acceleration, getting the boat on plane more quickly, improving fuel economy). Dock E2, Riverside Marine.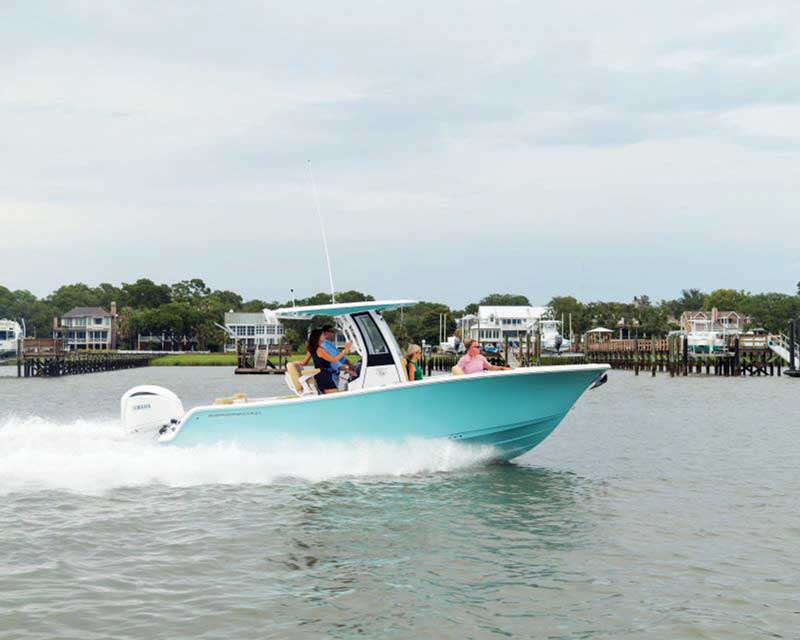 Sportsman 232 Open with Seakeeper Ride System
Designed to be the ultimate family fishing boat in the 23-foot class, the Open 232 brings you fit, finish, and features not seen in this category of boat. The fishing amenities check every box for a day of offshore fishing including ample rod storage, Gemlux rod holders, a large, insulated aquarium livewell, and more. Then when it's time for the family to jump on-board you're greeted with safe comfortable seating, insulated coolers, and storage to multiple anchors to make sandbar trips a breeze. Dock E2, Riverside Marine.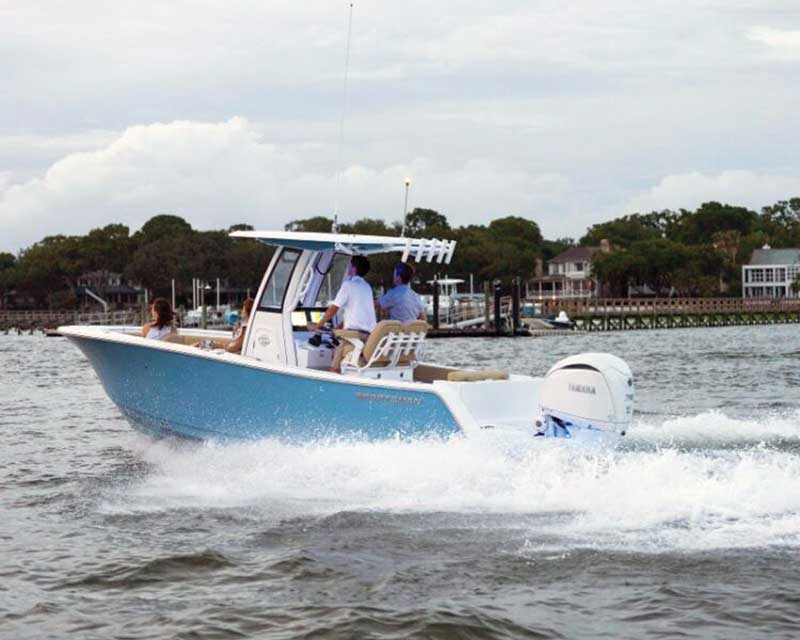 2024 Sportsman Open 252CC
This latest Sportsman design has cutting-edge electronics with the perfect combination of family-friendly features, cruising comfort, and offshore fishing capabilities—all in one easy-to-trailer 25-foot package. With a sleek and stylish design, this center console delivers exceptional performance and handling, making it the ultimate choice for any boating enthusiast. Dock E2, Riverside Marine.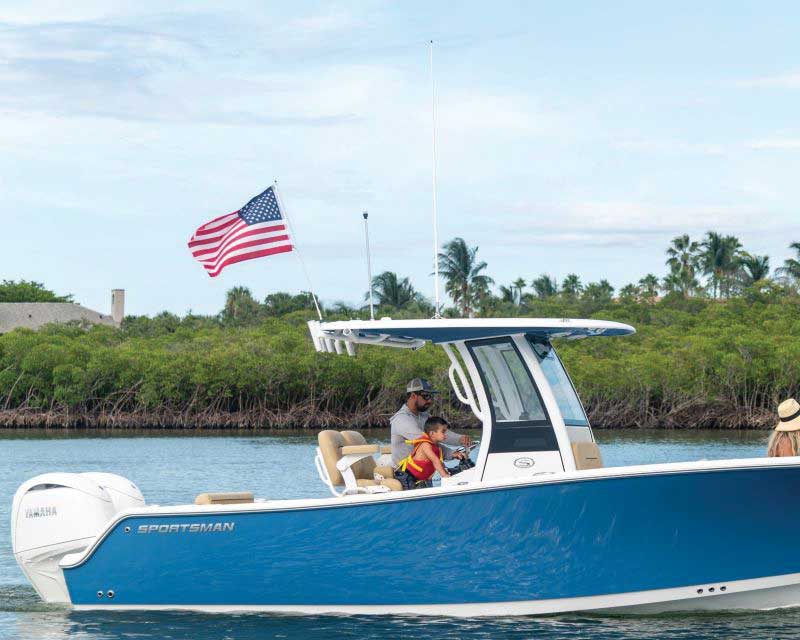 Tiara EX60
From its sleek design to cutting-edge technology, the EX60 embodies flexible luxury and endless adventure. The Tiara Yachts team combined lessons learned from its popular LS series alongside the established success of its Coupe models to maximize exterior enjoyment, while still providing all the comforts and amenities needed for extended stays. In regards to power, IPS units pair with the latest Volvo technology including Electronic Vessel Control and Interceptor Trim System with Active Ride Control, engineered to reduce noise and vibration. With four different cockpit modules focused on cruising, entertaining, or enjoying your favorite watersports to choose from, owners can create an exterior layout entirely and exclusively of their own selection. Dock F2, North Point Yacht Sales.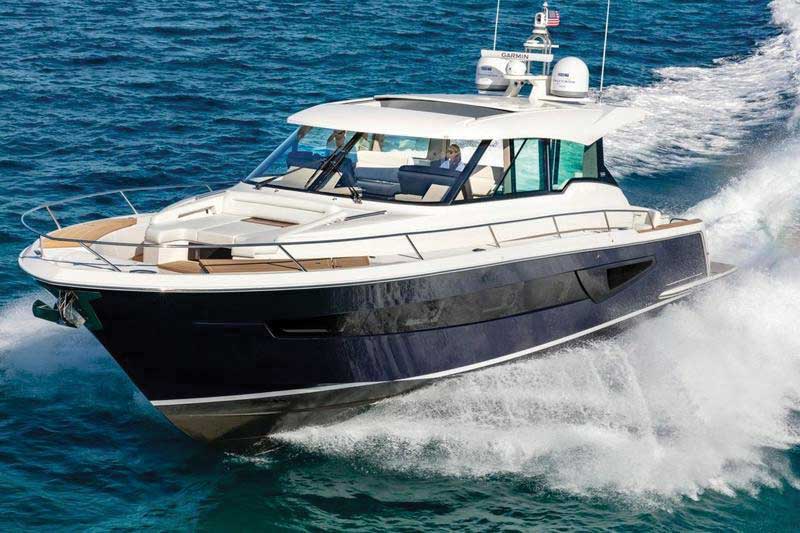 New Products
For updates, visit the New Products page on the Boat Show website.
Made Plus
The debut offering from Made Plus is the "SKIFF" lifestyle shoe, a loving tribute to Annapolis' rich boating history, specifically inspired by the small boat that shares its name. The made-to-order SKIFF with UPKNT technology consists of six upcycled plastic water bottles, Azo Free dyes, and upcycled components such as laces, webbing, and support structures. With a blend of 97 percent polyester and three percent stretch spandex, the SKIFF fits fantastically without that brutal break-in window. Headquartered in Annapolis, MD, every pair of Made Plus shoes is made-to-order and crafted with care in the U.S. Made Plus, Tent D26.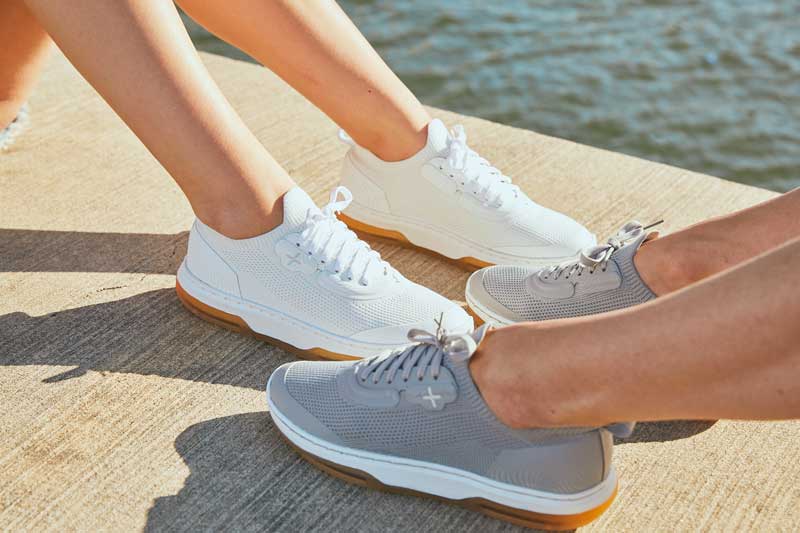 TankAssure
The TankAssure is compatible with any polyethylene, fiberglass, or metal tank. Its submersible set-and-forget sensor simplifies installation and wire management, while its low-profile wall indicator eliminates protruding switches for a sleek look. Using the Raritan App, available for free from your App Store, calibration is a breeze; enter the tank's height value and calibration is complete! Unique to this product is TankAssure's integrated Blocked Vent Detector. Flushing into or pumping out against a blocked vent can cause permanent damage to tanks. Easily read up to four tanks on the Raritan App or most onboard Multi-Function Display's (MFD's) when using its NMEA2000 certified adapter. Even when the app is not connected and you are on the vessel a push notification will let you know of an empty or full tank as well a blocked vent. Raritan Engineering Company, Tent B-32, B-34.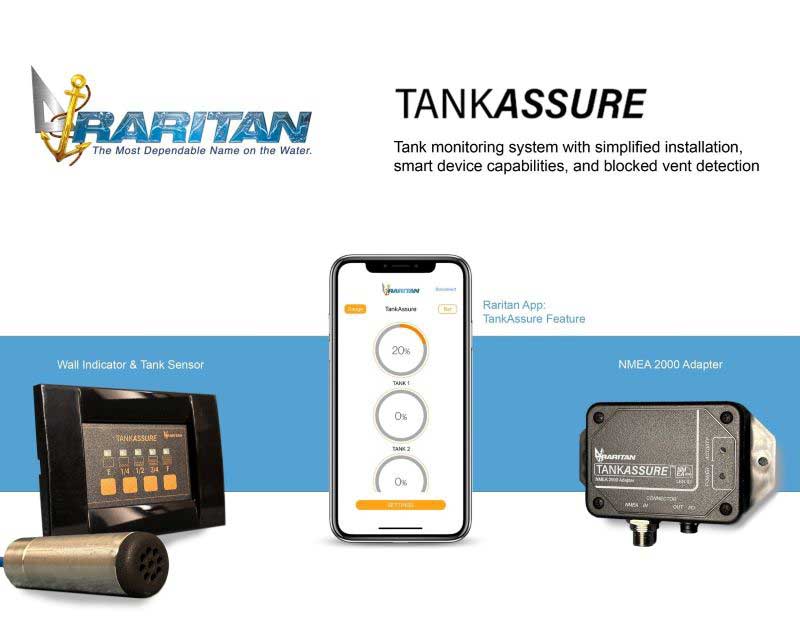 ---
Don't forget to check out PropTalk's Guide to the Annapolis Powerboat Show!