Margaret Butler was raised in the inner city, where she wasn't exposed to recreational boating, but after she and her husband purchased their first recreational powerboat, Margaret fell in love with the boating community and meeting people from all walks of life. Membership in the U.S. Coast Guard Auxiliary only fueled her growing interest in boating. Now a leader in the Auxiliary, Butler shares here her story in her own words.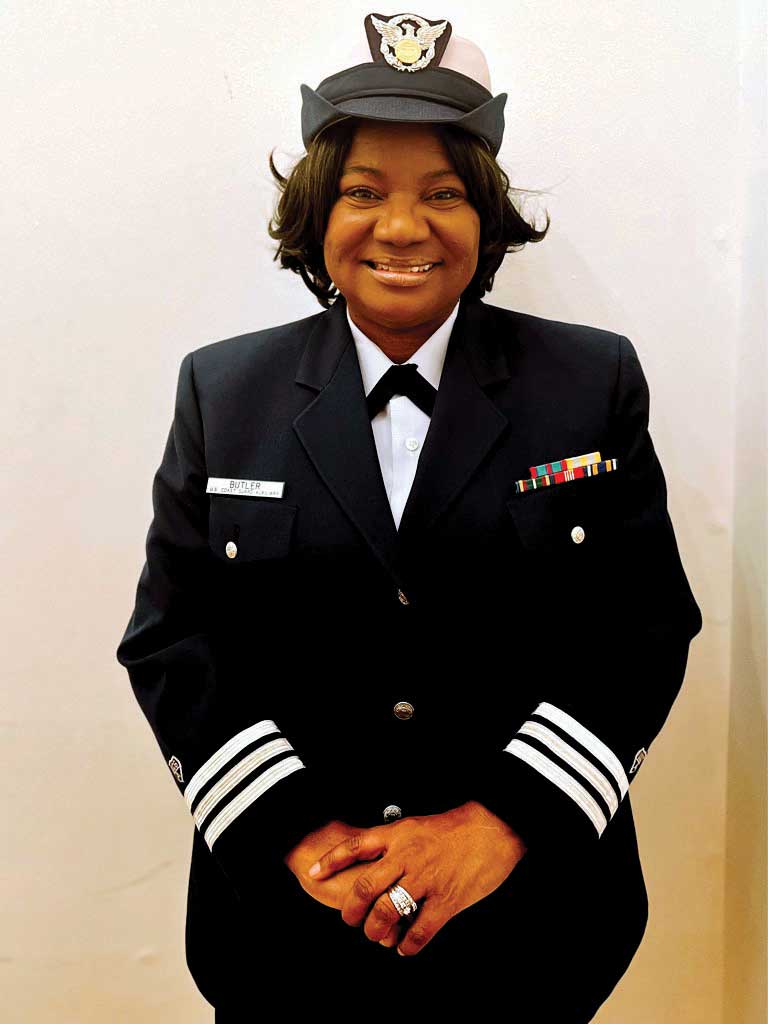 It all started with a safe boating course
After purchasing our first boat, my interest in boating gained momentum when we took and successfully passed the Maryland Safe Boating Course offered by the U.S. Coast Guard Auxiliary. Even though by law we weren't required to take the course (Maryland law requires a boater safety education for boat and PWC operators who were born after July 1, 1972), we wanted to be responsible on the water and learn the right way from the professionals. Plus, my husband, who had recently joined the Auxiliary, was not about to let me operate the boat without it! I inquired about the organization for myself and joined shortly thereafter in 2009. 
I became a Qualified Boat Crew member and Maryland Department of Natural Resources instructor, and I routinely participate in U.S. Coast Guard Auxiliary Recreational Boating Safety (RBS) initiatives, as well as U.S. Coast Guard training evolutions, which have involved search and rescue and, unfortunately in extreme cases, recovery efforts. I've also had the pleasure to actively participate in annual sector regattas and other on-water patrols for events such as the Blue Angels, Bay Swim, Bay Paddle, and Chesapeake Schooner Races.
Always ready
It is extremely rewarding to partner with the U.S. Coast Guard in saving lives and preventing boating mishaps. I love sharing my boating knowledge and skills as well as helping others who are in need. It gives me a sense of pride and personal satisfaction. While most times we are educating and promoting safety, it is very sobering when you come upon a small boat that has caught fire and you must spring to action with your training to save a life or rescue someone. It changes you forever.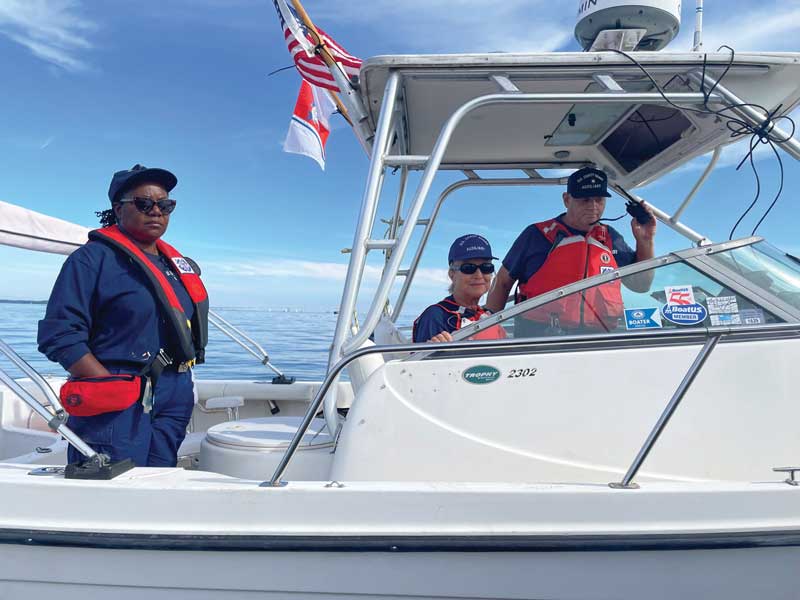 My absolute favorite type of boating involves Maritime Observation Mission (MOM) patrols for the Auxiliary. In the U.S. Coast Guard, there is a saying: remain Semper Paratus, Always Ready. The goal of the MOM patrol is to provide increased maritime domain awareness through the observation of critical areas including ports and waterways, vessels, land-based infrastructure, and possible targets and vulnerabilities. As a qualified boat crew, we execute MOM patrols in the South, West, Magothy, and Severn Rivers, and as far as Sandy Point and surrounding areas of responsibility. During the patrols we engage with the public and are authorized to facilitate safe haven boat tows and educate boaters on proper wearing of lifejackets. 
Unexpected leadership opportunities
I wasn't driven by ambition to be a leader, but I started immersing myself in the Auxiliary mission, and the rest is history. I began facilitating Maryland Boating Safety courses throughout the Annapolis area, and over time my passion for teaching started gradually to lead me into unexpected leadership opportunities. My colleagues have entrusted me as commander of the Annapolis Flotilla, and in January I was installed as Division Commander for six phenomenal Auxiliary Flotillas in the Central Chesapeake area covering Annapolis, Solomons, West Annapolis, South River, Drum Point, and Herring Bay.
As a Division Commander my on-the-water goals are boating safety and education. Since Covid-19 hit boating, kayaking, and personal watercraft activities have become increasingly favorite recreational choices, and boat purchases have increased tremendously. Unfortunately, there has been a spike in boating mishaps and deaths. The auxiliary intends to increase its focus on supporting the prevention mission of the U.S. Coast Guard and work to foster a culture of safety. As a Division Commander, I also want to continue to attract, develop, and retain a diverse and inclusive force, providing relevant and rewarding opportunities to our membership.
Life off the water
I am a 20-plus year federal career civilian working full-time for the Department of Homeland Security, Transportation Security Administration (TSA). When not busy with the Auxiliary or boating on our 28-foot Monterey powerboat, I enjoy cooking and spending time with my husband of more than 30 years, Leonard, my two adult children, and three grandkids. In 2011, our son Devon joined the U.S. Coast Guard active duty, making it a family affair!