Captain Rick Franke brings us the May Boatshop Reports from marinas and shops around the Chesapeake region.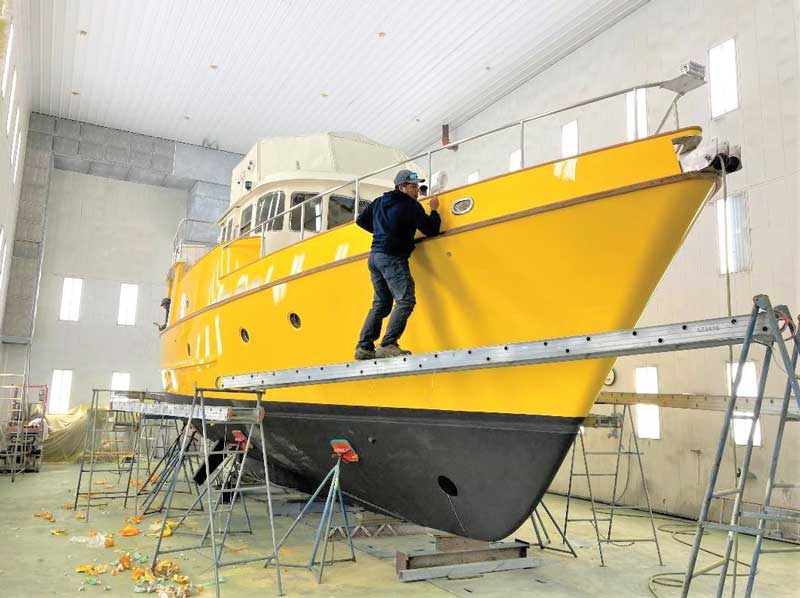 Smokey Glover at Lake Assault Boats in Portsmouth, VA, reports: "We have the Brookfield, CT, Fire Department's 24-foot Lake Assault fireboat in the Virginia Lake Assault facility for routine service and structural upgrades. Also, a 24-foot research boat is receiving new hardtop and upper station controls, steering, and electronics installation, utilizing Stainless Marine of Norfolk, VA, for the aluminum fabrication and Marlin Marine Electronics for electronics upgrades."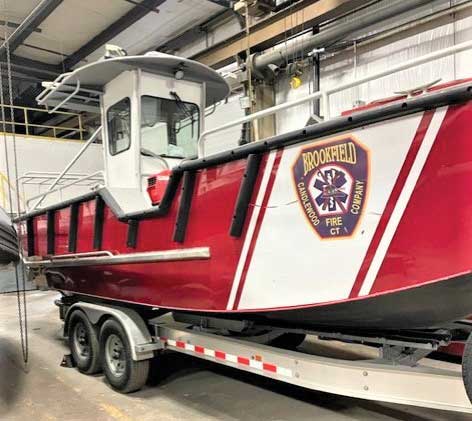 The latest update from Eric Detweiler at the Chesapeake Bay Maritime Museum in St. Michaels, MD, is as follows. "Christian Cabral, vice president of shipyard operations, reports that CBMM's shipyard has been dedicated to a multitude of exciting projects this winter. The list includes the groundwork for the restoration of CBMM's own buyboat Winnie Estelle, the construction of a new 36-foot buyboat Mr. Dickie, spar construction and annual care of Calvert Marine Museum's buyboat Tennison, and the installation of a new interior on yet another Chesapeake buyboat, Choptank. As we move into early spring, the bulk of CBMM shipwrights will focus on the new construction, Mr. Dickie. To date, the vessel has been constructed upside down in order to increase efficiency of the cross-planking process. During the month of March, shipwrights completed the planking and rotated the vessel right-side up to begin the deck installation.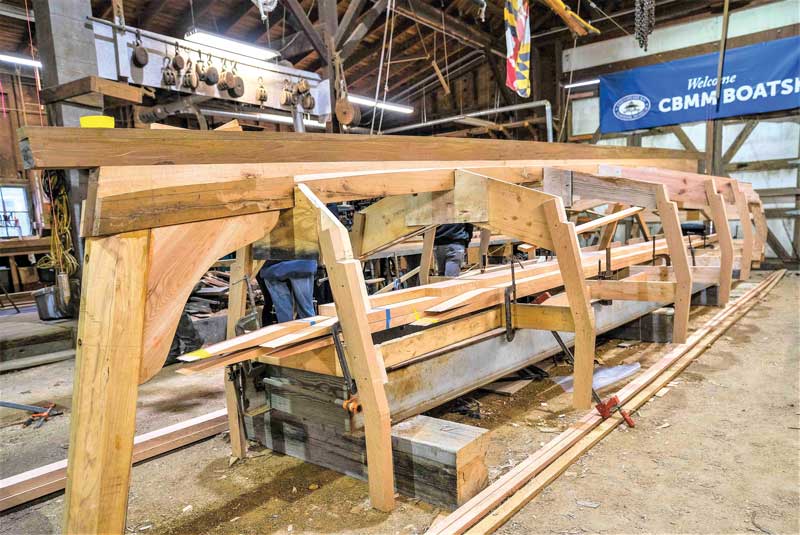 "In tandem with Mr. Dickie's construction, remaining CBMM shipwrights will focus on the interior installation, rig installation, and USCG certification of the recently launched 65-foot buyboat Choptank. The bulk of this work will be performed with the vessel in the water alongside CBMM's shipyard. As always, early spring signals the commissioning of CBMM's own historic floating fleet. This spring, our fleet will receive a complete rig service and an increased focus on some of our smaller fleet vessels that will spend the summer offering six-passenger Miles River cruises while Winnie Estelle undergoes an extensive refit."
Jake Glover of Ferry Point Marina in Trappe, MD, checks in. "We've recently completed a Blackfin repower. She received a pair of Skip White marinized big blocks. Just out of the paint shop is a Trojan which received a fresh barrier and bottom paint application as well as AwlCraft hull sides. Keep us in mind for your air conditioning needs this summer. We now have two techs with Dometic's training. The Evolution Marine Electronics team has been staying busy with installs. Garmin and JL Audio seem to be the favorites."
Bill Griffin reports that on his recent visit to Composite Yacht in Trappe, MD, the shops were busy as usual. "They had a couple of paint jobs underway including a Post 50 in for an all-over to deal with crazing and a Downeaster in for superstructure refinishing. The crew was also getting close to completing the final fairing on the new CY50."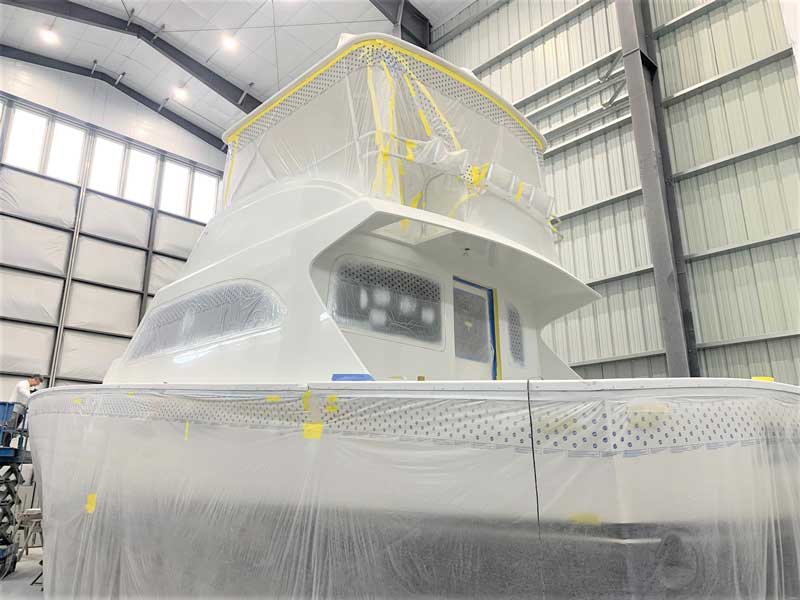 Bill also reported that the Zimmerman Deltaville, VA, shop refinished a 2001 Zimmerman Z-36 with Awlgrip and that she looks "amazing." According to Bill, the Tracys Landing, MD, location of Zimmerman Marine also does good work. "Well, there is nothing like the shine of new brightwork. The paint crew has meticulously prepped and applied seven coats of Awlwood—man, does this boat look sharp!"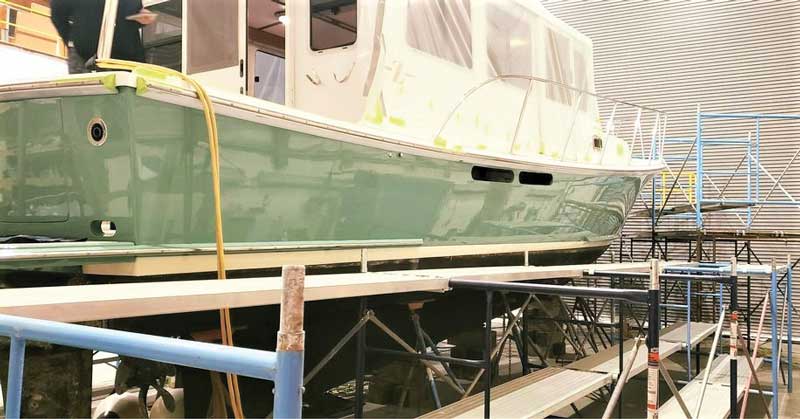 We haven't heard much from Alex Schlegel at Hartge's in Galesville, MD, recently. No wonder; he and his crew have been busy. He brings us up to date. "Starting September 1, we have been running the service business at Hartge Yacht Harbor in addition to our ongoing operation at the Woodfield Road location. We will be working exclusively at Hartge Yacht Harbor by June 1. We moved our tents last fall, stockroom and office mid-February through mid-March, and half of our shops. We will move the carpenters, painters, and composite techs before June.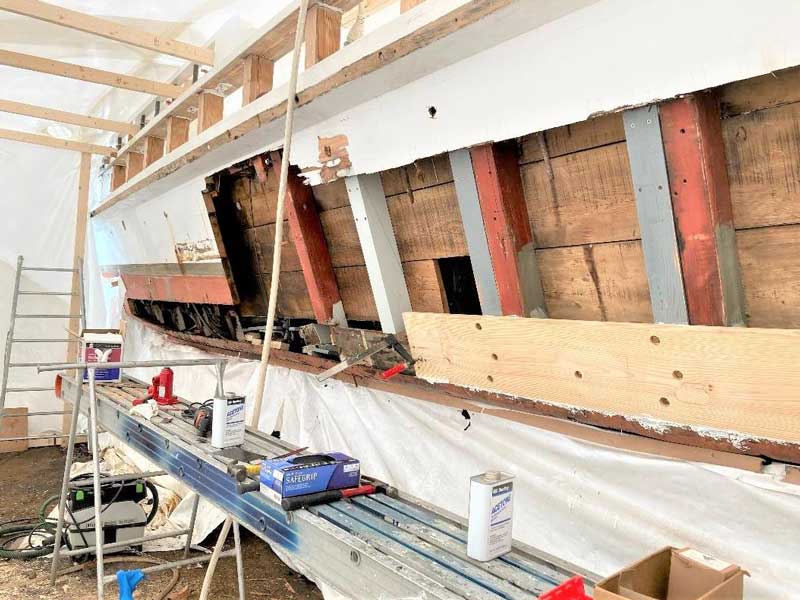 "We are having the normal, very busy spring as is everyone in the marine business. Launching and commissioning 75 boats at Woodfield's and 105 boats at Hartge Yacht Harbor that were laid up for the winter will be completed in April. Most interesting of the boats in the yard is the 61-foot buyboat, Muriel Eileen. We have four carpenters re-planking the yellow pine sides, replacing a few oak frames and a section of the yellow pine chine log. The original fasteners were steel including steel drift pins used to strengthen and tie the planks together. Buyboats were heavily loaded, sometimes until the deck was nearly awash, so they had to be strong. For added strength, the inside of the frames was also planked, which is called ceiling. Some dimensions are: planks—two inches by 12 inches, up to 20 feet; chine log—two and a half inches by 10 inches; frames—four inches wide by five inches deep, planks fastened to frame with half-inch bronze carriage bolts, drift pins five-eighths-inch bronze, deck beams six inches wide by seven inches deep and supported by posts to the keel. This doesn't seem so big in print, but handling and fitting wood this big and heavy is difficult." 
Alex also reports. "Other work: We had five boats in the heated tents for painting and varnishing over the winter. A number of boats and masts have kept our 75- by 35-foot paint booth busy painting hulls and decks with Awlgrip. The above is just about painters and carpenters. We also have a lot going on for fiberglass technicians, mechanics, and riggers. Other than an industry-wide shortage of knowledgeable mechanics and riggers, the future of boatyards look bright."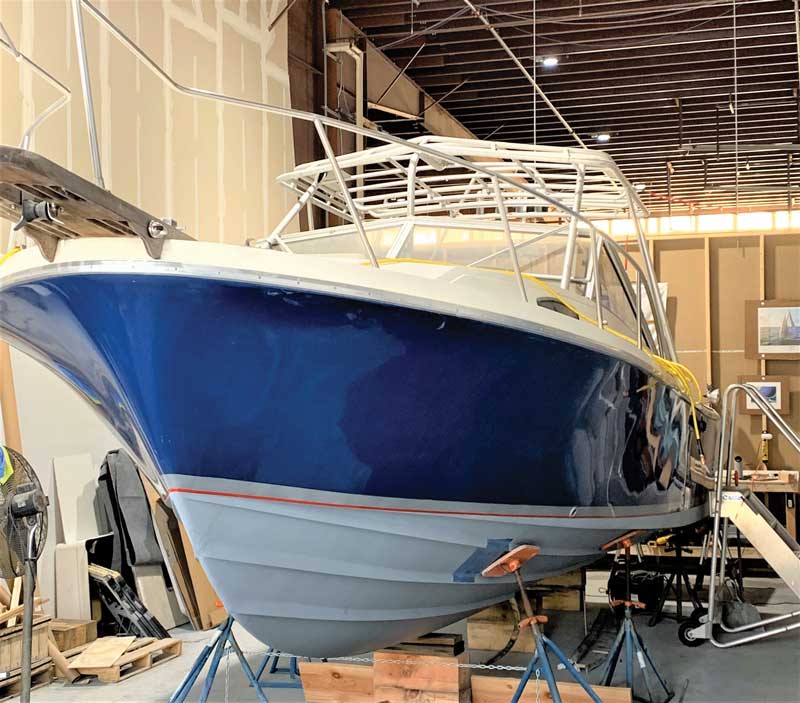 The North Point Yacht Sales service department in Annapolis, MD, has had a very busy "off season" according to Caitlin Sims. "We have acquired new shop space at our service center in Annapolis, MD, allowing us to focus on several exciting projects. We have a Blackfin 29 in the shop that has had inboards removed and is being repowered with twin Yamaha 300s, plus new wiring, new electronics, new HVAC, and all structural repairs. We are also busy with another repower project. We have an MJM in the shop and are changing out Mercury 300s for the new V10 Mercury 400s. Electrical, rigging, and fuel systems are being upgraded to support these awesome new engines. All our certified Mercury and Yamaha technicians are busy with commissioning season, and we are very excited to get our clients back on the water!"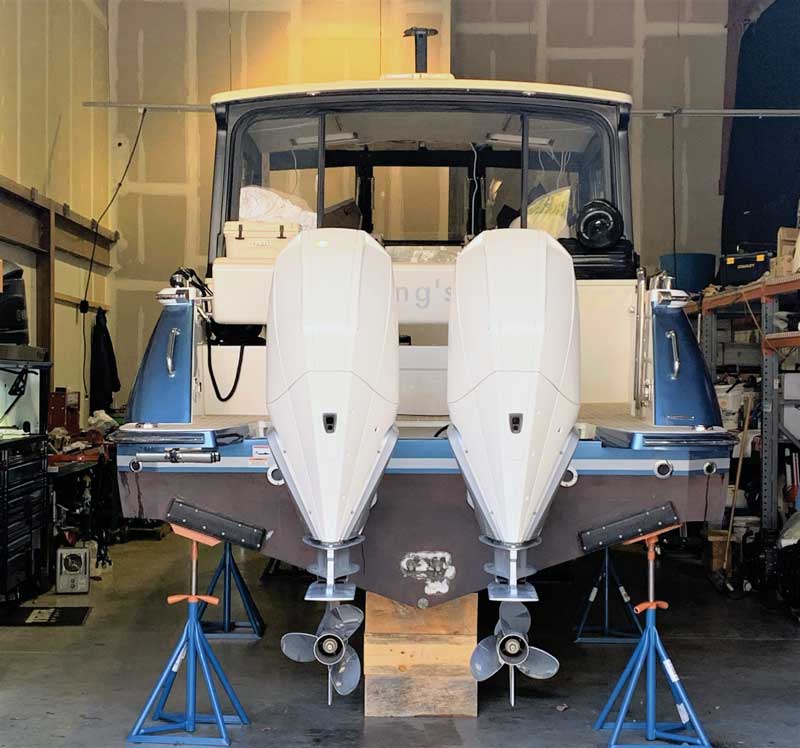 Brittney Parrish from Higgins Yacht Yard and Marina in St. Michaels, MD, checks in. "We kicked off the first day of spring the right way—with our first launch of the season. With temperatures starting to warm up, everyone is eager to get back in the water. Going into April, we have a heavy launch schedule filling up our calendar. Need some work done on your boat to get it ready for the season? We've got it covered. Even if you're not stored with us this winter, we can perform a variety of services this spring, including bottom painting, zinc replacement, washing, waxing, detailing, brightwork, sail installation, and more. Planning to commission your boat yourself this spring? Be sure to check over everything thoroughly to ensure a fun and safe time out on the water."
"The Diversified Marine Services' restoration team is currently working on an extensive deck restoration job on Spec Ops, a 48-foot Fountain powerboat," reports Vaughn Scott. "The job is currently in process, but the team has thus far prepped the boat, sanded down the preexisting gelcoat, and removed the old non-skid on the deck. They mapped out the deck, templated for cloth fiberglass, and are currently in the process of laminating the fiberglass cloth with epoxy resin to the areas with crazed and cracked gelcoat. The next steps will include applying multiple coats of epoxy followed by prepping primer, touching up fairing, and repeating this process. The final steps will include applying four coats of Awlgrip topcoat to all the smooth areas and applying four coats of the Grip-Tex non-skid pattern. We look forward to the final product and will be sure to share photos once finished!"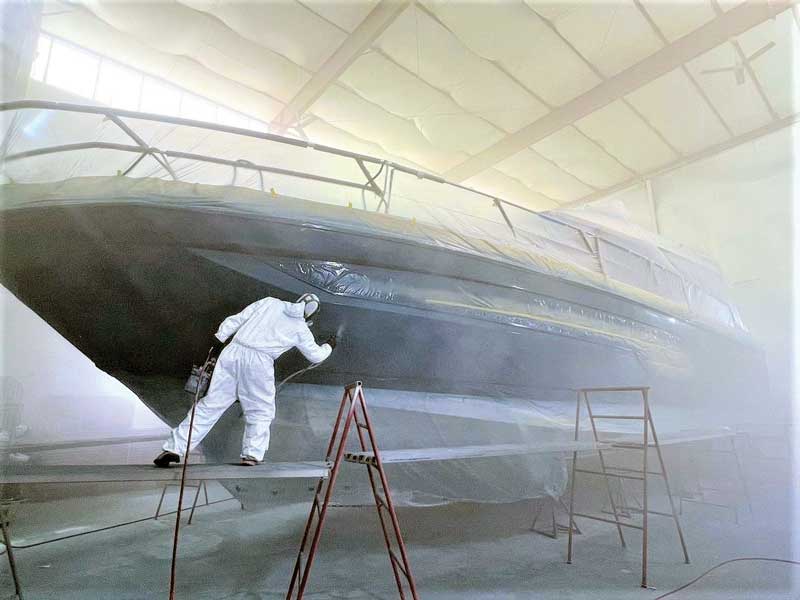 Vaughn Scott also sent us this report. "The Bay Shore Marine Engine team in Annapolis, MD, completed a full rebuild on a Yanmar 4JH3 over the winter. The owner is an avid boater who cruises his 54-foot Oyster up and down the East Coast, and even further. The Yanmar 4JH3-HTE is original to the boat and had over 6300 hours on it at the time of haul-out. The captain of this vessel regularly completed all maintenance and preventative maintenance on this engine, leaving it in great condition. Over the winter, the Bay Shore team stripped the engine down to its block and did a complete overhaul. Because of the amazing upkeep performed by the captain/owner, there were no major issues internally in the engine. Bay Shore was able to rebuild the engine and have it reinstalled in the boat over the winter. The customer is currently awaiting some bottom work to be completed before the boat can be launched and sea trialed this spring."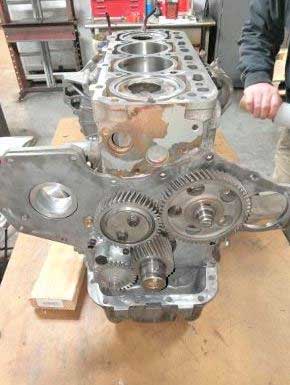 By Capt. Rick Franke