Spring has definitely arrived. Boatyards and marinas are buzzing with the beginning of the spring relaunch rush.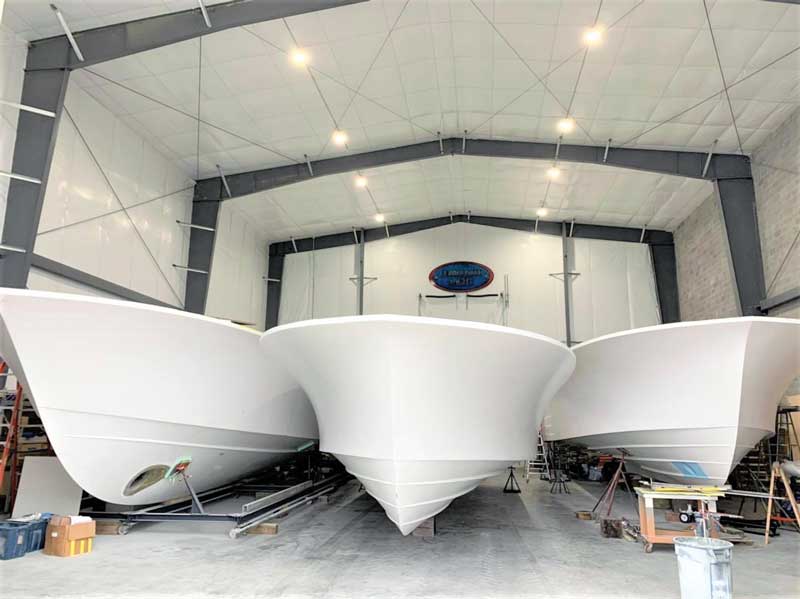 Joe Connor, lead shipwright at the Chesapeake Bay Maritime Museum (CBMM) and construction manager on its build of the new Maryland Dove, reports that his team is currently operating in three groups—the planking crew, the deck crew, and the riggers—and that guests visiting CBMM will observe a flurry of activity from these teams through the spring.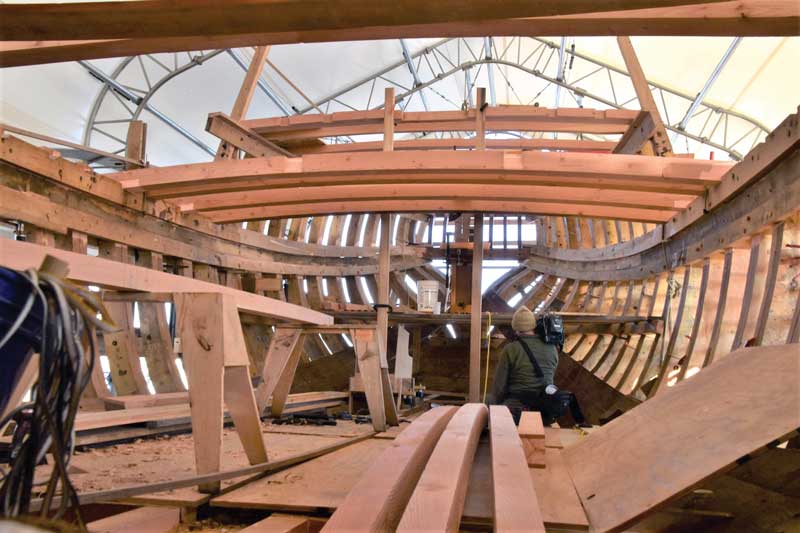 "Already, garboard strakes have been installed and the ship's hull has been lined out for exterior planking. These planks are spiled for shape, steamed to fit, and finally fastened to the hull with treenails. Planks below the waterline are made from angelique and those above are white oak. The deck framing crew has completed all of Maryland Dove's new deck beams and is now working on carlins, stanchions, hanging knees, lodging knees, and deck houses to complete the structure for planking. The rigging crew, meanwhile, is 90 percent done with the ship's spars and has moved onto fabricating blocks. Next up for them will be the standing rig, while the sails have now been finished by Traditional Rigging Inc. in Maine. CBMM's shipwright apprentices have also been participating in the build by helping to fabricate bronze clench rings while learning the ropes of green sand metal casting. To learn more about the project, visit marylanddove.org."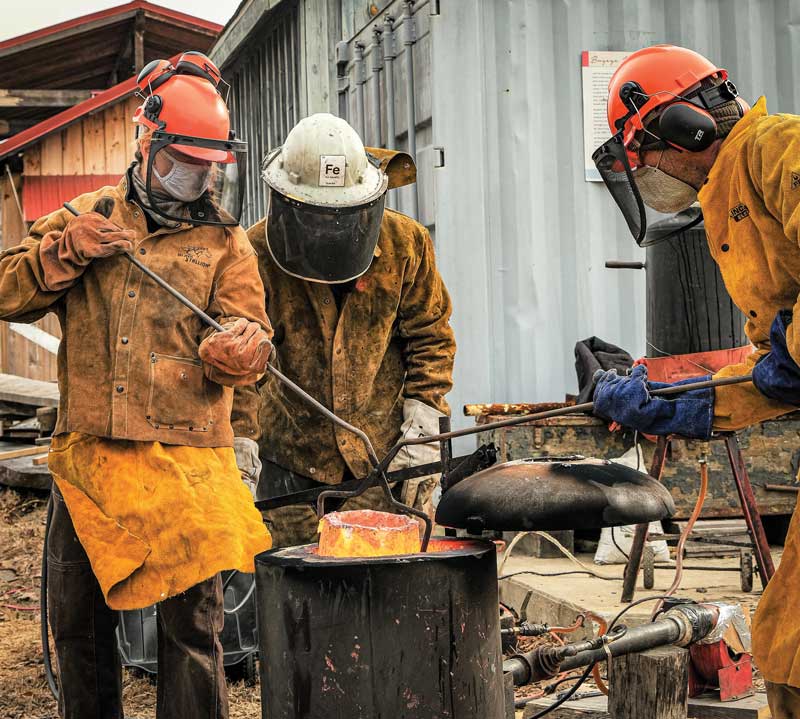 George Hazzard and his crew at Wooden Boat Restoration in Millington, MD, recently completed restoration of a 17-foot 1958 molded plywood Elgin with a 1958 35-horse Johnson. The boat was built by Wagemaker and sold through Sears. Wagemaker was a well-known builder of molded plywood boats in Grand Rapids, MI, and sold their own line of boats under the Wolverine brand name. During the post-World War II boom and before Amazon and eBay, major retailers like Sears, Montgomery Ward, and Western Auto sold boats, kit boats, and outboard motors. These products were manufactured for the retailers and rebadged by them for sale to consumers. Sears sold Elgin boats and motors, Montgomery Ward sold Sea King boats and motors, and Western Auto sold Wizard outboards.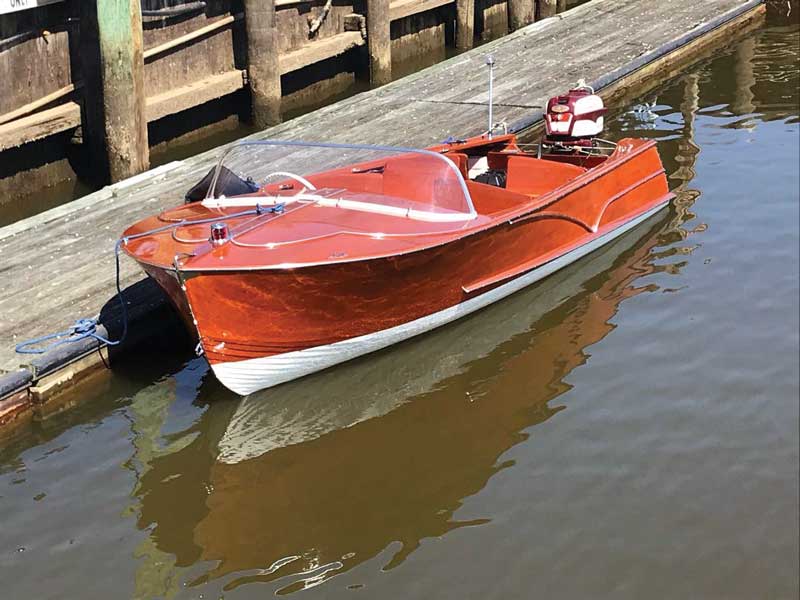 Nicole Esterson of Intrinsic Yacht & Ship in Annapolis checks in with an interesting first. "We have a customer building a Hatteras GT 70 right now, and they are putting the brand-new CAT C32B 2000 BHP engines in it. Hatteras just got the delivery of those engines and that makes them (and our customer's boat) the first ever to install those engines in a pleasure boat. For more information, visit Intrinsic Yacht & Ship's website at intrinsicyacht.com.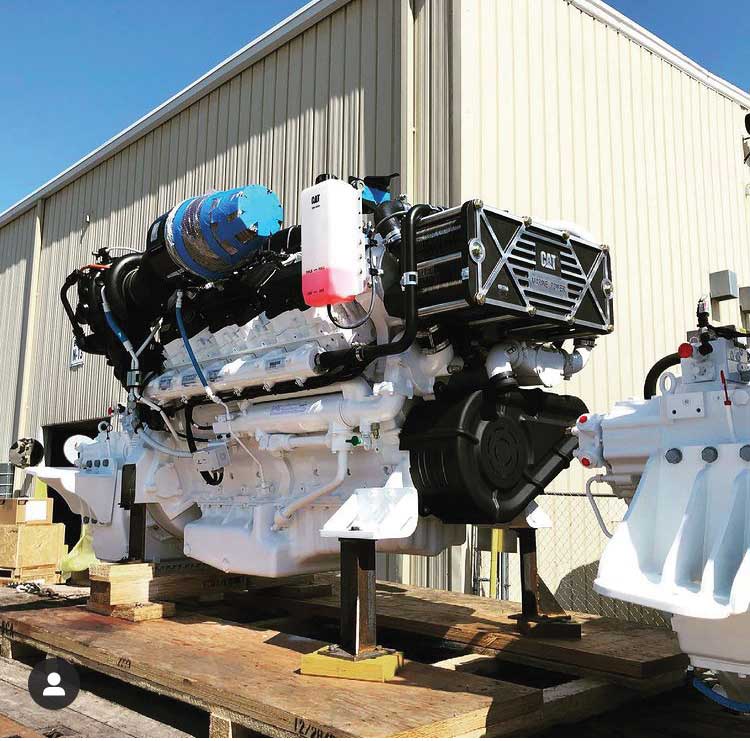 Alex Brewer of Anchor Boatworks in Virginia Beach, VA, sends us this quick update from their busy shop. "As an authorized Suzuki dealer and e-power center, we look forward to completing some exciting re-powers in preparation for this upcoming boating season!"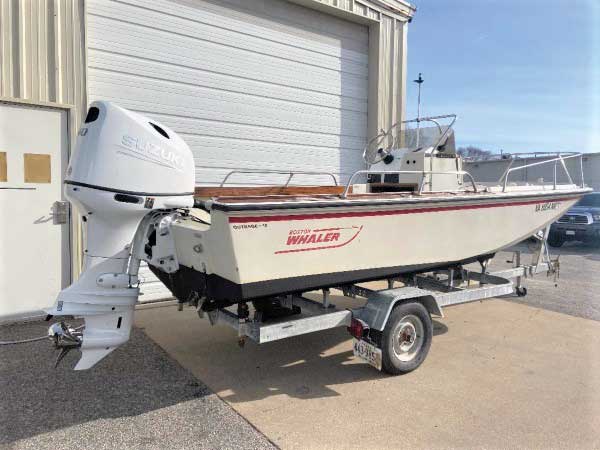 Nancy Noyes of Chesapeake Light Craft (CLC) in Annapolis, MD, sends us this update. "Chesapeake Light Craft, the boat kit experts, have developed a lightweight, classically styled outboard runabout. The new design has been dubbed Rhode Runner, in honor of the Rhode River south of Annapolis, the site of decades of CLC prototype launches, photo shoots, and small boat symposia.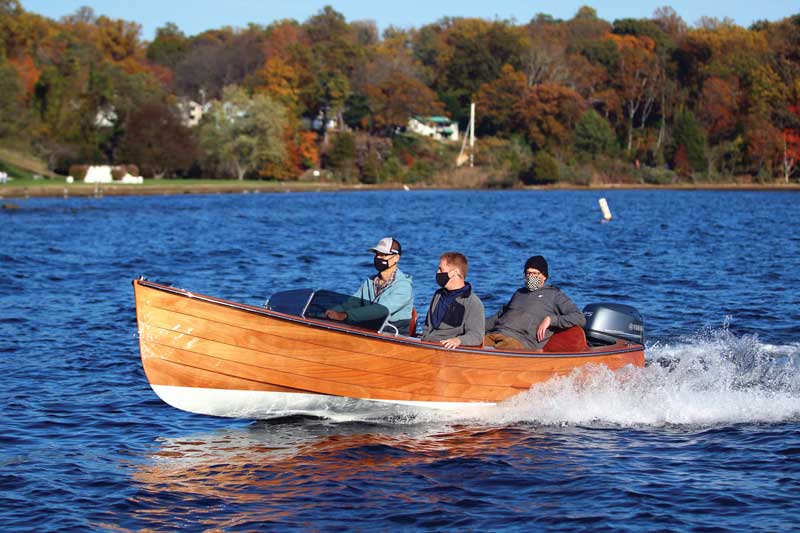 "Over the last year, this shapely and able boat has been through extensive prototype testing and refinement, including successful sea trials in late December. Now the build-your-own kit is available, starting at $2999. Assembly of the computer-cut kit uses CLC's proven stitch-and-glue techniques. The design has been in the development fast track for the last 18 months, adding to CLC's stable of more than 100 build-your-own boat designs. Echoing the style of beautiful 1950s-era runabouts, the 14'9" Rhode Runner has seating capacity for four adults. The runabout was designed for light and powerful modern outboards up to 25-hp, or even electric power. This is one of CLC's 'Pro Kits.' Like other designs in this category, the kit includes extensive assembly instructions, but assumes a knowledge of wood-epoxy boatbuilding and the ability to work from drawings. Learn more at clcboats.com/runabout."
Nancy also reports on a planned successor to CLC's popular OkoumeFest. "Chesapeake Light Craft announces the 2021 Big Little Boat Festival Races & Rendezvous, coming to the campus of Camp Wabanna, south of Annapolis, MD, on Saturday, May 22. Races start and finish in front of the beautiful Camp Wabanna campus just south of Annapolis. Centered at the intersection of the Rhode and West Rivers, there will be plenty of space to launch watercraft. Bring your boat or paddleboard to race in one-, three-, or eight-mile races for paddlers (seated and standing), rowers, and sailors, or try your luck on the 20-mile race! The 20-miler is a debut event for Raid Chesapeake, a new organization intended to develop and manage point-to-point 'adventure' races on the Chesapeake Bay for small boats powered by paddle, oar, and sail.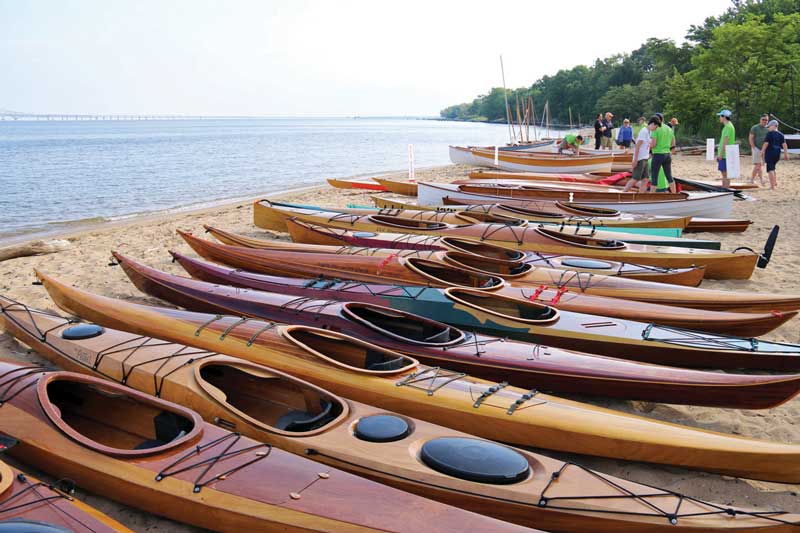 "Those who aren't interested in racing, even on the one-mile fun race, are welcome to participate in other ways. Got a beautiful home-built boat? Bring it to participate in an afternoon boat parade, or just show it off on the lawn—there are prizes for the best work! Don't have a home-built boat? No worries! Bring what you have and play on the water with other small-boat enthusiasts. All types are welcome. The cost to enter the three-, eight-, and 20-mile races is $40 until May 5, $60 thereafter. Entry in the one-mile race and the builders' competition is included in the festival entry fee of $10 in advance, $20 at the gate. There's also ample room for camping in tents and small campers. Friday and/or Saturday night camping will be available. The snack bar will be open for lunch options on Saturday, and there is a big playground available for kids. The successor to CLC's traditional OkoumeFest small boat rendezvous, the Big Little Boat Festival had to be canceled last year due to Covid restrictions; this year, we're excited to be back on the water with our friends, although the festival itself will be limited to a single day of racing and home-built boat competition. Due to pandemic restrictions, the extensive CLC fleet of boats will not be available for demos and the usual seminars also have been canceled this year. Look for a reintroduction of both of these elements in 2022. For details and registration, please visit clcboats.com/festival."
Joanna Goldberg, president of Fairwinds Marina and the Freedom Boat Club branch located in Cape St. Claire near Annapolis, MD, reports that both businesses had a busy winter and are looking forward to a busy summer. "We are expecting the delivery of 22 new boats for the club. That doubles the size of our club's fleet compared to last year," she explained. Joanna attributes the growth in popularity of the club to Covid restrictions. "Many of our new members, especially ones who were not boaters, joined after their planned activities were cancelled. And they fell in love with boating."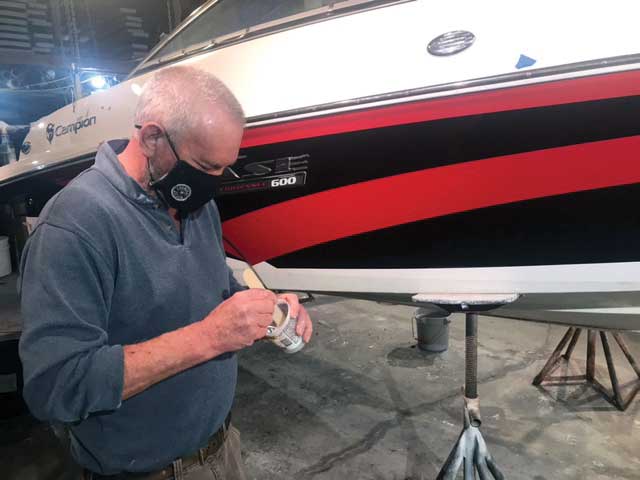 From Hartge Yacht Yard, Alex Schlegel brings us up to date on work at the yard in Galesville, MD. "As always in spring, there is so much work to do and not enough people to do it; plus cool wet weather really slows down production. For the past winter, contrary to recent trends, we have had less powerboat work and more sailboat work. However, the owner of the Trumpy Manatee is keeping four to five men very busy all winter. Other winter powerboat work is as follows: fixing up old boats may not make economic sense but there is often an emotional element, and good boats are hard to come by lately.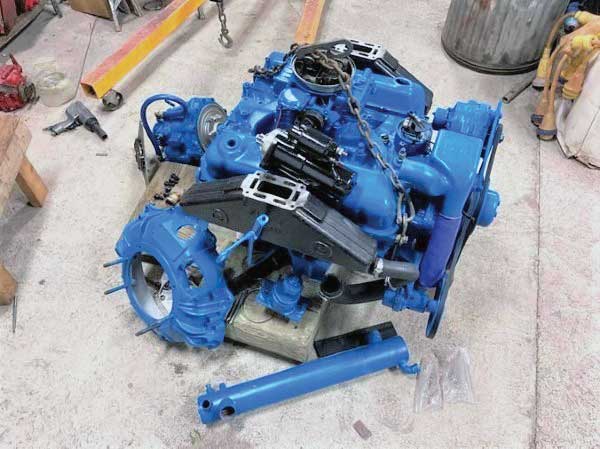 "The following is an example of work done on an older center console with inboard power. We pulled the 302 Ford Pleasure Craft engine from a 1978 20-foot Shamrock center console to fix a slight but persistent oil leak, clean it up, repaint it, and fix anything that needed a fix. New gaskets were installed on the oil pan, valve covers, and intake manifold. The exhaust manifold and riser were replaced a year or two ago and are good for another five years. The transmission was rebuilt. The 302 Ford engine came with the starter low and forward of the bell housing, as on a car. Low in the bilge, it was always wet and needed to be rebuilt every year and was extremely hard to reach or even see. About 30 years ago, the bell housing was replaced with a Ford 351 marine conversion bell housing that has the starter up and aft—no more starter problems. The bilge has been cleaned and gel coated, new engine intake thru hull valve, and strainer installed, exhaust thru hulls rebedded, and a new prop shaft stuffing box hose installed.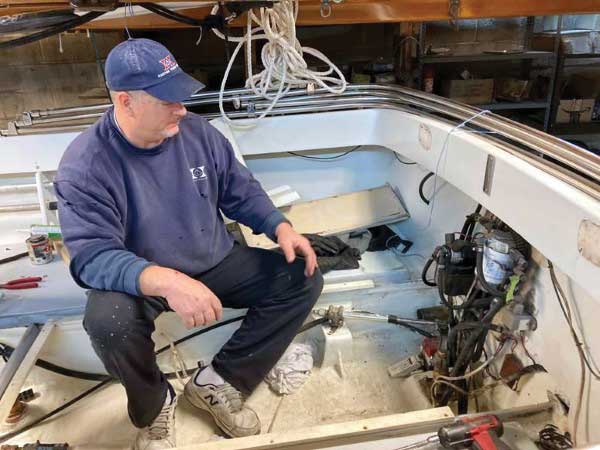 "A Mainship 390 has a fiberglass swim platform problem. It is designed as an extension to the hull, adding length and buoyancy. Formed in a mold separately from the hull and secured to the hull with fiberglass tabbing, it has molded-in spaces for trim tabs, swim ladder, and reinforcing to support davits. The rest of the space is filled with foam, and the platform deck is fastened and bedded with adhesive. A small place on the deck leaked, and the foam soaked up water. There are also some cosmetic cracks where the swim platform meets the hull, port and starboard. We will put it all back together using polyurethane foam advertised as more than 94 percent closed cell, so less water will be absorbed if there ever is a leak. 
"We're hopeful that vaccines will be administered quickly. The Covid virus has caused a few employees to miss some time, but generally all is good. Spring is here, and as always, we are enjoying it and excited to be on our boats again."
Well said, Alex, we couldn't agree more. 
By Captain Rick Franke