This is usually the busiest time for spring commissioning and launching. In spite of the virus crisis and all of the drastic changes that it has caused to our lives, recreational boaters still want our boats and watermen need theirs. Herrington Harbour North in Tracys Landing, MD, with 1000-plus boats on the hard, reports that spring launching is proceeding on schedule, with very few changes or postponements. Other marinas and boatshops report similar high levels of activity. This is usually the busiest time, and it still is.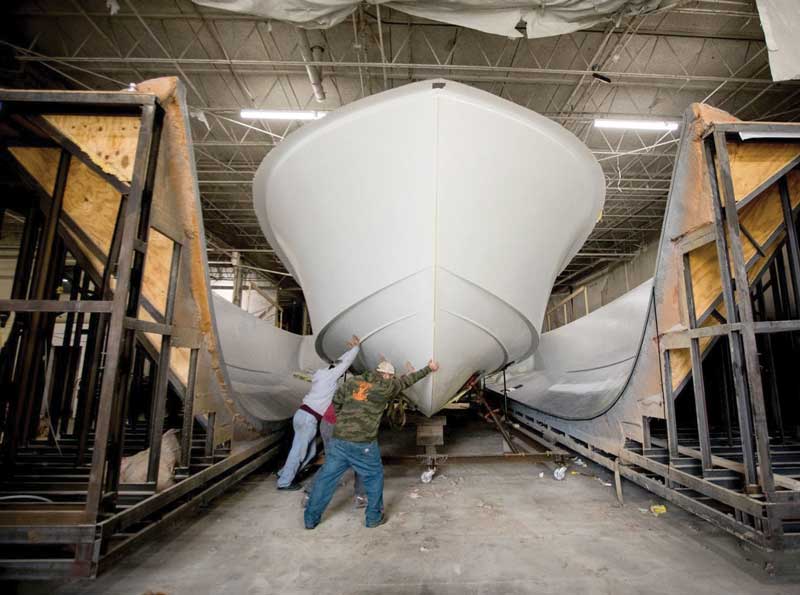 My first report this month comes from Rob Hardy at Composite Yacht in Trappe, MD. Rob summed up the effects his business was feeling from the crisis: "We're still doin' it. We're not going to stop until they tell us. Boats are trying to leave, we've got the spring rush going on, and we have several builds. Aside from dealing with jobbers and dealing with the schools being shut down we're doing okay. More than half of my guys have school-aged kids, and that does complicate things a bit. I talked to (my contact at) a finance company the other day. She said she's about to close on one boat, and they are still getting applications and business is moving along. I have a couple of owners looking for financing that have decided to wait until things calm down, so effects are being felt. As far as us coming to work every day and doing what we got to do, we've got plenty to do. You know how it is, working in a boat yard environment. I like to think that public exposure in this industry is pretty limited. You spend most of your time in a Tyvek suit, gloves, goggles, and a respirator. This is probably the safest place to be. Until they tell us to stop, we're going to just keep on truckin.'"
Rob also brought us up to date on Composite's current projects. "We're still cruising along on the CY 55. We're fabricating engine beds. This is going to be a vee drive and those big MTU diesels need a lot of support. This week we set the transmissions to be able to confirm drive line geometry and things like that. We've been fabricating fuel tanks, drivelines, and rudder towers strong enough to support the forces involved in this boat's high speed. 
"We are installing all the under-deck bulkheads and other reinforcement before we start on the deck itself. We've got a 46 well underway. She'll be out of the mold pretty soon. We have a couple of orders for them. We've got a 26 under construction, the coring and stringers are in. The 36 Extended Pilot House Boat is nearing completion. The interior is in, and her systems are run. We have a 32 Deadrise just about done; we are doing the wiring on her. So, we have plenty to keep us busy."
Herrington Harbour North recently accepted delivery of the City of North Beach's new fireboat. According to North Beach Volunteer Fire Department spokesperson Orval Thrasher, the new boat is a Moose Boats model M-1 46-foot aluminum catamaran built by Moose Boats of Vallejo, CA. She's powered by twin 600-hp Cummins diesels driving Hamilton jets, giving her a top speed of 39 knots. The two water cannons are supplied by a 1500-gallon-per-minute Hale pump driven by a power take off from one of the main engines. In addition to the normal hydraulic controls, the pilot house is equipped with a complete suite of Garmin electronics. The multi-mission vessel can fight on-water fires as well as provide water to support land units. The boat can also double as a rescue craft with a complete onboard capability to support one stretcher patient. Crew familiarization and training will begin in May, and the boat should be in service in Early June.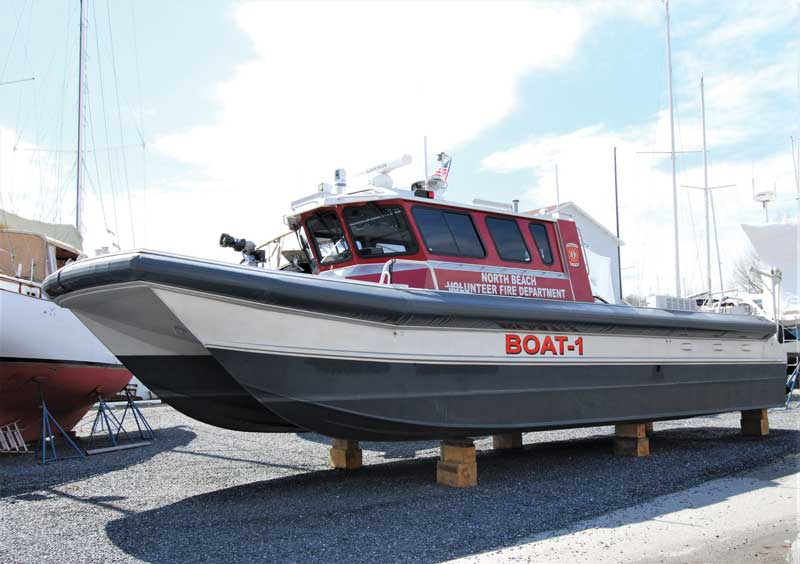 Last year, Chesapeake Light Craft (CLC) in Annapolis, MD, began development of a new 15-foot runabout of traditional style. Nancy Noyes brings us up to date on this intriguing project: "This is a private design commission and boatbuilding class project, under the guidance of CLC designer Dillon Majoros. The prototype is in our shop now, where it's getting its final fit and finish from boat builder Andrew Schroeher and his team before sea trials this spring. CLC's approach to the new runabout design was to apply modern wood-epoxy boatbuilding techniques to the complex and beautiful hull shapes of 1950s runabouts. Built entirely from marine plywood, the design features CLC's patented LapStitch topsides with a vee bottom (12.5-inch deadrise at the transom) on an overall hull length of 14 feet, nine inches and beam of five feet, five inches. The dry weight of the finished boat should come in at about 350 pounds. Seating capacity is four adults, powered by a maximum 25-HP outboard. All of the parts for the runabout are cut on a CNC machine and slot together egg crate-style. Once sea trials are complete, we'll work towards release of a kit intended for amateur boat builders. See more at clcboats.com/runabout."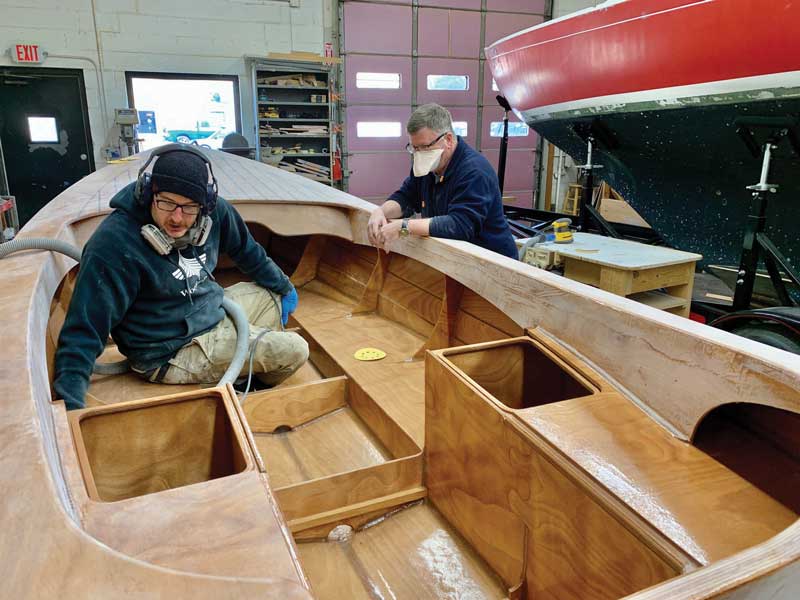 George Hazzard of Wooden Boat Restoration in Millington, MD, sends us this update. "We are having a busy spring. We have a 1953 13-foot Lyman in for full restoration. We are fairing the hull sides. A 1961 17-and-a-half-foot Commodore is in for paint and varnish. Our latest project is a new bottom and full restoration on a 1940 Chris-Craft 18-foot deluxe utility. Work also continues on the 1960 30-foot Owens as we install two brand new 350 Chevy engines." George also reported that the crisis has not had much effect on his shop. He has plenty of work. His workers are dealing with the problems of having the kids home from school, and his biggest problem still is the lack of trained manpower.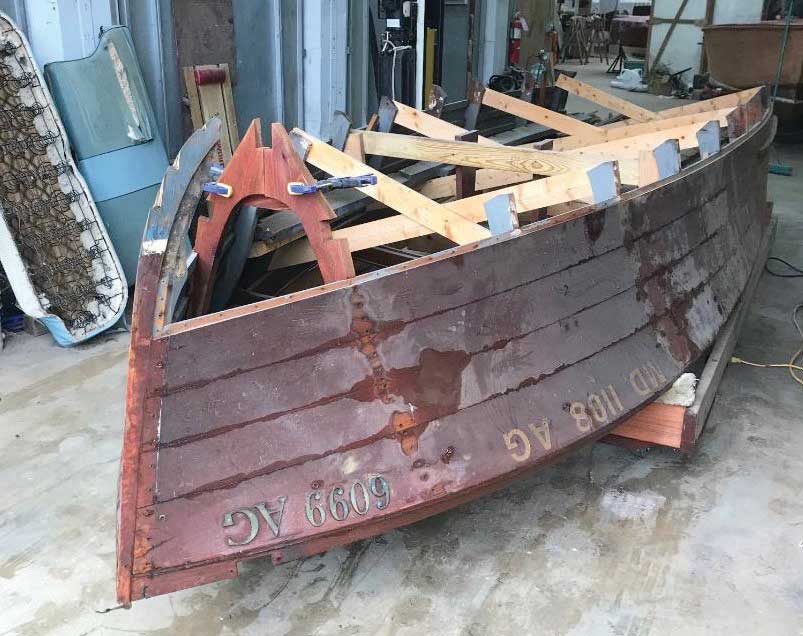 Alex Schlegel of Hartge Yacht Yard in Galesville, MD, reminds us that restoring old boats often requires more than a little ingenuity: "The carpenters are using a custom-built drill bit to drill wooden shaft logs in a 48-foot Egg Harbor that is having the bottom rebuilt. The drill bit was designed and fabricated by Pete Appell. He used to be an employee and now has his own shop where, in addition to marine fabrications, he builds custom bicycles. We have used this bit on three boats: a 65-foot buy boat, a 55-foot Trumpy, and now the Egg Harbor. 
"Drilling shaft logs requires a long drill that is run through multiple bearings to drill the shaft log hole in alignment with the engine, stuffing box, and struts. Depending on the boat, we can use different size bits that thread onto a multi-piece shaft. We have 11 12-inch shafts that thread into each other. The cutting bit can be placed at any point along the 11-foot length. The process is to first drill a pilot hole in the wood shaft log in the shop from measurements taken on the boat. The next and final drilling needs to be precise and is done with the wood shaft log permanently in place in the boat.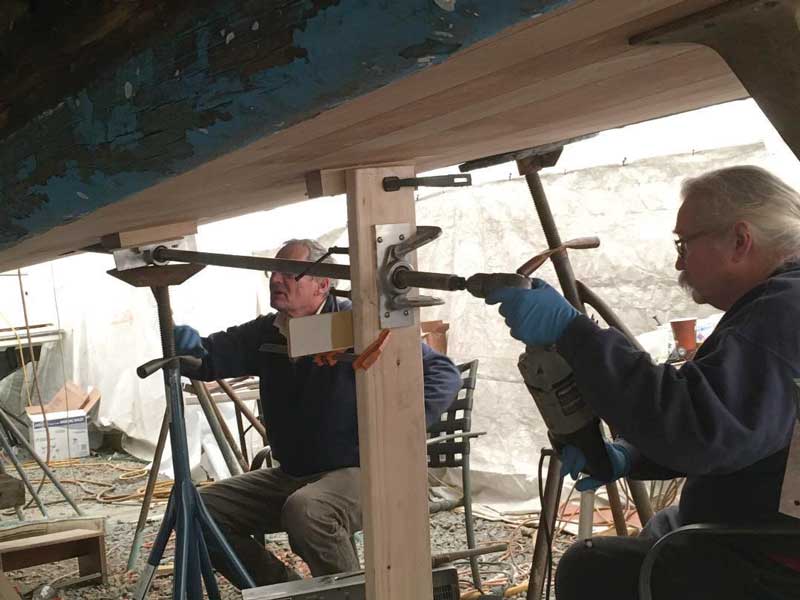 "We secure a bearing to align the front of the drill bit shaft near where the stuffing box will be and aligned with the engine. The back of the drill bit shaft goes through several bearings aligned with the struts. We run the drill from the outside. As the drilling proceeds, we have to stop when the drill shaft gets to the engine, unscrew a 12-inch piece from the engine end, and screw it into the back where the drill motor is attached. Then we drill another 12 inches and repeat the process."
Jim Weaver's Weaver Boat Works in Deale, MD, reports that the Weaver 60 Southern Pride is at the fitting out shop at Herrington Harbour North having her final touches applied. Weaver also has four more boats in various stages of construction, including the Weaver 41 Center Console, the first Weaver built for outboard power. The 41 was designed from scratch to be powered by three Suzuki 350s.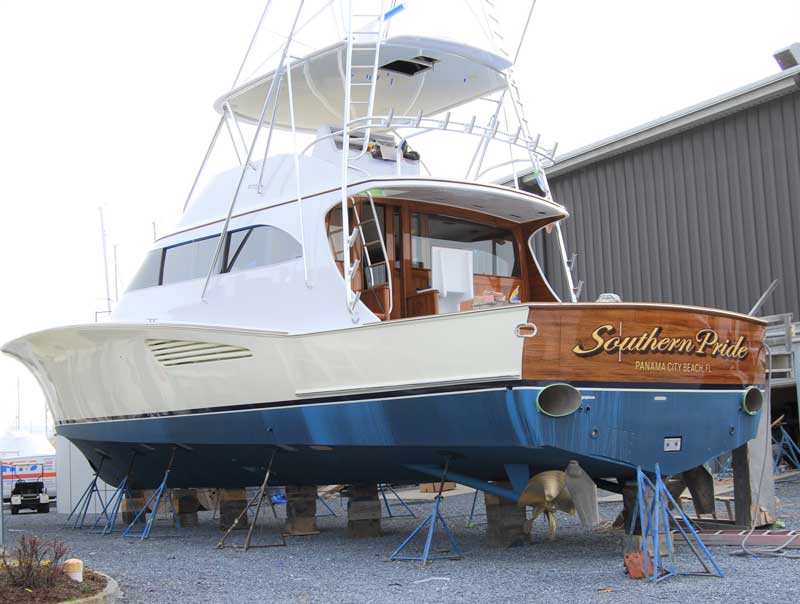 So, at press time area boatshops were alive and well and busier than ever. As the crisis develops, let's hope that activity continues. And when the crisis ends, and it will, we'll see you on the water.  
By Captain Rick Franke