Most would agree that as winters go, the just-completed one was relatively mild, except for a few cold snaps. It did seem like a dreary one though, with lots of cloudy, drizzly days. But, all of that is in the rearview mirror. Spring has arrived! If the amount of work going on in Chesapeake boatshops is any indication, it is going to be another good year for boating.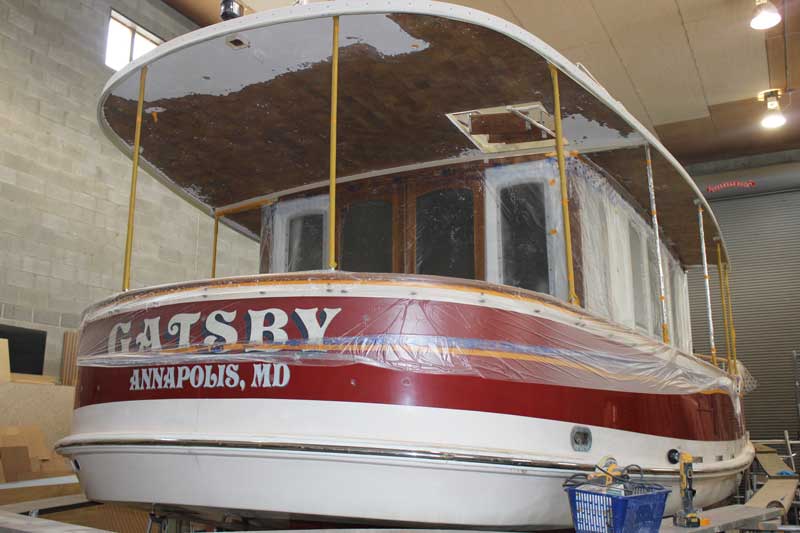 Joe Reid of Mast and Mallet in Edgewater, MD, has moved his completed winter projects out of the shop and has started two big spring projects. "We're well along into the restoration of a rare 1964 Bertram 20 Sportsman. The interior has been totally removed as well as all thru hulls. The thru hull openings are glassed over. The new structural members are getting glassed in place. There will be no V-berth forward. The deck will be all one continuous level like a modern center console. In preparation for paint, all the hardware was removed on deck and all holes will be filled. Another vessel in the shop is a Maynard Lowery 28-foot bay built. The deadrise is receiving some new planking for her bottom. New paint and upgrades will also take place. After the work, she returns to her native Eastern Shore. Also, spring work has begun on five Thomas Point Boats that were stored onshore this past winter."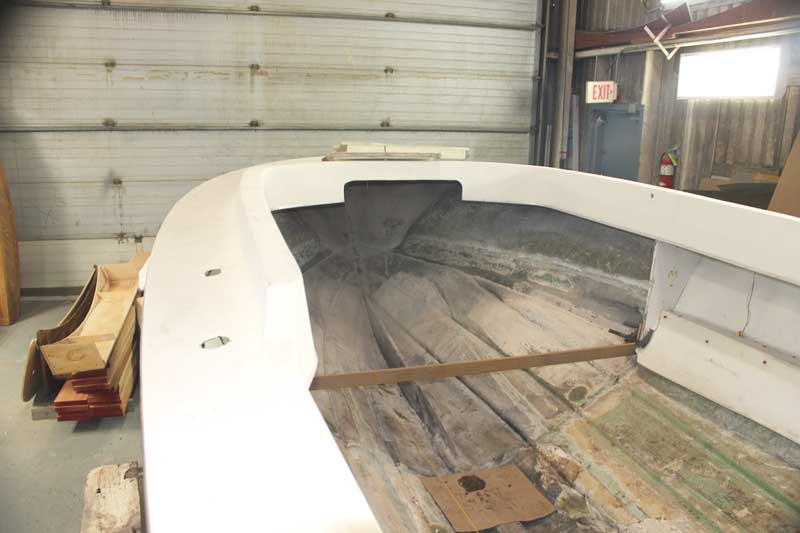 In Galesville, MD, Alex Schlegel of Hartge Yacht Yard has caught the spring spirit. "As we are cheered up by the arrival of spring, winter work is getting finished. We have done a great deal of work refurbishing a Californian 43: soda blasted bottom, Awlgrip top to bottom, some rewiring and re-hosing, new hatches and ports, new solar panels on the aft deck hardtop, new davits. We removed a radar arch to get the height down and remounted everything that was on the arch so it will clear the low bridges. The owner plans to do the Great Loop and then maybe the canals of Europe. 
Following is some of the work done this winter, which is typical of what we do year-round. A Mabry 35 had some soft plywood replaced under the side and aft decks. A Sea Ray 420 Sundowner had all of the hoses replaced and the heat exchangers cleaned on the Cummins 6CTA8.3-M3 engines. (We installed a new generator just a few years ago, so its hoses are in good shape.) We repaired some cracks in the fiberglass-covered wood cabin on an Ernest Tucker designed Lippincott 32 power boat. The props on an Eastbay 49 were removed, reconditioned, and reinstalled after hitting something in the Bay which caused a vibration. We did a tune up, pumped old gasoline out of the fuel tank, and fixed miscellaneous hose and electrical problems on a nice looking 1979 Sisu 22 center console with a Chevrolet straight 6, designed by Royal Lowell. One thousand hours of maintenance on a Back Cove 29s Yanmar 6LPA-STP engine was done. A new teak bowsprit was brush painted with Awlgrip and had the hardware installed. Fiberglass spray panels and plywood decks and furniture were brush painted with Awlgrip for a 1970s Egg Harbor 48 cruiser.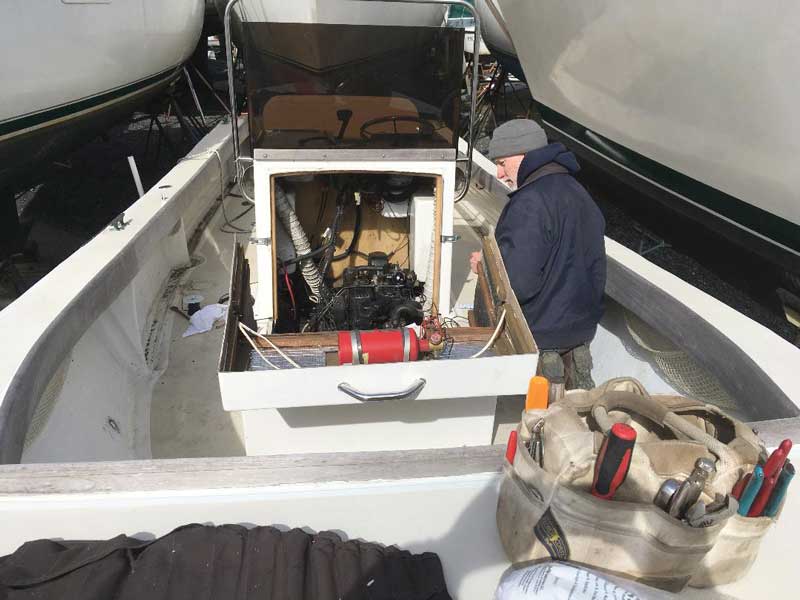 "On the 55-foot Trumpy Manatee, the cabin top lost some of its crown due to the weight of an added air conditioner, a military mast with the shrouds tightened too much and, long ago, a 13-foot Boston Whaler. There is not much room to add structure without lowering the overhead and changing the look. Naturally that was not acceptable. We decided to remove the 68-year-old Homasote fit between the beams and add structure there. Naturally it crumbled, and naturally matching texture is no longer made. We molded the texture off an adjacent panel of Homasote and layed up a 3/16-inch fiberglass panel that gave us a perfect match. Then in the shop we layed up a 7/16-inch thick panel of unidirectional carbon fiber with slightly more crown than the original cabin top. Under the tongue and groove fir decking we used epoxy glue to layer in an eastern white cedar cross plank as a spacer, the carbon fiber plank, and the fiberglass with the Homasote pattern. When the struts were removed, the cabin top held its original shape, not dropping a millimeter, and there is no sign of the work we did."
Jon Clarke of Higgins Yacht yard in St Michaels, MD, sends us this timely reminder for our readers. "Spring is just around the corner and everyone is anxious to be on the water. But, don't forget to check everything, every year! We have calls every spring from sailboats that never had their rigging checked before leaving the dock or from a boat with a terrible vibration that needed to be hauled out, only to find that they need a new cutlass bearing. It's the little things that cause the problems, and preventative maintenance costs less than an emergency mechanic! In the Boat Shed, our restoration work on the 1894 Chesapeake Log Canoe, Magic, is moving along and she should be ready for racing soon. This will be my (Jon Clarke's) 9th year at her helm. And, we are finishing up a whole new top-of-the-line Garmin electronics installation, custom paint job, and detailing on a Sabre 34."
George Hazzard of Wooden Boat Restoration in Millington, MD, checks in. "Ralph Cataneo's 1948 25 foot Chris Craft Sportsman has just received its coat number 10 out of 15 coats of varnish. The chrome was sent out to Don Burch of Polished Treasures to be re-chromed. We are also working on a 1958 16-foot Elgin, which is a molded plywood boat built by Wagemaker and sold through Sears. Other projects are a 30-foot Owens for Mitch and Molly Owens. We are redoing all the brightwork and paint, plus many upgrades to the systems. Two Chris Sea Skiffs and another Elgin 14-foot fishing boat are also in the shop."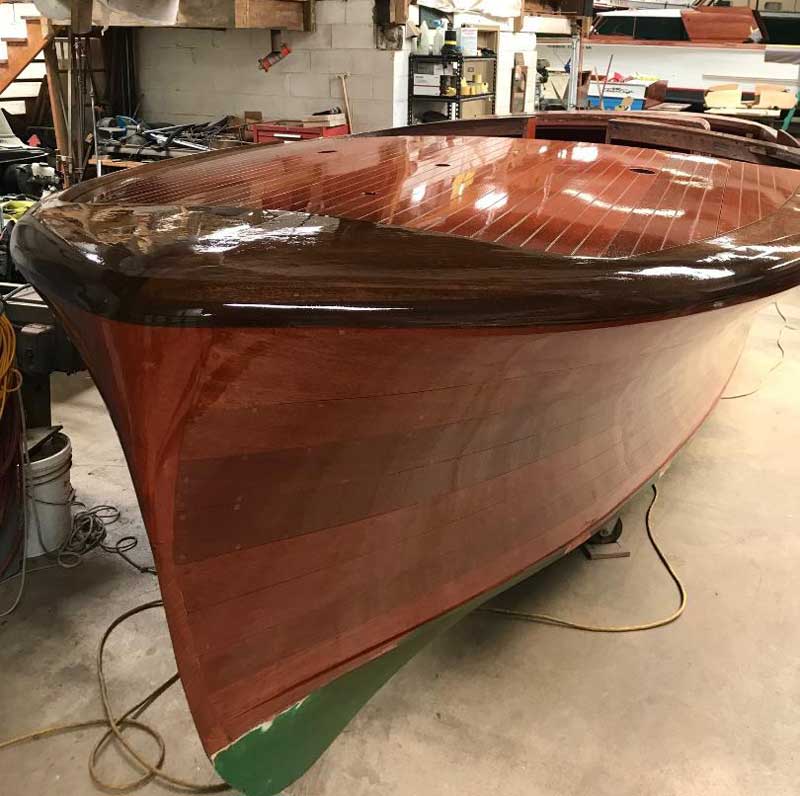 From St Michaels, MD, Chesapeake Bay Maritime Museum Floating Fleet Captain Christian Cabral reports that 1920 buyboat Winnie Estelle has been fully prepared for her busy spring and summer. "Winnie's maintenance program included a number of rig, mechanical, and cosmetic projects. With those completed, CBMM has been able to expand the availability of scenic river cruises aboard her to run each day of the week except Tuesdays. Additional specialty cruises and private rentals aboard Winnie have also been created, with details at cbmm.org/cruises. To learn more about CBMM's working shipyard, including regular photos and progress reports on its projects, visit cbmmshipyard.org."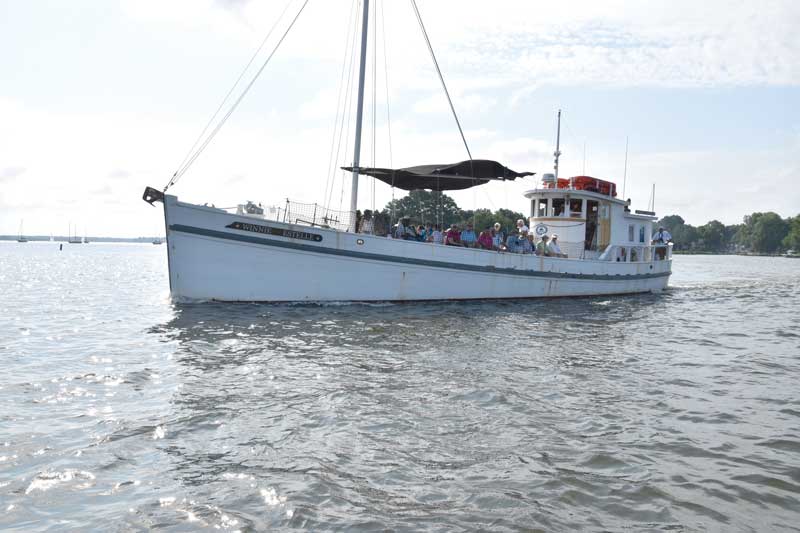 We had asked Charlie Petosa of Hinckley Yacht Services in Whitehall Marina in Annapolis, MD, when we were going to see the first outboard powered Hinckley in our area. His reply just came in. "I just found out that we will have our outboard powered 40-foot Sport Boat at the Bay Bridge Boat Show, along with a few others on dock H2, with a floating dock. This is in addition to the service booth I mentioned."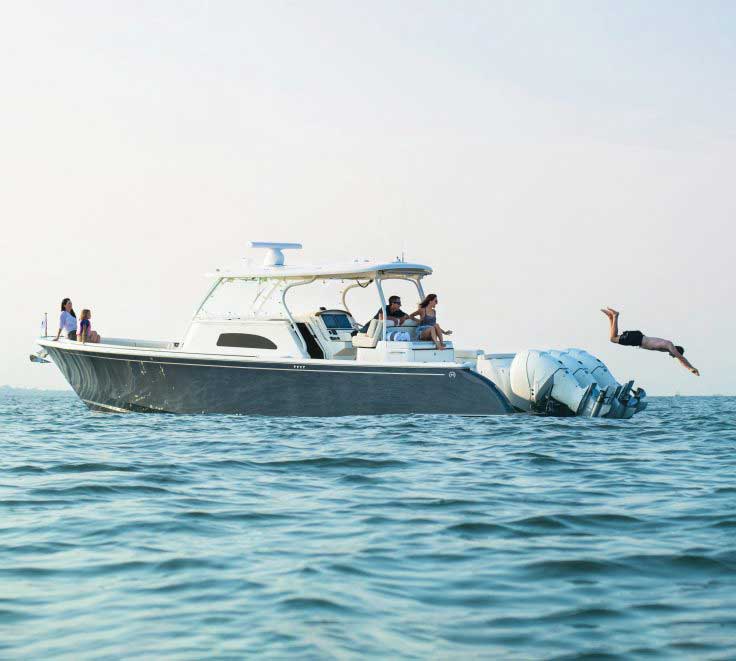 Hank Reiser of Marine Service LLC in Edgewater MD, reports that early spring work in the marina is keeping his team busy, but they are making steady progress on the restoration of the 1951 Chris Craft Commander 43 and the Stand Fast, a 1957 Lyman 23. Hank says they still are on schedule to have both restorations on display at the Annual Antique and Classic Boat Festival at CBMM in June. Also, just completed is a restoration of a 1957 Thompson Sea Coaster, now owned by the son of the original owner.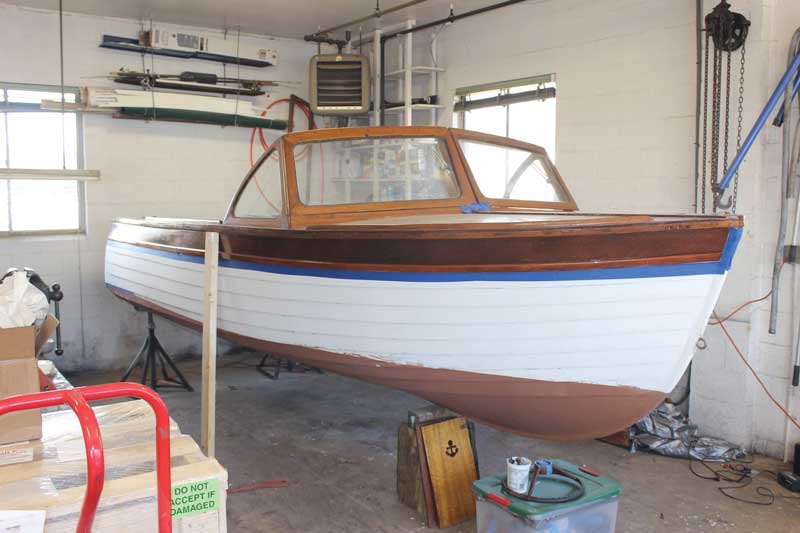 Nancy Noyes reports that the Chesapeake Light Craft workshop is abuzz this spring with build-your-own boat classes, as well as prototype building and custom work. During the week of March 18-23, CLC started work on a new 15-foot runabout of traditional style as a private design commission and class project, under the guidance of CLC designer Dillon Majoros. At the end of the week, the family loaded the hull onto a trailer and headed home, where they will complete the build on their own, using skills honed in the class.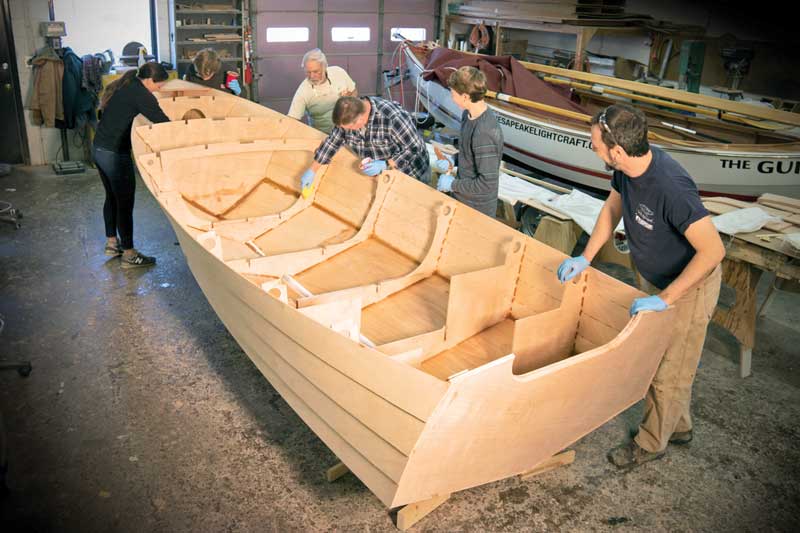 CLC's approach to the new runabout design was to apply modern prefabricated stitch-and-glue boatbuilding techniques to the complex and beautiful hull shapes of 1950s runabouts. As the team was developing the design in 2018, a prospective builder called to inquire if such a design were available. The result was a family spring break spent building the boat with instructors in CLC's classroom. This design is a development project for CLC. No release date for a kit has been announced. The design features CLC's patented LapStitch topsides with a vee bottom (12.5 inch deadrise at the transom) on an overall hull length of 14 feet nine inches, and beam of five foot five inches. The dry weight of the finished boat should come in at about 350 pounds with a seating capacity of four adults, powered by a maximum 25-hp outboard. See more at clcboats.com/runabout. Boatbuilding classes in Annapolis continue until the end of May, before resuming in the fall. For more information on Annapolis build-your-own boat classes, see clcboats.com/classes. 
By Captain Rick Franke