Summer is the time when white and blue marlin begin to show up off the coast of Delaware, Maryland, and Virginia. This year the first white marlin was caught out of Ocean City in late May, and out of Indian River in early June. Early June also saw the first blue marlin released out of Ocean City, so the billfish season is off to an early start.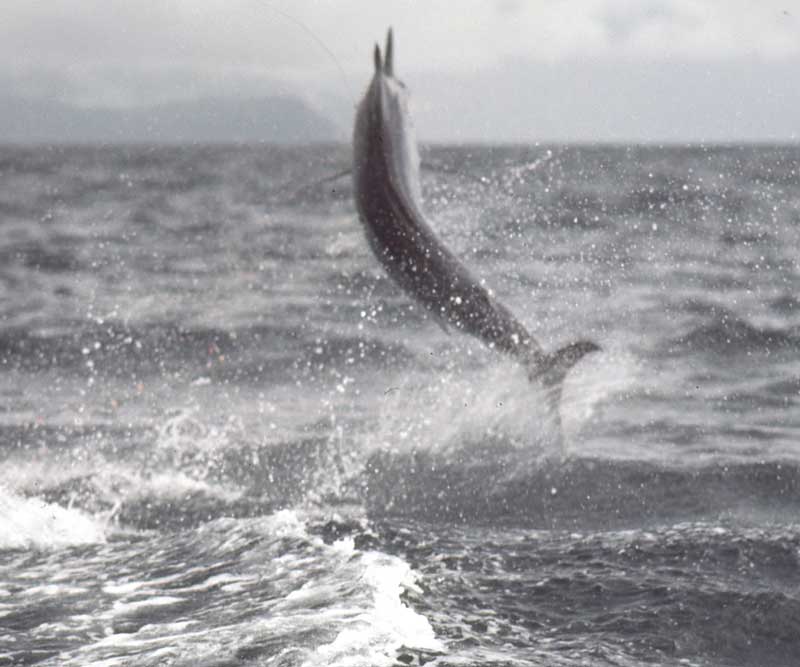 No matter how you choose to fish for marlin, it is going to cost some serious money. I began back in the early 1970s on a 22-foot Mako with my brother-in-law Paul Coffin and even then, it was far from inexpensive. The first year we went through some cheap gear that broke under the tough conditions of running six hours out and back to the canyons until we learned that good equipment comes at a premium price.
Along the way we also learned that hooks aren't sharp out of the box. Sucking on a hose is not a good idea to get a siphon going to fill the fuel tank. Egg salad is not the best thing to have for breakfast on a rough fishing day. Always believe the compass.
Anyway, we survived, and in 1974 we brought in the first white marlin of the year to Indian River. In those days no one believed you caught a fish unless you dropped it on the dock.
If you have a trailerable boat and would like to pursue a marlin on your own, you will need to make a few improvements. First, you have to be sure you have enough fuel to run out and back and then back out again. Figure 60 miles out to the Baltimore, the Poorman's, the Norfolk, or the Wilmington canyons depending on where you depart. That's 120 miles round trip plus another 60 miles to be safe. If your boat uses 12 gallons an hour and cruises at 25 knots, that's 72 gallons round trip with another 32 gallons for trolling and safety. My 24-Albemarle carried 120 gallons, so it was just right for a day trip to the canyons.
Next you will need decent tackle. If you read magazines devoted to marlin fishing, you might think Penn Internationals are the only way to go, and if you have the money, they are the best there is. However, for the rest of us Penn Senators will do just fine as will some of the other quality, but less expensive reels. I recommend filling your reels with quality mono line. Braid is great, but mono is forgiving.
To target white marlin, you will want to use rigged baits. Lures are fine for tuna and dolphin as well as blue marlin, but when it comes to whites, I have seen enough of them caught to believe that small baits are the way to go. 
You can learn how to rig ballyhoo and mullet by watching the videos online or buying books that detail the process. You may also buy the baits already rigged. 
Now we come to dredges. These monstrosities were unheard of when I began fishing, and we still caught marlin. They cost a small fortune to rig and require Hercules to deploy and retrieve. If you must have one, go for a lighter model with artificial fish.
I run two teasers, one from each corner with a naked ballyhoo or swimming mullet directly behind. My outrigger baits are ballyhoo with seawitches. A green machine on an 80 runs down the center. If you have a bigger boat with a wider stern, you can run short riggers.
Constant vigilance is the key to successful marlin fishing. Each angler should hold at least one of the lines in his hand at all times. They should also keep watch on the baits for any sign of a bill or a swirl behind.
All baits should be rigged with circle hooks. When a fish hits, a long drop back will insure a solid hook up. Generally, the fish will make a long run away from the boat taking out quite a bit of line. The captain will give chase as soon as the other lines are clear and should go forward since that is why they made the bow the pointy end.
Once the fish is close to the boat, the mate can grab the leader, and with a little luck and a lot of skill, effect a clean release. Hand shakes and backslaps all around before resetting the baits and shouts of 'let's get another one!'
By Eric Burnley