As we make our way through the dark days of winter, there are a few hopeful signs on the horizon. By adjusting to the new normal, supply chains are beginning to catch up with demand. New boats are once again being delivered to dealers, and marinas and boatshops continue to experience record winter business. It appears that the enthusiasm for boating that developed during the summer will continue as the virus slowly recedes. We can only hope so.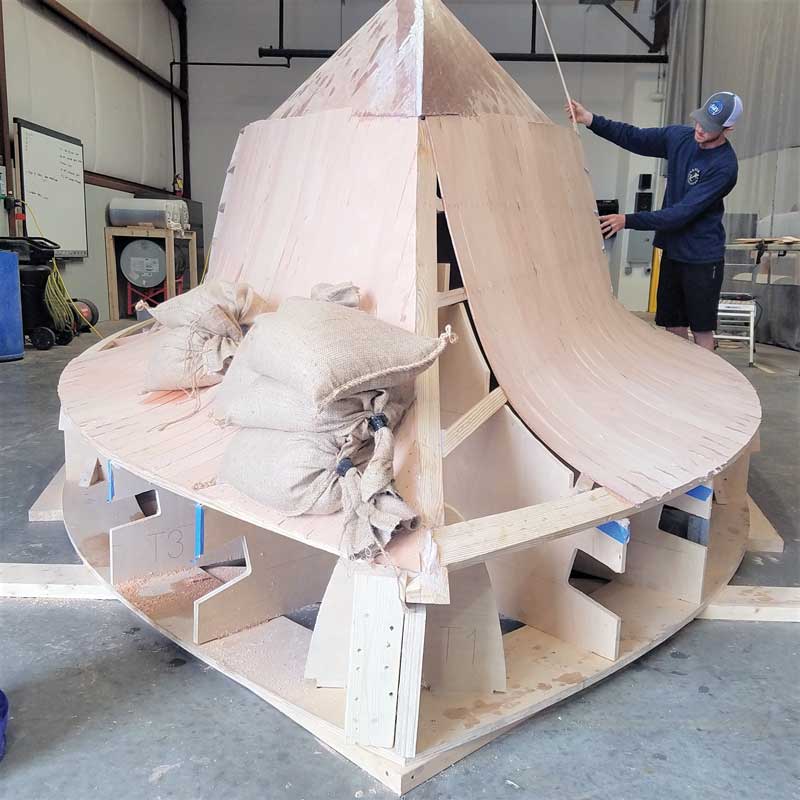 Susan Campbell of Campbell's Boat Yards in Oxford, MD, starts us off with a report of a hectic winter season: "Campbell's Boatyards has had a busy winterization period with a record number of boats hauled and winterized on land. Our winter is full of re-powers, restorations, and teak deck installations as well as regular servicing items. We are currently installing a new floating dock at our Bachelor Point location and are in the process of getting permits to re-do the restrooms at Jack's Point. Our slip rentals are good, and we are almost completely full—if you are interested in getting prices to keep your boat at Campbell's for the 2021 boating season, call soon! Our yacht sales office has been very busy, and we are currently looking for boats to list—if you are interested please contact our office."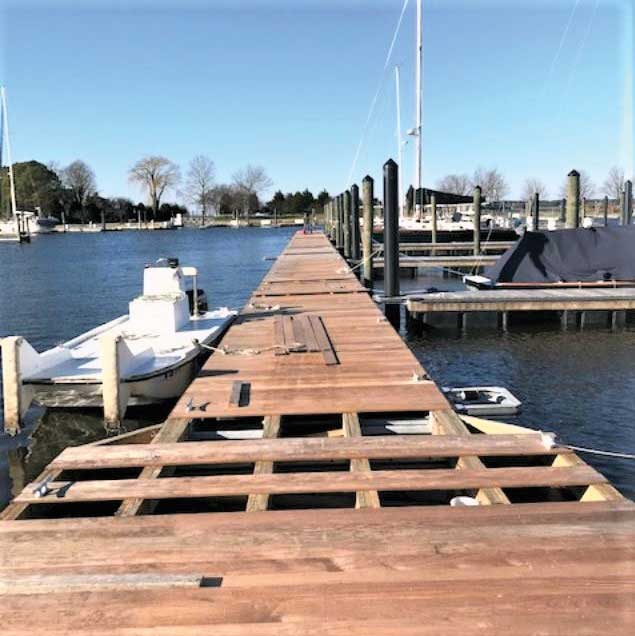 Everyone talks about the marine industry manpower shortage, but the Marine Trades Association of Maryland (MTAM) is doing something about it. Its six week paid apprenticeship program has been introducing new workers to the industry since 2014. Lia Jaros, the program coordinator, sends us this report. "We would like to congratulate Elizabeth Young on the completion of her six-week On-the-Job Training (OJT) with Annapolis Harbor Boat Yard (AHBY) in Annapolis, MD. Young grew up fishing in Allen Pond Park with her father. She joined North County High School's Fishing Club when she started high school and took advantage of their annual trip to the Baltimore Boat Show through MTAM's Career Day. It was at the Career Day event she learned about the opportunities in the recreational boating industry through MTAM's OJT Program.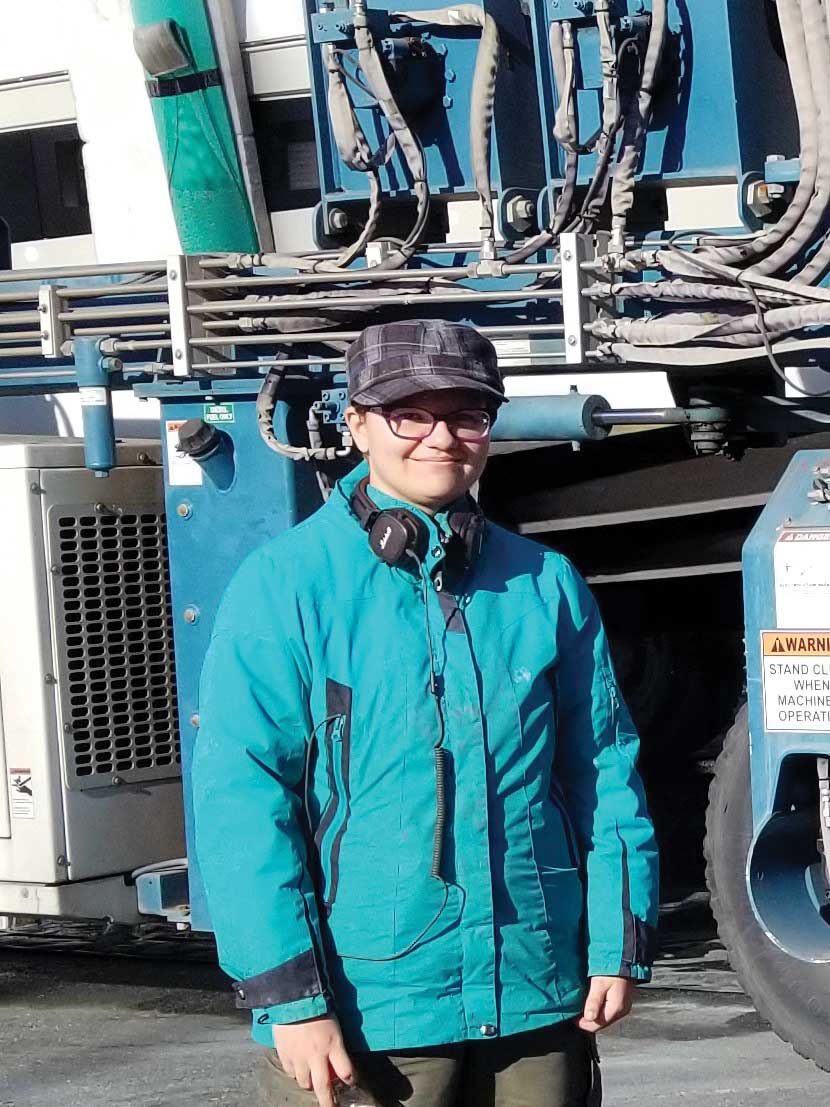 "After graduating from North County High School, she applied and was accepted to the program at AHBY. 'I wanted to work with my hands,' she explained, 'and getting into an industry that provides lots of opportunity seemed like a better financial decision for me than college is at the moment'. The OJT program was her first job experience. During her training, Young learned how to haul, block, sand, and paint boats. John Norton, president of AHBY, is a longtime supporter of MTAM's workforce development efforts and has hosted five trainees since the start of the OJT Program. 'I think MTAM is doing a great job in light of the current circumstances,' he said."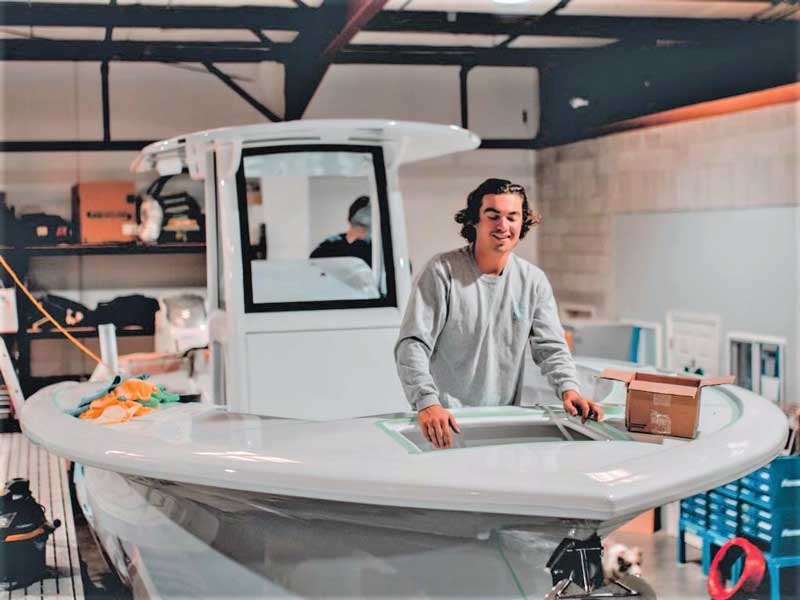 Alex Brewer of Anchor Boat Works tells us about the Palmer Custom 28-foot CC LX under construction in their Virginia Beach shop. "The CC LX is based on a B&B Yachts design which has been modified and customized by Steven Palmer. The center console boat has industry-leading features such as completely custom teak work, custom Release Marine helm chairs, and a custom electrical panel, along with cutting edge technologies such as: Optimus 360 joystick steering, a Seakeeper 2, Suzuki 350A's, Garmin electronics, Lumitec lighting, JL audio, and Fusion stereo equipment."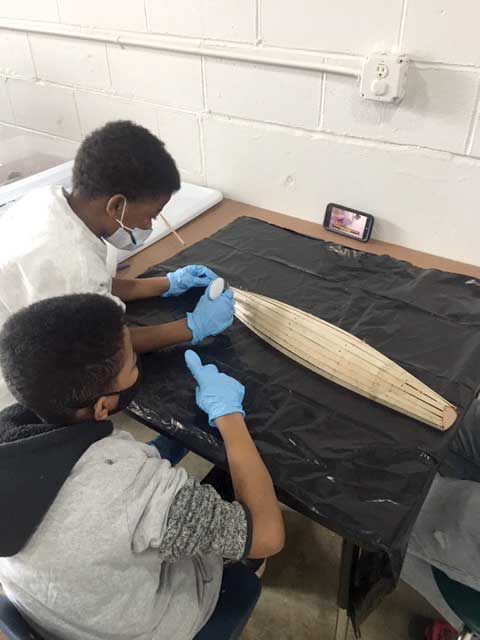 Gina Grove of the Annapolis Maritime Museum and Park in Annapolis, MD, brings us up to date on winter happenings at the museum. "Our annual boat building program with Box of Rain is underway, but looks slightly different due to Covid-19. This year, our dedicated volunteers are assisting via Zoom while the kids build an Annapolis Wherry Scale Model. The kids have been split into two teams and will work together to accomplish this common goal. Thanks again to our wonderful partners at Chesapeake Light Craft for providing us with the boat model kit, and Chick-fil-A for providing delicious lunches!"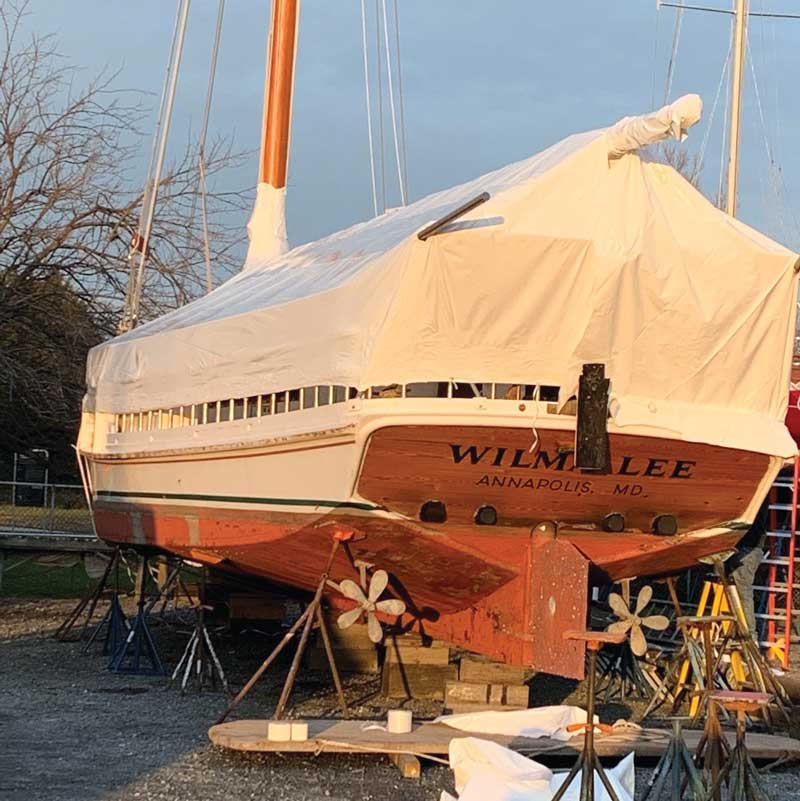 When the museum's skipjack was hauled out, the port propeller was badly fouled. "We'll admit this was not what we expected, nor hoped, to see when the Wilma Lee was lifted out of the water a few weeks ago. We love that we are able to provide public access to the Chesapeake Bay by way of our piers and beachside park at the Museum Campus. However, we ask those that fish and crab from our piers to kindly dispose of their lines appropriately to help prevent this type of build-up, not just for our historic skipjack, but for all the boats that visit our museum campus. Every year the Annapolis Maritime Museum and Park (AMM) is required to haul the Wilma Lee for an annual dry dock inspection by the United States Coast Guard (USCG). Earlier this month we were the first inspection for the USCG in 2021 and passed our inspection. The Wilma Lee will have her topside inspection once she is back in the water, but we are getting excited and ready for the new year."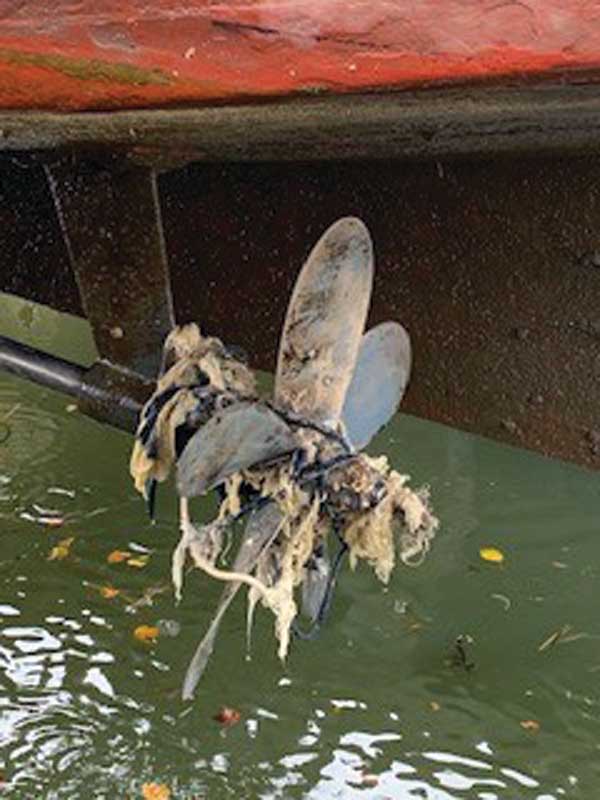 Christian Cabral, shipyard manager for the Chesapeake Bay Maritime Museum in St. Michaels, MD, reports that CBMM's shipwrights have whittled down their to-do lists this winter in order to focus on the two major ongoing projects in the Shipyard. "The majority of CBMM's staff are focused on the construction of the new Maryland Dove. After completing all backbone, framing, shelving and deck beams, all attention has turned to rig construction and planking. CBMM's lead rigger, Sam Hilgartner, leads his team in the construction of Douglas fir spars and the intricate process of block construction, running rigging and all associated work. Project manager Joe Connor, CBMM's lead shipwright, is harnessing the considerable power of his team to shape and install planking, fairing the installed planks, preform engine and systems installations, and continue with deck framing and the decking itself.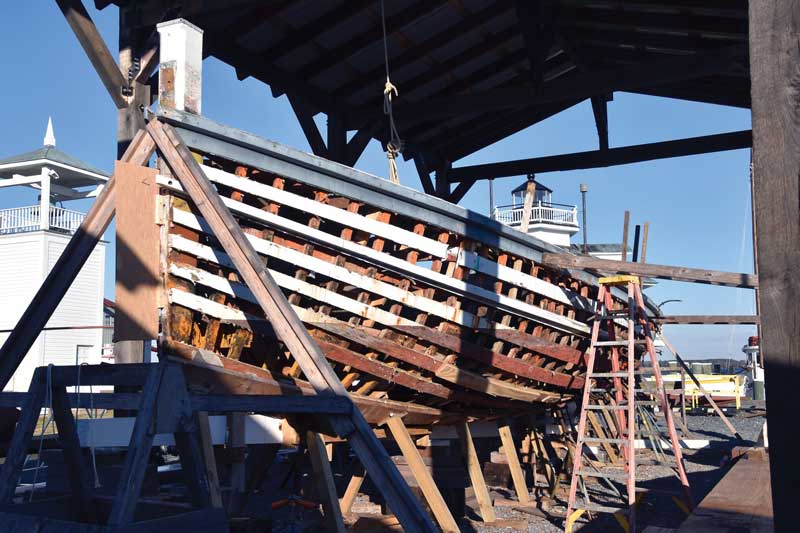 "The remaining shipwrights are dedicated to the restoration of Delaware, CBMM's 1912 river tug. Over the winter shipwrights Michael Allen and Jennifer Kuhn, along with CBMM's shipwright apprentice team, will be working chiefly on the vessel's framing—both steamed and sawn—then transitioning into the shaping and hanging of planking. As always, the next railway season never seems far away. Beginning in April some CBMM shipwrights will turn their attention to the first haul and commission of the new season, passenger carrying buyboat Winnie Estelle. To learn more about CBMM's working shipyard, visit cbmmshipyard.org."
Alex Schlegel of Hartge Yacht Yard in Galesville, MD, brings us up to date on a long running project and a very busy shop. "Over the years we have rebuilt, repaired, and upgraded much of the 1950 Trumpy Manatee. We are now well along on a process of rebuilding the galley. The old galley was completely removed, including plumbing, electric, and a delaminated bulkhead. First step in the rebuild, after the design phase, was fairing the sole and installing Lonseal vinyl that looks like cork. This may seem odd for a wooden boat, but it was built that way, it looks good, works well, and vinyl soles were not odd in the 1950s. 
"New plumbing was run, including hot water pipes to the salon heat radiator on the other side of the repaired bulkhead. All cabins are heated by hot water from an electric boiler in the engine room. All the radiators were reconditioned earlier. Cabinets were built to accommodate the new under counter stainless steel refrigerator and oven. The countertops are custom stainless steel made to match the original. Custom LED lighting is being installed in the galley and salon; a modern technology, but with a look appropriate to the 1950s.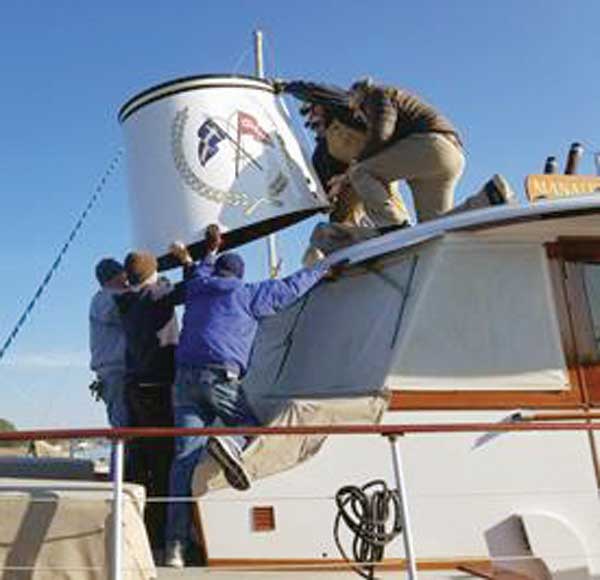 "Also in progress and nearing completion is a new smoke stack and repairs to the cabin top under the stack. The stack provides ventilation for the engine room, access for wires to a cabin top air conditioner, lights on the military mast, electronics wiring, and a drain for the air conditioner condensate.
"For many years our carpenters have had more work requested than we can handle. It looks that way as far as we can see into the future. The painters and varnishers are busy for the winter, as well as the mechanics and riggers, but occasionally they all get backed up due to work on the Trumpy. Winter weather changes how we work. Usually the carpenters, mechanics and riggers and fiberglassers can deal with it in various ways. The painters need to keep a large work area warm, which can be a challenge. Fortunately we have five boats in the heated tents that can be warmed enough for paint and varnish work. The Travelift crew stays busy through the winter on a variety of paying work and maintenance of the equipment and grounds. There is always work to do."
There is indeed, Alex. And, as we wait impatiently for the first ospreys to arrive (a sure sign of spring), stay warm and healthy. We'll see you next month.  
By Captain Rick Franke