The Baltimore Boat Show has come and gone. The days are getting noticeably longer, the groundhog has spoken, and tentative, hardy green shoots are poking up through the cold ground. Spring can't be far away. As a matter of fact, the first day of spring is March 19 this year. As we all look forward to the start of another great boating season, with a strong economy and stable fuel prices, area boatshops are busy and optimistic.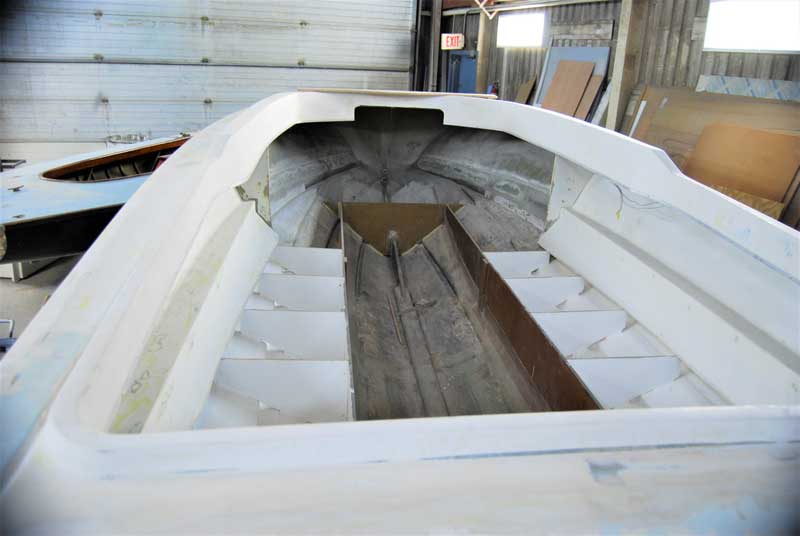 Susan Campbell of Campbells Boatyards in Oxford, MD, starts us off with this upbeat report: "We're not paying any attention to whatever the groundhog said; we are moving forward with preparations to complete the service work and begin launching boats for the 2020 season. Fresh bottom paint and wax are the basics, but with Campbell's Boatyards being your Yamaha full line dealer, we are building on that with new Yamaha outboards on several boats, including a 388 Edgewater getting a pair of 425-hp engines. We will test out the new floating docks at Bachelor Point, anticipating an improved docking and boarding experience for slip holders and transient boaters alike. The 2020 season is shaping up to be a busy one for all of our locations in Oxford!"
David Low of Herrington Harbour North in Tracys Landing, MD, checks in. "With over 1000 boats hauled and neatly stored for the winter, our contractors are in high gear with repairs and upgrades. Our paint crews are inspecting boat bottoms and getting all our tools and material ready for spring sanding and painting. Along the waterfront we have rebuilt the bulkhead at our in-water service area on Q dock, and Club House dock is getting new composite decking."
Captain Alex Hazel of Atlantic Marinas Maryland is also reporting a busy winter of upgrades and improvements at their marinas. "We do have a few projects in full swing. Dredging is on-going at the Patapsco facility, and we are currently re-decking all the piers at Atlantic Marina on the Magothy with composite decking and an all new electrical system with 30-amp pedestals. We will also be adding brand new pool furniture."
Nancy Noyes of Chesapeake Light Craft (CLC) in Annapolis, MD, shares this ambitious schedule of classes this season for novice do-it-yourself boat builders. "CLC's Annapolis workshop/classroom comes alive in late February with the start of a series of eight spring session build-your-own-boat classes. In these classes, students work with a skilled boat builder instructor to transform pre-cut kits of plywood pieces into complete kayaks or rowing boats in just five and a half days. Although the boats still require final finishing—sand, paint, varnish, and rigging—the students take home hulls which are otherwise complete at the end of the class week.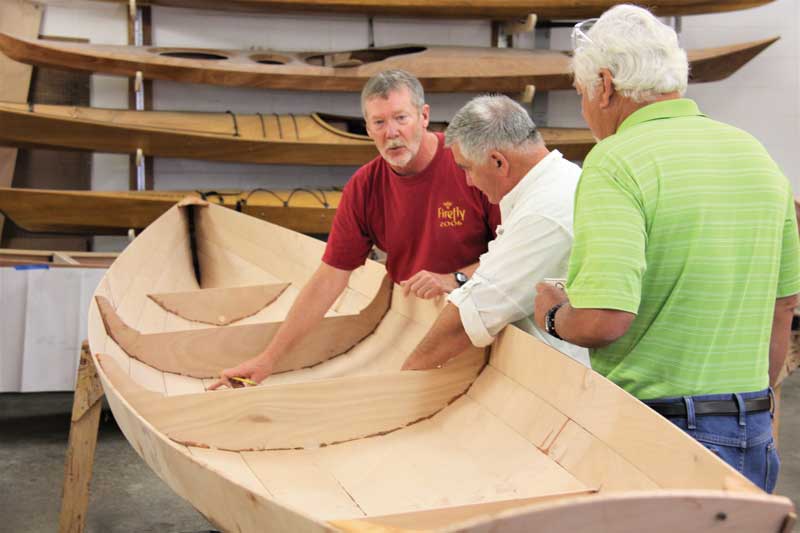 "Students come to our workshop from all over. In addition to hailing from the Mid Atlantic, students have come from as far away as Utah, Arizona, California, New England, Florida, and Canada—and everywhere in between. Annapolis Mayor Michael Pantelides participated in a class during his tenure, and film actress Kerry Bishe also built her own boat in an Annapolis class a few years ago.
"The CLC calendar traditionally includes more than three dozen of these build-your-own-boat classes from coast to coast. The spring session in Annapolis runs through the end of May. June brings the start of summer sessions at the legendary WoodenBoat School in Brooklin, ME; the Center for Wooden Boats in Seattle, WA; the Great Lakes Boat Building School in Cedarville, MI; and other spots around the country, before the start of fall boat building sessions back in Annapolis from September through November. 
In addition to building boats in our shop, two special two-week class sessions building the CLC Teardrop Camper are on the schedule in March and July. For the full schedule, see clcboats.com/classes. Classes in CLC's Annapolis workshop, along with other boat building projects in between class sessions, can be watched live on the shopcam, clcboats.com/shopcam." 
F&S Boat Works in Bear, DE, also reports a busy winter putting the final touches on hull number 30, Soul Candy, an F&S 61 Enclosed Express. Esmee, also a 61, hull number 28, was back in the shop for some routine maintenance before she heads west to the Pacific.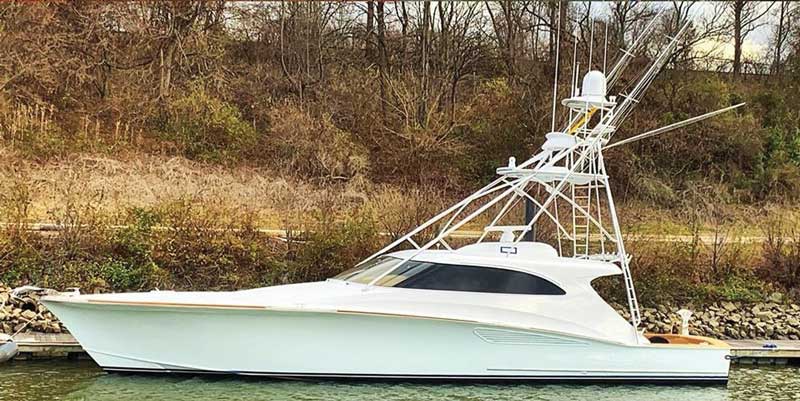 Judge Yachts in Denton, MD, builders of custom boats from 22 feet to 42 feet, announces its 16th annual open house: "Take a tour of our facility, explore a variety of models, and talk with current Judge owners to find out why they love their Judge!" The event is Saturday February 29, 11 a.m. to 5 p.m., and will be held indoors, so it is 'rain or shine.' To find more information and RSVP go to judgeyachts.com."
George Hazzard's Wooden Boat Restoration in Millington, MD, reports that the shop has been full all winter with various projects, including the final stages of restoration of a 1948 25-foot Chris-Craft Sportsman. According to George, they are installing the "shiny bits" such as cleats, windshield, and step pads. The crew was able to take advantage of unseasonably mild weather in mid-January to successfully test run a four-blade prop on a 1953 22-foot Chris-Craft Sportsman.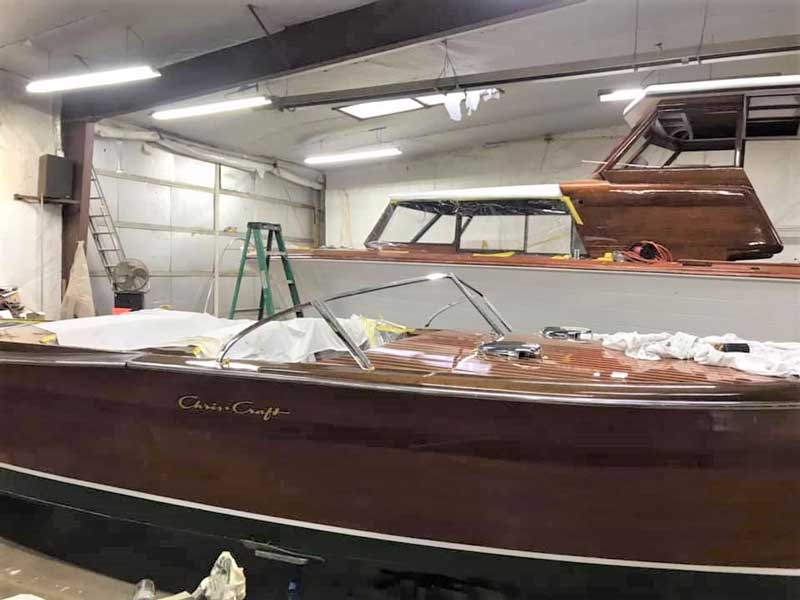 Phipps Boat Works at Herrington Harbour North in Tracys Landing, MD, reports a full work schedule well into next summer. Major projects now underway in Buster's shop include a complete teak refinishing job on K23, a 2005 Sabre 47 and a redesign and replacement of all interior cabinetry on Hank the Tank, a 1978 55-foot steel De Fever trawler.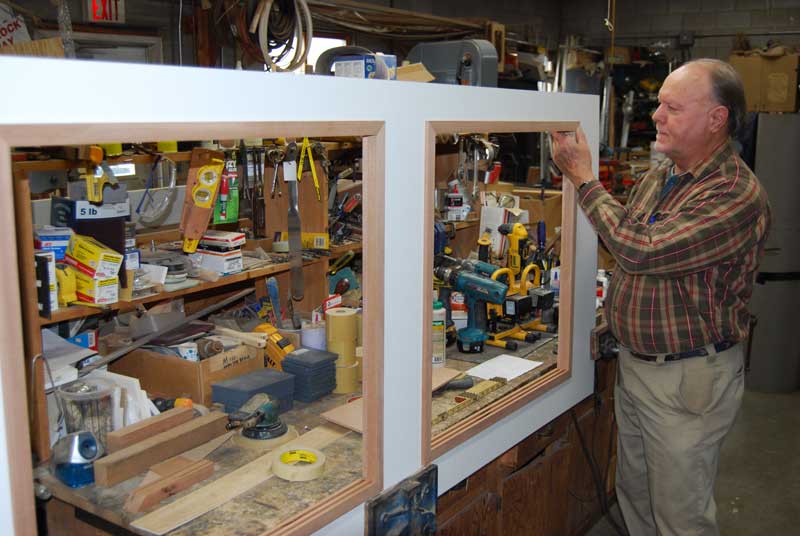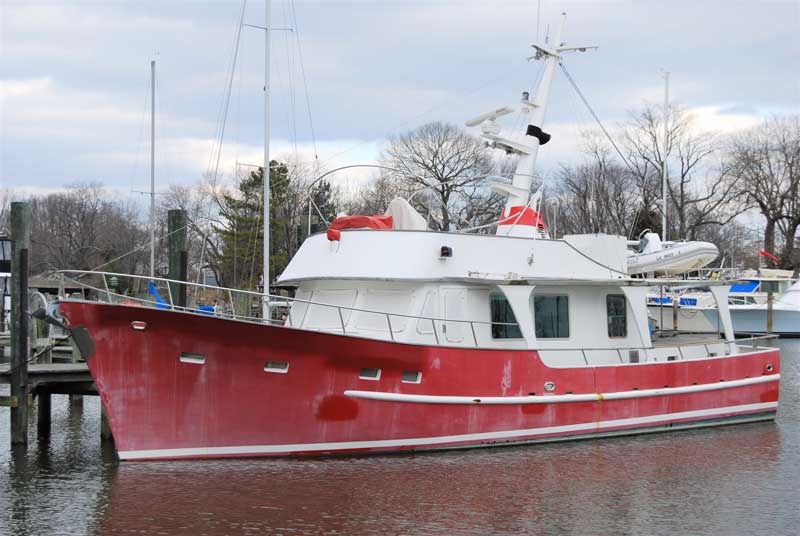 Rob Hardy of Composite Yacht in Trappe and Cambridge, MD, also reports a busy winter and a positive outlook for spring. "The big boat, the CY55, is out of the oven and in the shop, and we are working on reassembling the deck mold and installing bulkheads. Progress is slow because there is still a lot of R&D going into it, a lot of design stuff. We've got several orders for our new CY 46, so we've started laminating the next one of those. We also have a new CY 26 on order, so we're booked out for several years' builds and late summer on the current big projects."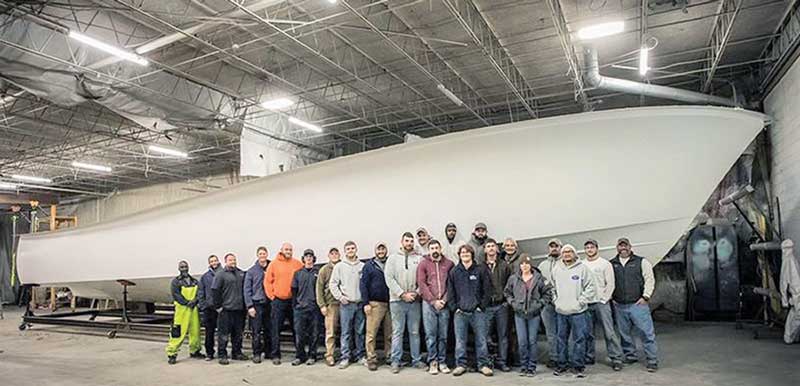 Rob also gave us a quick update on his new building. "We're moving along on that. We're still pouring footers. The building's going to have in-floor heat and a 12-inch concrete floor, so the footers are a pretty complex project. But we're chipping away at it."
Charlie Petosa from Hinckley Yacht Services in Annapolis, MD, checks in with us. "We've got two current projects probably worth mentioning. One is a Friendship 40, Stargazer. She is part of the Inn at Perry Cabin Fleet, which we care for entirely here at Hinckley Annapolis. This winter Stargazer is going through a full exterior refresh consisting of all new varnish, hull/mast/boom paint, new rigging, as well as many other repairs and maintenance necessary to keep this beautiful boat consistent with the Five Star standards of the Inn at Perry Cabin.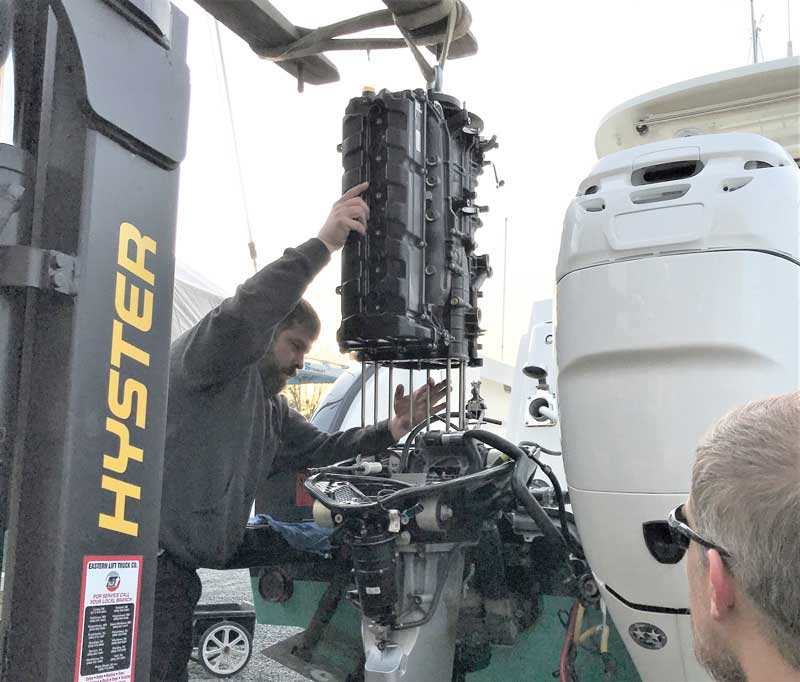 "The second one is a Sea Ray 33 in for major engine and outdrive service on her twin Mercurys by our talented team of technicians Scott Payne, Jim Martin and Randy Wilkerson. Her engines and outdrives have been removed for service. All major engine components and transom assemblies are being replaced before the out drives and engines are reinstalled. Her twin Mercuries will be like new when completed."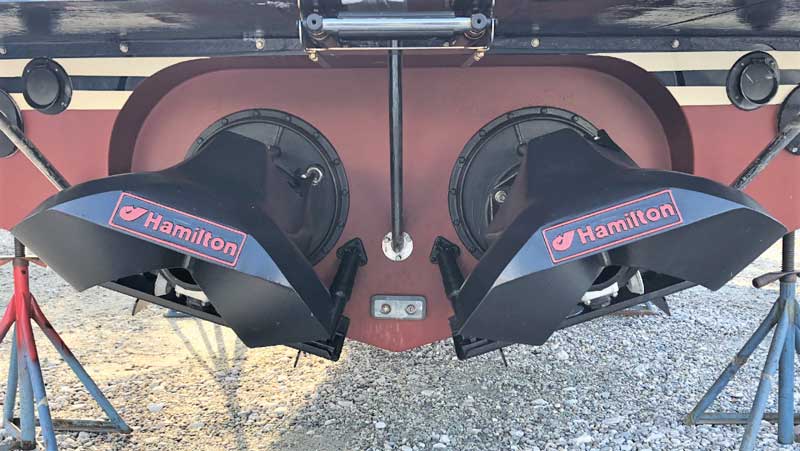 Charlie also commented, "We've had a good winter work period keeping us busy. Our first spring launch date is February 28, and the schedule just builds from there. We feel good about the business this year. We are hearing a lot of good tidbits about the industry. Hopefully it will just keep on truckin.'"
We do too Charlie!
By Captain Rick Franke