The Live Water Foundation will offer a full-service oyster cage program on Annapolis' historic Back Creek, thanks to a partnership with the Severn River Association as part of Oyster Recovery Partnership's project Marylanders Grow Oysters, and with funding secured by the not-for-profit Palmer Foundation.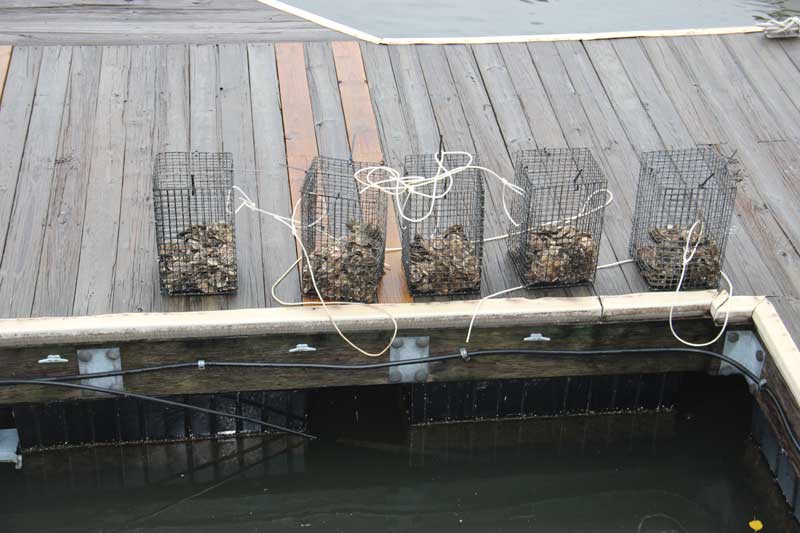 Live Water Foundation hopes that this self-sustainable model will elevate the efforts on behalf of all of these organizations to restore the Chesapeake Bay through oyster recovery. Their goal is to get as many people involved as possible by taking out all of the dirty work, allowing dock owners to simply host the cages and leave maintenance, cleaning, and transportation to the foundation. 
Ellen Moyer Park, home to Capital SUP and the Annapolis Maritime Museum Park campus, will be the new distribution center for Back Creek homeowners and businesses who participate in the self-service and full-service programs. Capital SUP CEO Kevin Haigis will be hosting oyster cage building workshops at Capital SUP for the benefit of this new program. 
There are two ways to get involved:
The self-service process begins by coordinating with the SRA to secure the oyster spat-on-shell with cages in time for the September to May winter growing season. Once participants have the cages, they must hang them from their dock at a depth that ensures the oysters stay submerged even at low tides and following winter storms. From September to May, the cages require a monthly visit to monitor depth and shake off any debris that could be restricting water flow. When June arrives, the baby oysters are delivered to the Traces Hollow MGO reef on the Severn River to be planted.
The full-service program will include: an accessible online portal for sign-up; email, phone, and/or text communication with the Live Water Foundation's full-service MGO team; oyster cages containing live oyster spat will be installed for you on your pier in the fall; oysters will be maintained for you during the growing season by boat (checked, cleaned, and lowered); oysters will be taken to the Severn River MGO Sanctuary Reef at Traces Hollow for you in June; cages will be collected, cleaned, and stored off-site and refurbished.
The full-service program is a maintenance-free and hassle-free way to contribute to the restoration of the Chesapeake Bay watershed. Cost is $150 for three cages, $300 for six cages, or $40/each for additional cages.
To get started, email: [email protected] for self-service MGO questions and [email protected] for full-service MGO questions. You can also find more information at livewaterfoundation.org.