Some people are lucky enough to be impacted by people, places, and events at a young age that form childhood dreams and propel them to great achievements reaching for those dreams. The Annapolis Capital Gazette recently featured friend and fellow Annapolitan, Fred Gregory, making that exact point. Fred was deeply influenced by seeing the USAF Thunderbirds flight demonstration team as a youngster. Armed with a dream to fly, he went to the Air Force Academy, became an Astronaut, and later Deputy Administrator of NASA. Noble dreams begot noble achievements.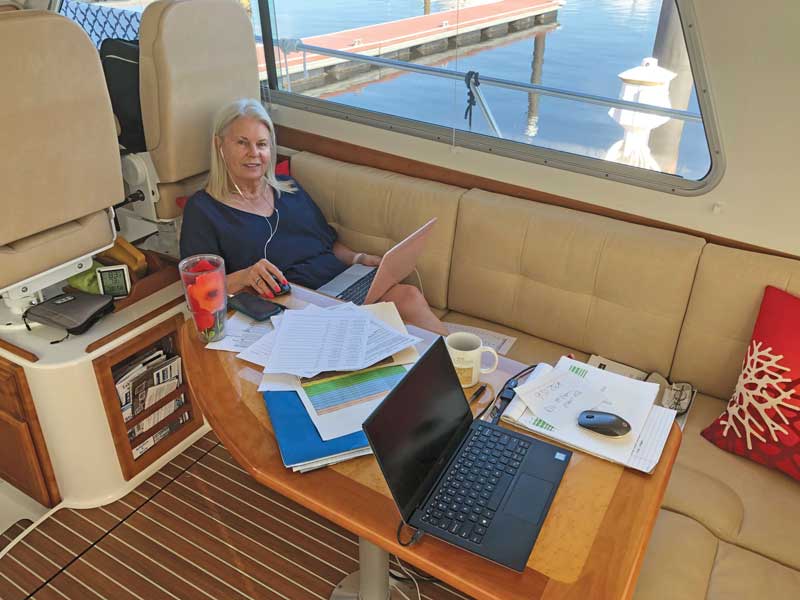 For some of us, those childhood influences produce dreams maybe a notch lower than Fred's. In my case, the exposure to boats for the first time around 10 years old, led to a dream to live aboard a boat someday. And so it was that fresh out of graduate school, a job at the University of Maryland found me looking for a boat to call home. Given Washington, DC, metro apartment prices, it was actually a less expensive option. Bonus!
In the fall of 1980, I bought a 12-year-old 34-foot houseboat and parked her in Bladensburg, MD, (yes, there used to be a marina in Bladensburg on the upper navigable reaches of the Anacostia River). The houseboat manufacturer was Drift-R-Cruz, founded by World War II veteran Jack McKee. It was the first houseboat made from that new stuff—fiberglass.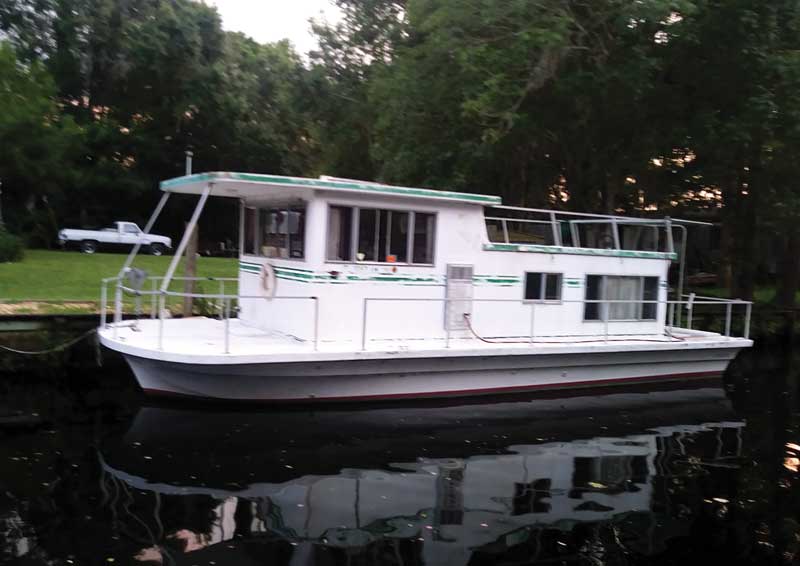 With the first model introduced in 1961 Jack was on his way to being the king of houseboats. Sadly, his reign ended early with his death in 1966. But in that short stretch he outsold the rest of the budding industry combined. After his death, the company was acquired by Thunderbird Products (makers of Fountain Boats today), which continued production well into the 70s.
My 1968 model had a grand total of 180 square feet of living space. It was heaven, though maybe a little tight even for a 20-something bachelor. Living aboard a small boat is a lesson in Euclidean geometry. I learned early on to limit the things I brought onboard and began a long boating journey earning my "PhD" in space utilization. 
The houseboat gave way to marriage and a condo. It was followed by a string of sailboats. Space considerations, always a thing on boats, became somewhat less critical doing day sailing and weekend cruising. But a second dream was at work!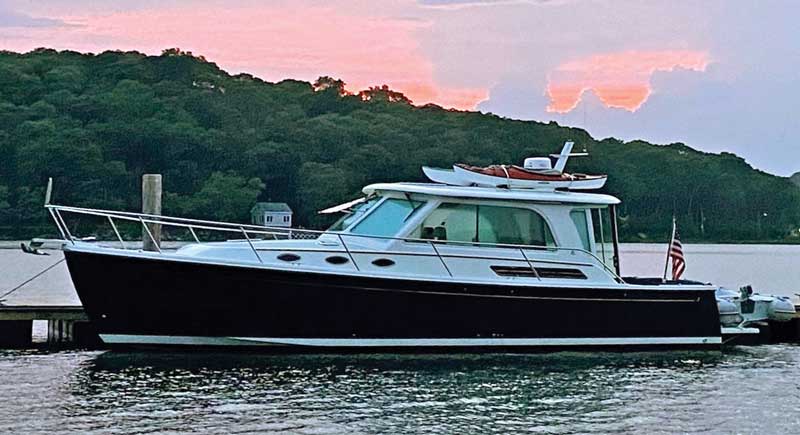 As we true believers know, a bad day on a boat is better than a good day in the office. The sailboats and the Bay as my playground were fine, as far as that went. The office was ever so important as a place to make sure one could afford boats. Still, there was always that longing for more boat time and less office time. Those pressures and conflicts combined to conjure up a dream of post-retirement ICW transits and winters in South Florida, living aboard once again! 
Fast forward, that dream is also now a reality. We (I and my boat partner in marriage, Sue) have been to South Florida each winter since 2015/16. We have done so on a 46-foot trawler and an ill-advised condo. This winter/spring we have been living in Stuart, FL, on our present boat, a Back Cove 37 named Winsome Winn. She has about 230 square feet of living space, a 30-percent boost from the old houseboat. But, with Sue, we have a 100-percent boost in souls onboard. Space, to say the least, is at a premium.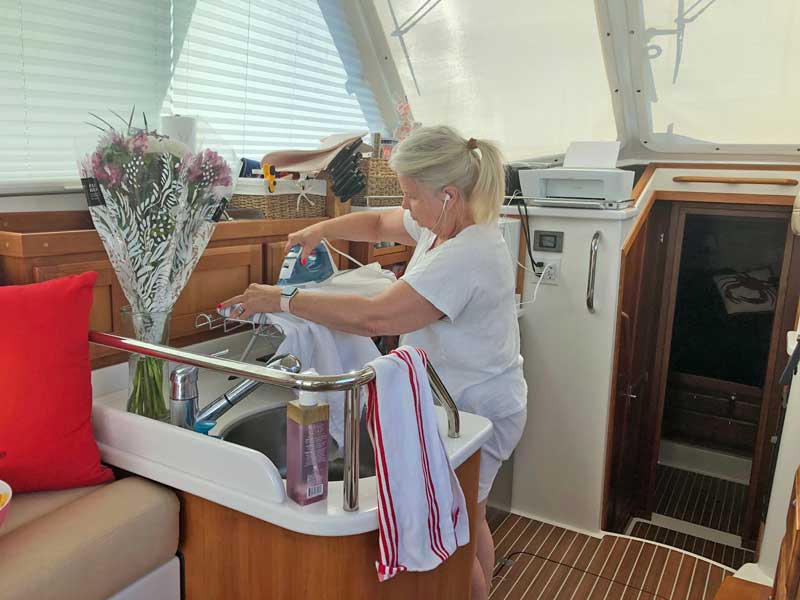 Our Back Cove 37, seemingly perfect for cruising and living aboard for weeks at a time, grew smaller this January as we settled into longer term life aboard. We began to talk openly about a larger boat. We even flirted with owning two boats, one effectively a houseboat for Florida and the Back Cove for cruising the rest of the year.  
I am not sure exactly how bad it got, but I think Sue was using so much bandwidth perusing Yacht World that the marina Wi-Fi occasionally crashed. After looking, thinking, making spreadsheets, and considering many options and permutations, we decided to make the space we had work for us and stick with one cruising and liveaboard boat. In the background you should now hear the words of Sheryl Crow's 2002 hit song, "Soak up the Sun:" "It's not having what you want, it's wanting what you've got."     
To make this commitment work, the Container Store became our best friend. All manner of storage ideas came to fruition. Sue even found a small foldable ironing board and I dutifully found a place to park it. Okay, we did cheat a little. We bought the biggest dock box we could find and installed it dockside. Yes, it is full.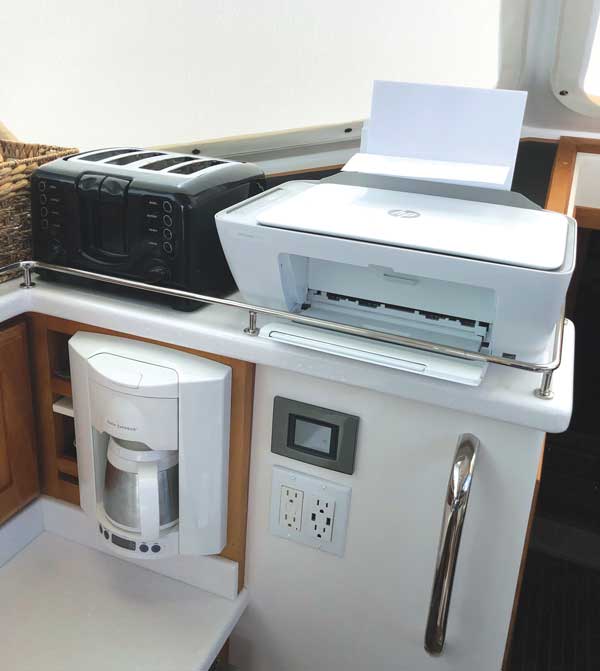 We have found it is comfortable to do the work we still do together at the main salon table. It fits two computers and accompanying papers. We found a small printer and a place for it above the galley. If we both need to be on a call or worse, a Zoom, it gets a little complicated. I have done Zoom from the car in the marina parking lot and walked the docks endlessly on phone calls.
Coffee is a very important component of boating. They say the US Navy lives on coffee. It is a critical element on Winsome Winn. We found a built-in coffee maker from Brew Express (similar models found on certain Legacy and Fleming Yachts) and installed it. Installed, it is so much more out of the way than a regular countertop model (note: Brew Express is moving production to the US and temporarily out of coffeemakers).
Hanging lockers on smaller boats do not really accommodate living aboard. We added a temporary additional closet rod in the guest cabin.  It gets a little complicated when we want to use the guest cabin for actual guests, but we have figured it out.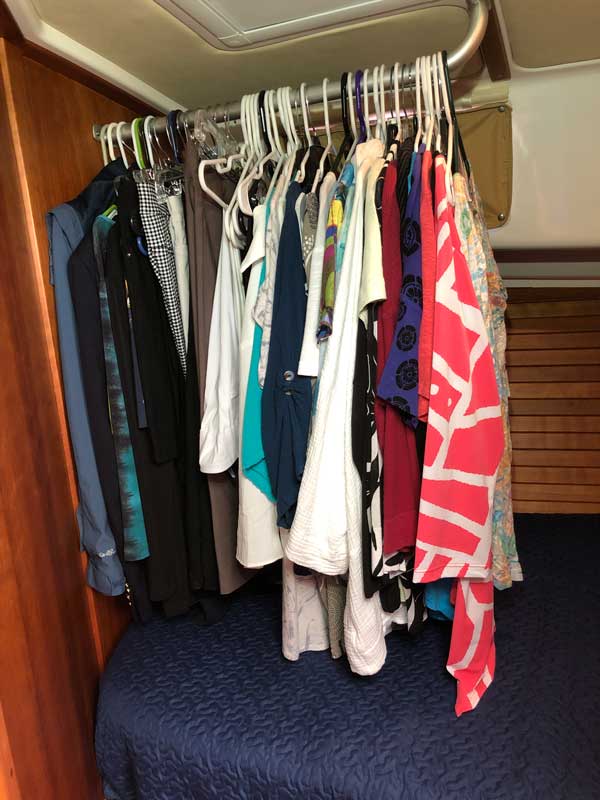 Meal preparation and entertaining paraphernalia presented a substantial challenge. Nesting bowls and collapsible measuring cups are a big help. A custom knife block provided a place to store the sharps and made the serving utensil drawer safe for rooting around in.
The moral of this story, if it is not painfully obvious at this point, is that you can live comfortably aboard a fairly small boat. Having a good understanding of your most critical needs, geometry, and an Amazon account will help a lot. So, take a fresh look at your favorite floating fiberglass and see her in a new light—a home!  
By Mike Pitchford
---
Don't miss these other great articles by Mike Pitchford:
New Life for a Much-Neglected Legacy 32
Quick Haul Boat Repairs Save the Day
Even more are available on our search page under Mike Pitchford's name.