This story came to us from James Abell, a lifelong Chesapeake Bay waterman and proud uncle who wanted to share the story of his grand-nephew, Junior Abell. The pride, sincerity, and enthusiasm that James conveys about his nephew is heartwarming and inspires optimism for the future.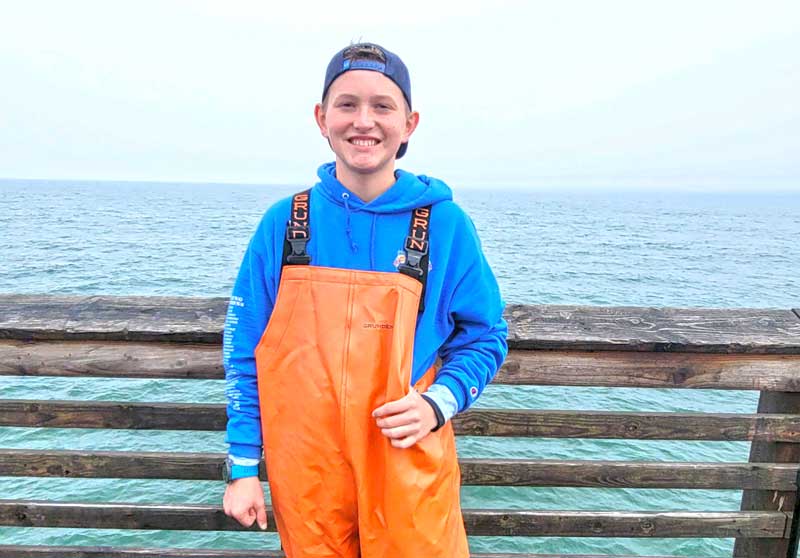 Some people may try to tell you that Chesapeake watermen are a dying breed; yet the Bay is dotted with industrious young people who embrace the job and the hard-working, outdoor lifestyle that comes with it. Junior Abell is one of them.
Junior, who is 13 years old, runs his own oystering business. Known as "Junebug" to just about everyone, he comes from a family of watermen. This young teen learned to patent tong for oysters alongside his grandfather, David Abell, affectionately known as 'Pop Pop,' great uncle James Abell, and great uncle Michael. 
Watermen and workboats usually leave their slips early in the morning when most teenagers are likely still asleep, but Junior, who has been homeschooled for the last few years, has the flexibility to work on the water and he doesn't mind getting up early. On track to enter the ninth grade next year, he often does schoolwork in the evenings and on weekends.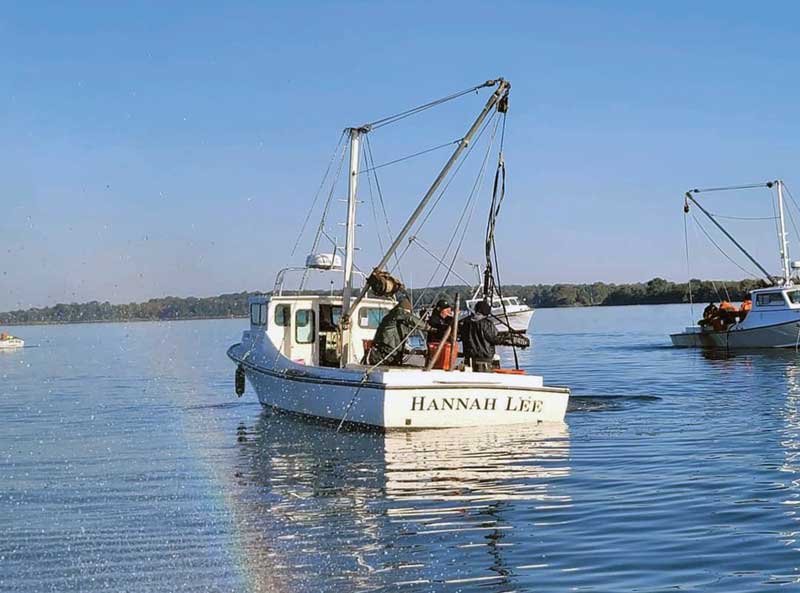 Junior oysters on the Patuxent River. His boat, the Hannah Lee, is a 32-foot Manning rigged with a patent tong, a mechanical claw that scoops oysters from the floor of the river and lifts them into the workboat. Charles L. Marsh, a blacksmith in Solomons, patented mechanical tongs in the late 1800s for the local watermen. Although patent tongs have mostly replaced hand tonging, the old ways are still being passed down. Junior was taught a few years ago by his uncle James how to shaft (hand) tong.
Proud mom Ashley Abell says, "Junior comes from a waterman background going back for generations. My grandfather, Martin, was also called Junior. We refer to him as Grandpa Abell. Unfortunately, we never met him because he died when my dad was a boy. He was struck and killed by a car while walking on the Eastern Shore when he was over there for oystering. He's pictured in a book called 'The Good Old Days on the Patuxent' by Richard and Shawn Knott. Alongside his photograph is a caption that reads, "Martin was a waterman all his life. He was one of the best oystermen, soft crabbers, and fishermen from Cuckold Creek. Martin was a very jolly person. He knew a lot about oyster bars and places to fish on the Patuxent."
Ashley continues, "Junebug is smart and very coordinated. It doesn't take him very long to catch on to most things, and he has become a great teacher, too. He's always willing to show someone how things are done. He even taught me how to operate the patent tong rig. As far as his knowledge of boats, working the water, and operating equipment, I give most of the credit to my dad, David."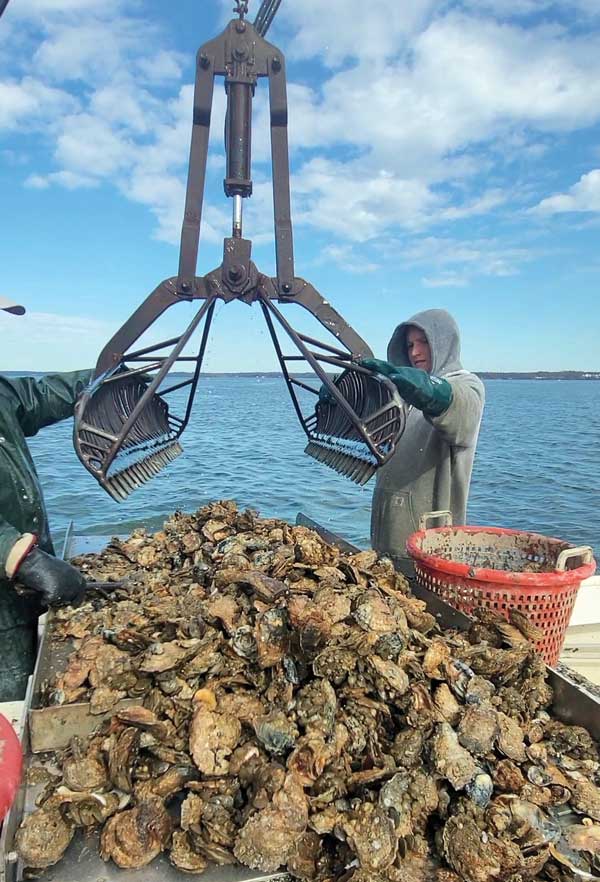 In addition to operating the Hannah Lee, Junior works as a mate on other boats with his uncle James and some other well-known charter boat captains. 
Ashley says, "A lot of charter fishing boat parties love to see a young person involved with the whole process of rigging the rods, putting them over, setting the lines, baiting the hooks, hooking the fish, and then getting the fish in the boat and dehooking. Altogether it makes a memorable charter fishing experience—especially when other children are involved, and they get to see someone their age doing this type of thing."
"That boy can run the back of a boat like a grown man, with 40-50 fishing rods," confirms his uncle James. "Expenses are high, and pay is light, but Junior has a work ethic like no other. He is really a remarkable young man. We all agree that it takes a village to educate a child, and Junebug has a tremendous amount of support from a lot of people."
Ashley says her son is a true outdoorsman. "He loves anything outdoors: hunting, trapping, crabbing, boating, and any kind of fishing—saltwater, freshwater, you name it. He trotlines a lot out of his great uncle Michael's center console Proud Mary, but he can also be found trot lining by himself in his Abell Custom center console, Ashley Belle."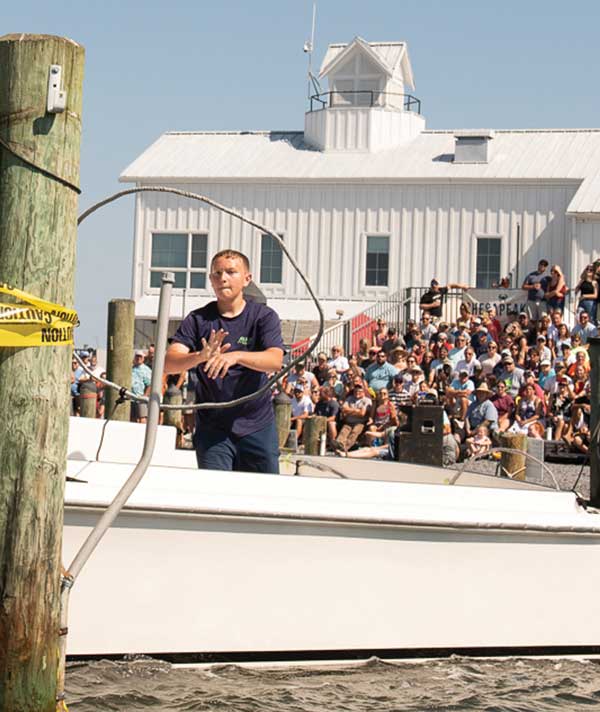 The young captain, who earned his boater safety certificate shortly after his 10th birthday, has shown skill and confidence operating some pretty big boats, both in the open waters of the Bay and when docking—a known challenge even for adult boaters. Ashley says, "With his Pop Pop in another boat close by, Junior brought Captain's Lady, a 46-foot Markley, from Cambridge back to Solomons by himself. He's also been in boat docking competitions since he was about 10 years old, competing in vessels 40 feet and bigger."
Though his accomplishments are remarkable, Junior seems to take it all in stride. The young man says, "My family has been on the water for generations, and I grew up on the water. Being on boats is what I love."  
By Beth Crabtree