It has been quite a spring. The winter that wasn't, the spring that isn't, and the Covid-19 shutdown have all brought tremendous challenges to the boating industry. This month's report will highlight some of the ways our boatshops are meeting those challenges.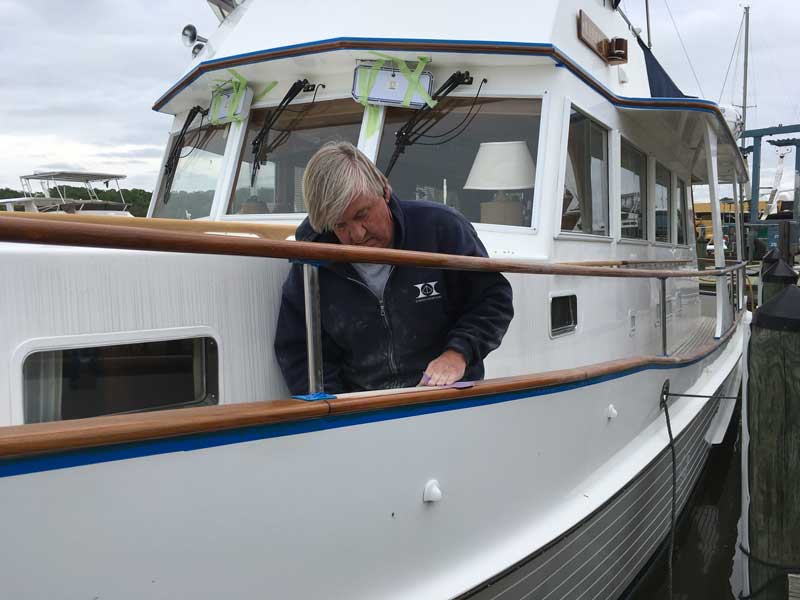 David Jr. from Evans Boat Repairs in Crisfield, MD, starts us off: "Thankfully we are staying busy! We have two new boats in the shop at various stages and are working on a contract for a new 50-footer for a return customer. Also have been turning out some refurbish jobs (keels, decks, etc.). We have kept our doors open during the entire course of the Covid-19 pandemic. While we have had to lock our office and close to foot traffic, the shop doors have been wide open, and work has not stopped. The phones went silent for about two to three weeks in the office, but it really gave us a chance to play catchup on some smaller jobs in the yard.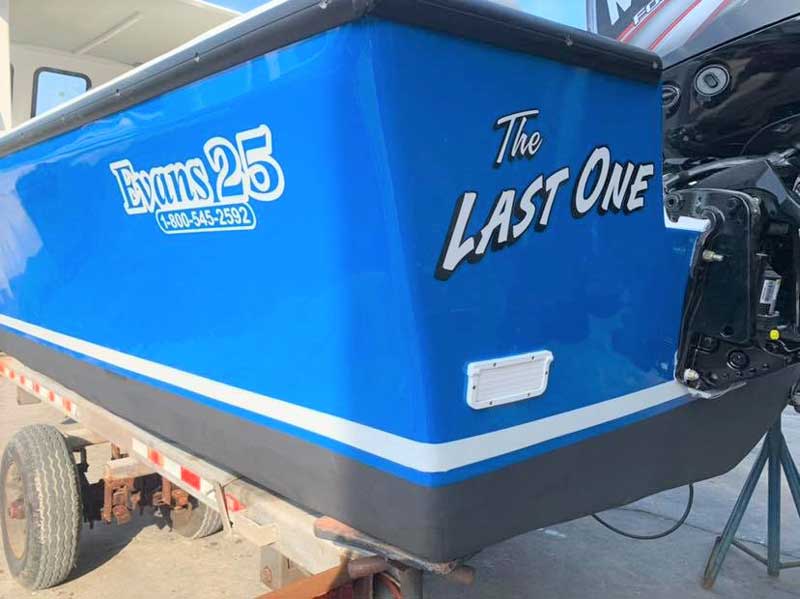 We have had several boats needing deck replacements come in, and we continue to work on the two new boats in the shop, a 38-foot Evans going to New York City, and a 43-foot Evans heading to Florida for Disney Cruise Line. My grandfather, who is our owner, has also just completed his own personal boat for his 'retirement' job. He is back to his roots working on the water. We are thankful for a steady workload here at the shop and look forward to seeing what summer brings. Most of all, everyone is healthy! Hope you are, too!"
Alan Campbell of Campbell's Boat Yards in Oxford, MD, says, "Campbell's is currently finishing up a refit on a beautiful Lyman Morse 56 named Rooney. It is a local boat to Oxford and will also be spending a bit of time in the north east. The work has been for great customers, and we thank them greatly. Pod drive service is busy as always. We are steadily commissioning boats and stepping rigs. Now that the recreational boating ban has been pulled, we are doing our best to get everyone who wants to be on the water. The yard is busy, and we have slips available at all three locations."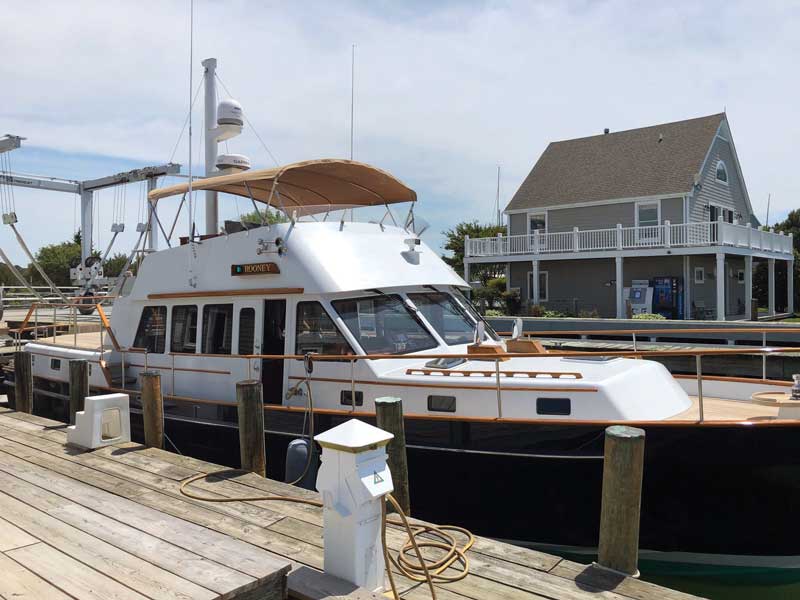 Alex Schlegel of Hartge Yacht Yard in Galesville, MD, brings us up to date on his shop's experience. "Some of our employees have chosen to stay home and some of our suppliers are closed, so we rearrange the work and keep going. Of the employees I see here, all are doing well. We stay separated most of the time, as most jobs are one-person tasks, and all employees are wearing personal protective gear… The carpenters continue working full time rebuilding the bottom of a 48-foot Egg Harbor. The framing, blocking, and planks are nearly done. There is still caulking, shaft logs, transom, and underwater hardware to finish. Refinishing the bright work is well along, and we have brush-on Awlgrip painting still to do to the hull, deck, and superstructure…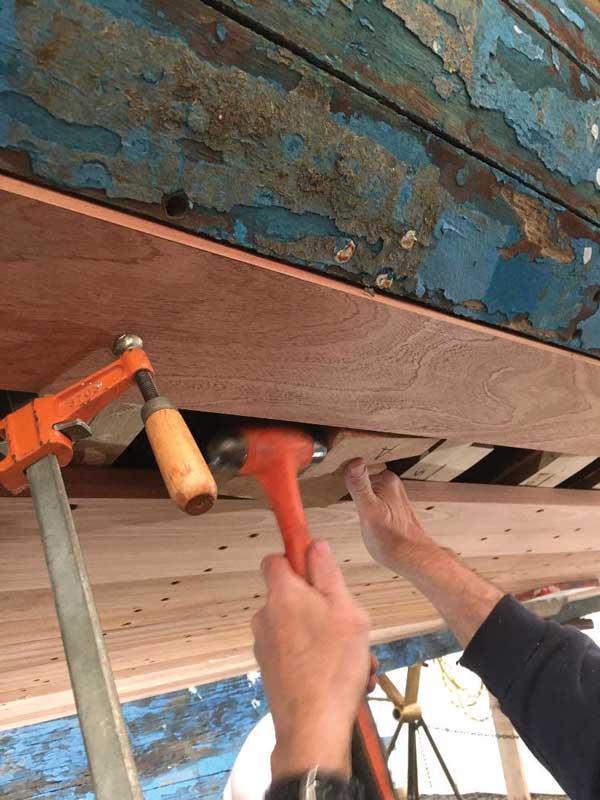 "The workload this spring matched the crew size perfectly. Things started out slowly, and the Travelift crew we keep year round kept up with the customers who wanted their boats early on. In a normal spring people from other departments help with the cleaning, polishing, and painting. Two fine brush painters, a fiberglass tech or two, a stock room person, and a couple of temporary people are added to the paint and launch crew. As the spring progressed and restrictions lessened and more people felt able to work and more people wanted their boats, we added to the paint crew. It all evolved in synchronous harmony. 
"Meanwhile the brush painters and fiberglass techs kept doing their normal jobs throughout the spring. Although it rained every other day, we managed to get a lot of work done. When the Governor said we could go boating with family, we thought the phone would start ringing. It did not. There was a one-day pause, and then it started and has not stopped since.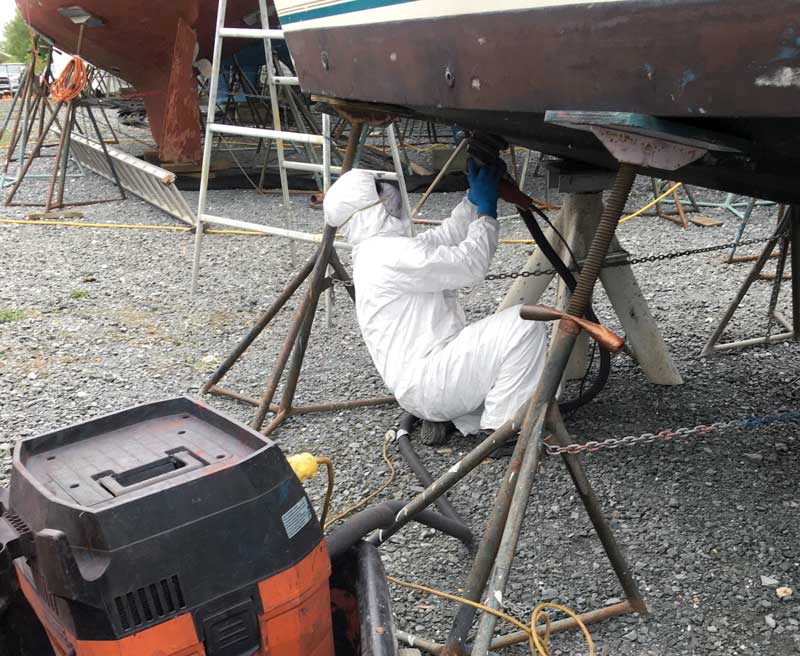 "Added to a yard full of sailboats, the following powerboats are having work done both on shore and in the water: Grand Banks 46, Sea Ray 45 Flybridge Aft Cabin, Chris-Craft 45 Flybridge, Tiara 33, Legacy 32, Tiara 31, Wilbur 30, Dyer 29, Back Cove 29, W.C. Hood Wasque 26, and a 10.5-foot RIB."
Some unusual boatshops we report on are the excellent maritime museums we have in our area. Museums are an integral part of protecting and showcasing our maritime heritage. The work of protecting their exhibits and educating the public continues, sometimes in surprising ways.
The Annapolis Maritime Museum in Annapolis, MD, has made extensive use of online and virtual exhibits and tours as have all the museums. AMM was poised to reopen in April after a major renovation of its Eastport facility when the virus closed everything down. The staff and volunteers continued to offer some outdoor programs at the Back Creek campus, but the major push was to complete the work required by the Coast Guard to bring their recently acquired historic Skipjack Wilma Lee up to inspection standards to carry passengers.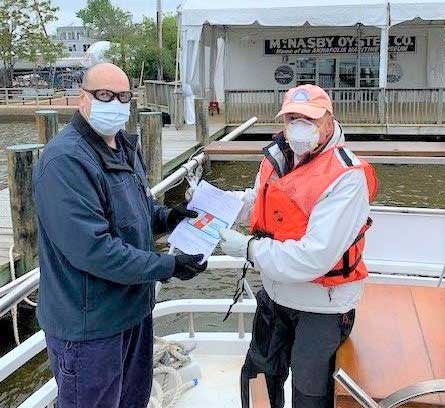 Just before press time, the skipjack had passed the final stage of the inspection process and had received her inspection certificate. In addition to that event, Wilma Lee's transom now proudly proclaims her home port as Annapolis, MD. Well done AMM!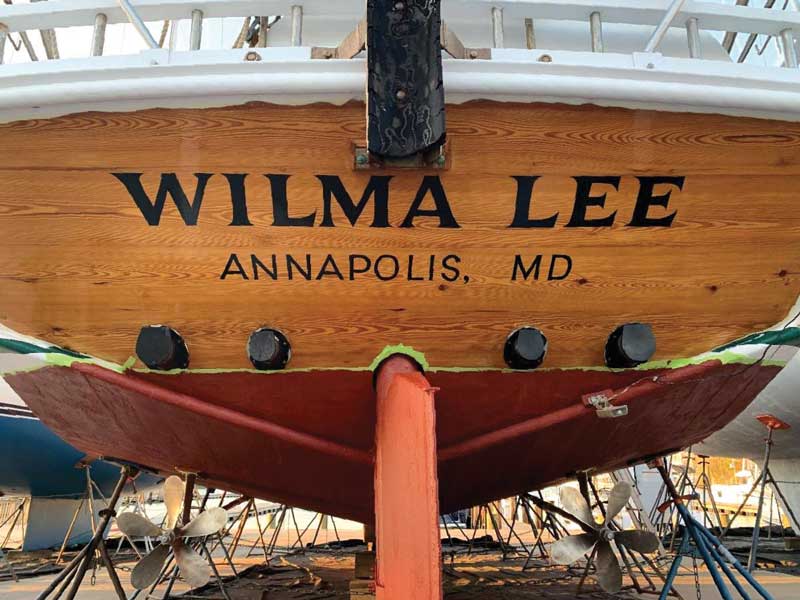 Anjelica Eitel of Calvert Marine Museum (CMM) in Solomons, MD, says, "Following the Calvert County Government's announcement to temporarily close, the museum only has limited personnel in the building on any given day. In addition to staff who are responsible for things like payroll and communications, CMM's Estuarine Biology continues to work. If you're looking for interesting stories that relate to our current situation, consider our Guardians of the Estuary, who come in daily to ensure the health and well-being of more than 600 animals. The approximately 70 species include terrapins, jellyfish, seahorses, sharks, and of course, the otters.
"Recently, scaffolding started to go up around the Drum Point Lighthouse (DPLH) in preparation for repainting its roof. Over time, exposure to natural elements causes paint to fade, chip, and peel, which can lead to metal roofs, like the one on DPLH, developing rust. As part of CMM's continued effort to preserve this historic lighthouse, we are now looking at a 12-week project to ensure its structural integrity. Once the scaffolding is in place, the team will use a chemical compound to peel away layers upon layers of paint, stripping the metal roof.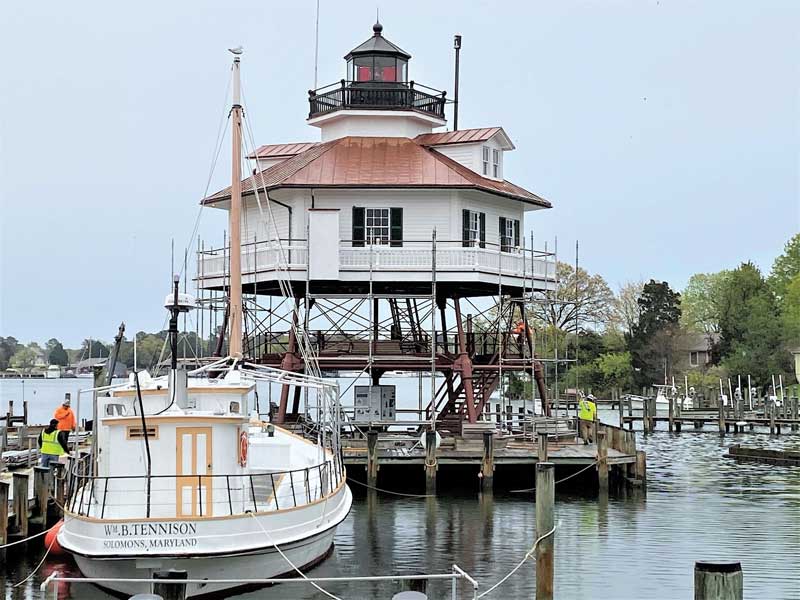 "After the roof is stripped, they will clean the surface and apply fresh paint. DPLH is historically described as having a red roof and, of course, CMM will continue to honor that detail. The new paint will not only reflect the appropriate color, it will also be slightly thicker than the previous coat. This way, once the paint hardens, it will create a sealant to provide protection for the existing metal roof and any hairline cracks that may be prone to moisture infiltration. 
"For the duration of the project, our boats have been rearranged for their protection. The Dee of St. Mary's moved to the Lore Oyster House and the Wm. B. Tennison is snug inside the boat basin along the Small Craft Shed bulkhead. Once the museum has re-opened, we will post cruise schedules and locations for boarding the vessels. DPLH is listed on the National Register of Historic Places, and the WM. B. Tennison and Lore Oyster House are National Historic Landmarks. It is essential that these properties and vessels remain a priority for regular maintenance and structural care." 
Christian Cabral, shipyard manager for the Chesapeake Bay Maritime Museum in St. Michaels, MD, reports that after CBMM's shipyard was closed due to the pandemic, CBMM's shipwrights began operating the shipyard from the safety of their homes. "Though not all functions of a shipyard can be completed from private residences, CBMM's crew was undaunted. Removable materials from CBMM's floating fleet were distributed to shipyard employees' homes to ensure the continued high standard of care for floating artifacts.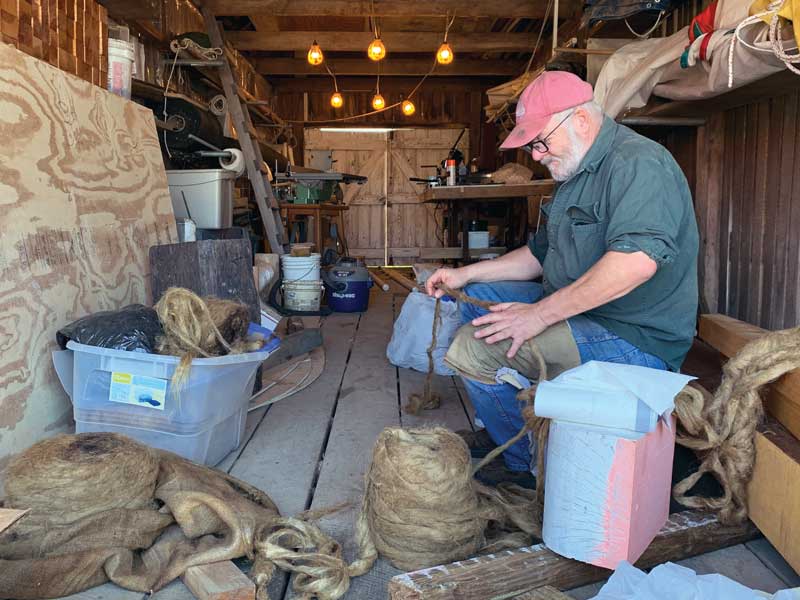 "Shipyard team members generously converted sections of their homes to workspaces in order to continue working on rigging projects, preparation of materials, annual maintenance tasks, project design work, and project planning in order to ensure that the Maryland Dove, the river tug Delaware, and the sailing log canoe Glide projects can restart without delay after the nation has weathered this storm. CBMM is currently closed until further notice. For updates visit cbmm.org." 
At press time we received news announcing that the fall Annapolis Boat Shows will go on as scheduled beginning October 1. Perhaps there is light at the end of the tunnel! Enjoy your boat and stay healthy. 
By Captain Rick Franke