Now that we are officially into the summer season, the mood at local boatshops can best be described as cautiously optimistic. Demand for service continues at a high level, despite some supply problems, the spike in fuel costs, and most important, what has become a chronic shortage of skilled labor. While public interest and participation seem high, service waiting times are still long and most shops still have the help wanted signs out.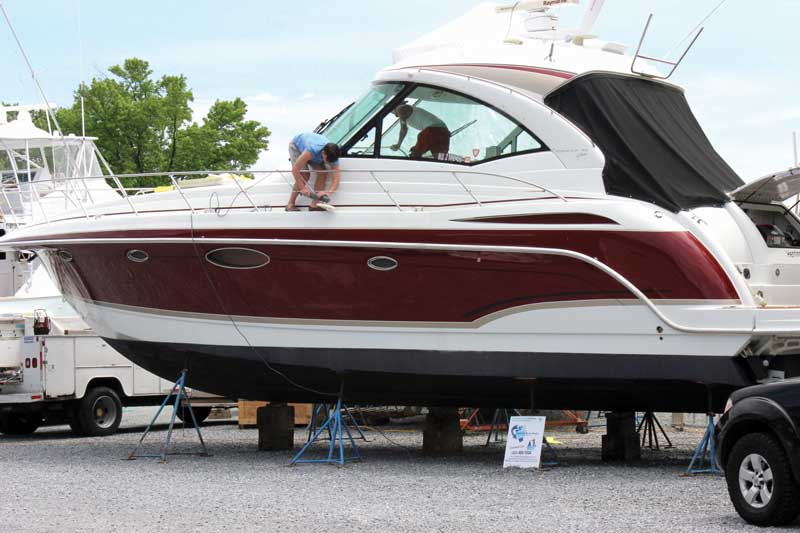 Jake Glover at Ferry Point Marina in Trappe, MD, checks in with the following report. "At Ferry Point, May was busy with the typical spring work load. We also had several new Interlux barrier coat and bottom paint applications. A Ranger Tug received fresh AwlCraft hull paint and boot stripe, and a couple of Suzuki and Yamaha repowers were completed. Those motors were ordered in September of 2021!! Clear Shot, a Rampage once owned by Tred Barta, has received significant updates over the last two winters and this spring's sea trials are complete. We also teamed up with Rusty Hook Bait & Tackle and thanks to them our ship's store is fully stocked with tackle and live bait, including peelers! Our marine A/C and refrigeration team is now in full swing. A Pursuit has already received new freezer plates, and repairs were completed on refrigeration jobs for a 46-foot Viking and 52-foot Buddy Davis."
Fred Probst from Phipps Boat Works in Deale, MD, reports that the pace of business hasn't slackened. "We definitely stay busy around here. We have tons of work coming up. We have a wooden boat coming into the shop today for cosmetic painting and brightwork. It's going to be in the wooden boat show at St. Michaels in a couple of weeks. That's the big inside shop project, but in the springtime we do a lot of outside work on brightwork. We have a lot of boats getting their varnish touched up, in addition to a couple of mechanical jobs, seacock and through hull replacements, things like that. We had a leaking rudder which we took out of the system and replaced, things of that nature. Sean's staying busy with stainless work, making hawse pipes for the new Weaver being built over there. We've got a 12-foot pram coming along in the wood shop. We just flipped that over and started work on the inside," he concluded. "It seems like there is more work to be done around here than there are people to do it; we stay busy," Fred observed. "As for the future, fortunately, in the summertime we have a couple of college kids come back. That gives us a few more hands than we had a couple of weeks ago, but it is definitely difficult to find long-term skilled employees in the marine trades. But that's not just our shop. Everyone has the same issues currently."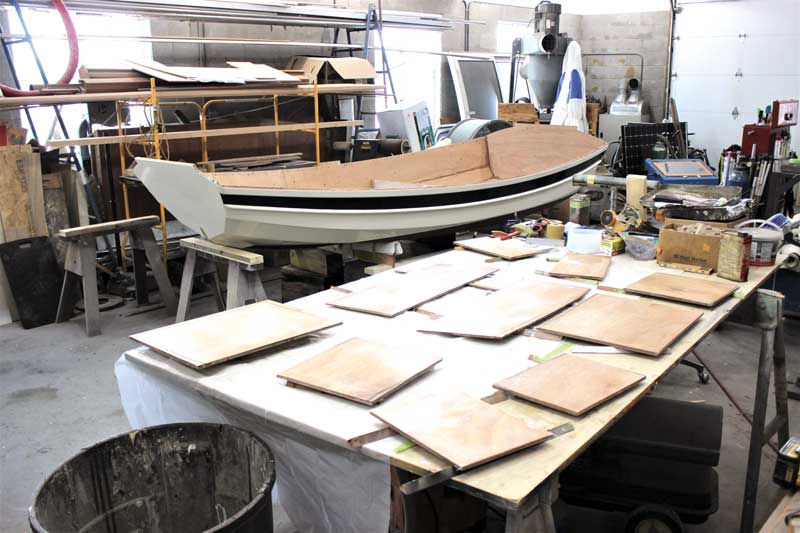 J.J. Wilson at Osprey Marine Composites in Tracys Landing, MD, reports pretty much the same situation. "We have lots of summer work, plenty of re-coring to do. Lots of summer paint jobs to do as well, but re-coring is what seems to be what we are doing the most of. People are finding wet decks and hull sides and bring them in to us. We don't do many fuel tank replacements anymore," he observed. "Our schedule for the summer is filling up very quickly, and we are very busy. We are always trying to find qualified help." J.J's shop has a Hinckley 55 Talaria in for new paint on her hull as well as several boats, including a Viking Motor Yacht, undergoing soda blasting in preparation for refinishing.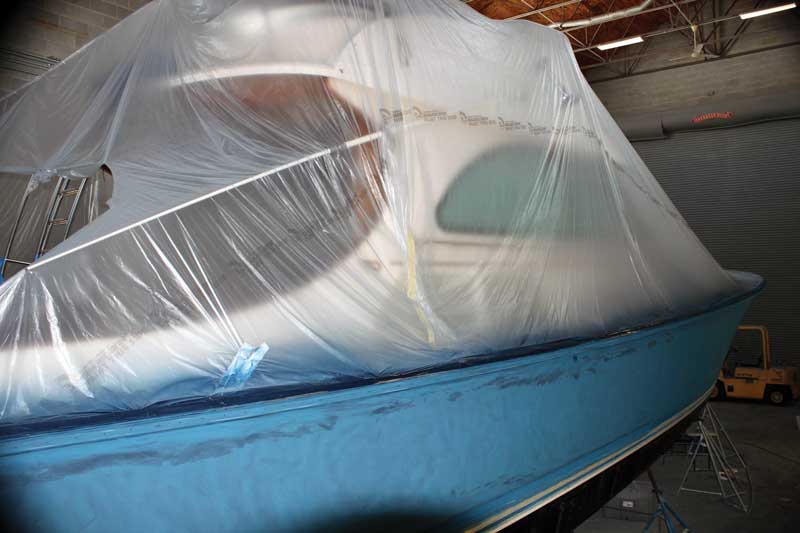 Hank Reiser of Marine Services in Edgewater, MD, has a team of four working on the 1950 Chris-Craft Commodore his group has been restoring for the last few years. "This year she's going to go to the Antique and Classic Boat Festival in St. Michaels, and she'll do it under her own power," he said decisively.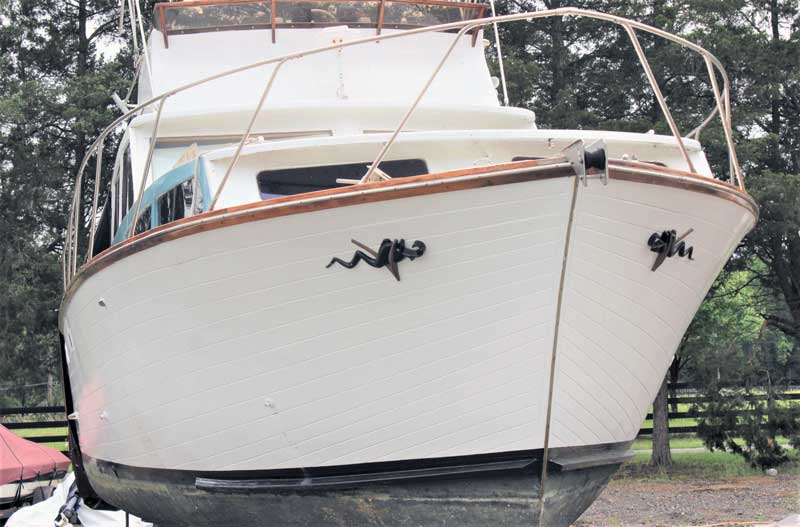 Hank also walked me through a few of the other current projects in his busy operation. He began with a real classic Viking with the traditional V and sea serpent logo on her bow. He described her as a "1967 40-foot Viking. We had her in for shaft and running gear work." He also pointed out a wooden boat still under her winter cover. "This is a 1968 wooden 30-foot Chris-Craft Constellation we are repowering with rebuilt twin Crusader V-sixes." He also indicated a 1956 wooden 18-foot Chris-Craft Sea Skiff. "We are installing a rebuilt Chris-Craft 283 in her to give her 185 horsepower."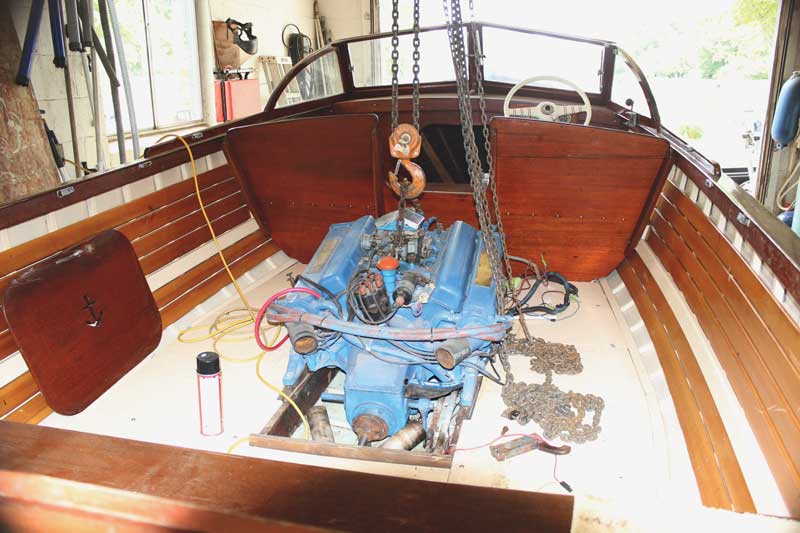 Composite Yacht in Trappe, MD, recently delivered the custom CY 55 to her owner, who, by all accounts is very pleased with her. Christened Skinny Witch by her owner, the boat's delivery was the culmination of a more than five-year design and development process based on a design by Naval Architect Lou Codega and included tank testing of the hull design.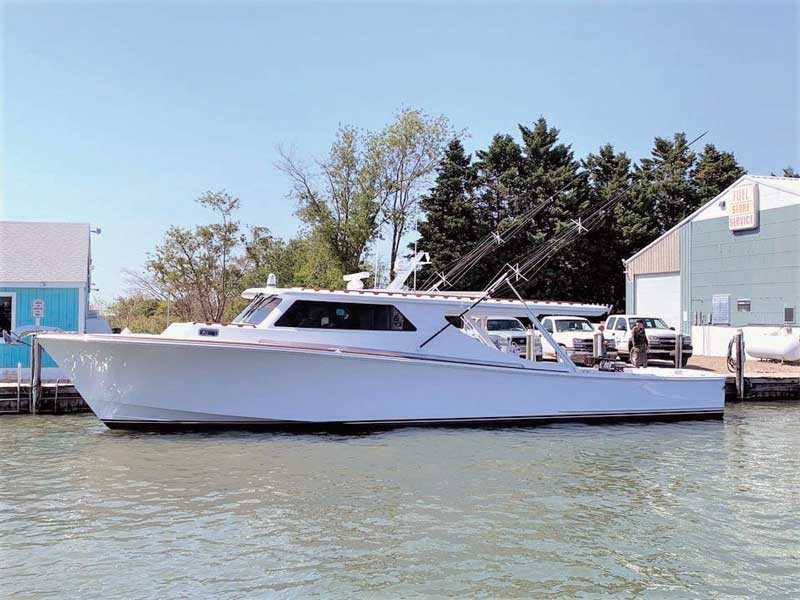 Weaver Boat Works in Deale, MD, reports that they have four boats in various stages of construction. The newest project is a Weaver 45 RH which is being assembled at the Deale facility. A Weaver 64 GM recently made the trip by truck to the fitting out shop at Herrington Harbour North, joining a Weaver 64 BW that is already there. The hull of the Weaver 70 GK is still upside down and being assembled.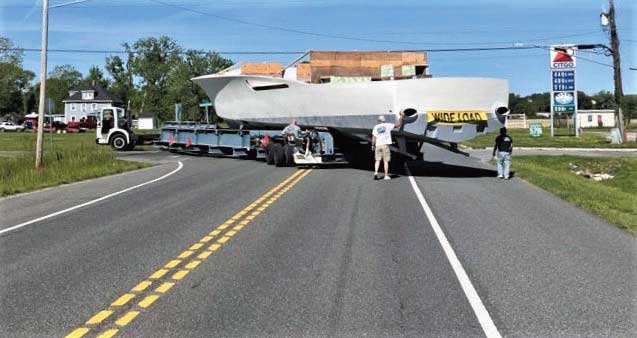 George Hazzard at Wooden Boat Restoration in Millington, MD, reports on a major milestone. "Eighteen years ago Fred Wise, marine surveyor and friend, asked if he could rent out space in our 8400 square-foot shop for a couple of years while he did some work on his 40-foot Hanna designed double ender. Nine times the original planned time, she emerged from the shop looking more beautiful than ever. Thanks to Matt Parker at Ottomatic Marine Transport for getting her out safely."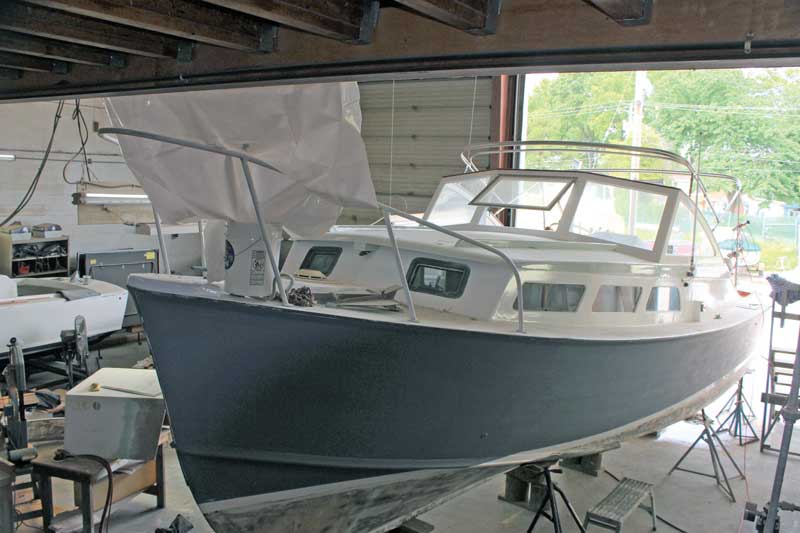 There have been some major developments in Galesville, MD. The following announcement by Hamilton Chaney is from Hartge Yacht Yard's Facebook page:
Welcome Home Hartge Yacht "Yard"
We are excited to announce that after 13 years, Hartge Yacht "Yard" is returning to its original Church Lane location in Galesville, MD, at Hartge Yacht "Harbor." Beginning September 1, Hartge Yacht "Yard" will operate the service operation while Hartge Yacht "Harbor" will continue to operate the marina.
After purchasing Hartge's in June of 2021, we began extensive investment into the entire facility. The piers, bathrooms, buildings, grounds, Wi-Fi, dinghy racks, processes, and procedures have all been our focus. We believe that this is the next step in making Hartge's the very best it can be. With our marina expertise and Hartge Yacht "Yard's" service excellence, Hartge's will provide a high quality full-service marina experience.
Alex Schlegel, great grandson and namesake of founder Emile Alexander Hartge, has owned and operated Hartge Yacht "Yard" for over 40 years, building it into one of the most trusted names on the Bay for service, maintenance, and repair. In 1865, Schlegel's great grandfather Emile started Hartge's original location in Shady Side. Then in 1878, he moved his family to build a house and boatyard business in Galesville at the Church Lane location.
The very first time I looked at Hartge's, I knew it could be one of the best full-service repair facilities on the Bay. After talking with Alex and his son Xan, I knew how. Their commitment to quality service, customers, and their people reminded me of ours, making them the perfect fit. By combining the two talented crews of Hartge Yacht "Harbor" and Hartge Yacht "Yard," we look forward to providing customers with an exceptional service experience.
Hartge Yacht "Yard's" team of experts will offer services for anything your boat may need: carpentry, commissioning, electronics, electrical, fiberglass, painting, rigging, mechanical, winterization, shrink-wrapping, survey haul-outs, and scheduled or emergency maintenance.
Hartge Yacht "Yard" will operate out of the renovated Big Shop, Stock Room, and the three-bay Paint Shop. The plan is to combine their current employees with the "Harbor" service personnel for a combined workforce of about 40 employees. They will have the larger 50-ton Travelift in addition to their 25-ton and 30-ton lifts, two hydraulic trailers, an all-terrain crane and gin pole, and an extensive inventory of shop equipment. The "Harbor" has twice the dry storage space and more elbow room than they have now.
The facility and services will be a significant resource for our slipholders and yard customers. We warmly welcome back Alex and his Hartge Yacht "Yard' team.
Congratulations to all involved!
By Capt. Rick Franke