It is beginning to look and feel a lot like a normal summer on the Chesapeake. Parts and materials continue to be in short supply, and the manpower shortage has not gone away; but the enthusiasm for boating has not diminished and area boatshops are staying busy.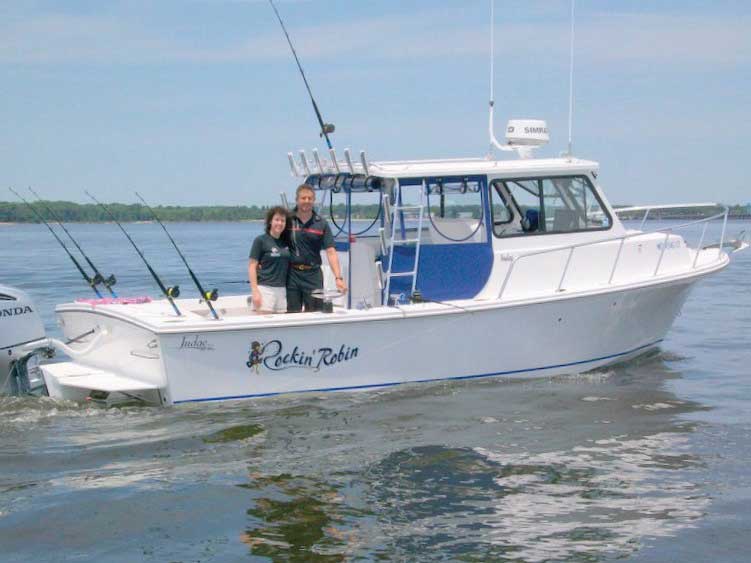 We lead off this month with the announcement of the merger of two major players on the Annapolis, MD, waterfront. The following quote is from Diversified Marine's Facebook page: "We are pleased to announce that Bay Shore Marine (BSM) and Diversified Marine Services (DMS) have merged! The BSM team will now lead all engine and mechanical jobs for DMS. In order to provide our customers with a single point of contact, we have joined our administrative teams and will be using one system for all communications, updates, estimates, and invoices. Our combined team now offers parts sales and premium mechanical service with manufacturer-trained technicians on many marine engine brands as part of the most comprehensive yacht service offering in the region!"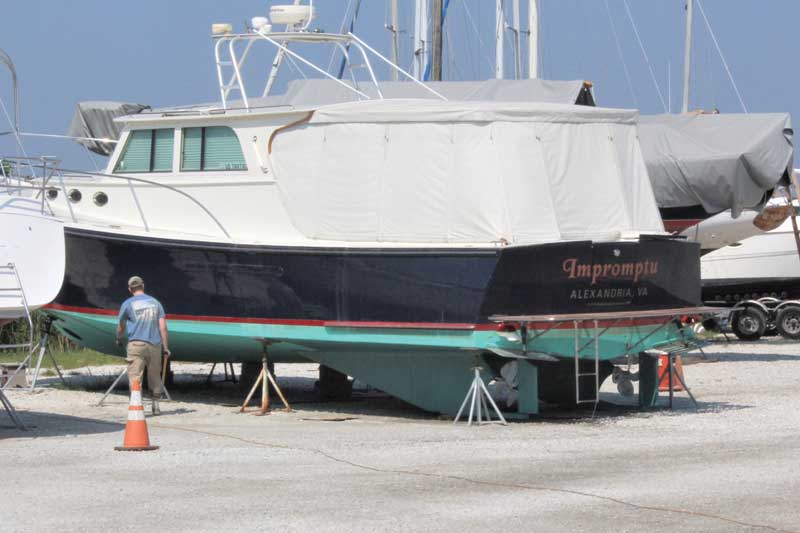 Rob Sola of Diversified describes the merger as creating a single point of contact for customers to obtain services from a variety of factory-trained technicians along with all the other services they have been providing. "We see a lot of value in this one-stop shop without having to go around to a bunch of different suppliers. We had a lot of common customers who used us for a lot of services and used Bay Shore for a lot of other services and now that we are together it makes it a lot easier." Rob also sees tremendous growth in the industry at the moment. "We have far more work than we can handle, and we're just doing as much as we can to keep up." 
It's been a while since we heard from Rob Hardy at Composite Yacht in Trappe, MD. This is the first update from Rob since they moved into their new facilities. "We're still busy as can be. I imagine everybody is. We've still got three 46s to build; the 55 is getting pretty close to finished, a 32 to build, and a 34 to build. We've got good size projects booked well into next winter. It's just as busy as can be. It's that simple. The new buildings are great. It's really nice having them. We already wish we had more room! We've filled everything up already and could use more space still.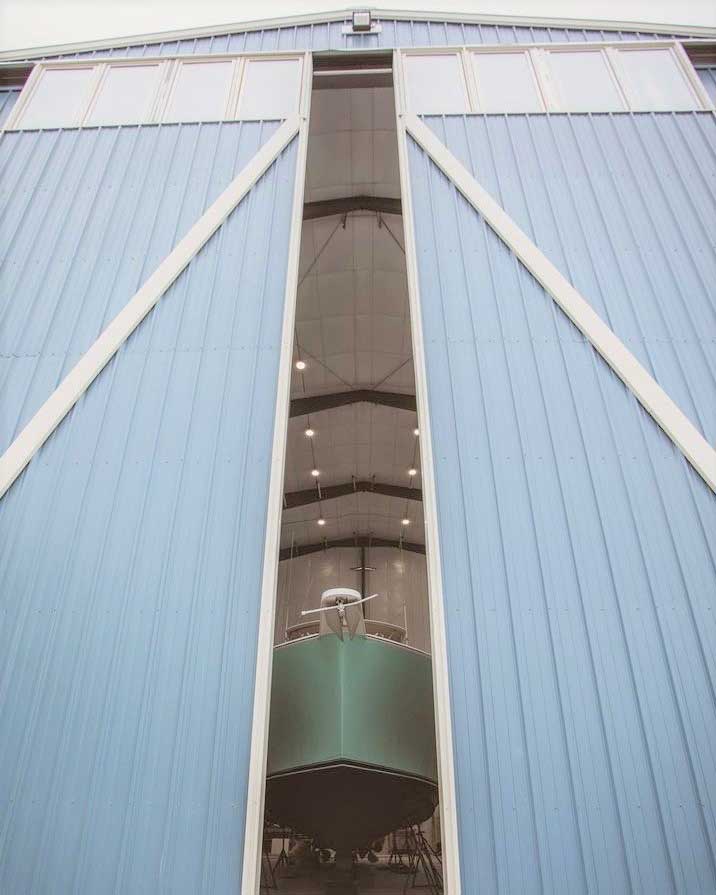 "The new paint shed has 45-foot tall doors on it. We have the ability to bring in some big rigs. We want to be able to bring in some big Sportfishermen without having to pull the riggers and drop tops, stuff like that. We intend to maintain our status as one of the biggest refinishing yards in the region. We have purchased a five axis C&C router. So we started a C&C router business. We are tooling up to make our own small parts and plugs and stuff like that. And we've started making stuff for other builders. So we're going as hard as we can go."
I asked Rob where the CY55 project, stands. "On the 55 we are down to finish and systems now," he replied. "The hard top is laminated and will be going on, probably this week. We are buttoning up the systems and the interior cabinetry. The interior and cabinetry is modular and already built and is being installed in the boat. I don't know if you can call it a goal, or maybe a dream, but I'd like to have this boat and the 46 ready for the boat shows in the fall. Both boats are in about the same stage of completion. The 46 is the first one out of the mold; we float tested her last week. I'm really impressed with that hull. Her 15-foot beam provides a lot of room for fishing and cruising. I think she's going to be a nice fit in the market."
Ian Zimmerman of Zimmerman Marine at Herrington Harbour North in Tracys Landing, MD, reports on two recent major projects this month in their busy shop. "We did a major rebuild of the bridge on Tenacity, a Riviera 37. This is one of our repeat customers. He had isinglass (plastic) up on the flying bridge and no wipers. He was getting spray and splash and he had no way to clear it. His visibility was very bad under those conditions. So we designed and fabricated a shelf for the dash and glassed it into the eyebrow and then we fabricated a custom window frame. We had three pieces of glass made up and installed those. We installed three wiper motors with wipers and sprayers. Then we installed air conditioning up on the bridge and defrosters on all three pieces of glass. It was quite a project.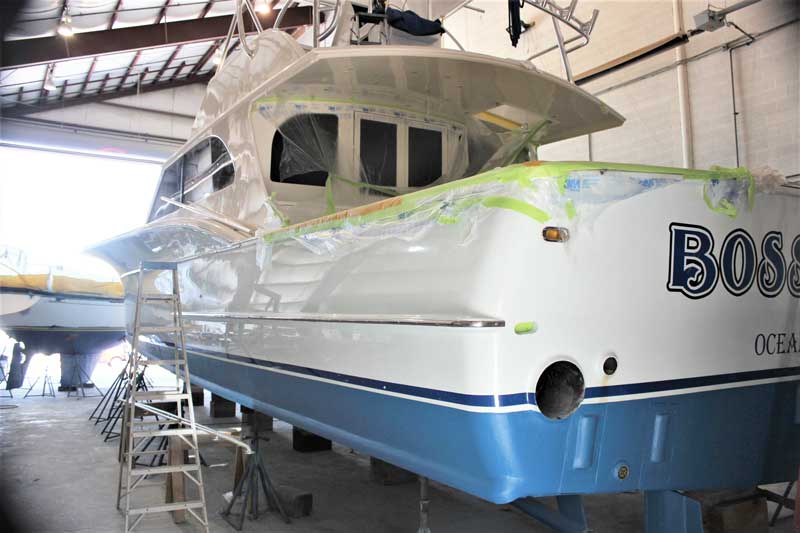 "Then there was Boss Hog, a Blackwell 50 Sportfish. We disconnected all the electrical wiring on the fly bridge and then we removed the hardtop. We prepped and painted the fly bridge with Awlgrip. Then Palm Beach Towers installed a new hardtop and we re-rewired all the electrical components. Then we sanded and repainted the cockpit as well."
Joe Reid of Mast and Mallet in Edgewater, MD, reports that his full shop is busy. His major project at the moment is overseeing the installation of two Yanmar 315s in the 2004 Kaufman Custom 46 named Impromptu. Joe built the boat, and the owner is so happy with her that he opted to replace her aging power plants rather than rebuild them. According to Joe, the owner ordered the new engines and said he was going to keep her another 20 years. Among Joe's many other projects, he's replacing the cockpit coaming and other bad wood on a classic Chesapeake 20 sailboat, fabricating a new bottom for a Chris-Craft ski boat, rebuilding a Bertram Sportsman 20, and trying to find "mystery leaks" on a vintage wooden cruising sloop.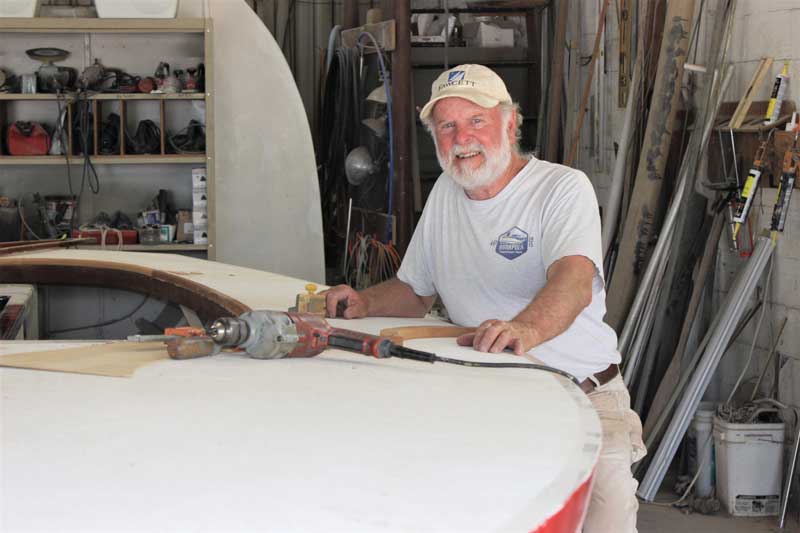 We got the following report from the Campbell's Bachelor's Point Boat Yard Facebook page. "The Shamrock 20 is a special boat to not just our friends who own one, but to all Shamrock enthusiasts. After being brought to us by our friends in Annapolis, Kingfisher was completely restored from the stringers out. Fresh Awlgrip topsides, deck, and cockpit floor were done by Campbell's very own Jim Brighton. A brand new repower was done with a Yanmar 110-hp diesel straight from Bay Shore Marine. Also, a big thanks to Kastel Bros. Inc. in St. Michaels. Kingfisher came together well and cruised Spa Creek today so keep an eye out on the Annapolis waters!"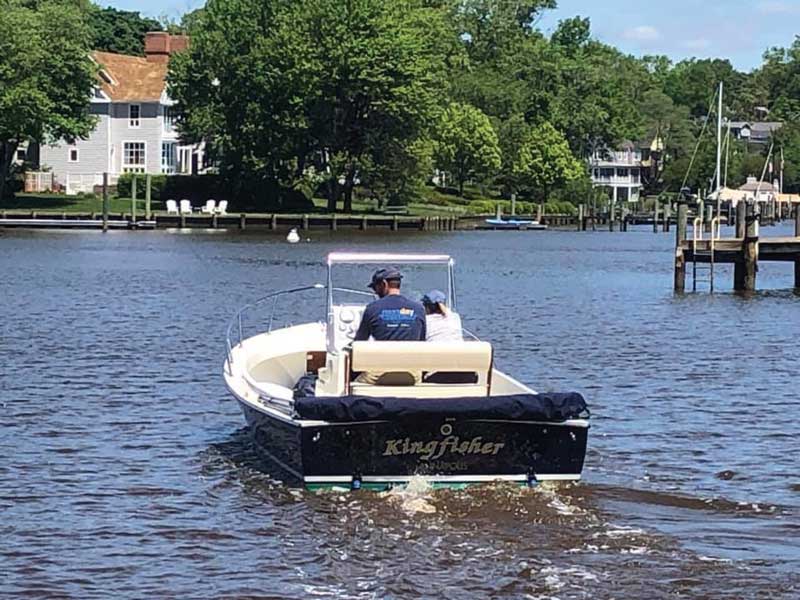 Alex Schlegel's reports from Hartge's Yacht Yard in Galesville, MD, are always filled with fascinating details. "Typically, we work on diverse types of boats, from small fiberglass center consoles and skiffs to large wooden classics. We've launched most every boat that was up for the winter and are now focusing on numerous work orders that have been waiting. Here's a sampling: We are installing new shaft seals in a 1998 Tiara 31 with a pair of Chevy Crusader 454s. There was a crack in the water hose that cools and lubes the shaft seal. The leak was small enough that it was no problem for a bilge pump, but the shaft seal got hot and started leaking.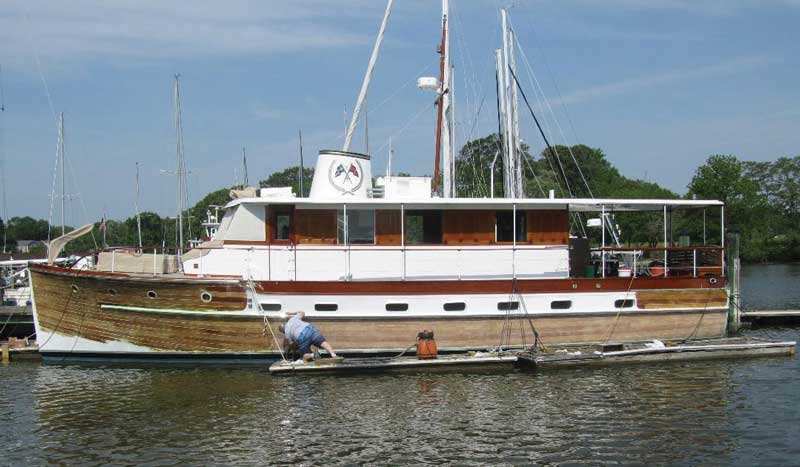 "One of our watermen friends has a Chesapeake Classic 24 trotline boat. He is up for bottom paint and a new impeller in his Yamaha 150. Another waterman is rebuilding a 46-foot, all yellow pine deadrise. He added flare and height to the bow and is in the process of covering everything with fiberglass: bottom, sides, deck, cabin, and cockpit sole. On a Back Cove 34 we did a repair from a collision involving only one boat and no injuries. The aft end of a handrail was bent. The fiberglass at the bases was cracked. Water tanks had to be moved in the engine room for access to the fasteners under the cap rail. The handrail had a joint halfway to the bow that made the repair of the rail much easier. Also repaired was damage to the fiberglass swim platform."
And the list goes on… there is always something interesting going on in boat yards. 
By Captain Rick Franke
---
More Photos: