The lifting of the recreational boating ban seemed like the first glimmer of hope that there was a world out there which would return after our long Covid-19 nightmare. As the spring weather slowly improved and the pace of business accelerated, there was no doubt. Boating is back!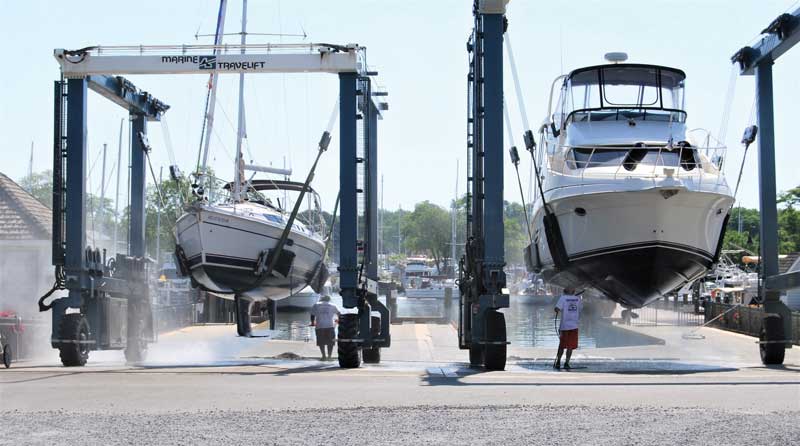 Charlie Petosa reports on a busy winter and spring at Hinckley Yacht Services Annapolis at White Hall Marina in Annapolis, MD. "Hinckley Yacht Services Annapolis has been very busy this spring, even as we navigated new Covid-19 waters! Now that the "spring splash" is behind us, we are hauling new boats every day for service. We have a Hinckley Talaria 43 in for a one-week yard period to ensure she is ready for the summer… We also have a Yamaha powered Sailfish in for 100-hour service on her Yamaha outboards to ensure her owners can enjoy her throughout the summer. To complement our team of certified technicians we recently brought on an additional certified outboard technician, Dennis Bullen. Welcome to the team, Dennis!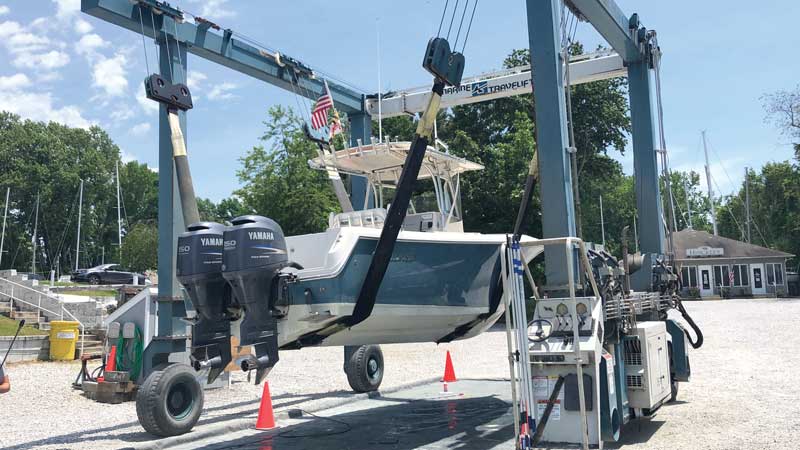 "The Inn at Perry Cabin's Friendship 40 Stargazer went through a full refit here over the winter. Her hull was painted with Stars and Stripes Blue AwlGrip. Mast and boom were painted with AwlGrip. Her rig went through full reconditioning. All exterior varnish was removed down to bare wood and built back up. Decks were cleaned and resealed. Fresh bottom paint and many of her systems were addressed during this period… We care for the entire Inn at Perry Cabin fleet, which consists of sailboats, outboard-powered tender, and the queen of their fleet, a Hinckley Talaria 55 MKII 55-foot jet boat."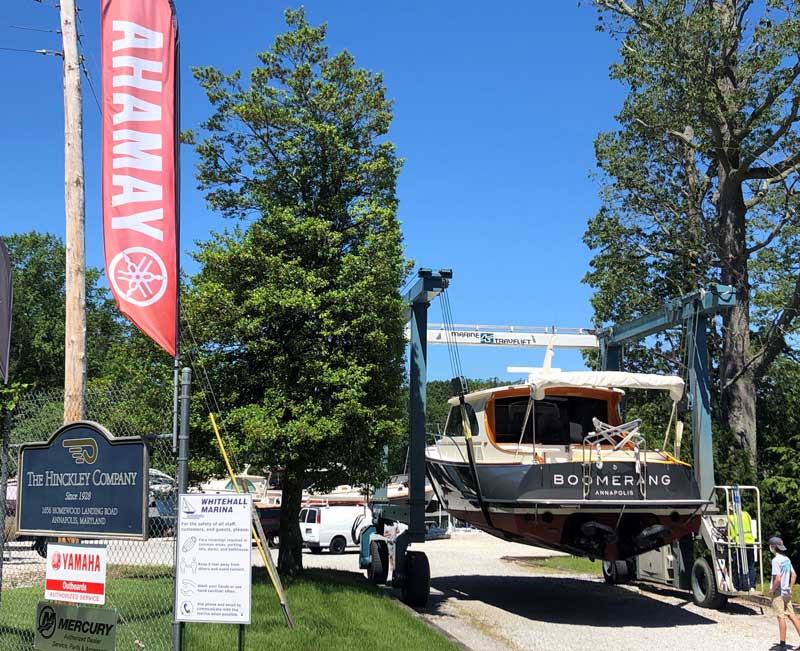 As the state of Maryland has begun its first phase of reopening, the Chesapeake Bay Maritime Museum's (CBMM) working shipyard in St. Michaels, MD, has followed suit. Christian Cabral, shipyard manager, reports that shipwrights, working in shifts, have returned to its campus to perform the essential tasks of caring for the vessels in its floating fleet and ongoing projects like the construction of the new Maryland Dove. "With the careful application of social distancing guidelines, reduced crew sizes, sanitation policies and a shift work calendar, the welcome noise of shipwright's tools and machinery once again echoes around CBMM's campus. Among the upcoming projects for this summer are the annual hauling and service of all vessels, the ongoing refit of members of the floating fleet, the completion of Maryland Dove's framing, and the beginning of its planking. CBMM's shipyard remains closed to the public, but shipwrights are carefully performing essential tasks to assure the future high standard of craftsmanship for all the vessels in our care. To learn more, visit cbmm.org."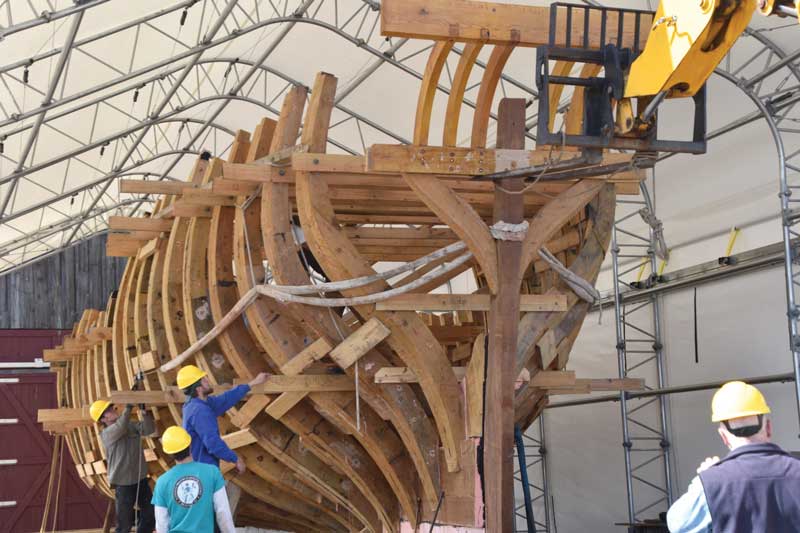 Anjelica Eitel reporting from Calvert Marine Museum (CMM) in Solomons, MD, shares an interesting effort by museum staff to support first responders. "What's a paleontologist to do when the museum is temporarily closed due to Covid-19? Dig out the old 3-D printer and make PPEs, of course! CMM collections manager John Nance, with the assistance of exhibits technician Rachel Reese, has been hard at work creating face shield and ear loop mask holders. The ear loops are designed to provide some added comfort for frontline workers who have to wear masks for an extended period of time. The team is currently averaging 20 items every five hours and has successfully delivered ear loop mask holders to Calvert County's Emergency Operations Center, St. Mary's Hospital, and Johns Hopkins Bayview Medical Center."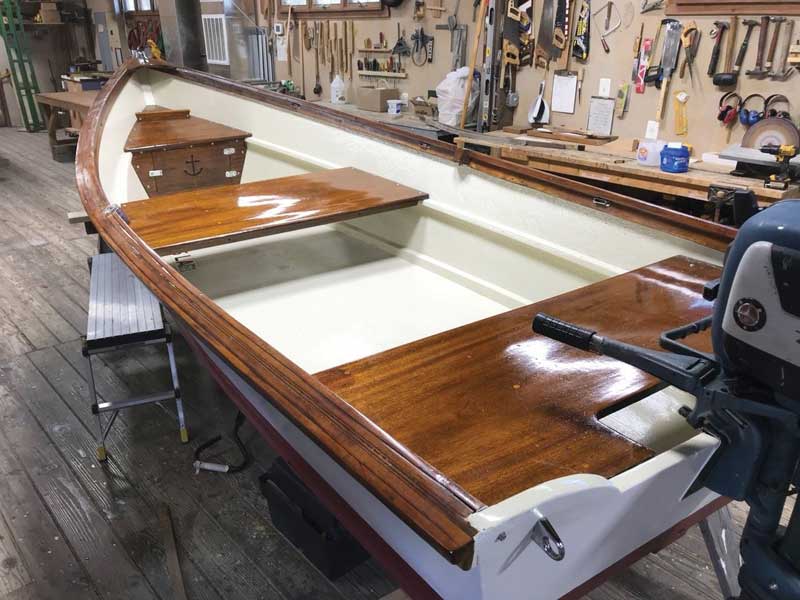 Composite Yacht's Rob Hardy reports from a very hectic shop in Trappe, MD. "The new buildings are moving along. The yard is wide open. We're working on boats at the marina and at both of our locations. I hope everyone's as busy as we are. Things picked up when the ban was lifted, especially on the brokerage side, but probably more important even than the Covid-19 ban was the uncertainty about the rockfish season. We cater to so many rockfish fishermen that that demand came a little later, after the season was announced, but we were so busy the whole time we had to put some people off. We've been back at full capacity for several weeks now. We have seven boats under construction ranging from the 55, where we just started laying up her deck, to a 26." 
J.J. Williams of Osprey Marine Composites reports a full shop and waiting list since the boating ban was lifted. He also described a restoration project he was particularly proud of. "This is a 1970 Chris-Craft center console that we completely restored for the owner. It had been switched to an outboard at some point. It was ready for the junk heap. They should have been cutting it up and throwing it away. We converted it back to an outdrive and completely restored it." It looked brand new. J.J also pointed out a new Boston Whaler with major damage to the starboard bow. "This is a brand new Boston Whaler," he explained. "The owner ran it into a pier really hard, and it's really bad. We had to cut the top deck out." Another recently completed project is Spoons, a Jersey 38 sportfish repainted from the keel up and ready to go.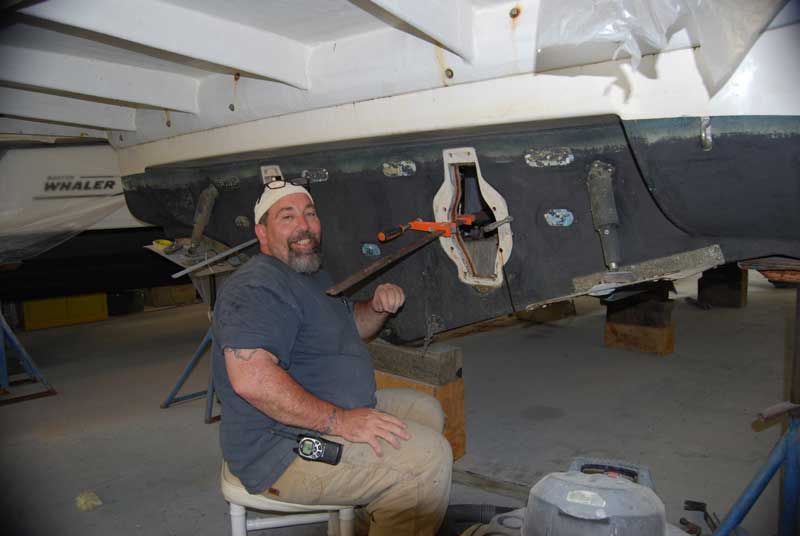 Zimmerman Marine in Tracys Landing, MD, has a 2000 Fleming 55 motoryacht in the shop for replacement of rotted teak decking, core and non-skid panels in the foredeck and some major rebuilding on the flying bridge. Mike Hanyi of Zimmerman demonstrated a foredeck crane and dinghy cradle retro fitted on Tenacity, a 2008 Riva 37 Sportfish. Mike explains the project. "This customer wanted a dinghy on the front with a crane. We specked out the crane and the dinghy and put it down on the deck. To put the crane in there our local fabricator did the aluminum fabrication below deck for us. We also had to compensate with 250 pounds of lead on the portside of the boat to balance out the weight of the crane."
Alex Schlegel from Hartge Yacht Yard in Galesville, MD, says: "The workload is returning toward normal after the slow early spring and weather problems… The racket made by the Travelifts, hydraulic trailers, air compressors, sanders, paint shakers, carpenter power tools, and boat engines being tested is uplifting: the sound of progress!"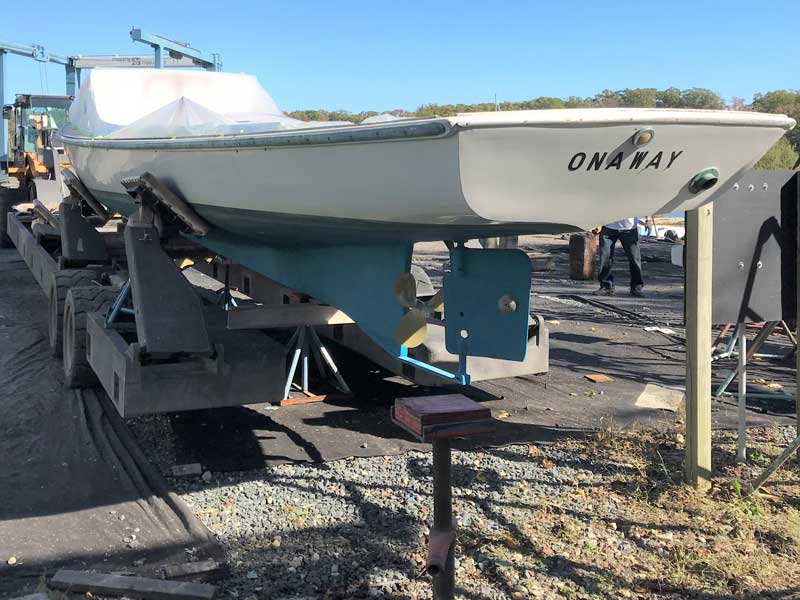 Alex also shared this fascinating family history, illustrating how our boats really do become part of who we are. "This year is the 100th birthday of our Onaway, a 36-foot powerboat. She has the profile of a deadrise of her day, long, low, and lean with a pleasing sheer, but she has a round bottom. (Note: Traditional deadrise construction has a vee bottom and hard chines, with sawn frames for the topsides only—RF). She was designed by my great grandfather and founder of Hartge Yacht Yard, Emile Alexander Hartge. He was the grandson of Henry Hartge who came to America from Germany in 1832. Henry built pianos in Baltimore and Shady Side on the West River. Onaway was built by Captain Emile's youngest son, Captain Ernest Henry "Dick" Hartge in Galesville. Dick, in his long lifetime, designed and built more than 200 boats, both power and sail. 
"Onaway was built of steam bent white oak frames, oak stem, keel, and transom. The top four planks were full length dark red fir and the rest were of cypress. She was fastened with iron nails. About 1970, at 50 years old, the wood had deteriorated some around the nails at the waterline, but the nails, though rusted, still held. The original engine was probably a single or double cylinder Palmer. The engine in her, from my earliest memory in the 50s, was a four-cylinder flat head Jeep. Then came a six-cylinder Ford flathead, and a four-cylinder, 31-horsepower Grey Marine. Now she has a Chrysler Slant-6. All the engines were used and came out of boats having new engines installed. She was built for transportation, both for work and fun.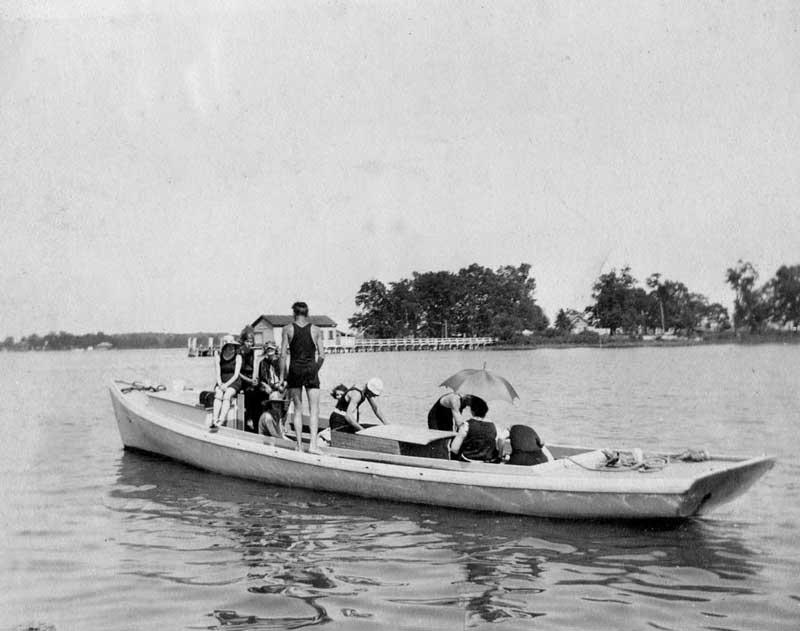 "Until the World War II era the roads in South County were mud. It was easier and faster to get around by boat. Some of her many uses in the 1920s: Aunt Alma Hartge Strong traveled to Annapolis in Onaway to go to high school. In the 1930s two of my uncles, Erwood and Laurence, towed timbers from a dismantled wooden South River bridge to Galesville with Onaway. It took all day to go about 10 miles. In the 1950s I traveled with my father as he towed boats from Baltimore and Solomons Island to Galesville for boatyard work. For many years she has towed Chesapeake 20s to regattas in Rock Hall, Chestertown, St. Michaels, and Cambridge. More recently our sons, Sterling and Xan, take friends to overnight in Annapolis and the Eastern Shore."
That's it for this month. Enjoy the summer weather… somehow, I feel we've earned it! 
By Captain Rick Franke