Summer has finally arrived and the boating season is in full swing. Now that the spring rush is over area boatshops are staying busy as ever. All indications seem to point to another good, busy summer season.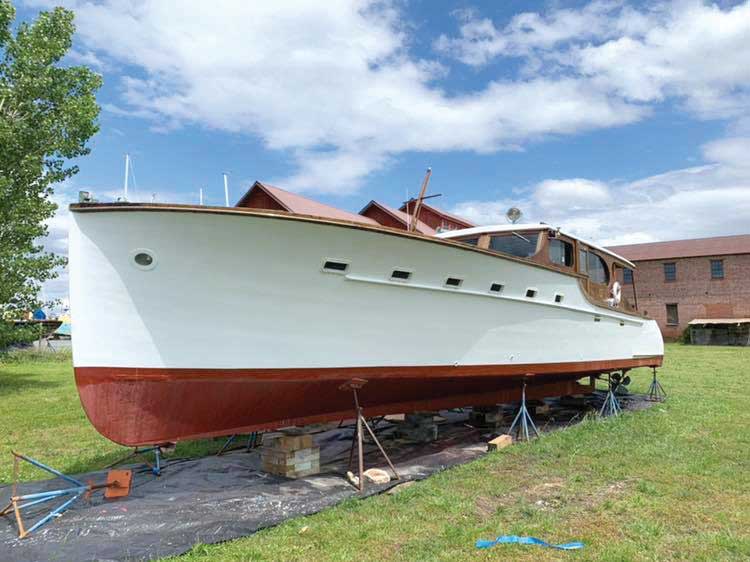 On a bright spring morning in late May, David Fawley and his students arrived at the waterfront at Camp Letts in Edgewater, MD. They brought with them three blue 12-foot Bevin's skiffs, a skerrie, and a kayak, all built by students in the Marine Services program at the Center for Applied Technology South. As their teacher, Mr. Fawley explained, "My first-year level-one students built these 12- foot Bevin's Skiffs from scratch. They did all the lofting out of the materials. We used top-grade marine plywood. We even did some fiberglass this year so the students could get some experience with that. Then, we finished the boats out with marine paint and varnish. Along the way students learned a lot about buoyancy, hull types, center of gravity, and all the different lessons we can cram into the process. They worked super hard this year and put a lot of work into them and today they can launch them and have some fun."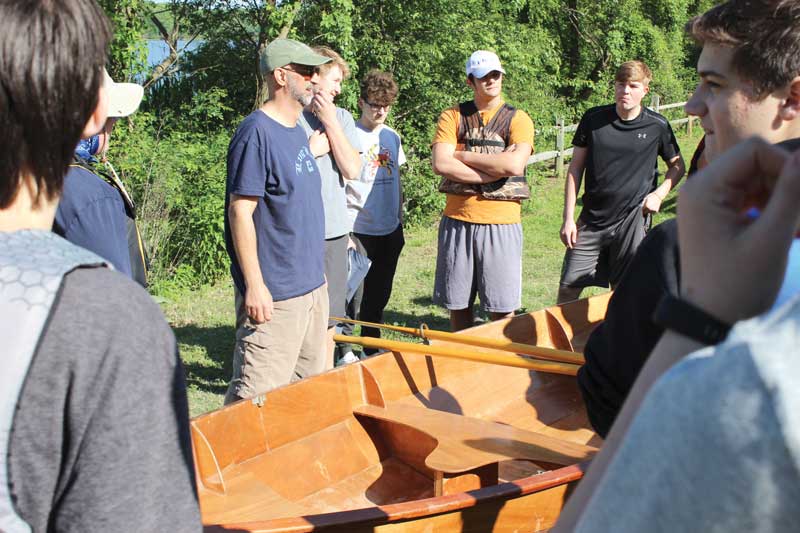 Fawley went on to explain that his program, which is part of the Anne Arundel School system, has been honored by the American Boat and Yacht Council (ABYC). "For the first time my program will have an industry certification. (Soon) my level two students will be taking their Fundamentals of Marine Service certification test. That is really a big boost for our program, and I'm looking forward to working closely with ABYC this coming year." 
Jon Clarke of the historic Higgins Yacht Yard in St. Michaels, MD, checks in: "Higgins Yacht Yard is showing all the signs of a busy spring. Our goal is still 'Boats on Docks, Not on Blocks,' but there is definitely more room in the yard. April and May are not the months of 'creative restoration' projects, but more of the 'how many boats can we re-commission and safely launch in one day!' We are fortunate to have such great customers who understand the dynamics of the 'spring shuffle' and that weather dependent means just that. The original Midnight Lace is currently in the boat shed for some annual touch ups and a bit of beautification. She's still a beauty and should be back in the water soon. The Chesapeake Bay Log Canoe Magic is still under restoration and is expected to race before the season is over. Our transient reservations seem to mirror the 'Boating is Back' theory.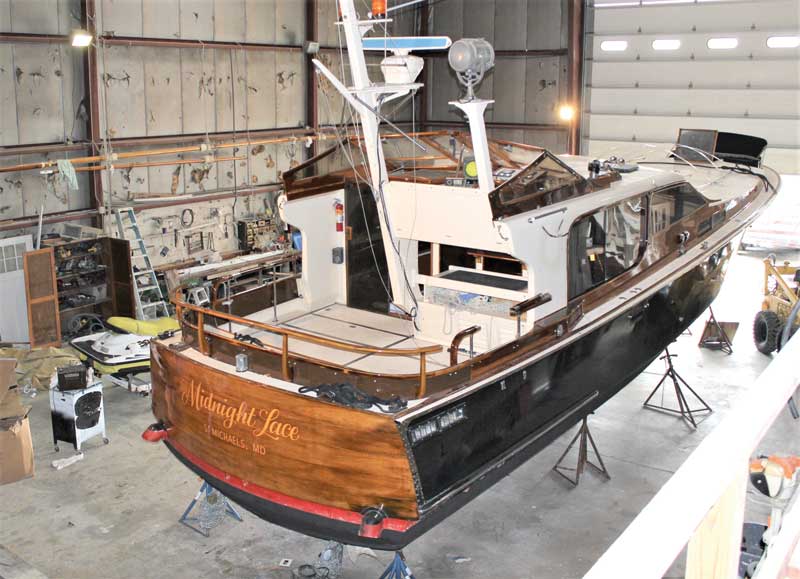 We had a much busier April this year than last year, and our May is looking to be fantastic too! Our new computerized reservation system makes transient slip reservations a breeze. We've also seen an increase in haulouts for surveys. Folks are buying boats! We've completed the first phase of renovations to our shower rooms with new vanities, sinks, tile floors, and more. They are getting great reviews from our customers. Phase two will begin this fall and is part of the on-going process of updating the marina and yard."
From Hartge Yacht Yard in Galesville, MD, Alex Schlegel sends us this detailed update on the refit of the Trumpy Manatee. "We are nearing the final stage of a major refit on the 55-foot 1950 Trumpy houseboat Manatee. Finishing this project (will take) two or three months with five to six men working full time. One of the latest tasks was replacing keel bolts. This is one of those jobs for Peter Bell and Ernie Stuermer that is a lot easier to write about than do.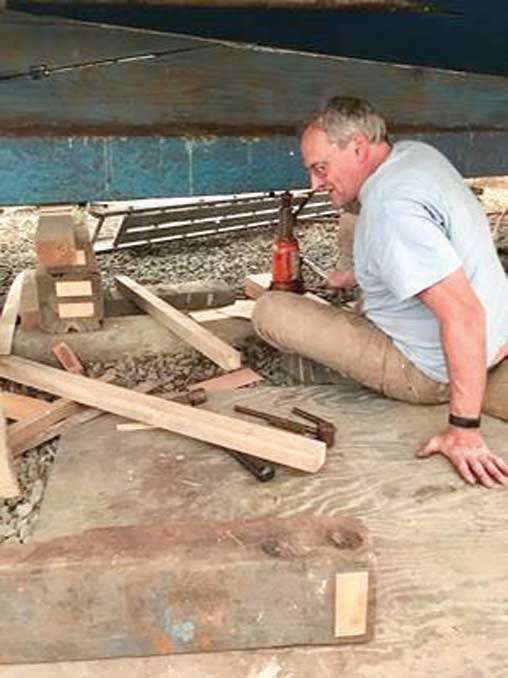 The straight forward bolts were done earlier, a year and a half ago. When removed and inspected we could see the bolts were like new except at the top of the keel where the stainless bolts had some crevice corrosion and the bronze bolts had dezincification. The men knew that replacing the remaining bolts would take some ingenuity and were giving the job some thought. The Travel Lift is not high enough to block the boat as high as we would like for this keel area work. With less than two feet under the keel and about three under the hull, the work is hard on the back and knees. 
Unusual for a powerboat, there is a cast iron ballast, five and a half inches wide, six inches high, ascending to nine inches high aft over a length of 15.5 feet, and held in place by eight ¾ in stainless steel bolts. There are also 5/8 inch bronze bolts holding the deadwood to the keel above and aft of the iron ballast. The keel and deadwood are oak and exceptionally hard and sound aside from the top around the bolts. There, minor deterioration was filled with epoxy. In larger areas, the soft wood was cut out and fit with oak and purple heart plugs. The worst damage was about three inches in diameter and three inches deep in a 5.5-inch wide by 11-inch deep keel. Bronze plates were used on all keel bolts to spread the load. Getting some of the remaining bolts out and new ones in was reasonably difficult, but some were very difficult. 
Several bolts were located directly under a bulkhead that would be extremely time consuming to remove. Bolts located there could not be driven down and cut off as the space allowed. With persistence, the heads were drilled off and the bolts jacked up and bent or cut to clear the bulkhead. A 20-ton jack was pumped to its limit to get the bolts to move and when they did, men inside the boat could feel it, and it resounded throughout the yard... Of course nothing went as easily as described."
Rob Hardy of Composite Yacht in Trappe and Cambridge, MD, sends us this notice of a unique opportunity. "We're happy to help promote the Sealed Bid Auction of this extremely cool piece of Chesapeake maritime history to benefit the Richardson Maritime Museum in Cambridge. Built in 1951 by Bronza Parks, the Lee Sar is in remarkably good shape for her age. She measures 46 feet in length and is powered by a pair of Perkins 'Pancake' diesels. The auction will be held on June 22, and the vessel will be available for viewing beginning June 1." Direct questions to the Richardson Maritime Museum (410) 221-1871.
The Chesapeake Bay Maritime Museum's new shipyard manager, Christian Cabral, reports that CBMM's shipyard in St. Michaels MD, is working on three major initiatives this summer. "The first, which is occupying most of the crew's time is lofting, constructing, and developing infrastructure for the newest iteration of 17th century ship Maryland Dove. At the same time, shipwrights and apprentices are busy working on CBMM's floating fleet of historic vessels. This season, the fleet falls into two categories: annual maintenance or restoration. The majority of CBMM's floating fleet either has been or will be hauled out on the marine railway this summer to be assessed, cleaned, painted, and repaired as necessary.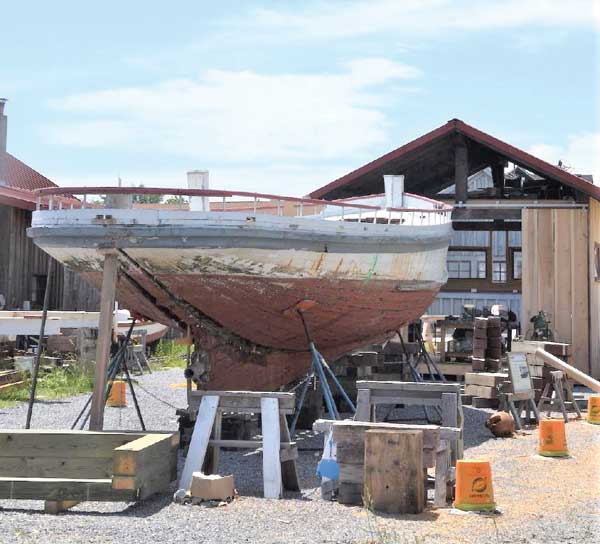 Shipwrights use this time to accomplish all annual maintenance work and assess each vessel to determine if future refit or restoration work will be required. The current fleet vessel undergoing restoration is 1912 river tug Delaware, which is the third initiative shipwrights are currently undertaking. This summer will see CBMM's shipwrights continue to document and acquire materials for Delaware's restoration, in addition to building a timber frame pavilion under which work will be completed. To learn more about CBMM's working shipyard and find regular progress reports on its various build and restoration projects, visit cbmmshipyard.org. To learn how you can get out on water with CBMM this spring and summer, visit cbmm.org."
Mark Wiest, shipwright and owner of Deadrise Maritime, and his staff have been working on repairs and renovations to the 1940 Bronza Parks built skipjack Wilma Lee, currently docked at Severn Marine in Tilghman, MD. She was converted to a yacht with belowdeck accommodations and twin John Deere 150-hp turbo diesels, air conditioning, a generator, and all electric appliances as part of a major rebuild begun in 1995. In 2012 she was donated to Ocracoke Alive, and was purchased by the Annapolis Maritime Museum in late 2018. She has been at Severn Marine since January. Work is progressing well, and the museum hopes to have her in Annapolis for educational programs this summer. Another interesting project at Severn Marine Services is a restored 1926 Chris-Craft Cadet having its 283 Crusader engine rebuilt and fuel injection added among other upgrades.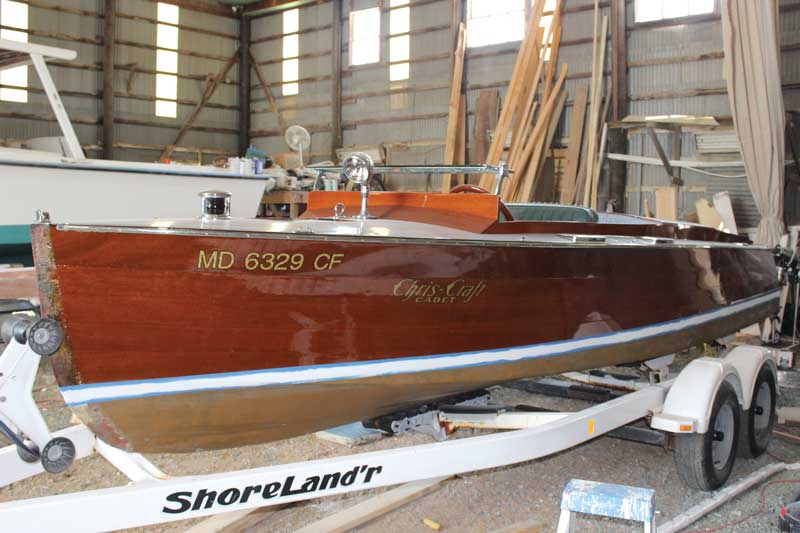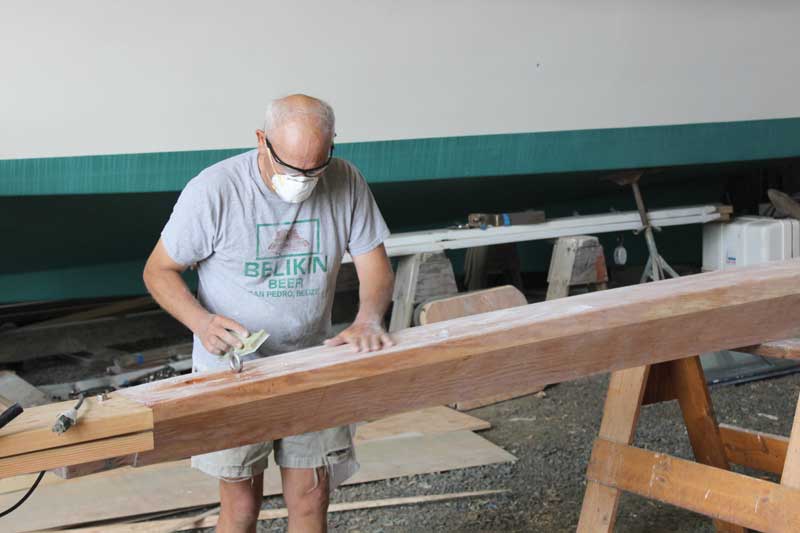 By Captain Rick Franke