The Chesapeake Conservancy has announced that National Park Service (NPS) Chesapeake Bay office assistant superintendent Jonathan Doherty was awarded the organization's most prestigious award, Champion of the Chesapeake, in honor of his devotion, commitment, and passion for the Chesapeake Bay watershed. Doherty has been an incredible partner and leader in Chesapeake Bay conservation and the Chesapeake Conservation Partnership.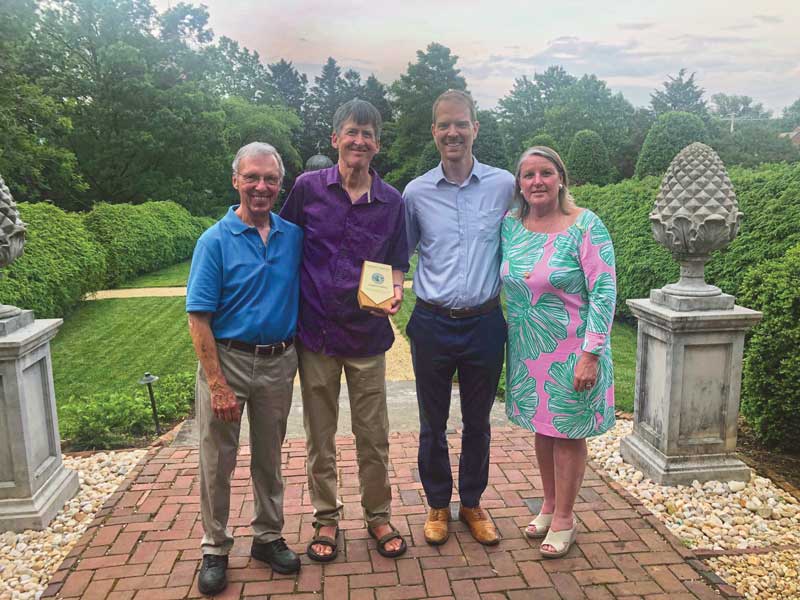 Doherty retired in June after 41 years with the National Park Service, where he first started as a monitor of mountain goats at Glacier National Park. From there, he was executive director of the Columbia River Gorge Commission, and then the chief of planning for national parks and national heritage areas in the mid-Atlantic region. Doherty served as the first director of the NPS Chesapeake Bay Office after Congress passed the Chesapeake Bay Initiative Act in 1998. The legislation created the Chesapeake Bay Gateways and Watertrails Network, a network to identify, interpret, conserve, and restore Chesapeake resources and connect people to the Bay.
In his 22 years of service with the Chesapeake Bay office, Doherty helped build the Gateways Network and the Chesapeake Conservation Partnership, create hundreds of public access sites, and oversee the Captain John Smith Chesapeake National Historic Trail.
"In the early years of the Chesapeake Bay Gateways and Watertrails Network, Jonathan built a staff, established a working group of innovative thinkers from throughout the watershed, awarded millions of dollars in grants to Gateway projects, and established partnership agreements with more than 170 sites regionwide," said John Reynolds, a member of the Chesapeake Conservancy's board of directors and former Deputy Director of the National Park Service (retired), who presented the award on behalf of Chesapeake Conservancy.
"Jonathan can take pride in the tangible conservation legacy he established in the Chesapeake, including protecting valued lands on the Rappahannock River, Potomac River, James River, Nanticoke River, at George Washington and Jefferson National Forests, and many other places. And perhaps his crowning achievement: a direct role in protecting the internationally significant Werowocomoco, an indigenous cultural landscape, spiritual center, and seat of leadership for Tidewater Algonquians," said Chesapeake Conservancy president and CEO Joel Dunn.
Since 2014, Chesapeake Conservancy has recognized numerous individuals and organizations as Champions of the Chesapeake for their dedication to the conservation and preservation of the Chesapeake Bay, the largest estuary in the United States, and deemed a national treasure. Earlier this year, Chesapeake Conservancy awarded the Champions of the Chesapeake Award to Jason Fellon, watershed manager, Department of Environmental Protection, and Marcus Kohl, regional director, Department of Environmental Protection.