We recently chatted with John and Sandi Pepe who currently race Slippery Eel with the Smith Island Crab Skiff Association.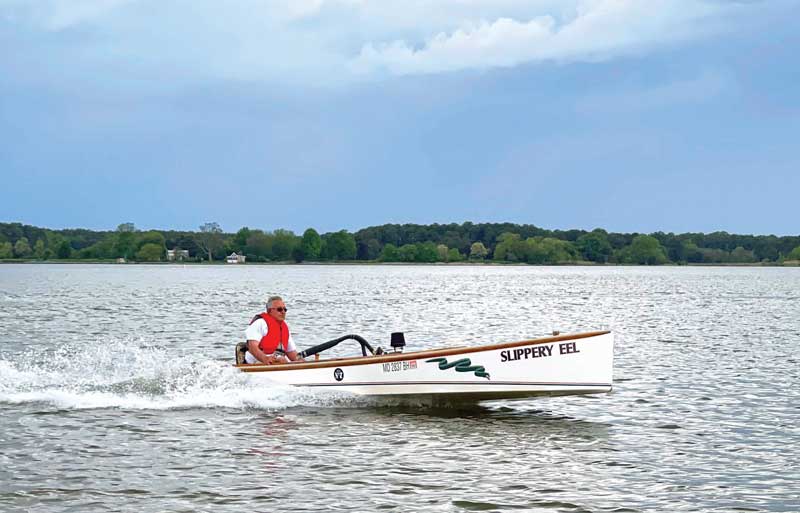 How did you get started in powerboat racing?
I grew up on the Eastern Shore in the early 60s. There were a lot of local hydroplane racers at that time. We could go to a race every weekend in the summer by boat and watch people like the Baker boys, Alton Pierson, and the Thompsons race. These were the boats that we came to know and would want to restore years later in the vintage circuit. 
Sandi and I got involved with a friend who had Larry Lauterbach (a many times champion boat racer and builder) restoring a boat for vintage racing. Larry became a lifelong friend, and we worked alongside him restoring several boats for the vintage circuit, one of which belonged to Larry's brother. We were involved with vintage racing for about 12 years and ran three boats—an A class boat, a J class seven litre boat, and a Grand Prix class boat. All were Lauterbach boats.
How did you get involved with the Smith Island Crab Skiff Association?
The Slippery Eel belonged to the Town of Oxford and was built by a shipwright by the name of Dickie White in 1997 to compete against a challenge boat from Crisfield, MD. I helped work on and repair the boat over the many years it was run back in the day. The boat was allowed to be removed from the Town of Oxford around 2010. The short story is that several of the original plank holders (people that put up money to build the boat) wanted the boat back. 
Through some asking around and many phone calls we found that the boat was residing in Crisfield of all places. We regained ownership of the Slippery Eel from the Smith Island Crab Skiff Association with the intent to restore and race it for the Town of Oxford and in honor of the original builder, Dickie White. This has worked out just as we planned.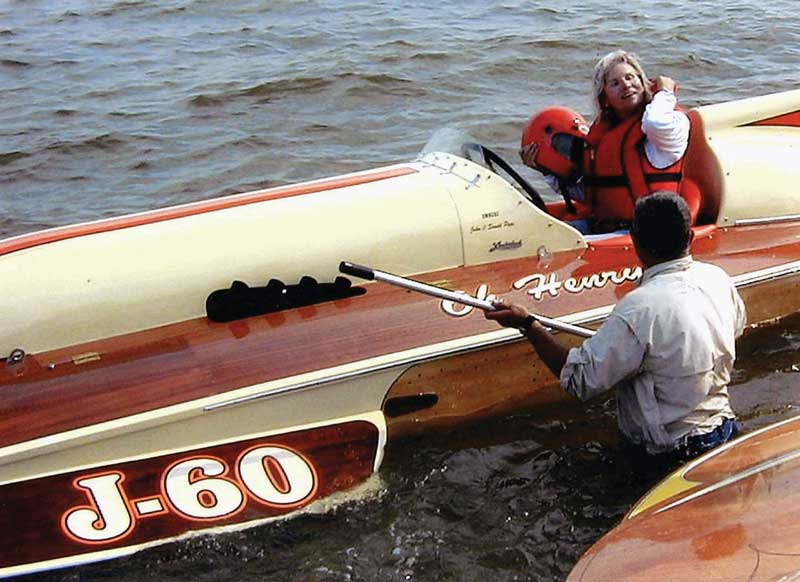 What was it like moving from hydroplanes to crab skiff racing?
Crab skiff racing is just pure fun. The boats are not fast, but they are exciting to watch, and people love to hear the noise. The boats are not expensive to run or maintain and are a good way to enjoy boat racing at an affordable price. Hydroplanes are very expensive to maintain and run. They are very exciting, and we had a great time participating in the events. The slower pace of crab skiff racing suits us both as we get a little older. 
Favorite part about the Crab Skiff Association? 
We both enjoy the weekend races and being with the people involved in the sport. They are a great group of folks. We have as much fun just hanging out as we do racing. My favorite memory was winning the first race that we were in. This made me feel that all the work was worth the effort for us and the Town of Oxford. 
What is it like racing/being on a team together as a couple?
Sandi did not race the boat in competition this past season. She does a lot of the repair and maintenance work, and she has driven the boat a number of times. Hopefully this year she can run some of the events. We have driven together in the vintage hydroplane events. Although this is not competition, no one wants to be second, if you know what I mean. 
What advice do you have for someone wanting to join the Crab Skiff Association?
If anyone wants to have fun and enjoy boat racing at a relaxed pace with a nice group of folks, crab skiff racing is a good way to step into powerboat racing for a reasonable cost. There are always boats being bought and sold in our group. 
Apart from racing, do you do any other types of boating?
Both Sandi and I maintain USCG Masters Licenses. She has a 100-ton license and I have a 200-ton license. We both run the Oxford Ferry on a part time basis. We still work full time at our regular jobs. Sandi is grants manager for the Department of Natural Resources, and I have a Marine Surveying and Consulting business. We own a 35-foot Duffy Lobster boat that we plan on doing tours and cruises on when we retire. 
What's your home port?
We live in the Town of Oxford, MD, on the Eastern Shore. We live our lives around the water; boating, fishing, and enjoying the Bay. We have done over 300 boat deliveries up and down the East Coast and the islands over 30-plus years together, but still love our small Town of Oxford and the Chesapeake Bay.