This month's news about Jimmie Stewart comes to us from the Canadian Hydroplane Racing League (HRL). Locally you can find the HRL at the Cambridge Power Boat Regatta Association's Cambridge Classic in May on the Chesapeake.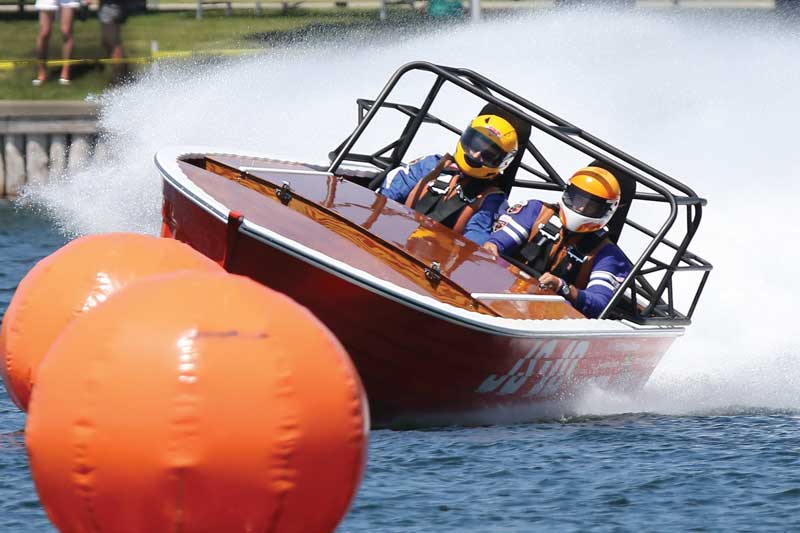 In the Jersey Speed Skiff class, the show on the HRL race course is likely to be even more impressive in 2020. 
The existing rivalry between Maryland racers Tom Pakradooni and Jimmie Stewart will certainly go up a notch as the two long-time opponents will be competing at each of the six events where JSS boats will be part of the HRL race program. 
First reluctant to confirm his presence at all events, Stewart found a way to arrange his schedule in order to be able to register his boat, Yumpin Yiminy JS-10, at each of the events where JSS boats are on the HRL schedule next year. 
"It's a commitment that must be taken seriously. Distances are important when you participate in all events, and your team members must be available. There was also my wedding. Finally, with the help of my sponsors, I was able to make arrangements to take part in all HRL competitions," said the resident of Pasadena, MD. 
Obviously, Stewart will be accompanied aboard the JS-10 by his faithful partner and sister, Peg Ewancio, who will act as navigator. In 2019, Stewart claims to have enjoyed his best moments since his debut in the Jersey Speed Skiff class as he triumphed for the first time at the Regates de Valleyfield, ending Tom Pakradooni's tenure dominating the waters for over 10 years on St. Francis Bay. "It was by far my biggest achievement in 20 years of racing," said the 54-year-old driver who works in the printing business as a photocopier for lawyers in his hometown. 
Two months later, it was the cherry on the sundae for Stewart who got the best of Pakradooni at the Regates de Beauharnois at the season finals. "In all my years in APBA, I have never had so much satisfaction driving my boat. It was also my first participation at a Detroit regatta event which added to this great season," said Stewart, who won the qualifications on the Detroit River last August before finishing second behind Pakradooni in the final. 
The eighth place available in JSS is filled in anticipation of the 2020 season, but members of Stewart's family would like to join the HRL circuit full time. His daughter, Courtney (Stewart) Truelove, who got married in August, wants to drive her JS-721 at more events next year just like his nephew, Max Ewancio, who was in Detroit with his JS-45. 
The management of the Hydroplane Racing League is open to the possibility of including 10 boats on a regular basis in JSS next year, and a decision will be made in the coming months.