Once again as winter closes in, we retreat indoors and concentrate on projects that have been put off for a while. Family and holiday events add a special note to this early wintertime. While boating-related things may slow down for most of us, it appears that area shops have a busy winter ahead. Most report big backlogs of work and plenty of new work coming in for the cold weather months.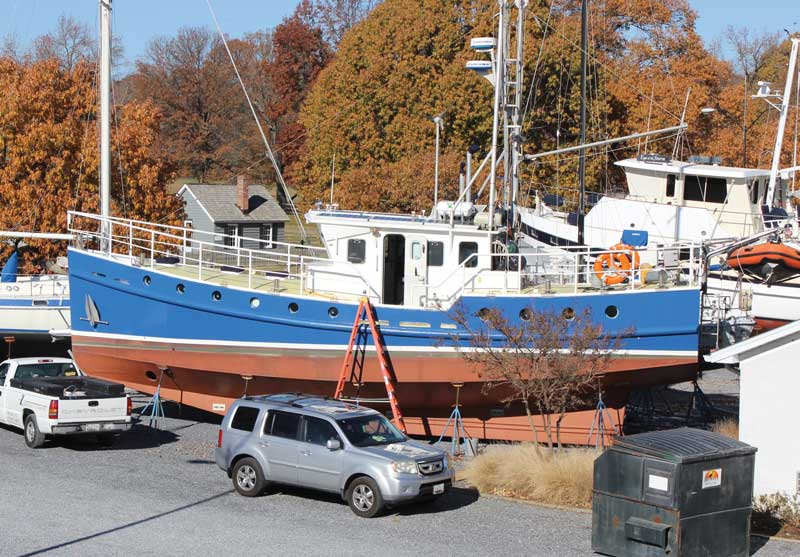 J.J. Williams of Osprey Marine Composites in Tracys Landing, MD, reports that they are booked for the foreseeable future. He says that all their bays are full with jobs ranging from minor repairs to re-coring and full alwgrip repainting. They also have projects in the yard such as barrier coat and paint repair on a steel hulled Diesel Duck 48 trawler and replacing the propeller shaft bore on a Kadey-Krogen 39 Trawler. The hardstand behind their building is also full of soda blasting jobs as weather permits.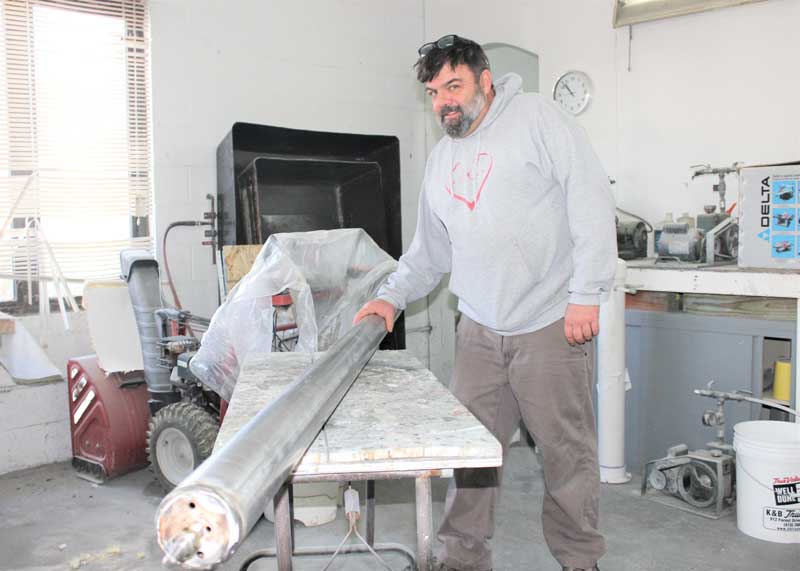 Christian Cabral, shipyard manager at the Chesapeake Bay Maritime Museum (CBMM) in St. Michaels, MD, reports that 2019 was a busy year for CBMM's working Shipyard. "A glance around the yard reveals the addition of two new workshops, retrofitted existing shops, and a multitude of projects. The shipyard's 2019 season saw the initiation of two major projects: the construction of Maryland Dove and the restoration of the 1912 river tug Delaware. Today, the Maryland Dove team has laid her keel, constructed her backbone, and framed the majority of the vessel. Meanwhile, the Delaware team constructed its keel and backbone and are now turning their attention to the construction of the tug's framing.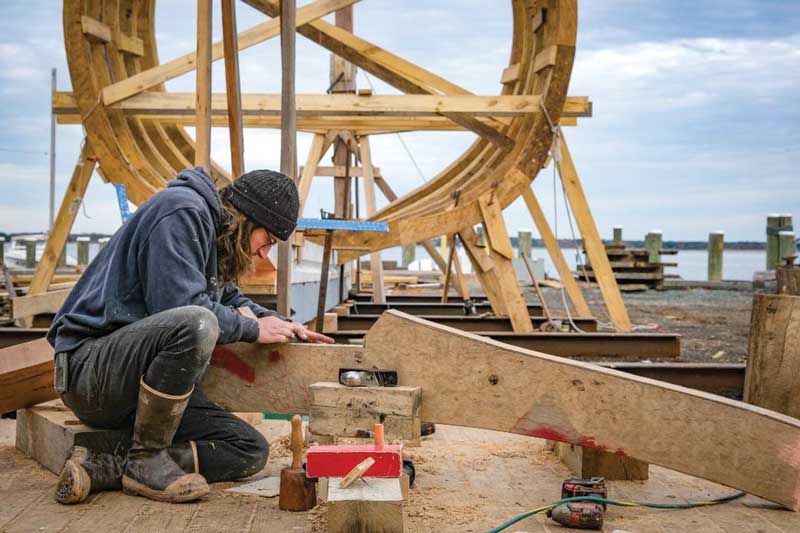 "During the construction of these two vessels, CBMM's yard also hauled, serviced, painted, and began refits on nine members of its floating fleet of historic vessels. During the winter of 2020, the shipyard team will focus almost exclusively on its two major construction projects, with one exception. In addition to Maryland Dove and Delaware, CBMM's shipyard will complete a restoration of Glide, the oldest surviving Chesapeake Bay log canoe. Shipwright apprentices, led by floating fleet shipwright Michael Allen, will divide their time between the three-month Glide project and the restoration of Delaware, while the Maryland Dove team will focus their attention on backbone assembly, framing, and planking. Each one of these projects is done in full public view, with encouraged participation from volunteers, students, and guests. To keep up with all of the efforts from CBMM's working Shipyard, visit cbmmshipyard.org."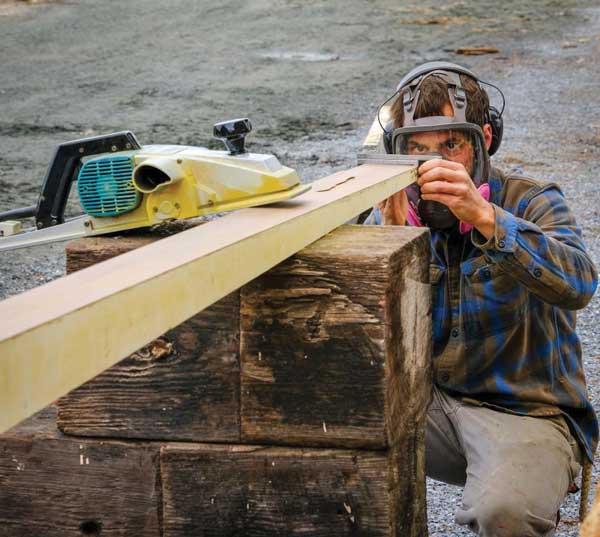 Buster Phipps of Phipps Boat Works in Deale, MD, is finishing up a long repainting and refit of a 1973 Pearson Trawler. "After we finally get this one out of the shop, I've got a whole list of projects stacked up. For some reason several customers have asked to have teak decks installed on their boats. I don't know why teak decks have suddenly become so popular, but we are going to have a busy winter," he concluded.
Jim Weaver of Weaver Boat Works in Deale, MD, also expects a busy winter. Weaver has five boats under construction now, ranging from 38 to 70 feet at their two locations on Rockhold Creek. Jim estimates he can keep his crew working for almost two years with what he has going on right now, and the phone keeps ringing.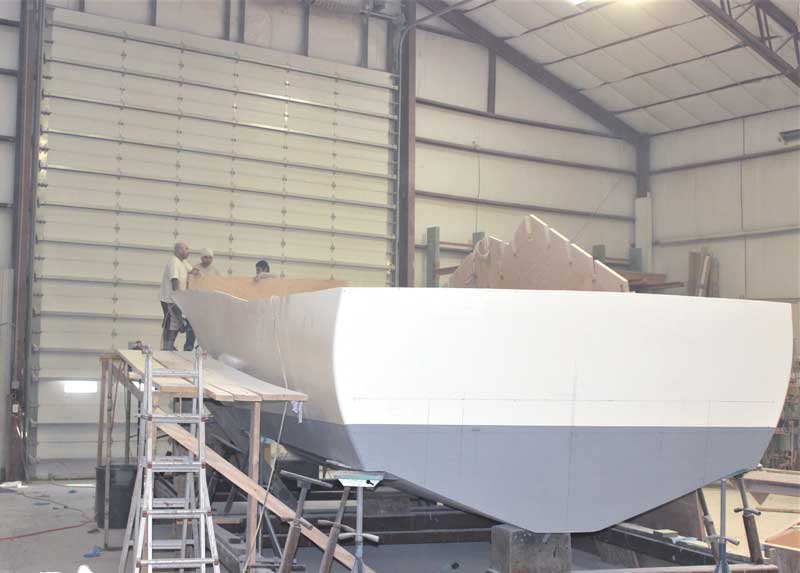 The Marine Trades Association of Maryland (MTAM) has taken on the challenge of helping to address the manpower shortage in the marine trades. Lia Jaros, workforce development coordinator for the association, reports that they have trained over 50 young people in their six-week on-the job-training course. Many of the grads have moved directly into part-or full-time jobs in the marine industry. See page 22 for success stories from MTAM's on-the-job training program.
When the Annapolis Maritime Museum in Annapolis, MD, acquired the skipjack Wilma Lee, they expected to have some repair and restoration work done on her, but replacing both the mast and the bowsprit was a bit of a surprise, as museum president and CEO Alice Estrada explains: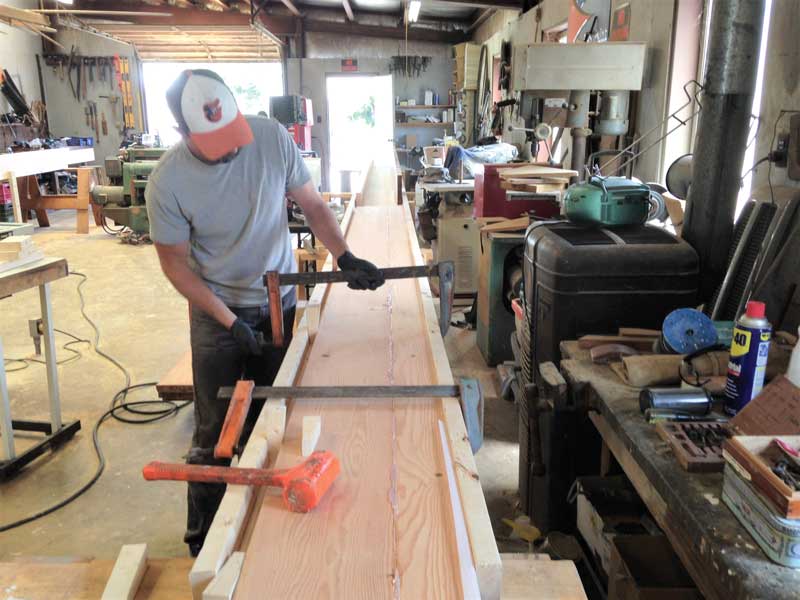 "A brilliant shipwright named Mark Weist in Tilghman brought her back to life. We have pages and pages of repairs and work done on her, but the major project was the fabrication and installation of a new mast. The old mast and mast step had more rot than we expected, so they had to be replaced. Unlike the original, the new mast is not a solid spar, but is a composite spar laminated from many pieces. Watching Mark turn that long square timber into a round, gently tapering mast was quite an experience," Alice concluded.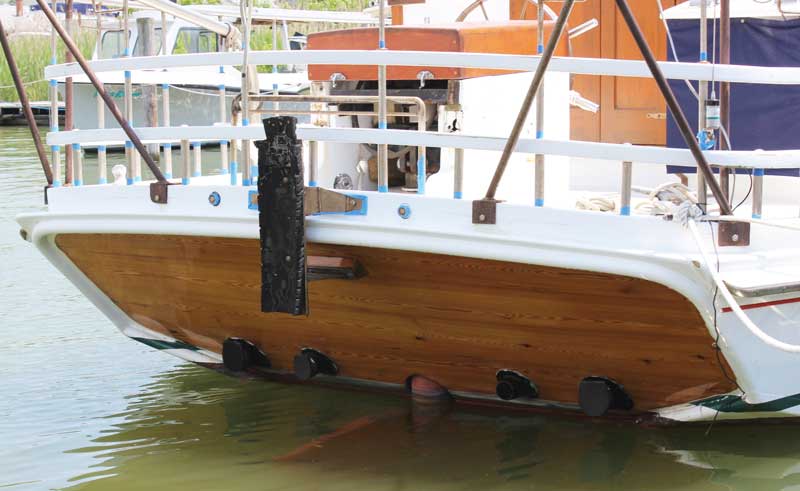 Many marinas and boatshops are taking advantage of the winter to upgrade and repair their facilities. More and more are converting to floating docks, as John Patnovic of Worton Creek Marina in Chestertown, MD, outlines in his newsletter. "The floating dock project continues to progress… All the finger piers have been installed. The north side piers are permanently installed and essentially finished. The south side piers are installed, but will have to be disconnected and moved to allow the intermediate pilings between the finger piers to be driven. We have started the electrical installation which is a big job by itself."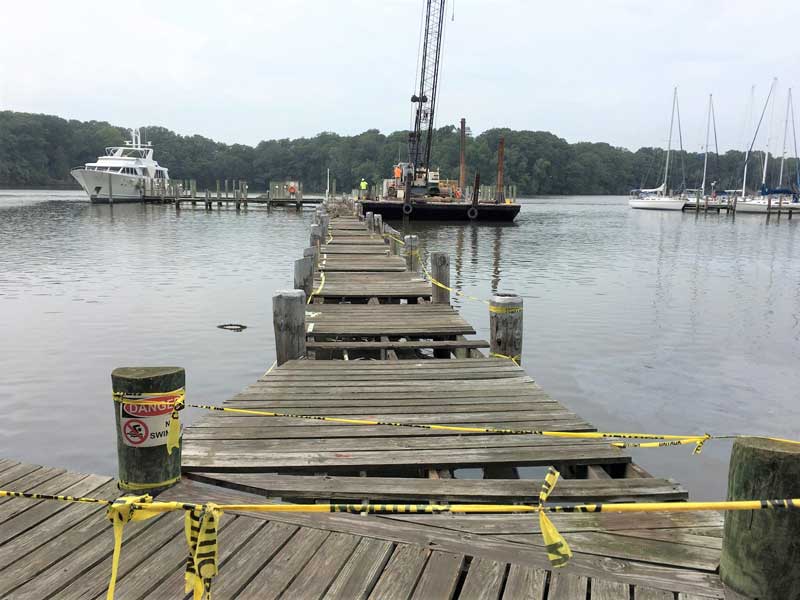 John also points out that the marina's other work is also going on. "Decommissioning and haul outs are in full swing, and we anticipate a very full dry storage yard this winter… Our order book is full for the winter. Scheduled projects include boat interior work, paint jobs, stabilizer installation, and a host of other things." 
David Low of Herrington Harbour North in Tracys Landing, MD, reports on the marina's preparations for winter. "Herrington Harbour North and our many onsite contractors are anticipating a very busy winter of service appointments with over 1000 boats hauled out for the winter. A major feature of our yard is that boats are stored in rows, never blocked in. Water and 110 electric are within 50 feet of each boat. The marina projects include bathroom upgrades, new decking on Club House dock, and new walking paths."
In keeping with the holiday spirt we'd like to share the following story with you which should warm the hearts of all boating parents. Regular contributor Smokey Glover of Willard Marine in Virginia Beach, VA, shares a big step in passing on his love of boats to his son with us: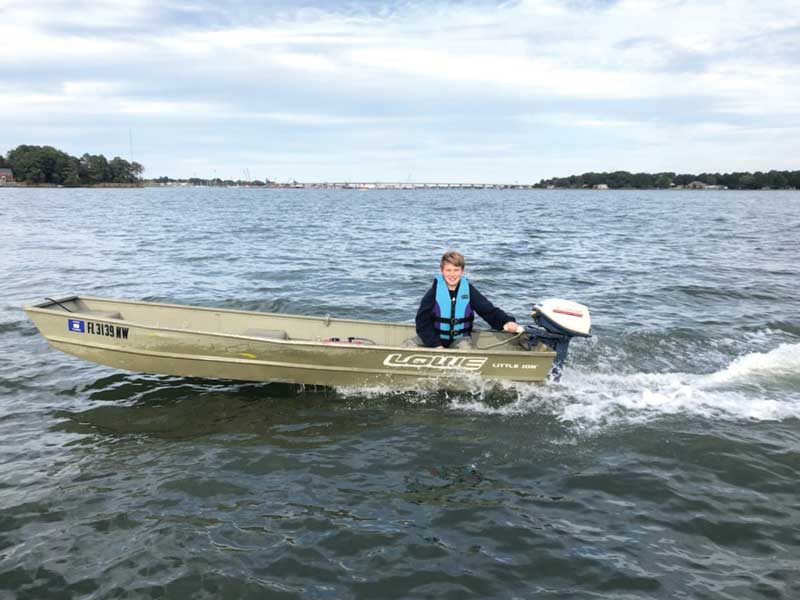 "My son, Joshua (9), has been boating since he was a toddler. I had found a jon boat and 6-hp Evinrude, just like my first boat. We put it in a few weeks ago so I could ride with him a bit. The following weekend I sent him out on his own, and he obviously loved it and did great. Last weekend he went back out and coaxed his friend Carson Duck (12) to come out as well. With Carson's dad Michael and me proudly watching from the deck boat, these boys ran the river and creeks and had a blast. They were on the Western Branch of the Elizabeth River in Portsmouth. Michael and I grew up boating on this same water, and we look forward to the boys doing the same. We both feel that boats are a great way to teach responsibility and maturity, and give the boys an outdoor sport that can follow them for a lifetime."
Smokey, we couldn't agree more. 
By Captain Rick Franke