It all began two years ago when my dad showed me an article in PropTalk about an electric boat race on the Chesapeake Bay, the
Wye Island Challenge
. I was intrigued by the 24-mile race around Wye Island using only electric propulsion. Soon after reading that article, I embarked on a journey to assemble a boat that would one day compete in the race.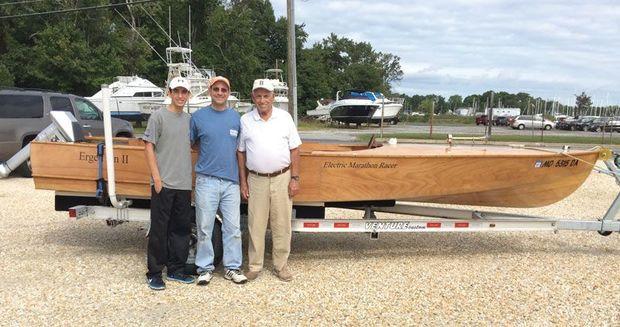 Three generations of my family (my dad, my grandfather, and I) banded together to form the Flying Needle Racing Team to complete the project. Not knowing much about electric marine propulsion, I began to research the subject and learn about its various components. It came down to three main components: the hull, the motor, and the batteries. Would we use traditional lead-acid or lithium batteries? How big should the hull be? Should we convert an old gas outboard to electric or purchase an electric outboard? All of these questions were decisions we needed to make while staying within our budget. To help defray part of the cost of the project we pursued several sponsorship arrangements. We successfully landed several, including Anthony's Carryout in Ocean City, MD. At the Miami International Boat Show we discovered a relatively new electric marine propulsion company, EPropulsion, which had designed and produced a six-kilowatt electric outboard motor (equivalent to a 9.9-hp gas motor). It was a brand new product to the market and seemed perfect for our needs. We worked out a promotional discount with the company, and a few months later the motor arrived at our front door, all the way from Hong Kong. We had one piece of the puzzle, but we still needed to figure out the hull and batteries. While visiting the Palm Beach Boat Show, my father and grandfather discovered a 14-foot bonefish skiff made by Billfish Boatworks. The hull was lightweight and narrow and seemed perfect for the race. After working out another promotional discount with Billfish Boatworks, we had two of the three components under control. Last, but certainly not least, came the batteries. We essentially had two options: heavy, relatively inexpensive lead-acid batteries; or lightweight, costly lithium batteries. After months of reaching out to numerous lithium battery manufacturers, we realized that finding affordable and reliable lithium batteries was nearly impossible. We ended up choosing eight 6-volt lead-acid golf cart batteries, each with a capacity of 235 amp hours. In total, the battery pack weighed close to 500 pounds.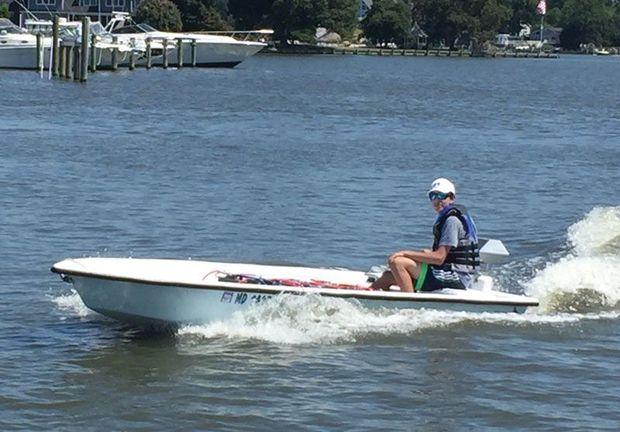 We hooked the batteries up in series to generate the necessary 48 volts, attached the motor, and began our rigorous testing. It was amazing to see the project come to life and actually be able to witness some of the concepts I learned in my high school physics class. With so much battery weight, the boat sat very low in the water and was slower than we expected. At full throttle, the boat could reach around 10-mph, but we couldn't run very long at that speed and certainly couldn't finish the race. After doing many calculations at various speeds and measuring the amp draw of the motor, I was able to come up with an estimate of how fast I could go and still make it around the entire course. Race day 2016 finally came, and we arrived at the Miles River Yacht Club ready and eager to compete. Unfortunately, the weather did not cooperate. With high winds and rain, we feared that my small 14-foot boat wouldn't be able to safely complete the course. After all of our hard work and preparation we were so disappointed. For us, the 2016 Wye Island Electric Boat Challenge ended in a DNS (did not start). But better safe than sorry, my mom would say. On the bright side, we met Ned Farinholt at the race. Ned was a prior competitor and winner of the Wye island Challenge, who possessed a wealth of knowledge on electric boats. After meeting my family and being impressed with my interest and ambition, Ned decided to donate his home-built boat to me. The boat, specifically designed for the race, was constructed of lightweight wood and was better equipped to handle the sea conditions that could be encountered on the Chesapeake Bay. Next came testing the new boat with our existing power system. The bigger and longer hull actually performed better than our prior skiff, and I was able to go faster while drawing the same amount of power. With this hull, I could reach a top speed of just over 12 mph, in contrast to the 10-mph maximum achieved with the first hull. This gave me a new appreciation for hull design and hydrodynamics. Once again race day arrived; this time there were blue skies and flat seas. My goal was simple: make it all the way around the course without running out of power.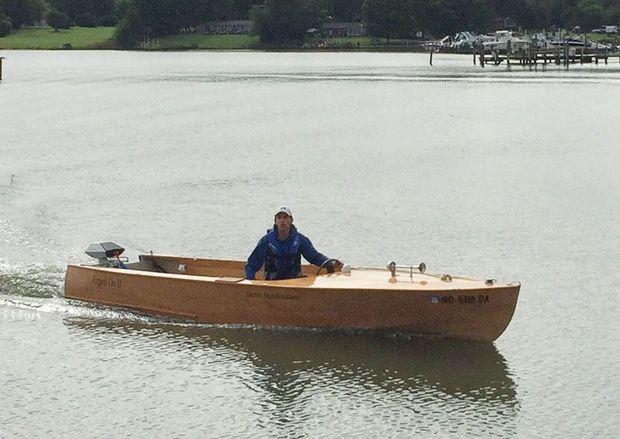 We eagerly arrived at MRYC on October 6, launched the boat, tested our systems, and waited for the race to commence. At 10:30 a.m., all 13 boats headed out into the Miles River to begin the 24-mile journey around Wye Island. In order to complete the race I needed to maintain an average speed of around five mph, with the motto "slow and steady wins the race." At the midpoint of the race I got concerned as my battery meter showed a meager 17 percent remaining. However, after a 10-minute break, I powered up the motor, and the meter miraculously registered 68 percent remaining power. I was not aware of this drastic fluctuation in battery voltage. I had enough battery capacity left to cross the finish line! Slowly, I made my way around the rest of the island back towards the Miles River. A few miles from the finish line, I looked ahead and noticed a boat in the distance. Having some battery capacity left, I decided to increase my goal, and I slowly advanced the throttle and began to overtake the other boat. The finish line was in sight. Not only had I actually completed the race, but I had beaten another competitor, not to mention those entries that did not finish. At the finish I was elated; I had finished the 24-mile course under 100 percent electric power, with some battery to spare! What a sense of accomplishment! As this year's competition has come and gone, I am already thinking about next year and what changes I can make to improve my time. View a video from the 2017 Electric Boat Marathon, held October 6 in St. Michaels, MD, at 
proptalk.com/2017-wye-island-challenge-electric-boat-marathon
.
by Ryan Needle