I began my hickory shad fishing back in the early 1950s in Laurel, DE, at the spillway where Records Pond empties into Broad Creek. My grandparents, who raised me and were Laurel natives, would drop me off there when they went to visit their friends. In those days children were seen but not heard in the presence of adults, so it was better for all concerned for me to be out of sight and sound.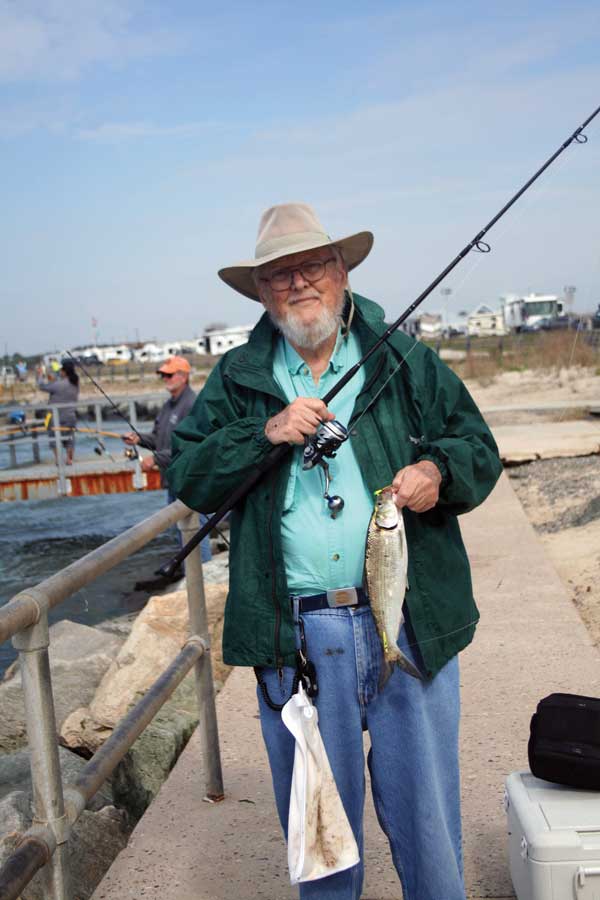 My tackle consisted of a very primitive spinning outfit with a reel that was held on the rod with two pipe clamps. The line was not the mono or braid we have today, but a thick type of nylon that still worked reasonably well.
I used two shad darts tied about 12 inches apart. They were cast as far as possible to the end of the spillway and then worked across the turbulence in hopes of attracting a shad or herring. The majority of the fish we caught were herring with some hickory shad and the occasional American or white shad.  
The white shad were the real trophies. They were much bigger than the herring or the hickories and put on quite a show. It was as close as I came to catching a tarpon until I actually caught one in the Florida Keys.
Today, you are not allowed to possess a herring. You may keep as many as 10 hickory or American shad in any combination in Delaware.
One of the more memorable fishing days at the Laurel spillway was on an Easter Sunday. We had attended church, so I was still in my Easter finery when I was dropped off with rod, reel, and tackle in hand.
As luck would have it, the shad and herring were in there thick. Every cast was at least one fish and most times two. Of course, to unhook them I held the fish against my light blue sport coat, white shirt, and tie, and the slime and scales ran down on my pants.
I do recall my grandparents were not happy. Their Easter dinner plans were delayed until we drove back to Claymont, and I had a bath and a change of clothes.
There are many locations where you can intercept hickory shad in the spring. My current favorite is Indian River Inlet. Unfortunately, my favorite location along the sidewalk on the northside just west of the bridge has been deemed unsafe by the Army Corps of Engineers and they have fenced it off. You will still see people fishing there and some will actually go around the fence and fish along the rocks. Don't do that.
Before the fence went up, you could cast a shad dart tied about six to eight inches behind a metal lure such as a Tsunami Forktailed Candy across the inlet into the current and allow it to sink towards the bottom. The current will pull the rig back towards you on incoming water and as your line goes off to your left, begin your retrieve twitching the lures as you go. Hits may come at any time.
Deer Creek off the Susquehanna River is a favorite location for Maryland anglers to intercept shad. I have never fished here but know several anglers who have. This is more of a light-tackle and fly-fishing area than either the Laurel spillway or Indian River Inlet.
I grew up in Claymont, DE, on the oily banks of the Delaware River. Nothing lived in that river. Raw sewage and every type of cancer-producing chemical was dumped in it every day and night. They called it a pollution barrier, and it went from just above the Chesapeake and Delaware Canal to Trenton, NJ.
Today, some 70 years later, shad run up that very same river, and I have caught them at the Delaware Water Gap. They also have a fishery for them in the lower Brandywine River in Wilmington.
I would like to tell you shad make excellent table fare, but only if you have a certain palate. My grandmother could not make them to suit our taste, but I have eaten American shad that wasn't too bad.
By Eric Burnley