In parts one and two of this DelMarVa loop cruise, the authors covered their journey from Annapolis to Chesapeake City, Lewes, Ocean City, Chincoteague, Cape Charles, Onancock, and Cambridge aboard Fandango, a 1999 Formula 34PC. This is the final installment of their tale.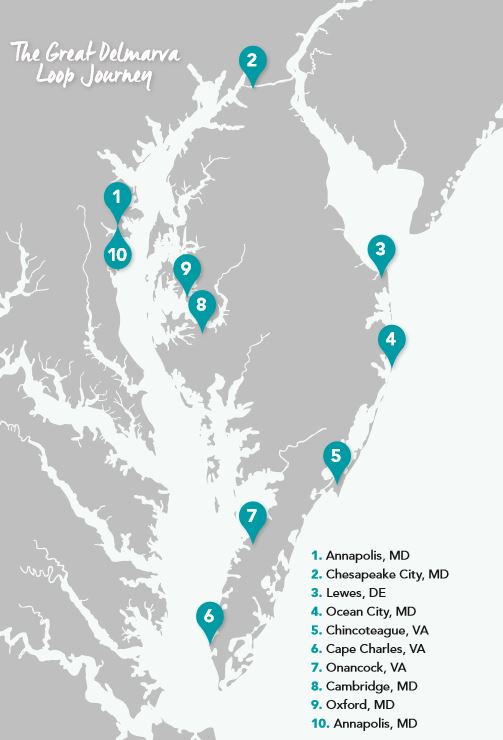 An Unexpected but Rewarding Stop in Oxford
October third: Day eight of the journey started with a beautiful sunrise over the Choptank River and very light winds. We wondered, is this for real? Were the weather gods showing mercy or just exhausted?
A favorite topic of most boaters is the state of the bathhouses at marinas. When you pay almost $3/foot for a slip, you expect clean bathrooms. As anticipated, the Hyatt's bathhouse was very nice. Separate shower rooms with toilets and sinks all named after characters on Gilligan's Island—cute and creative. My choice was the Professor. The restrooms at Onancock offered cloth bathmats, a nice touch when stepping out of the shower onto wet or cold tile. But enough potty talk.
The weather was perfect for our final leg home to Annapolis, but the port engine was not pumping any water from the exhaust cooling system. We tried several times to get it to turn over and pump water, but no luck. No stopping us! We departed the marina on one engine and caught the ebb tide for an additional knot of speed. I called our mechanic and told him of the situation (not good on a Sunday). We could have motored home at six knots for six hours, but instead we decided to motor for two hours to historic Oxford, MD, on the Tred Avon River.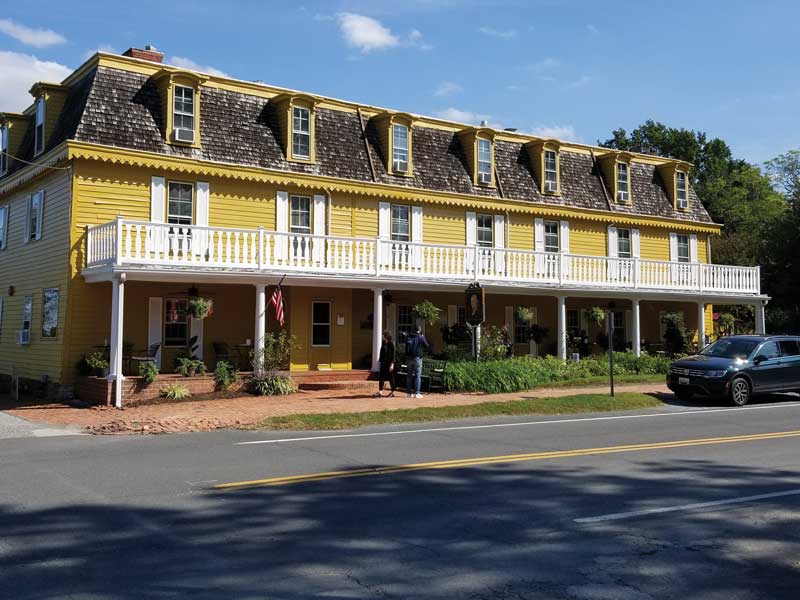 Since Hinckley Yachts was using our slip in Annapolis for their boat show, we asked them for a slip at their boatyard in Oxford—nothing fancy but located blocks from town and free. 
After doing two dogleg turns, we docked in tight quarters on one engine (definitely don't want to bump a Hinckley). With no wind or waves, this was a short two-hour trip. We quickly and easily stepped off the boat and headed into town for lunch.
We came up on the 1710 Robert Morris Inn that we last visited nearly 30 years ago for Thanksgiving dinner. Lucky for us, a table for two was available on the corner of the front porch overlooking the Tred Avon Yacht Club and the Oxford-Bellevue Ferry. It is the oldest, continuously operated ferry in the US. It started service in the 1860s cutting the distance from Oxford to St. Michaels by many land miles and hours. We enjoyed two soup and half sandwich lunches on the warm, sunny afternoon with little wind. We walked off our lunch by strolling to the scenic town park down the main street with gorgeous, renovated mansions overlooking the river. It was very peaceful with leaves starting to change colors and crunching under our feet.
Our mechanic, Tom Turner, and his wife got to Oxford at 2:30 p.m., and he took off the water pump to replace what looked like a barely worn impeller. Tom asked if I revved up the motor to force out a possible air lock in the water pump. "No," I said. "Who revs up an engine if it is not pumping cooling water." Who knew? The impeller was replaced, and Tom was on his way with his wife barely disturbed from watching the Ravens football game on her phone.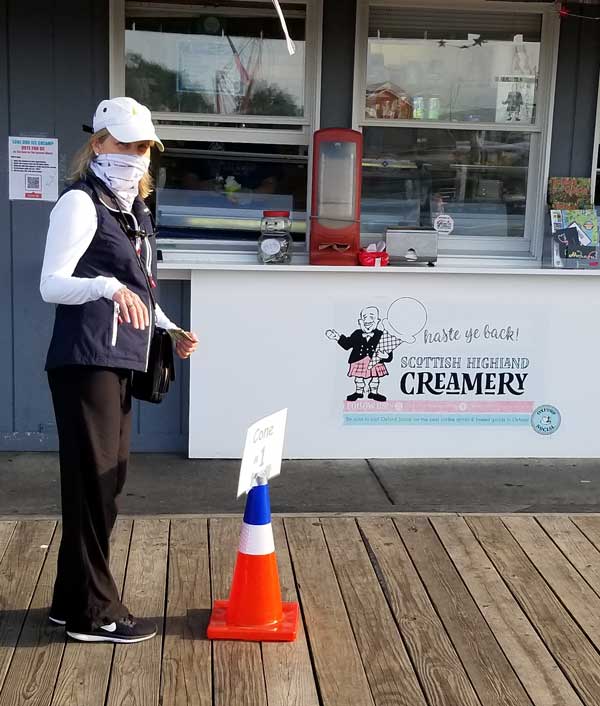 The Admiral (Elizabeth) decided she wanted ice cream for her reward for patiently reading while the boat was repaired. We walked two blocks to an outdoor ice cream parlor, the Scottish Highland Creamery, that had a good size crowd socially distanced. 
We showered in the cockpit of Fandango after the sunset. It's always refreshing to cleanse al fresco before a gourmet dinner of grilled, marinated pork tenderloin under candlelight with the stars shining above us. The concert that evening (performed by Elizabeth) on Fandango featured some classic keyboard tunes that brought back many fond memories of our dating years.
Falling to sleep, we knew we were two hours from Annapolis and with many fond memories of people, places, and weather in our thoughts as we drifted into slumber land. 
Heading Home
Our fond memories of Oxford were warmly reinforced nearly 30 years later with our unplanned stop for an engine repair. It was not on our trip schedule, but it proved to be a nice and relaxing soft return to our regular lives in Annapolis.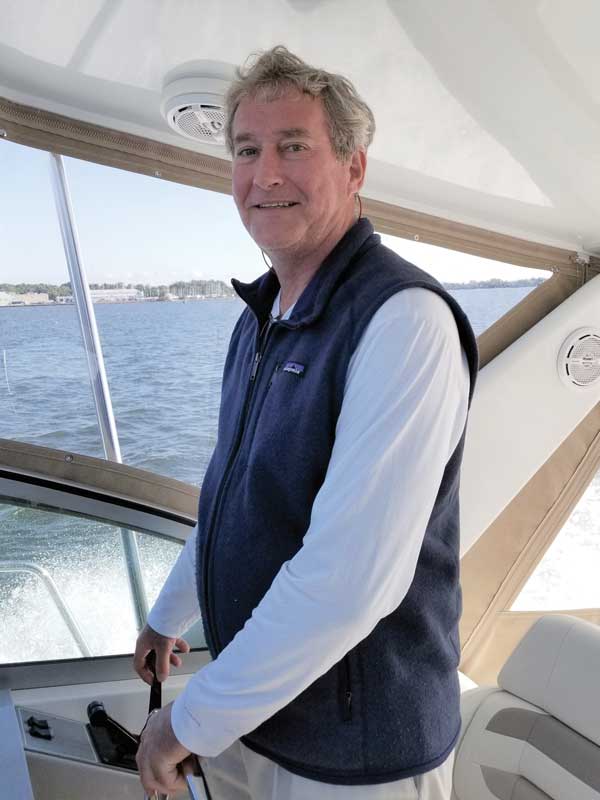 Waking up early like kids at Christmas, we ate a quick bowl of oatmeal and fired up Fandango's twin engines. All systems go. We passed a boat crabbing in the creek and headed south on the Tred Avon River with the breeze picking up from the northwest. We thought about taking the short route through Knapps Narrows cutting through Tilghman Island. The drawbridge has a 12-foot vertical clearance, which is cutting it close for our hardtop and antennas. After seeing we had the usual 15 knots of wind from the northwest and knowing the waves would be stacked up two to three feet on the Bay side of the channel (i.e. no margin for error and a high risk choice), we decided it was best to be conservative and take the longer route around Black Walnut Point and enjoyed a nice view of the B&B on the point. 
Now cruising at 16 knots we entered the open Bay and were greeted by the usual two- to three-foot seas on the nose. We did our best to weave around the larger waves while staying on our general course and speed. With visibility so clear, it wasn't long before we could see the 4.3-mile long Bay Bridge on the horizon. Passing the pool table flat, rebuilt Poplar Island (made from fill from the dredging of the Baltimore Channel), the seas dropped to one to two feet. Pretty soon we spotted a large white speck on the port horizon—we had reached Thomas Point Lighthouse. We wished we were closer to admire this photographic beauty, but we were on a beeline to Annapolis. The decommissioned Navy radio towers on the bow gave us a final landmark for home... no GPS needed now! Funny, after navigating by charts and GPS for eight days it was comforting to navigate by old familiar sites.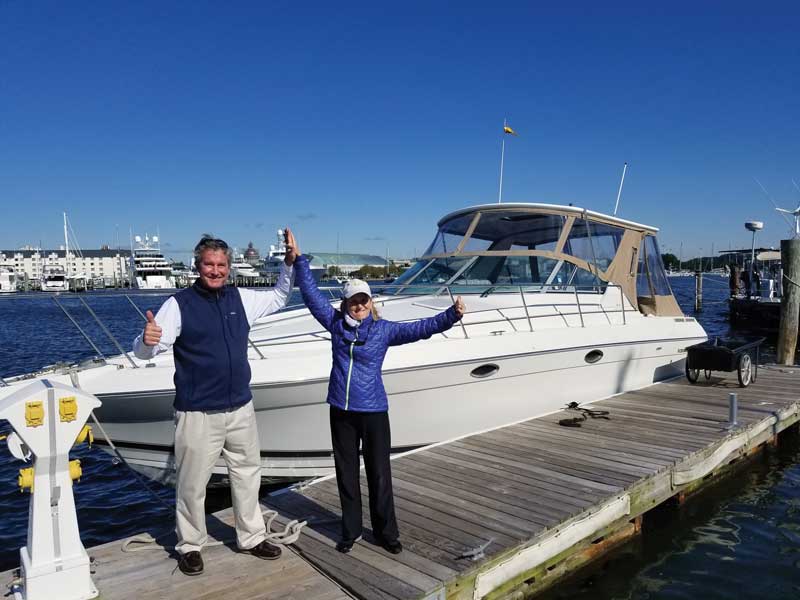 We powered back to six knots after a brief two-hour trip from Oxford as we entered the no wake zone of Annapolis harbor. Sitting in our slip was a beautiful 42-foot fly bridge Hinckley. So, we called their office to say, "We're here!" Fandango headed to the fuel dock at Annapolis City Marina one last time on this incredible journey to be welcomed back by Christina. Nice to get the 'local discount' at the pump with a warm smile.
Our slip cleared, we pulled back to the tee head at Pier 4 Marina, secured dock lines, and turned off the engines one final time on the completion of our DelMarVa Loop adventure.
Thanks for following along with us on this journey proving we had the right stuff, the right boat, and the right attitude to make it a memorable experience. Godspeed to all.
By Bo and Elizabeth Bollinger
---
This is the third and final part in this three-part series. To catch up on the series, revisit Part One and Part Two.