In the market for a new-to-you boat? Always wanted to own a piece of Maryland history? Well, the J. Millard Tawes, which once served as an icebreaking vessel, will be auctioned off on February 23.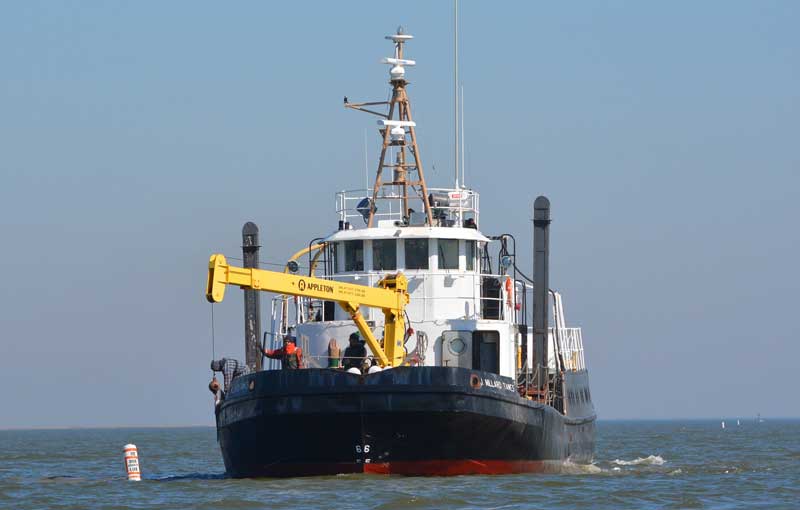 History of the J. Millard Tawes
According to the Maryland Department of Natural Resources (DNR), the J. Millard Tawes was once the MD DNR's largest vessel at 100 feet long and 167 tons. The boat was originally commissioned by the United States Coast Guard in 1942 under the name Barberry; the federal government surplussed the vessel and it was brought into the department's service in 1972.
At the time, the Tawes served as the primary icebreaking asset for Crisfield Harbor and Smith Island. Tangier Island and other parts of Virginia had also received the vessel's assistance when the Chesapeake Bay islands were cut off from their normal supply sources by heavy ice. During heavy ice seasons, all food, fuel, medicine, and emergency transport going to and from the islands were supplied by the Tawes. She also served as backup for the U.S. Coast Guard as an icebreaking vessel for the Port of Salisbury—the second-busiest port in Maryland, handling much of the fuel and dry bulk deliveries for the Eastern Shore.
But in 2020, the MD DNR announced that the time had come for the department to retire the old vessel, citing increasing difficulty maintaining the 77-year-old Tawes. 
In Spring of 2022, MD DNR christened a new boat in its Hydrographic Operations fleet, the M/V Eddie Somers. She is named after former DNR Capt. Eddie Somers, who retired in 2018 after 25 years as captain of the M/V J. Millard Tawes, the boat the new vessel is replacing.
Auction Details:
The auction will take place Thursday, February 23 at 12 p.m.
Registration for online bidding will close at 4 p.m. on February 22. Visit the BSC America auction page to register to bid online. You'll also find more details on the vessel description and Terms of Sale. Some things to note:
the vessel is federally documented.
The vessel will be available for inspection by appointment only.
State vessel crew member may provide a brief instruction on start and stop, and operation procedures, but shall not run the vessel for the new owner.
The vessel shall be removed from the State Marine Terminal within 7 days of purchase. No storage of vessel on State property is possible.
The vessel is "as is".
So if you're interested in owning a piece of Maryland boating history, place your bid!