Annapolis boatbuilder and self-proclaimed "mad scientist," Tony Smith, woke up to an unusual sight last fall as two wetsuit clad surfers suddenly levitated above the flat calm water of Little Aberdeen Creek without the benefit of wind or wakes.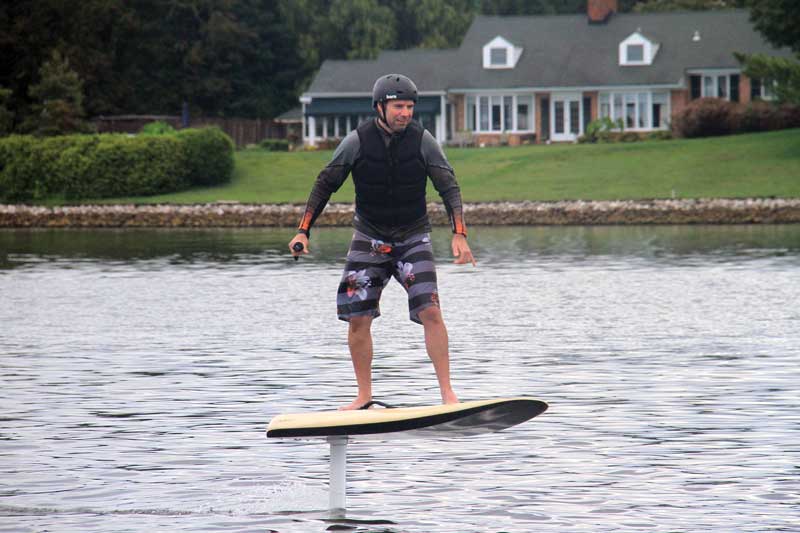 "It was an amazing thing to see," the veteran sailor and the "father of the cruising catamaran" told PropTalk. "There we were having our morning cuppa, and down the creek we saw two blokes on surfboards that suddenly started foiling! What a way to start the day."
"It's as close to flying as you can get," said East of Maui Boardshop co-owner Mark Saunders. "I was skeptical about the e-foil concept at first, but now that I've done it, I can see people in Annapolis really getting into it… if they can afford the price of admission."
Todd Pratt, of Annapolis Watersports, echoed Saunders' comments. "We had our entire staff up and foiling after only a few minutes of coaching. People who love to wakeboard can now experience foiling without having to catch a wave from behind a powerboat. It's the 'next big' thing on the water. What a blast."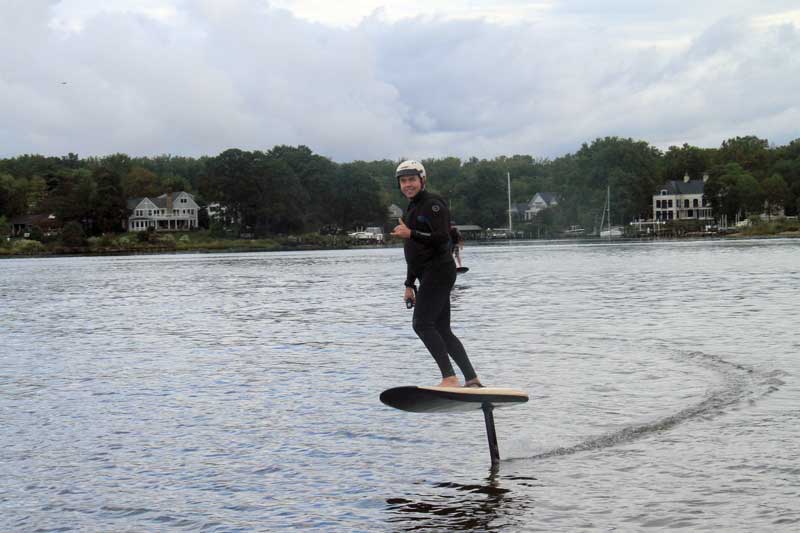 Both Saunders and Pratt were talking about a slick Australian product called Fliteboard. The product of the inventive mind of David Trewern, himself a champion kite surfer, the Fliteboard series of foiling surfboards was born of Trewern's frustration of not being able to kiteboard on days when the wind wasn't blowing. 
"Why not figure out a way to get up on the water without needing the wind to power you around? That got me thinking," the 40-something surfer turned entrepreneur told PropTalk from his home base in New South Wale's Byron Bay, Australia. "No wind? No problem!" is Trewern's mantra.
Five years after that inspiration hit Trewern, the company now has more than 1500 Flightboards in use across Europe, North America, and Asia. Another e-foiling company, Lift, boasts around 2500 units. Fliteboard's North American sales manager, Rudi Miklosvary, estimates that there are fewer than 5000 battery powered foiling boards worldwide.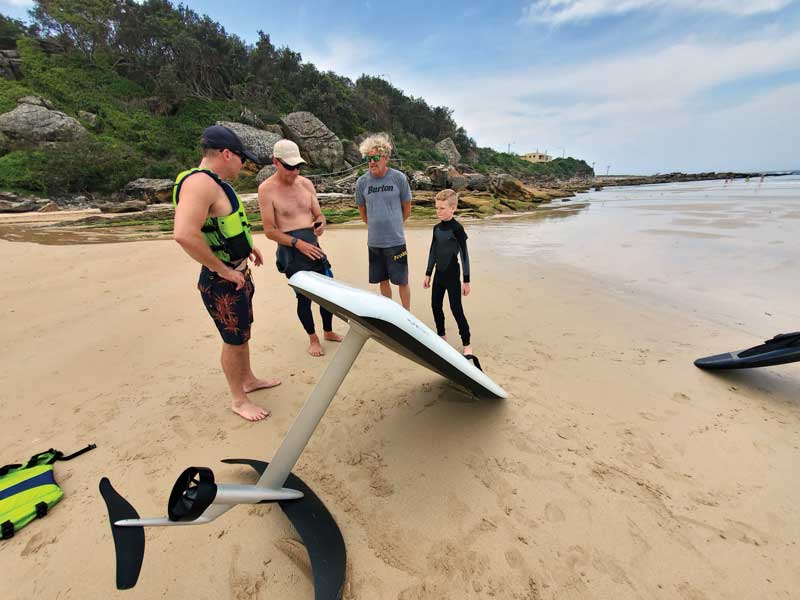 "This is a very nascent sport. We are at the forefront of something really big and cool. It's between us and Lift for market leadership. The other brands are cheaper knockoffs. I reckon we will continue to push products into the upper end of the market. People who plunk down $12-14,000 for a water toy like the Fliteboard are looking for a quality product that will last and that comes with a well-established product development and support team."
Pratt thinks an e-foiling product like the Fliteboard will make a nice addition to his product line. "Our customers are folks who can spend $150-200,000 for a powerboat that's equipped for wakeboarding. Having an e-foiling surfboard is a nice addition to our product line. People can zip around the river or a nice cove and have a great time without the roar of an engine. It's a pretty peaceful experience on the water… a nice counterpoint to the crazy action our customers crave with our lineup of Mastercraft boats."
Your reporter first came across e-foiling surfboards last summer when visiting his daughter in Manly, Australia. I was watching a couple of kiteboarders foiling beyond the breakers on Manly Beach when I realized that these guys didn't have kites to pull them along. Intrigued, I sought out the local flite school and soon enough had my daughter zipping above the surf in the company of Manly Flite School operator Jaime Wesley.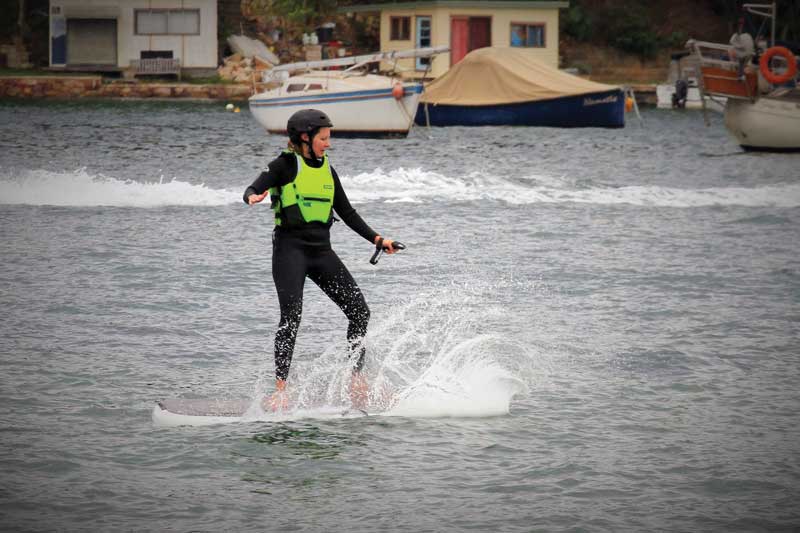 "Very cool," was Betsy's comment after an hour of instruction. "I'm not much of a surfer, but this is something you could do on a quiet lake or river and have a lot of fun doing it."
Despite being offered the chance to get up on a Fliteboard, I demurred, leaving the e-foiling to the more coordinated younger generation.
Fliteboard founder David Trewern is quick to point out that there is an incredible amount of high-tech design packed into every unit.
"It looks very simple, but there's a lot underneath the surface," says Trewern.
"Using high-voltage electronics in salt water is challenging, and there are about 500 parts in a Fliteboard, including the battery and connectors, all of which are waterproof. And it had to look at home on a superyacht."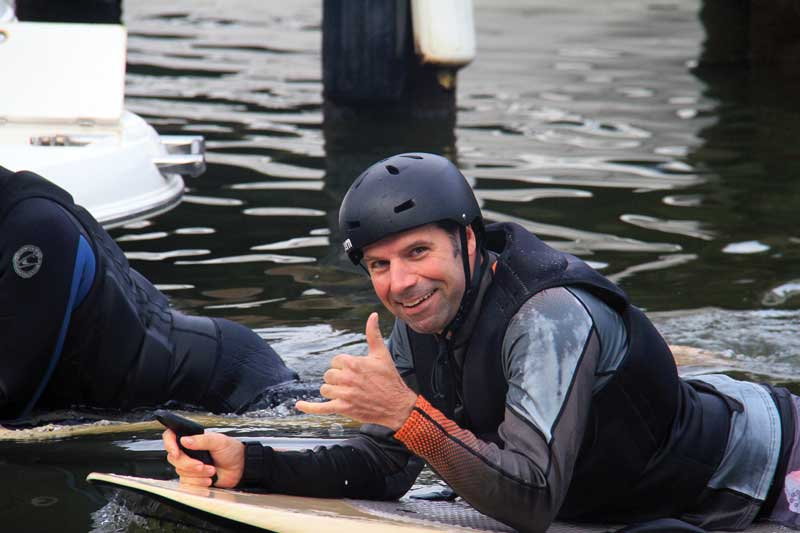 The deck is built from compressed layers of carbon fiber, fiberglass, and PVC topped with an ash veneer or more carbon, depending on the model.
Propulsion comes from a seven-hp, brushless electric motor—encased in a unibody fuselage of aircraft-grade aluminum—mated to a Newton-Rader propeller and German-made reduction gearbox. The hydrofoil technology draws from competitive sailing and features wings designed by naval architects with America's Cup experience.
Riders manage the entire system via the handheld Flite Controller (with Bluetooth connectivity and GPS), which allows for 20 gear selections and stores each session's data, such as top speed, distance traveled, and battery power. A charge is good for up to one-and-a-half hours on the water, which is plenty of time—this bit of fun is also a serious lower-body workout and builds core strength worthy of any marine mammal. As Trewern puts it: "We're trying to make you feel like a dolphin."
The basic Fliteboard weighs 45 pounds with the battery accounting for about a third of the weight. The boards can be assembled in under 10 minutes. Just attach the foil, snap in the battery, and pair the flight controller. And off you go. Top speed is around 30 mph, although Rudy cautions about being too exuberant at the start.
"You need to get a feel for the product, and for your environment, before you really let it out. Cutting wide, effortless circles in a secluded bay is tons of fun, and I can see a market for e-foil touring with folks making the rounds of nearby bays, coves, and restaurants with our product's 15- to 18-mile range."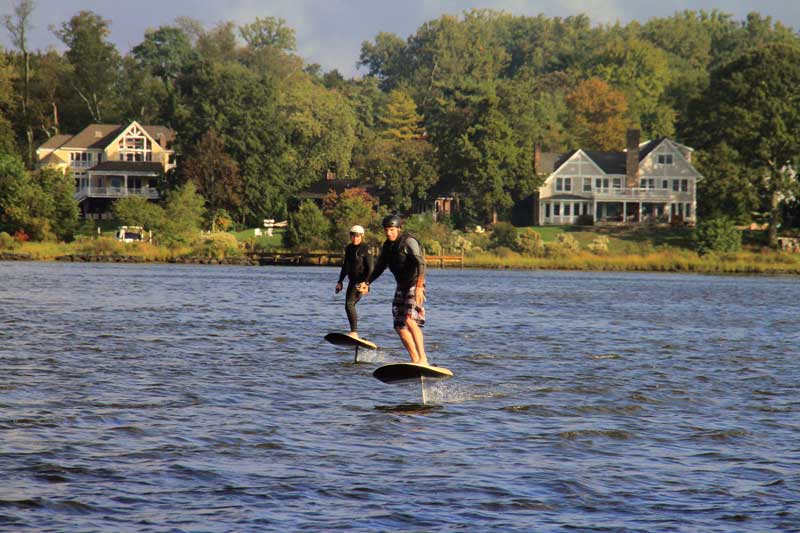 For my part, I drifted in my powerboat just off the entrance to Little Aberdeen Creek while Rudy and Mark cut graceful circles around my circa-1976 Lyman.
Every now and then, Rudy would take a header and wipeout in the chilly South River brine.
"What happened to you?" I hollered out across the water.
"Hit a rockfish, I reckon," came the reply.
Probably not too many of those in Byron Bay.
Not to be deterred, Rudy was off and up in no time, casting his magic spell of e-foiling surfboards to a crowd of eager wannabes on the docks ringing the Creek.
At press time, Annapolis Watersports has announced their agreement to sell Fliteboards in Annapolis; East of Maui is working with the newly established Annapolis Efoil Company to help book lessons. Annapolis Efoil is representing the Lift product line of efoiling boards. Go to annapolisefoil.com for information about purchases and lessons.
To find out more about Fliteboard, go to us.fliteboard.com and be sure to check with Todd at Annapolis Watersports or Mark at East of Maui Boardshop.
Story and Photos by Craig Ligibel