"It's estimated that recreational boating alone discharges 150 million gallons of unburned gasoline into our waters every year, and that doesn't even begin to account for the carbon emissions from recreational watercraft burning fossil fuels," said Ben Sorkin, CEO of Flux Marine. "By redesigning the outboard engine from the ground up, we've been able to create an all-electric platform that eliminates these environmental impacts, reduces maintenance, and is virtually silent, all without sacrificing performance."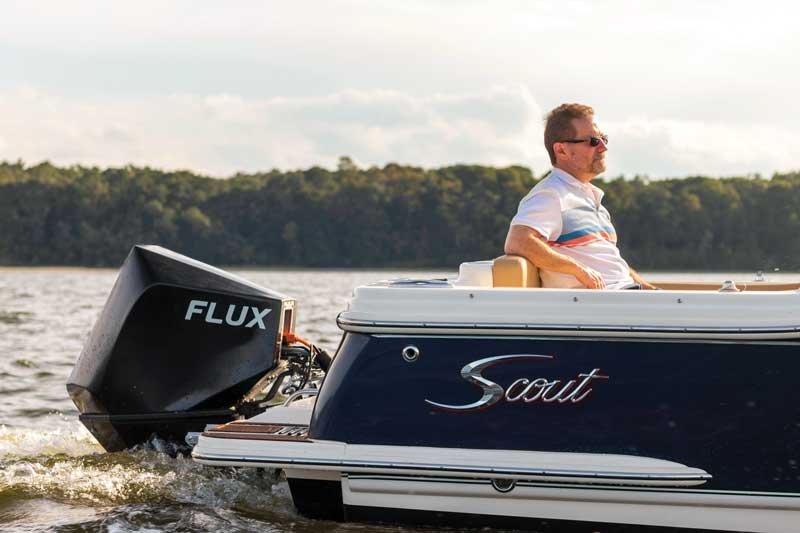 Chesapeake boaters may recognize the Flux Marine name as a winner in the 2019 Wye Island Challenge Electric Boat Marathon, when Sorkin and his team demonstrated the then-new 30-hp prototype outboard and established a new course record for the Single Hull Unlimited class.
While other electric outboard makers are currently producing small trolling motors, Flux Marine currently offers 15-hp, 40-hp, and 70-hp electric outboard models that are now available for preorder and 2022 delivery, but Flux Marine can custom scale power output to meet just about any customer requirements. The whisper-quiet motors are ideal options for fishing vessels looking for supreme stealth and small craft owners who want to protect the environment.
Compatible with standard 120V, 240V, and electric vehicle (EV) fast-charging stations, Flux Marine outboards never need to visit the fuel dock. While total range is dependent on hull specifications and operating conditions, mounted on its 21 and half-foot dual console demo boat, the Flux Marine 100-hp outboard delivers a range of 75-plus nautical miles and top speeds nearing 35 knots. Flux Marine motors feature proprietary battery systems designed for marine motors, quiet belt drive systems, and high-output drive train systems. A heat exchanger in the motor's lower unit eliminates the need for seawater circulation. 
As Flux Marine seeks to build out its nation-wide dealership network, any interested dealers are encouraged to reach out via the Flux Marine website. Flux Marine currently accepts preorders for its lineup of 15-hp, 40-hp, and 70-hp electric outboard standalone models, as well as several boat packages with up to 100-hp. Boat owners who wish to preorder or want more information about repowering any hull, should visit fluxmarine.com.