I believe that the one most important item in any fisherman's arsenal is the five-gallon bucket. In fact, having just one is never enough, and I must have at least 20 doing various jobs around the house, in my truck, and my boat.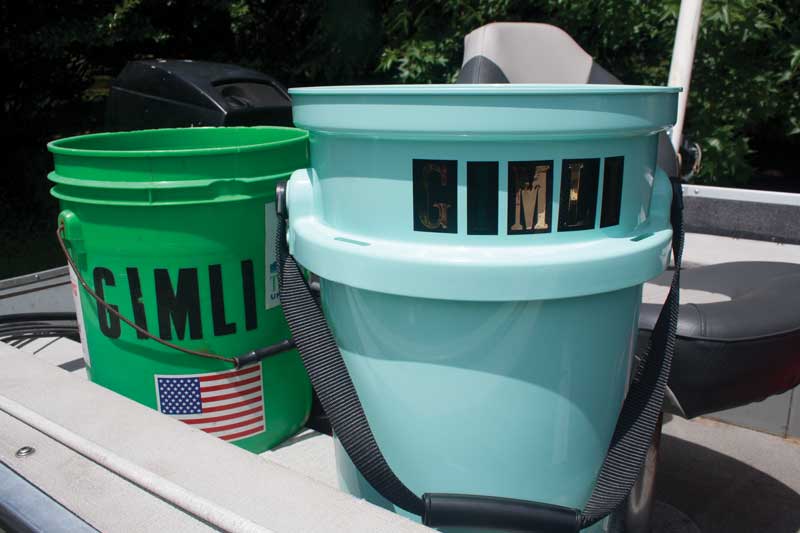 It is perhaps the boat where the five-gallon bucket really shines. I store trolling lures by hanging them by their tail hooks with the leaders pretied and wrapped around the front of the lure. Drill a few holes in the bottom of the bucket, and when the trip is over, you can spray down the tackle and wash off the salt. Follow this up with a liberal dose of WD-40 and no rusty hooks.
My favorite green bucket has been used for a trash can, porta-potti, live well, and soap bucket when I clean the boat at the end of the trip. I was trying to figure out how long I have had this bucket, and it must be at least 30 years. I had it on my 24-Albemarle in Virginia Beach, and I have been back in Delaware for 20 years. That's longer than most people stay married.
My son Ric gifted me and his brother Roger with Yeti five-gallon buckets for Christmas. They are definitely the Cadillacs of five-gallon buckets. They have non-skid bottoms, very sturdy handles, and are made of heavy plastic. There are a whole list of accessories including a tool pouch that holds more fishing equipment than anyone will ever need.
I have used my Yeti bucket when I fish on the pier at Cape Henlopen State Park or when I fish as a guest on someone's boat. I can put in a few plastic tackle boxes, a small cooler, my camera, and some fishing rags. If I am pier fishing, I have to add a couple of sinkers.
My wife has complained that there are too many five-gallon buckets around the house. I tell her a man can never have too many five-gallon buckets. Then, when she needs a container to put the weeds in as she cleans out her flower beds, what does she grab? You guessed it, one of my five-gallon buckets.
By Eric Burnley