Where will you park your boat this season? Picking the right Chesapeake Bay marina for your boat is akin to finding the right parking spot for your car. If you're shopping for shoes, who cares if you have a front-row spot at Best Buy? Scoring covered parking on a rainy day at a discount grocery store doesn't do much good if you're looking for a pricey imported cheese. And how much value is valet service at a fancy-schmancy restaurant if your wallet can only afford McDonald's?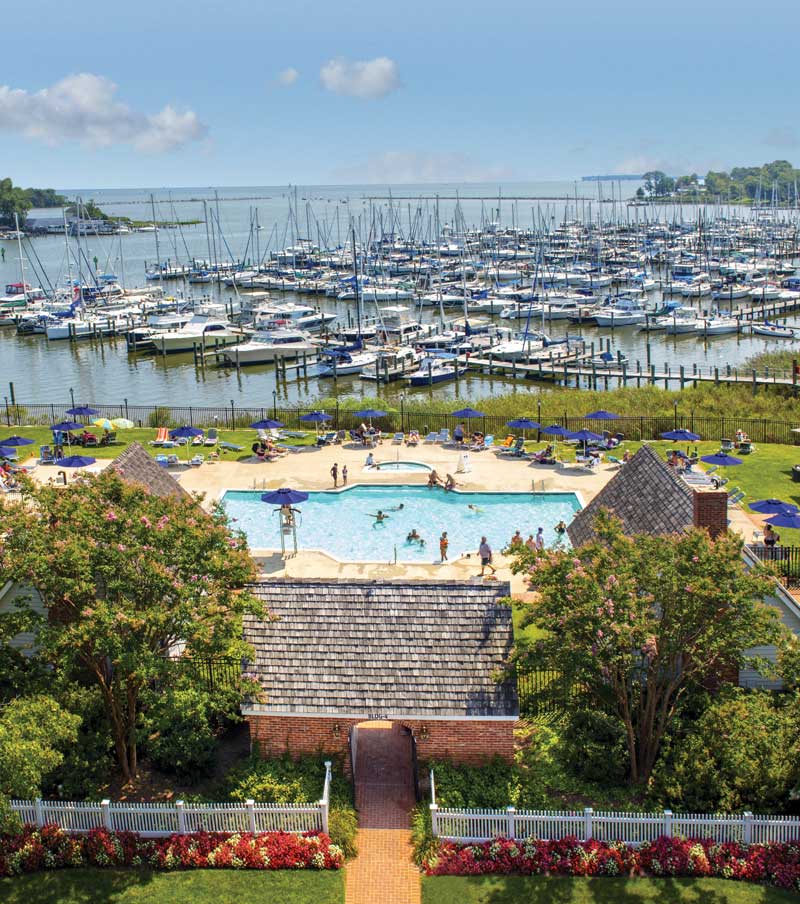 So, what are you looking to do when you arrive at your marina slip? Roar off to open water, jump in the marina's pool, zip to a nearby dock bar, cast out a fishing line, walk Fido on some green grass? Meet other boaters with a similar vessels? Rub shoulders with mega-yacht owners? Simply use the showers and restrooms? 
You get the drift—it's not a one-size-fits-all type of thing. The best marina for you and your boat might not be best for another boater. This section is designed to help you find the best fit so that you can have the most fun with your boat.
What's New Around the Bay?
There is always something new and exciting happening at marinas in Chesapeake Country. We spoke to a few marina managers to hear the latest.
A Step in the Right Direction at Haven Harbour Marina Resorts in Rock Hall
Winter is our time to make much needed improvements to grounds and facilities. Nowhere is this currently more apparent than on Haven Harbour South's A- and C-Docks, which are being completely re-decked and strengthened for the 2022 season.
"It's another step in the right direction," said director of sales Mark Bryden. "We make it a point to continually update our properties for the enjoyment of our guests."
This two-pier re-decking revitalization project is more or less an interim solution, with the final to result in a full floating Haven Harbour South dockage experience over the next few years.
Improvements to Haven Harbour South's sunset deck, as well as nearby Haven Harbour Marina's White Dock, and are just some of many other scheduled upgrades set to occur in the coming months.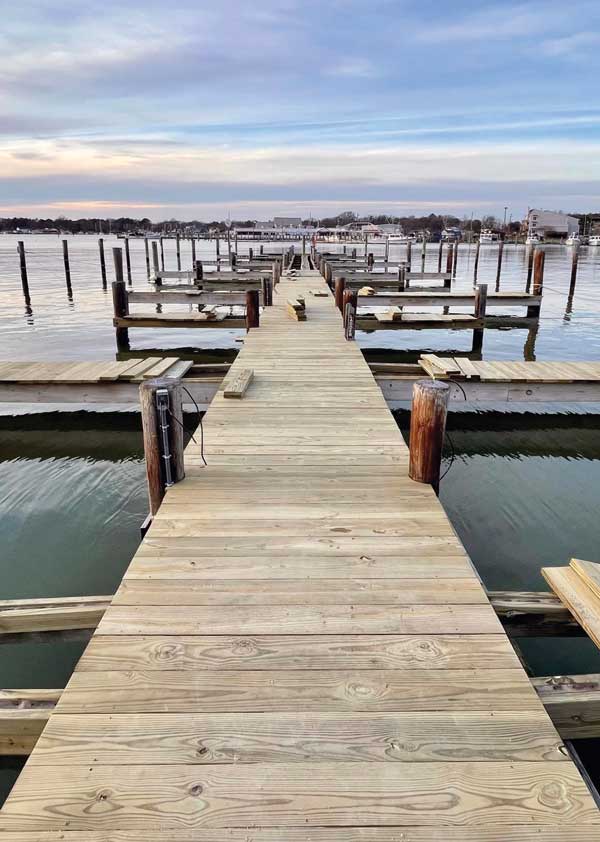 New Marina
The marina formerly known as Backyard Boats in Shady Side, MD, was sold last year and has been rebranded Parish Creek Landing. The new owners have been hard at work refreshing the marina with recent improvements including a new 20-ton travel lift, new forklift, new indoor boat racks, new concrete pad, new service team, new bathrooms (in progress), and others. The full service marina has over 100 wet slips, an indoor boatel, outdoor racks, and trailer parking. Steve Schwat, one of the partners in the marina and a Shady Side homeowner notes: "We are excited to revive and improve the old marina, impress our current customers, and attract new clients. Parish Creek Landing is centrally located, just south of the mouth of the West River and offers a short 'no-wake' zone to the Bay. The marina is offering specials for new customers, so please give them a call to schedule a tour, and visit parishcreeklanding.com for more information."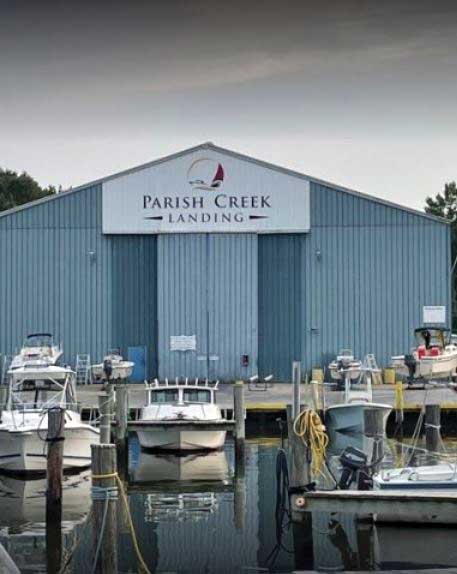 Drone Footage at Piney Narrows Yacht Haven
Kai Story, the dockmaster and assistant general manager at Piney Narrows Yacht Haven in Chester, MD, sends this note: "We did a fun project back in September but kept it secret and waited to share it… until now! One of our terrific dockhands, Luke H, used his new drone to get some video and photos of the marina. Especially considering he was still getting used to it, he sure got some great content. Even better, we're planning to do this again from time-to-time. Props Luke!" Find the footage on the PNYH Facebook page.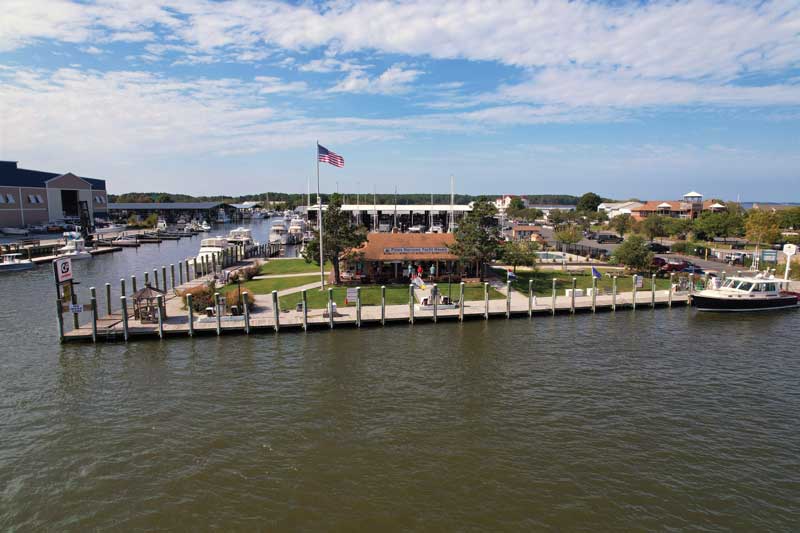 Under New Management
Monument Marine Group (MMG) recently acquired Coles Point Marina and RV Resort in Hague, VA, and has chosen Oasis Marinas to manage the operations.  
Situated on the Potomac River, just two hours south of Washington, DC, Coles Point is a favorite destination among boaters, outdoorsmen, and travelers alike. This unique marina is nestled among 388 acres with 145 slips, both fixed and floating docks, accommodating vessels up to 70 feet in length and 118 RV pads. The property has a fuel dock, swimming pool, private beach, boat ramp, on-site restaurant, tiki bar, and health club. Guests will also be able to access the property's laundry and shower facilities, snack shop, boater's lounge, bait and tackle, and boat service options. Meanwhile, the RV campground offers guests annual cottages to rent. 
"We are thrilled to be running the operational management of this amazing property that has been a staple within the boater and camping community. Alongside Monument's investment and stewardship, we look forward to delivering a remarkable experience!" says Oasis Marinas founder and CEO, Dan Cowens.
For more information, please contact [email protected] or visit colespointmarina.com.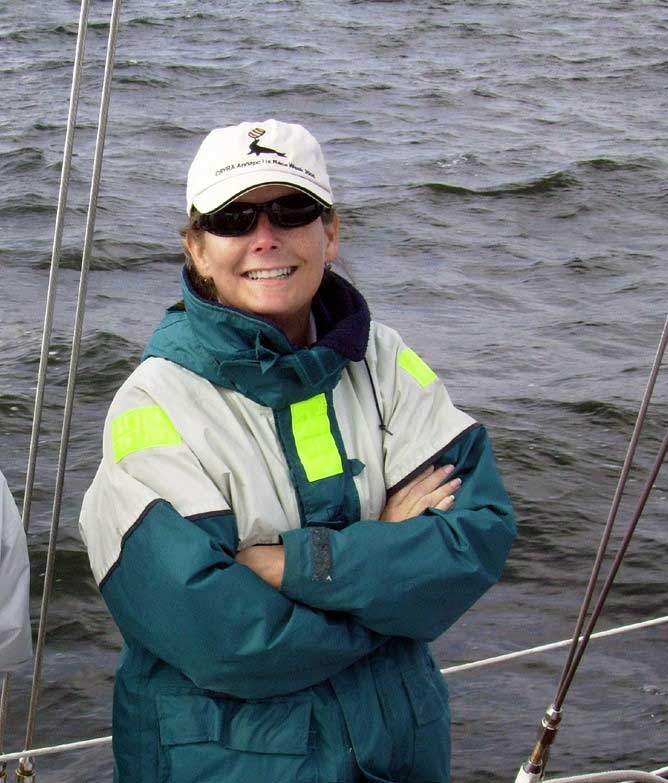 The Maryland Clean Marina Initiative
We reached out to Donna Morrow, program manager at the Maryland Clean Marina Initiative for nearly 20 years, to learn about her role and to find out the latest news.
What's your connection to the Clean Marina Initiative?
I set the goals and priorities of the Clean Marina program, do all the program outreach, conduct site visits to marinas and boatyards to measure them against the Clean Marina Award Checklist, decide which projects to get involved with, and adjust the Award Criteria or process as needed.   
What are the top things boaters should know? 
Boaters should know that certified Clean Marinas are doing a lot behind the scenes that you will never see that makes them safer and more efficient. This includes staff training, emergency planning, and for some types of marinas, significant record keeping and reporting. 
What can they do as individuals? 
A common issue at all marinas is when boaters leave jugs of "mystery" fluids on the property. Before you leave anything for a marina to deal with aside from normal trash, talk to the office and ask where they want it and if they can even accept it. If a boater has old paint or bad gas, this is considered hazardous waste. It costs a marine business about $10 per gallon to hire a hauler to remove it. However, a boater can take small quantities of hazardous waste to their county's household hazardous waste day for free! Find information on hazardous waste days at the Maryland Department of the Environment website.
What's your biggest challenge in 2022?
Recruiting new marine facilities into the Clean Marina Program. The surge in recreational boating due to the pandemic in the last two years has made it hard to compete for attention from marinas and boatyards. Find more information at Maryland DNR Clean Marina page or visit boatus.org.  
---
Life at the Marina
Ray Porter of Porter's Seneca Marina, Middle River, MD
Ray Porter has worked in the marine industry since 1971. He took some time out of his busy spring schedule to answer a few questions for PropTalk Readers.
What are your biggest challenges at this time of year? 
The weather's the big challenge. We have an old Donzi we're restoring. The hull's half done, but we're waiting for the weather to warm up. 
What are some of the changes you've seen in the industry?
The atmosphere and clientele change quite a bit. The popular boats used to be 26-30 feet long; now they're all much bigger. 
What would surprise people about your marina work? 
A lot of people think I just sit here in the office, but I'm more "hands on" on the repair side than most marina managers. 
I'd rather be outside in the yard than inside the office.
Do you ever get out boating yourself? 
I have a 32-foot center console, and at least one day a weekend or one day during the week after work, I go out for a ride, get a bite to eat, or go fishing.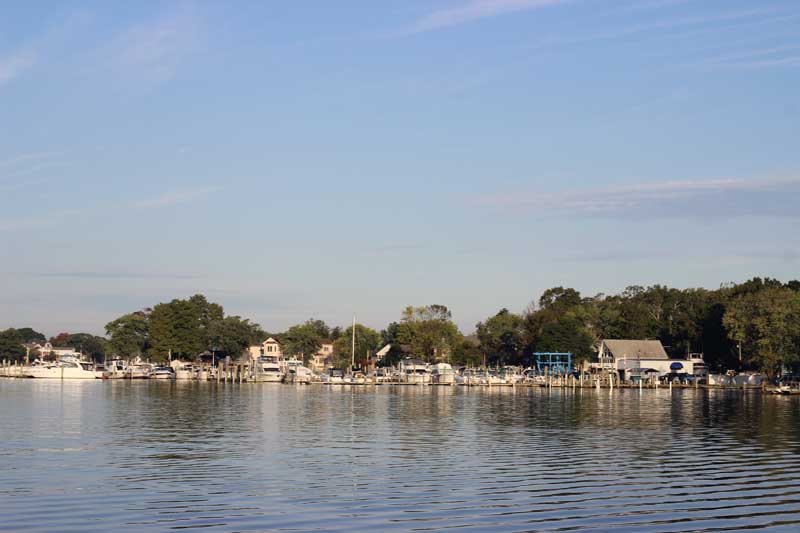 Joe Pomerantz at Piney Narrows Yacht Haven, Chester, MD
Joe Pomerantz has lived through 40 seasons in the marine industry. Here's what's new in his world on the Chester River: 
What's new and exciting at your marina? 
At this time of year, we're involved with servicing our slip rental contract renewals for customers, dock structure repairs and improvements, bubbler system maintenance and operation for onset of ice conditions, snow removal, and cleaning of facility walkways.
What's the best part about your job?
The best features of working in the marina are people are generally in a recreational mood, leaving their daily lives for fun on the water; the surrounding area combining Bay landscapes and glimpses of nature.
Are you a boater?
Yes, I've been boating since childhood: family sailing in the early years and now more with small craft powerboating.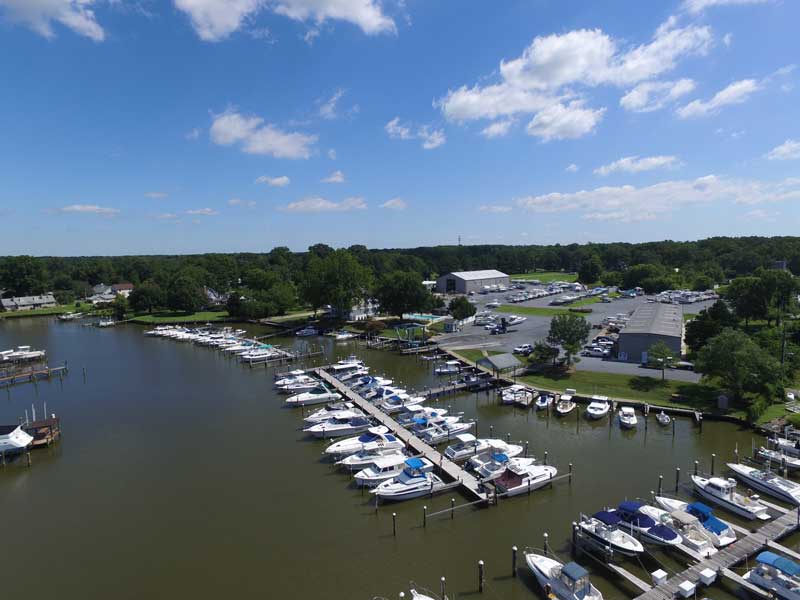 Melissa Clark at Hidden Harbour Marina in Deale, MD
Anything exciting happening at the marina this year?
We are hosting our fourth annual Amateur BBQ competition on June 4 this year. We completely turn the marina into a day fair where we have teams cooking their favorite meats, play areas for the kids, games, silent auctions, and vendors. We are also the home of the Cruisin' Tikis which go in and out of Hidden Harbour.
Why should boaters choose Hidden Harbour?
Hidden Harbour is a family-oriented establishment, small scale where everyone knows everyone. Everyone is always willing to lend a hand to a fellow boater, we take pride in making sure everyone is happy, and we strive to keep the marina clean and organized for a safe boating experience. 
What's your favorite thing about the marina and your job?
I enjoy the customers, always meeting new people. The atmosphere at Hidden Harbour is very low key and laid back which makes it an enjoyable place to work and visit. We have always called ourselves the "fun marina."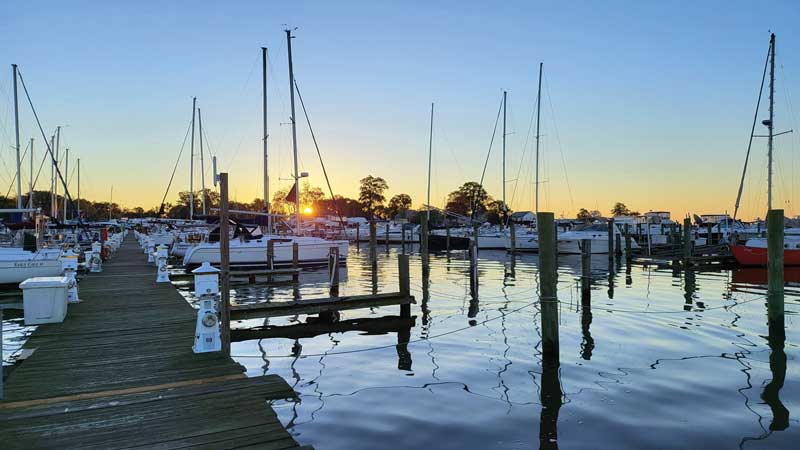 Ed Harwood at Bowleys Marina, Middle River, MD
Ed Harwood has worked through 34 seasons in the marine industry. Here's his latest news: 
What's new at your marina? 
We're preparing for phase two of our main pier rebuild coming this fall 2022. It will entail dredging, installing 25-foot floating docks, replacing 300 feet of E-Pier, and adding additional 15,000-pound boat lifts.
What are your challenges at this time of year? 
Completing capital projects and maintenance and repair outside in inclement weather.
What do you like best about working in a marina? 
I value the relationships I've formed with Bowleys members since my arrival in 2007. No two days 
are alike.
What's something that may surprise people about what you do? 
Summer is our slow time. The boatyard in the spring and fall is extremely busy, and the winter months are filled with board of director and committee meetings planning for future developments.
As a boater yourself, do you ever have time to get on the water? 
When time permits. Not as often as I would like.
---
What amenities/factors are most important to you?
The perfect marina for you and your boat might not be so perfect for someone else. The first thing you should consider is which amenities are a must, which are a 'like to have,' and which amenities you don't need (and thus don't want to pay for).
Free WiFi
Swimming pool
Restaurant or tiki bar
Picnic tables
Transient slips
Gear boxes
Showers
Dinghy storage
Maintenance on-site
Clean Marina status
Gas
Diesel
Pump out
Slipholder events
Adequate parking for you and your guests
Proximity to the Bay
Distance from home
Water depth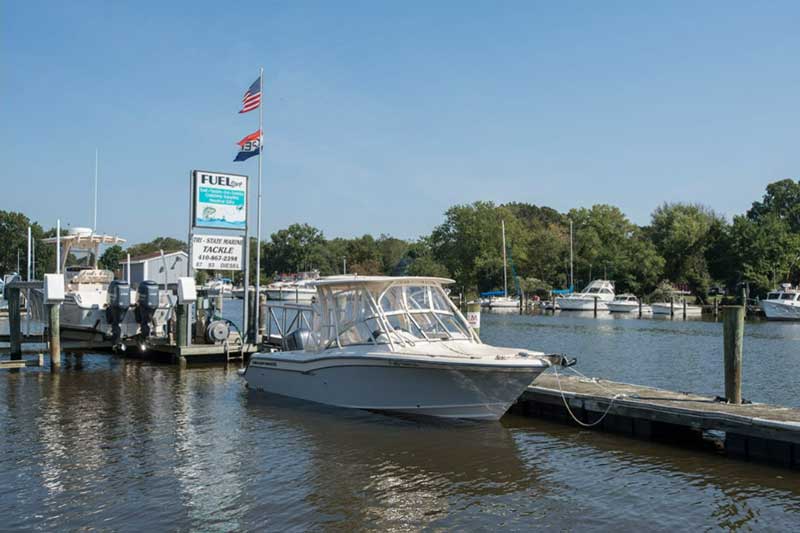 Factors to Consider When Choosing a Marina
Now come the harder questions.
Think about your boat and how you plan to use it. If your boat has a deep draft, you'll need to make sure the approach channel is deep and well-marked, and that both the channel leading up to the marina and the fairways between the rows of slips are big enough to let you get in and out easily, even on windy days. Also consider how long it will take you to get to the open Bay from the marina. If you like to get out to the Bay quickly, you won't want a marina that's several miles upriver. And if you plan to go out every weekend, a marina several hours from home won't fit the bill.
What services and amenities do you want? Are you looking for a resort marina with a swimming pool, tiki bar, and restaurant or club house? Or are you merely looking for the essentials such as fresh and drinkable water, shore-power hookups, and clean showers? You don't want to pay for amenities you don't plan to use. 
Before you sign the contract, visit the marina in person, especially on a nice weekend day when lots of boaters are around. Ask boaters if they've encountered any problems there. Check out the slip you hope to lease and see how it looks from shore. Check to make sure you would have enough room to dock your boat comfortably (if possible, with the marina manager's permission, try docking the boat in the slip). Also be sure to check that the piers and walkways are in good condition. Is there adequate security? Are the walkways lit at night? Do the grounds appear neat and tidy? Is the marina manager present and available to answer your questions?
Is the marina in a spot that's well-protected in case of a storm or hurricane? How high has the water risen in big storms — above the piers and pilings? Does the marina offer dry storage? Is there a boatyard onsite? How good is it? Does the marina operate head-pumpout facilities? Does it provide the fuel you need? If not, how far must you travel for these services? These are all key questions to ask before signing the contract. 
Meet the "neighbors." Check out the mix of powerboats to sailboats in the marina. If it's important to you to be around like-minded boaters, you might not want to be the only powerboater in a sailor marina.
Know the rules. Does the marina in question prohibit outside mechanics from working on your boat? Will that pose a problem for you? Some marinas have restrictions on noise or the hours you can and cannot enter the marina. What about living onboard your boat? If you decided to leave before your contract ended, could you sublet your slip? If not, what would happen?
Compare prices. You may find that you don't need all of the amenities at a particular marina and can get by elsewhere. Some marinas may even be willing to give you a break on slip fees, particularly if they have a lot of unfilled spaces. Go over exactly what you will be paying for and determine if it's a good fit. 
Take stock every few years. Your priorities may change, you may purchase a different boat that is not as good of a fit at your current marina, or you may find that you are paying a premium price for amenities you don't use. Weigh the advantages and disadvantages of where you're keeping your boat against what you want to get from boating.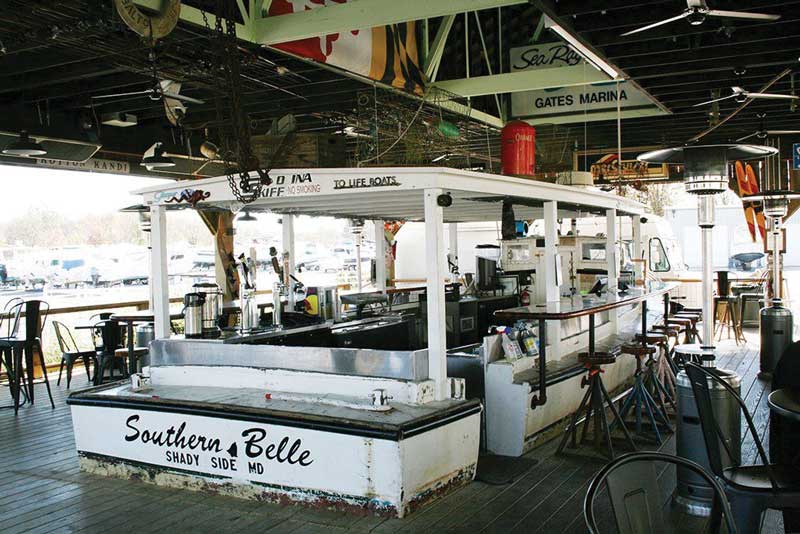 Dock Bars
Many Chesapeake dock bars are located at or adjacent to marinas all over the Bay. And for some people, having a dock bar in close proximity to where they keep their boat is a definite plus. Visit proptalk.com/dock-bars for a comprehensive list and interactive dock bar map to find a dock bar near you. Always be sure to take along a designated skipper on your travels. And if you don't see your favorite dock bar on the list, email [email protected] for inclusion.