Now that the New Year is well under way, it looks a lot like the old one. Covid is still around in one form or another, supply problems have become chronic, and "help wanted" signs continue to dot the landscape. One bright spot is that the long waiting times new boat purchasers are stoically enduring seem to indicate that the pandemic-fueled boom in boating will be with us for a while.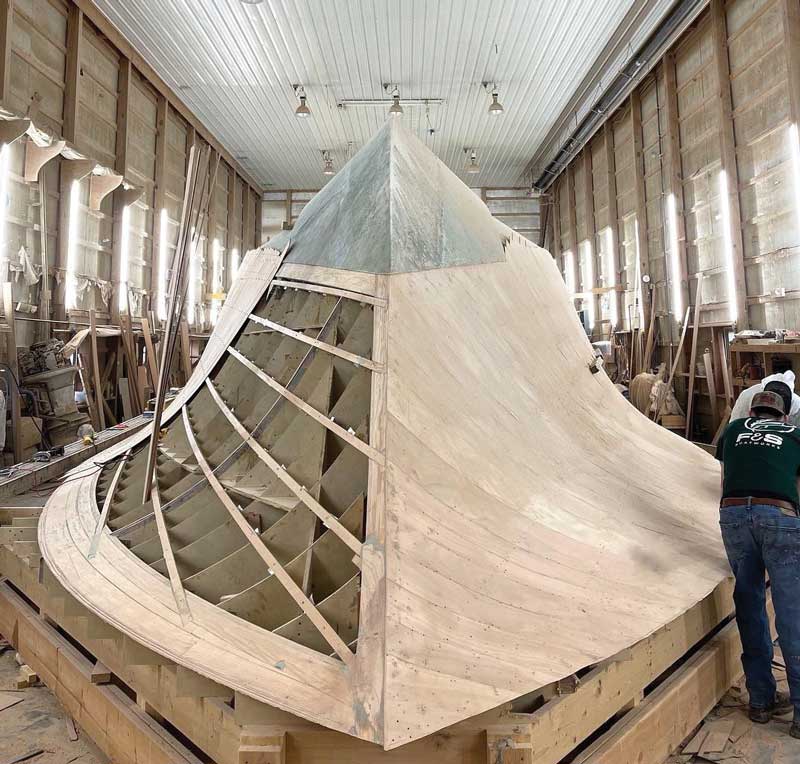 We get lots of interesting news releases from all over, and this month we'll start with one from a far-off corner of Canada. 
Mercury Marine, a division of Brunswick Corporation, and EagleCraft Custom Boats in British Columbia jointly announced the first installation of twin Mercury 7.6-liter V12 600-hp Verado outboards on a boat by a Canadian manufacturer. At a customer's request, the boat builder equipped its 38-foot Cruiser model with the new outboards. "We are thrilled to be the first Canadian company to install this impressive propulsion system," said EagleCraft managing director Torry Wannenwetsch.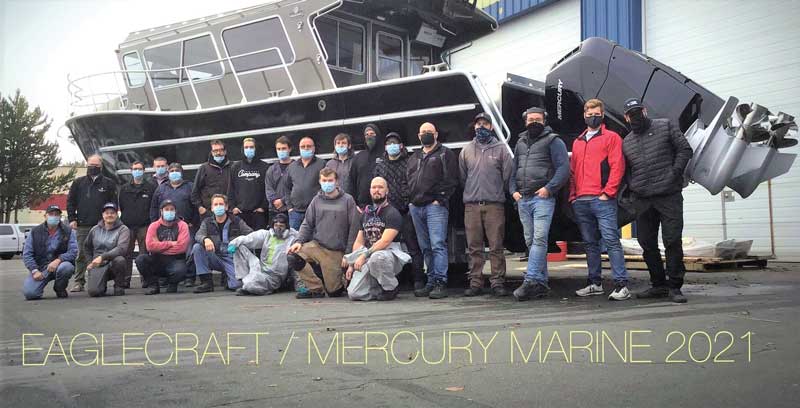 "EagleCraft transoms are designed for superior horsepower. With these twins generating 1200 hp, they're a perfect fit. Our Pacific Northwest waters can be extremely demanding, and the Mercury platform is up to the challenge. The Mercury 600-hp Verado outboard features a naturally aspirated, large-displacement, quad-cam powerhead that generates impressive torque to launch heavy boats out of the hole and get them on plane quickly, and to accelerate them up to rated speed rapidly. In sea trials, the twin 600-hp Verado outboards powerfully accelerated the EagleCraft 38 Cruiser and propelled it to a top speed of over 60 mph. The new engines deliver outstanding performance while also setting new benchmarks in fuel efficiency, giving boaters greater range for their outings on the water." Learn more at mercurymarine.com.
Alex Schlegel of Hartge Yacht Yard sends us the following story. "Traditional Chesapeake Bay boats such as log canoes, skipjacks, bugeyes, and buyboats always catch my eye. We hear about buyboats mostly in the oyster trade, but they were used to haul other cargo and were called deck boats. Built in 1926 in Virginia to haul grain, Muriel Eileen, a 65-foot deck boat whose home berth is Georgetown on the Sassafras River, will be in our yard throughout this fall and winter for a variety of work including: carpentry, painting, new electronics, and mechanical work. Her hull is painted white, and with her honey and blonde wheelhouse highlights, she'll be more of a head-turner and showstopper than ever.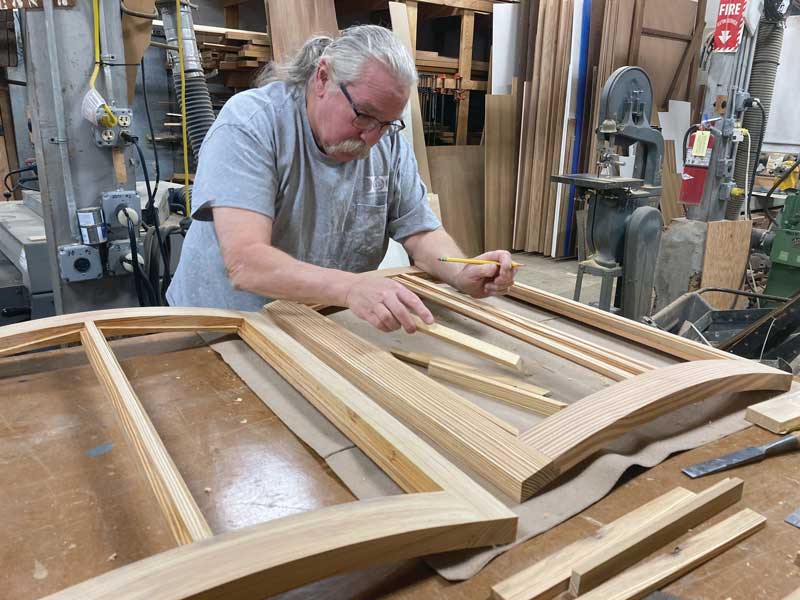 An interesting task at the top of Hartge Yacht Yard's in-house carpentry team's list is making four new curved windows for Muriel Eileen's rounded front wheelhouse. The existing window frames are mahogany and are probably not original. Additionally, they may be the only mahogany on the boat. The wheelhouse itself was rebuilt a number of years ago with the interior entirely of varnished oak and long leaf yellow pine, also known as Georgia pine. It's stunning. With that in mind, Ernie Stuermer is crafting the new replacement windows out of pine to match the rest of the cabin house. 
All of Muriel Eileen's eight windows open by dropping down inside the cabin sides into copper boxes fitted with drains. Once lifted and moved from their closed position, they are free to fall into their copper box, so lightness is important. The four window frames at the round front of the cabin are curved to match the cabin round, and each frame is divided into two flat, glass windowpanes. There are eight windows, 16 panes, and 64 trim pieces, and all must be varnished to a high gloss before assembly.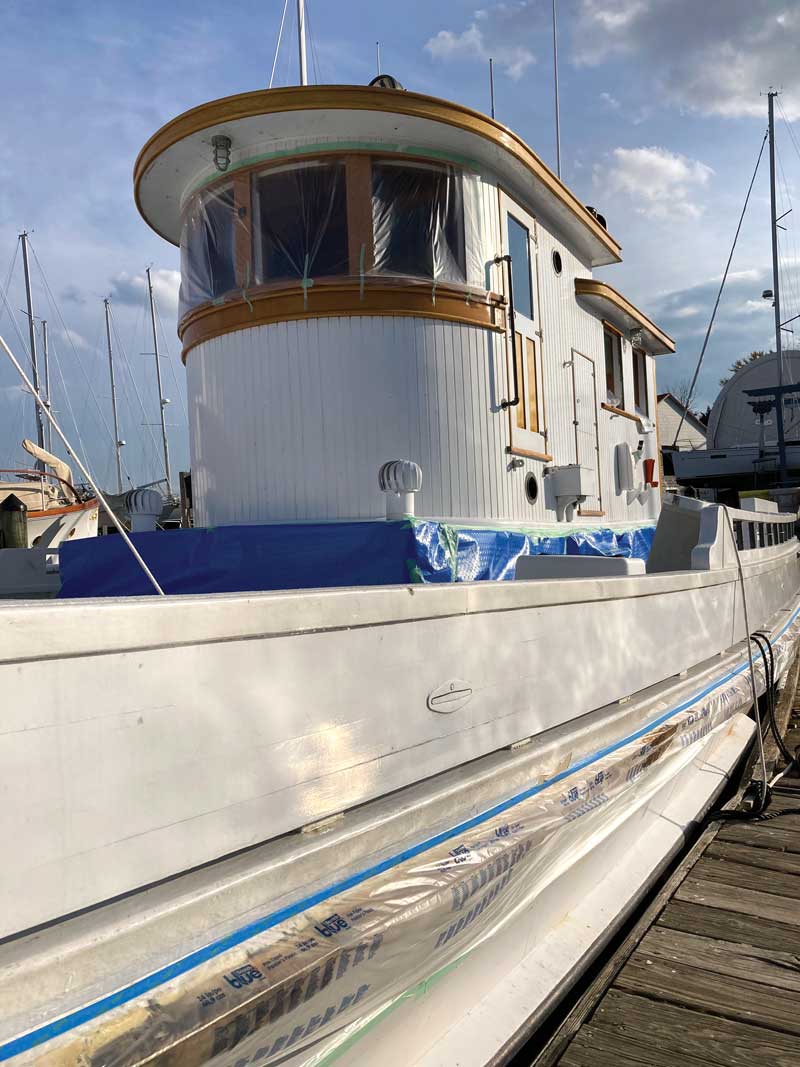 Next on the list is to haul Muriel Eileen and replace two-and-a-quarter inch by 12-inch planks on the starboard bow. These planks are bleeding rust from five-eighths-inch iron drift pins that run vertically, tying the planks together between the four-inch by five-inch frames, 28 inches on center. The deck beams are even larger, six inches by six and a half inches, also 28 inches on center, with center support posts down to the keel."
According to fleet manager Scott Anderson, Annapolis Sailing School has a busy winter planned in its shop. "We are renovating and refurbishing all of our Rainbows. We have a total of 14 that we are getting into condition to use this year. We go through them thoroughly and make them look brand new, new rigging and sails. And the biggest thing we're doing is adding roller furling to all our Rainbows. And we are in the process of shopping for a 40-foot, three-cabin boat to use for overnight courses. And we are adding Tartan 245s to our fleet. We bought three of them. The 245 just won the Pocket Cruiser of the year award from Cruising World/Sailing World magazine."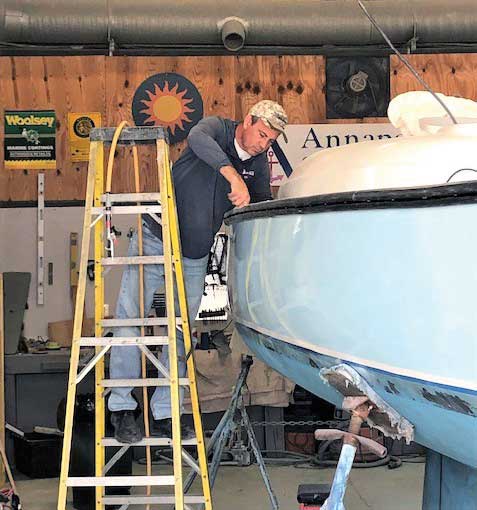 Nancy Noyes of Chesapeake Light Craft in Annapolis, MD, checks in with exciting news about CLC's expansion. "Chesapeake Light Craft, the build-your-own-boat-kit specialists, celebrated 30 years in business with an expansion at our Annapolis factory and headquarters. The 2000-square-foot addition houses an all-new boatbuilding shop, just as CLC is experiencing an uptick in orders for completed boats, restorations, and other custom projects." CLC's core business remains its catalog of more than a hundred small wooden boat designs, which are shipped all over the world in the form of plans and computer-cut kits. The last big floorplan expansion at the George Avenue plant was in 2011, when CLC added a large classroom to accommodate demand for its popular boatbuilding classes.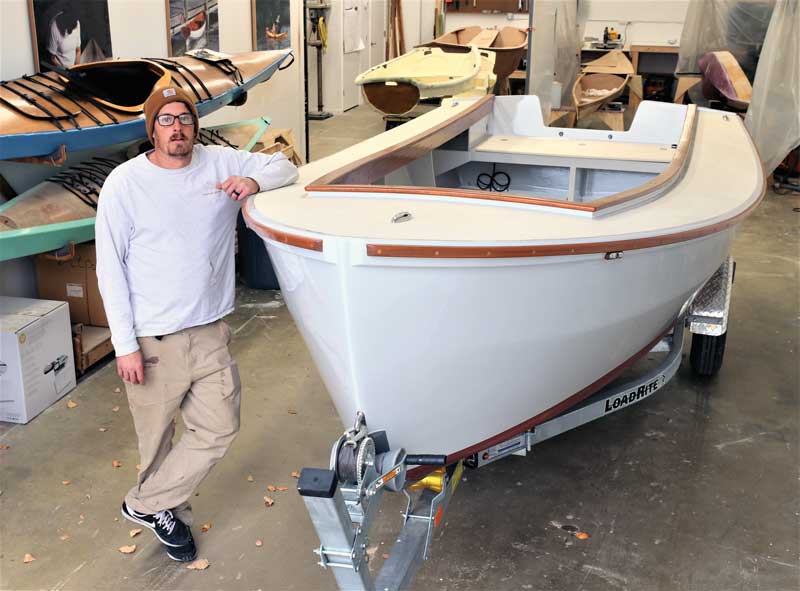 "Since we shifted to George Avenue in Annapolis in 1995, we've always had custom projects and wooden boat restoration work in progress," says John C. Harris, owner and managing director at CLC. "In recent years our classroom was the default shop for that kind of thing, but custom work had to be packed away every time we had one of our one- or two-week class sessions." Custom projects have included boats up to 31 feet. "We got good at building boat cradles with caster wheels so that we could rearrange and move projects in and out of the classroom quickly, kind of like stagehands in a theater. But eventually we just ran out of space," Harris says. The new space has been outfitted with woodworking machinery and a finishing room. It also includes new offices for CLC's design team, which doubled in 2021 from two people to four. One of the first projects to emerge from CLC's new shop is a highly customized version of designer Sam Devlin's Candlefish 16, a fishing boat powered by a 40-hp Yamaha. Boatshop manager Andrew Schroeher and his team built the boat using CNC-cut marine plywood as a core material for epoxy and fiberglass. The new owner will be using the boat for shallow creek and river fishing." 
David Low of Herrington Harbour North in Tracys Landing, MD, checks in with this update. "Herrington Harbour North has over 1000 boats secure and hauled for winter storage. Projects are now focused on our docks and customer event areas. Our I dock is getting new Timber Tech decking with upgraded lighting and slip pedestals. Our customer lounge area near J and K docks has been expanded with a large Pergola structure providing a shaded area to enjoy the seating area overlooking the marina. Customers are already planning their launch dates for the 2022 boating season."
The latest update on the construction of the Maryland Dove comes to us from the Chesapeake Bay Maritime Museum (CBMM) in St Michaels, MD. Christian Cabral, CBMM's vice president of shipyard operations, reports that work on the Maryland Dove project will head into the home stretch over the next few months. "Setting an impressive pace, CBMM shipwrights have completed the decking and now have turned their attention to completing the ship's bulwarks. As planks fly onto the waist, the rest of the CBMM team is busy completing deck furniture, finishing the stern hung rudder, and installing Maryland Dove's mechanical systems. In the rigging shop, team members are focused on the splicing, serving, and fancy work required on both the standing and running rigging, while simultaneously dressing the spars—including the bowsprit and cross trees—and completing the construction of the bronze strapped deadeyes and chain plates. As CBMM's shipwrights work through the project's punch list of outstanding work, Maryland Dove, now in its final form, will be launched and perform sea trails throughout the spring."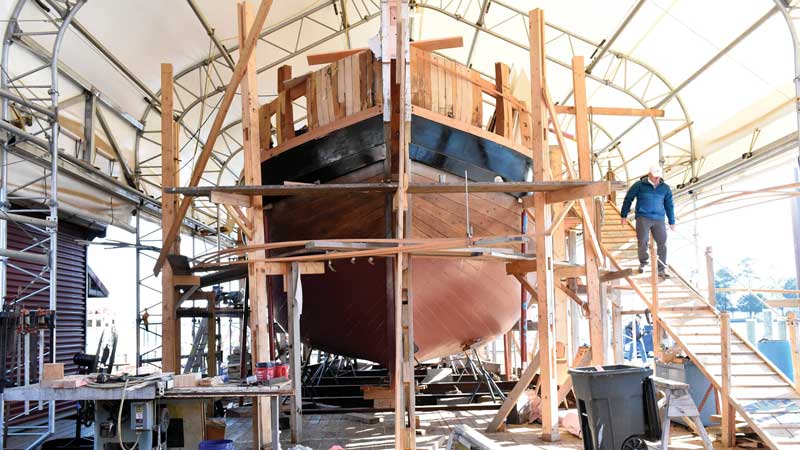 To learn more about the construction of Maryland Dove, a reproduction of the vessel that accompanied the first European settlers to Maryland in 1634 that is owned by the state of Maryland and operated by Historic St. Mary's City, visit marylanddove.org.
Spring commissioning season is really not that far away, and the busy winter in area shops seems to forecast another busy boating season coming up. We certainly hope so. 
By Captain Rick Franke