As the tumultuous year 2020 recedes in the rearview mirror, the mood in area boatshops remains optimistic. And more important, busy. The boom in recreational boating that began with the relaxation of restrictions early in the summer carried over into a busy winter. Although many winter shows have been cancelled, there is cautious optimism that spring shows will be held as normal and the boom will continue. Perhaps we are seeing the light at the end of the tunnel. Let's hope so.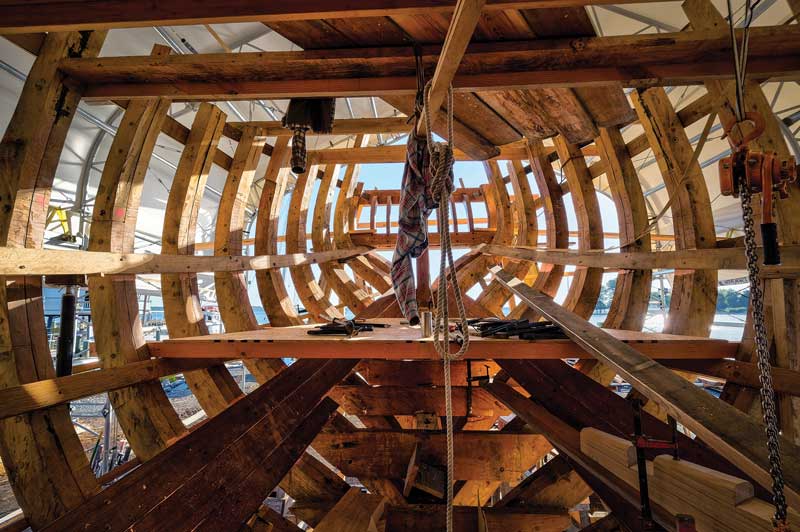 David Low from Herrington Harbour North in Tracys Landing, MD, reports a very busy haul-out season and an equally optimistic outlook. "Herrington Harbour North yard crews have hauled out more than 1000 boats for winter storage. Each boat is accessible to a Travelift for spring launch and is within 50 feet of frost-free water and a 110-electric outlet. Our onsite contractors are all focused on customer boat repairs and upgrades. The onsite West Marine Store shelves are stocked for our do-it-yourself customer. Our marina/resort has new walkways, a new customer event room, and upgraded landscaping along with enhancements to our docks. We are ready for a great 2021 season."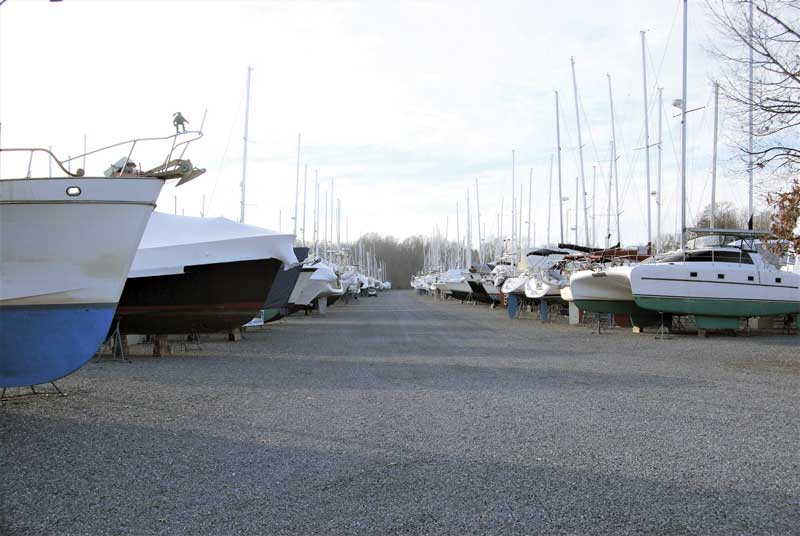 Alex Brewer of Anchor Boatworks in Virginia Beach, VA, sends us this report. "Anchor Boatworks is a full marine service provider in Virginia Beach, VA. We are dealers for Suzuki, Seakeeper, Garmin, Lumitec, Webasto, and Optimus 360 steering systems. We have just recently installed all new Lumitec lighting, JL audio stereo equipment, and a house battery on a 26-foot regulator. We are also building a new completely custom transom on a Mako. Palmer Customs is Anchor Boatwork's custom cold-molded sportfishing boat line. We currently have two 28-foot center consoles in production, and both are still available. Palmer Customs are designed to take the punishment of the rougher seas without sacrificing quality construction or excellent performance. These custom designs can accommodate either outboard or inboard diesel configurations. Our graceful lines are made with the strength of Okoume wood, fiberglass Kevlar fabrics, and the industry's best epoxy resins. For more information visit: abwrx.com."
Maritime Applied Physics Corporation (MAPC) is an employee owned, industry leading manufacturer of high speed naval platforms and unmanned surface vessels. They are headquartered in Baltimore, MD, and have offices in Brunswick, ME. They last came to our attention when they were building aluminum water taxies for Baltimore Harbor. Elizabeth Hines sent us the following story about an unusual recent commission they received. "After a tweet from Volvo-Penta advertising our integration of their Volvo D3 Diesel Engine for MAPC's diesel powered very small unmanned surface vessels, Inboard Diesel Service of Martinique commissioned MAPC to build a new boat ultimately designed for the yacht tender market.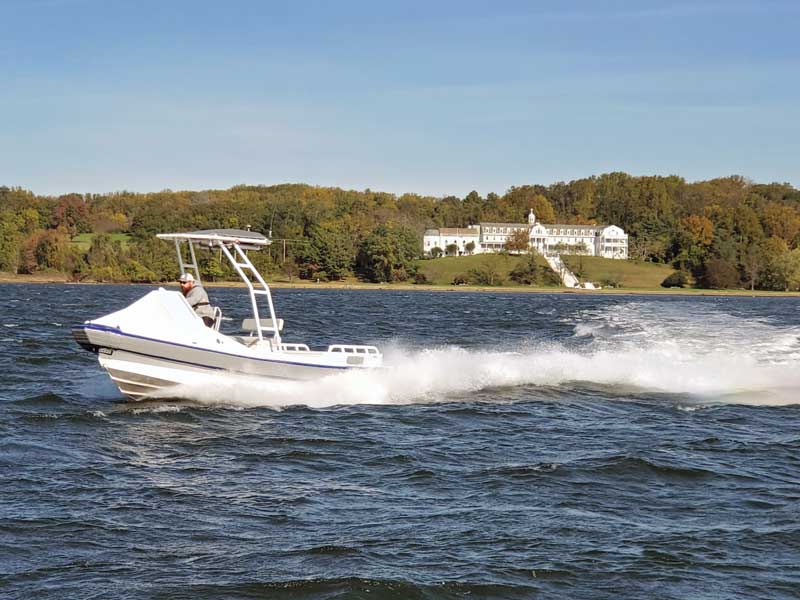 "The diesel power provides safe, convenient refueling from a yacht's main tankage as well as significantly improved fuel economy for increased operating range. Optimized to assist Inboard Diesel with waterborne service of yachts in the eastern Caribbean, the DWS 6.0 comes with a standard payload capacity of five persons or 1000 pounds. The innovative hull design provides a smooth ride with enhanced maneuverability and stability, capable of handling open ocean seas. The spacious cockpit comes with ergonomic Air-Shock Mitigating seating from Zodiac MilPro with up to nine inches of travel to soak up wave impacts while running at high speed. Storage is plentiful in this six-meter design, with about 130 quarts capacity beneath the two-seat bench. A custom fabricated aluminum arch and soft-top sunshade provides full shade for the operator and can extend aft to provide shade for passengers. The deck treatment from SeaDek is installed on all walking surfaces, the gunwales, and the swim platform. A range of color, texture, and pattern options are available.  
"The boat is outfitted with a full complement of integrated electronics including Volvo's Glass Cockpit display with chart plotter, engine data, depth sounder, and audio entertainment controls. A VHF radio and AIS transponder are also integrated into the electronics suite for safety and communication with other vessels. Frank Agren, owner of Inboard Diesel Service and longtime Martinique resident, had this to say about his new boat: 'DWS 6.0 is the best suited vessel to visit customers on remote moorings in the service area, designed through the research of seaworthiness and unhindered driver vision. Sea trials have been very promising so far, confirming the quality and performance added by VP engines.'" 
Fans of the Boston Whaler line of boats know that Whalers last forever, especially with a little help from their friends. Tim Krause of Annapolis Gelcoat and Restoration in Annapolis, MD, is a friend. He says, "We completed a 1983 18-foot Boston Whaler Newport Total Restoration. We replaced the floor. We added a new transom, a custom-made console, and stainless-steel railings. Then we painted it with Awlgrip HDT Desert Tan. This exacting customer asked for several custom-made accessories and additions, but as a Boston Whaler purest, he required us to maintain factory esthetics. The crew was able to meet his expectations and after the first test run, the customer exclaimed, 'She's a beast!'"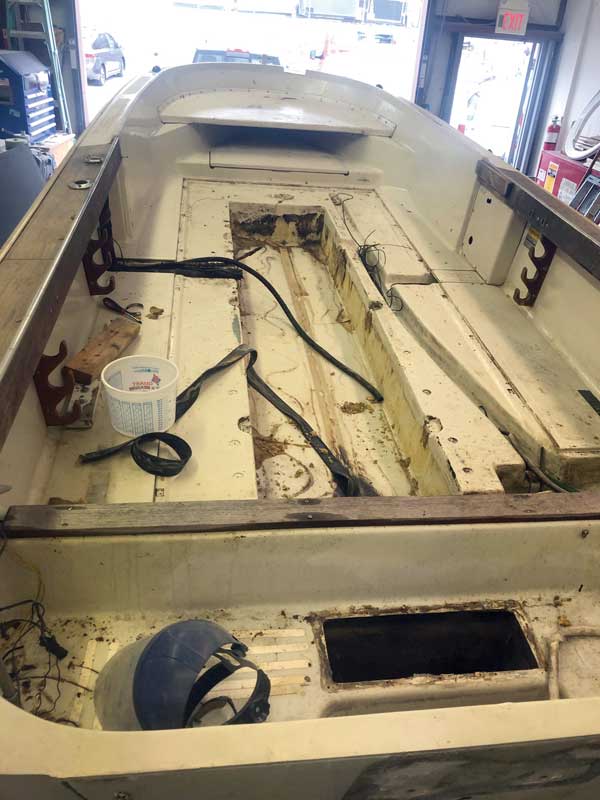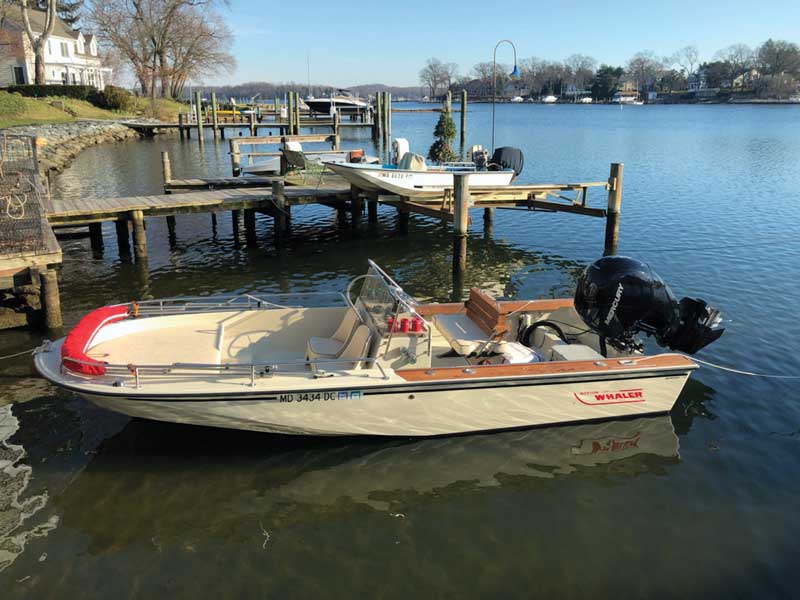 Hank Reiser of Marine Service at Pocohontas Marina in Edgewater, MD, sends us this quick update. "We finally finished the Lyman 23 we have been restoring in our shop for the last three years. We put it in the water to swell on Saturday, December 12 and took a ride on Sunday December 13. Beautiful day for a ride: 60 and sunny."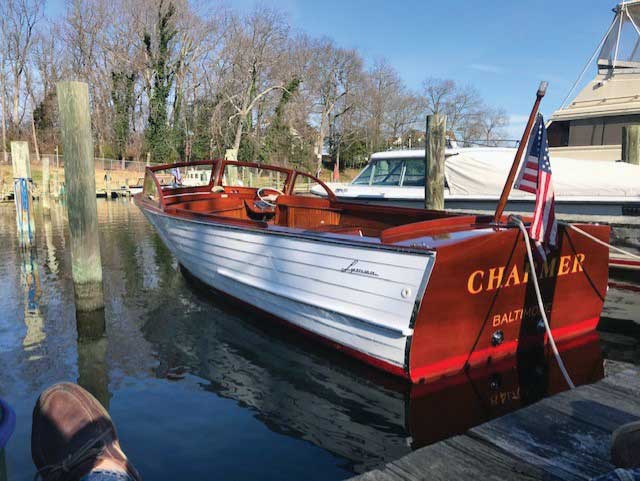 The Richardson Maritime Museum in Cambridge, MD, is a small but interesting museum, as described on the museum's facebook page. "Dedicated to the craftsmen and culture of Eastern Shore boat building, the museum holds an exquisite collection of Chesapeake Bay ship models and artifacts bringing alive the local maritime heritage." Amidst all the bad news about the pandemic, the museum found a bright spot. "The past months have been challenging for all in numerous ways. We, as many businesses, have seen a loss of revenue due to state-mandated closures. Much time has been spent identifying and applying for emergency funding to ensure the continued sustainability of the organization. We are pleased to announce funding has been provided to the Richardson Maritime Museum from Maryland Humanities and the National Endowment for the Humanities (NEH) as part of the 2020 Coronavirus Aid, Relief and Economic Security (CARES) Act of 2020. Plus, the consolidation to our waterfront site is proceeding; rehabilitation work begins this winter."
Jim Weaver at Weaver Boat Works in Deale, MD, has four boats under construction and plenty of work in the pipeline. As he put it "No slow down and no layoffs around here." Jim related an interesting story about Loosen Up, a charter fishing boat that he built in 2019. "The owner said that he's just finished his first full season fishing the boat and put 1700 hours on it. He said he'd done as many trips as he'd normally run and expected to put 2000 on it, but he was going 30 percent faster and burned 50 percent of the fuel. He was very happy with the fact that he saved over $50,000 in operating costs in fuel savings over previous years. It's really all about design. Our naval architect recently hosted an online meeting where he emphasized 'Performance by Design.' He means design a boat to do what you want it to do, and Loosen Up is a good example. A lot of the workboats and charter boats out there now are based on designs from the 1970s and 80s. A lot has changed since then, and we try to take advantage of that progress." For more information about Loosen Up see Custom Building Weaver Style, Proptalk November 2019.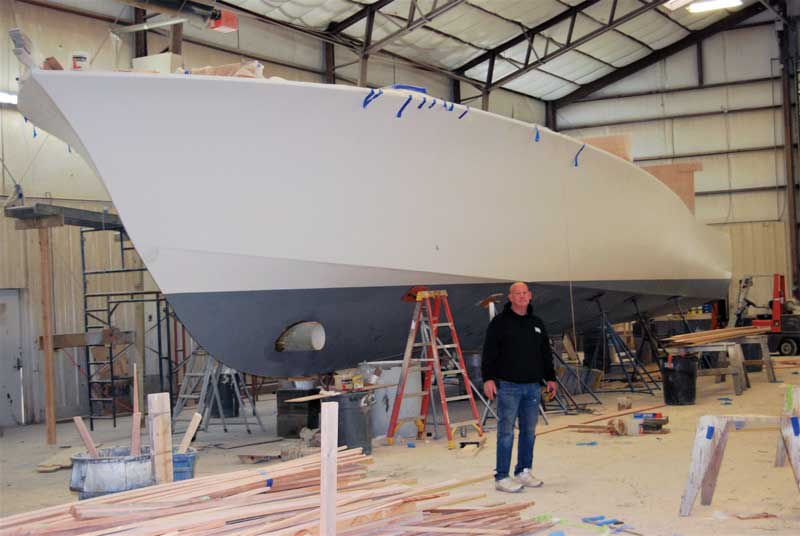 As the days get gradually longer and winter grinds slowly on toward spring, we share the optimism that 2021 will be a better year, and soon we may be able to trade the "New Normal" for the real normal. Stay healthy and warm until then. 
By Captain Rick Franke
More Photos: