Along about the end of the month it seems as if winter will never end. The holidays are behind us, and regardless of what the groundhog says, it is still cold and often dreary outside. But, the days are getting noticeably longer, and tentative green shoots stick up through the melting snow. Spring can't be far away. In the meantime, area boatshops report another very busy winter.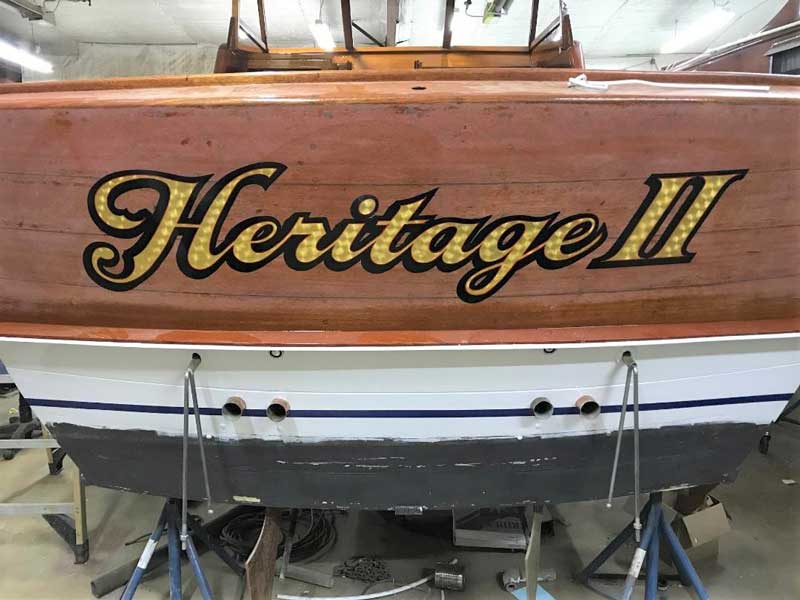 Susan Campbell from Campbell's Boatyards in Oxford, MD, kicks off this month's column with a newsy report from a very busy shop. "Campbell's Boatyards in Oxford are currently engaged in several interesting projects as well as a massive upgrade to the marina facilities at Bachelor Point. We are replacing the original diesel engine on a Tartan T10 sailboat with an electric propulsion system supplied by Electric Yacht. The owner will use the boat in the summer racing series in Oxford and will enjoy significant savings on maintenance as well as a simple and exhaust-free method of moving the boat. (When not sailing!) 
"We continue work on the Lyman-Morse 56. The refit process has moved on to the CAT engines. The upgrades will make these engines and transmissions compatible with fully electronic controls. New electronics on the fly bridge and in the pilot house, as well as tons of interior and exterior cosmetic upgrades, will result in a true show piece of a yacht. We are also in the middle of replacing one third of our dockage at Bachelor Pt. with new floating docks. These new slips will be 40 feet by 15 feet. The docks are finished with Ipe wood and will be a nice upgrade for our slip holders as well as transient boaters. The project will be completed by April 1. 
"Jack's Point, with our new Yamaha Dealership, is excited to be repowering an Edgewater 388 with a pair of Yamaha 425s. In addition to the repower we will perform numerous upgrades to transform this 12-year-old into a practically new boat for our customer. The 1957 Chris-Craft Constellation 34 Nostalgia is back in our shop for continued restoration and upgrades. She has undergone a full restoration over the past few years, to include, but not anywhere limited to, new TDS foredeck and cockpit with custom built hatches and gutter systems. 
"A pretty cool project that we have underway is the restoration of a 1971 Rainbow. She is being tricked out with a new paint scheme, custom standing rigging, and a redesigned interior. This Rainbow will definitely catch your eye. Look for her on the Miles River this coming spring. We have been wrapping up a refit of a 1982 Tripp Angler 22. This project has consisted of repowering from a gas 350 to a new Yanmar diesel. She has been fully rewired and has many new electrical upgrades."
David Evans Jr. from Evans Boat Repair in Crisfield, MD, is going to stay busy this winter. "It's a busy winter here at our shop. In addition to our normal winterization jobs and commercial watermen prepping and maintaining their boats for the work season, we are staying super busy in our shop with repairs and restorations! We are currently building a custom 38-foot vessel that will head to New York City upon completion sometime in early 2020. We will also begin construction of a new custom 43-foot vessel shortly. 
"We have our very first Evans-built boat in the shop getting a complete cabin/deck rebuild, a 39-foot wooden workboat coming in for a complete glass-over job, and an I/O to inboard conversion, along with a few major repair jobs. A Bayliner arrived a few weeks ago after crashing into a dock full force, causing significant damage to the bow. Just today, we pulled a workboat into the shop that had a similar problem, causing significant damage to the starboard side. We are grateful for all our customers—past, present, and future—who trust us to give them a quality job!"
George Hazzard from Wooden Boat Restoration in Millington, MD, also has a lot planned for the winter. "We have a busy winter ahead. We are continuing work on Mitch and Molly Owens's 1960 30-foot Owens, Heritage II. We replaced all the glass and are varnishing all the surfaces on the boat. Tim Grant from Grant signs did the gold leaf lettering on the Owens as well as the 1958 Chris Craft Sportsman. Trouper II, the 1935 39-foot Consolidated, is getting fresh varnish in the pilot house and main cabin." 
Carson Forrester of Forrester Boatworks in Suffolk, VA, says, "We have been very busy in the shop and on the road the last few months. We are honored to be finishing Arvin Midgett's last skiff he built for a gentleman from Manteo, NC. We also have been doing extensive work on the 36-foot Jarrett Bay Smoke Show. We have been blessed to be so busy, and have some really nice projects coming up. Thank you to all our clients."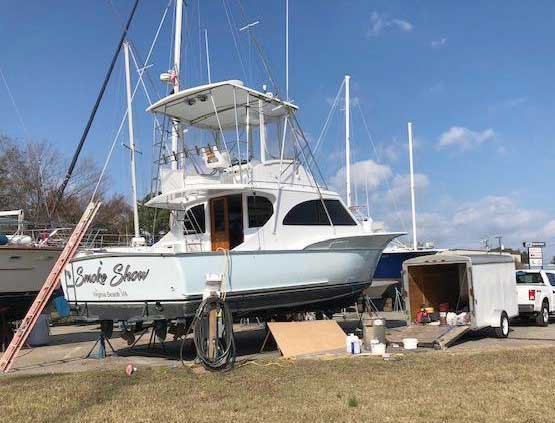 Hank Reiser at Pocohontas Marina in Edgewater, MD, says, "We are going to be very busy this winter. We have a record number of boats out of the water in storage and each one has a list of things that needs done. We have also made a lot of progress in our restoration of the 1952 Chris-Craft Commander. The owner has decided to remove the existing 1970s-era repower engines and replace them with the original power plants. We have located a pair of Chris-Craft MLR six-cylinder engines, 125 horsepower with a two-to-one reduction gear. These are the original flat head Hercules blocks, marinized by Chris-Craft. We have located those engines in Michigan and are working on getting them here and into the boat."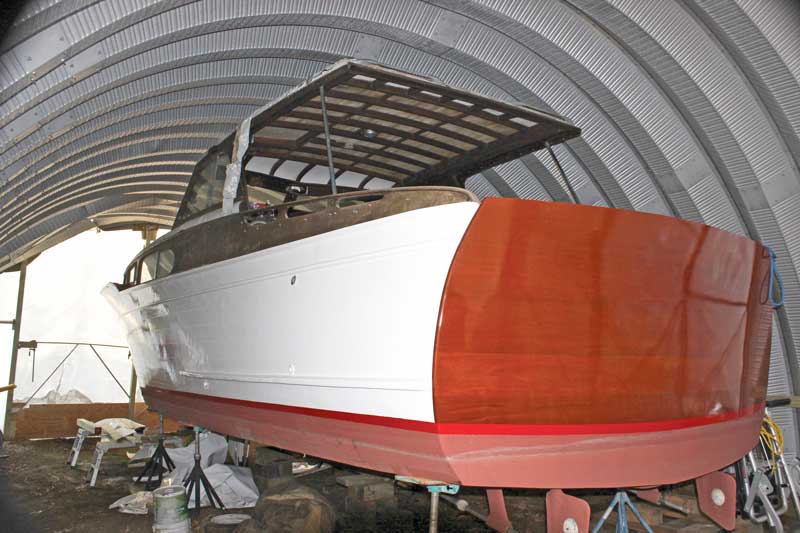 Scott Anderson at Dimillo's Yacht Sales estimates that he has at least two months' work on the books right now with deliveries and preparation of new and brokerage boats, even before the winter boat shows start. "That will get us to March, and the spring workload will start to build up, so I guess you can say we are going to have a busy winter."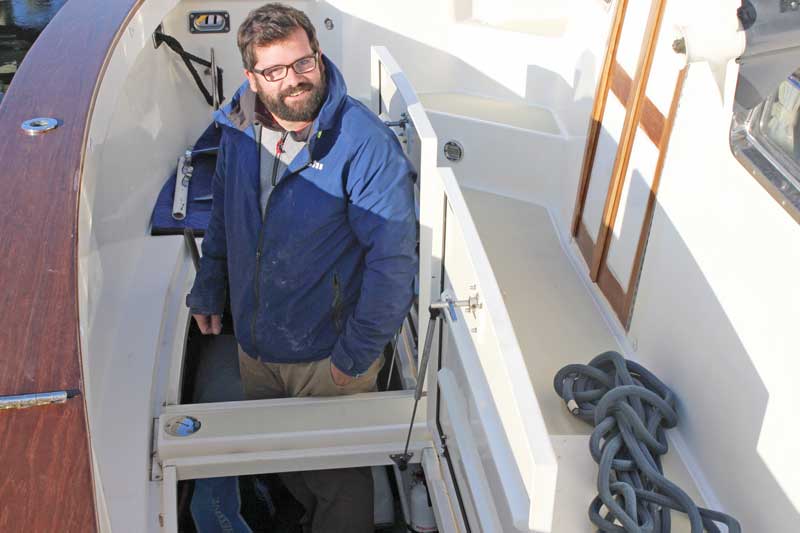 Alex Schlegel of Hartge Yacht Yard in Galesville, MD, brings us up to date on current projects and contributes an interesting aside on the application of Awlgrip. "Now that we've launched the Trumpy, our big job is repair to a wooden 48-foot Egg Harbor, Dad's Girl, in the area of the rudder ports, struts, and shaft logs, which is most of the aft end of the boat's bottom. Our fine brush painters have plenty to do as well. We are finishing up a boat with lots of bare weathered teak exterior with Sikkens Cetol and refinishing the galley with varnish. Prep and Awlgrip nonskid were applied to a Dyer 29 cockpit, plus touch ups on a windshield trim after a cracked glass replacement. Also, we have interior varnish to do where woodwork was damaged on various boats around their leaking ports.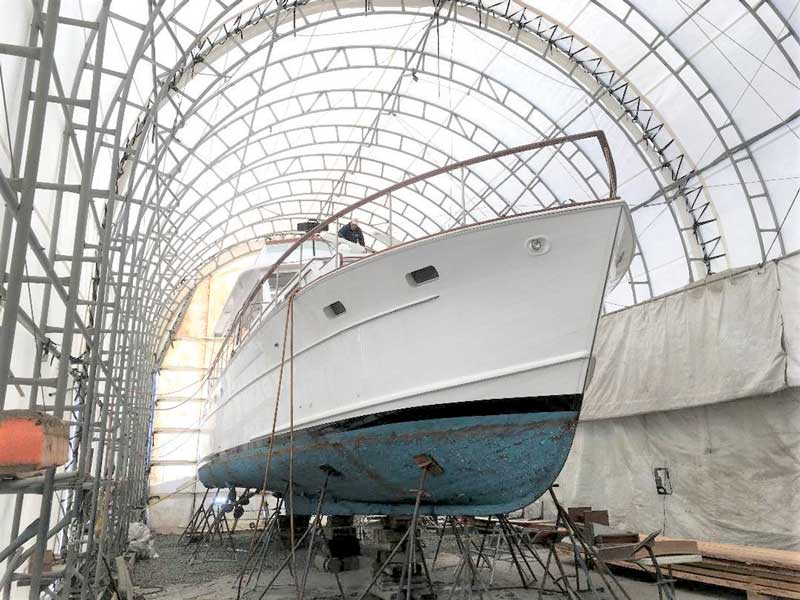 "In progress is the refinishing of the exterior varnished mahogany cap rails, hand rails, eye brow, bench seat trim, and lots of other trim on the 48-foot Egg Harbor. After that is brush-painting all the exterior hull, deck, and cabin with Awlgrip. We have brushed and sprayed various types of polyurethane, but mostly Awlgrip, to decks and hulls since not long after we became aware of Awlgrip in the mid 70s, but we have used the brush, (roll and tip), method only occasionally. Obtaining good spray paint results can be difficult, and the maintenance of a spray booth is no small matter. We started brushing Awlgrip a few years ago on decks. Now we are brushing Awlgrip on decks and hull sides with great results. 
"Next up is a Back Cove getting a classic Flag Blue hull, white boot top, and gold cove stripe. After that, we have lined up a 38-footer for decks, cabin, and cockpit in Awlgrip.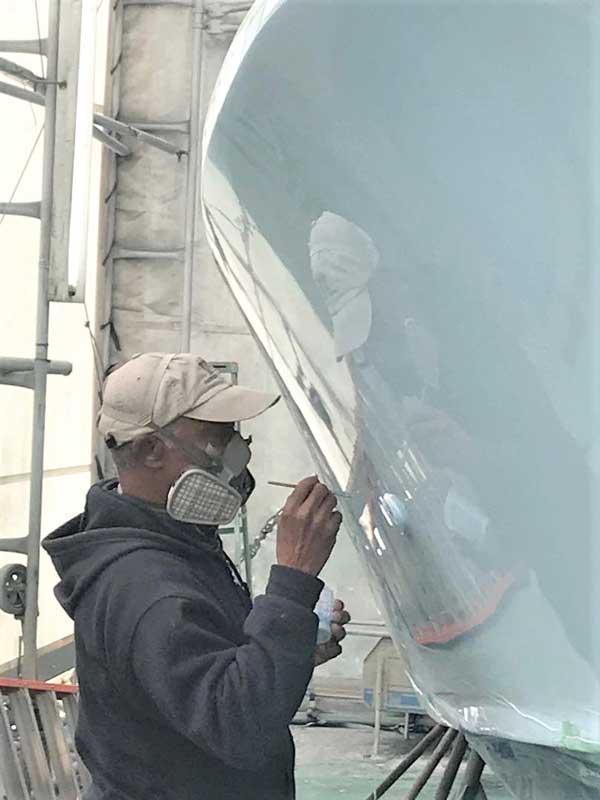 "The bulk of a boatyard's work is in endless small tasks that take from an hour to a day to tackle. Hundreds of these small tasks keep a service manager very busy getting the order from the customer, communicating and organizing with the technician, and getting back to the owner with what was found and fixed. Endless small jobs add to the major projects we have on hand over the course of the year. That's work in the boatyard and fortunately we have plenty of it."
So curl up in front of the fire and enjoy the rest of the winter. Next month we'll be talking about spring! 
By Captain Rick Franke
---
For past articles, visit our Boatshop Reports page.