Cruisers on the Bay have all kinds of dreams, often beginning with a dream of exploring the rivers and creeks close to home, but as boaters gain experience, their cruises tend to become longer, and many eventually begin dreaming of extended cruises, perhaps even dreaming of completing all or part of the Great Loop. For those with such a dream, America's Great Loop Cruisers' Association (AGLCA) is a valuable resource.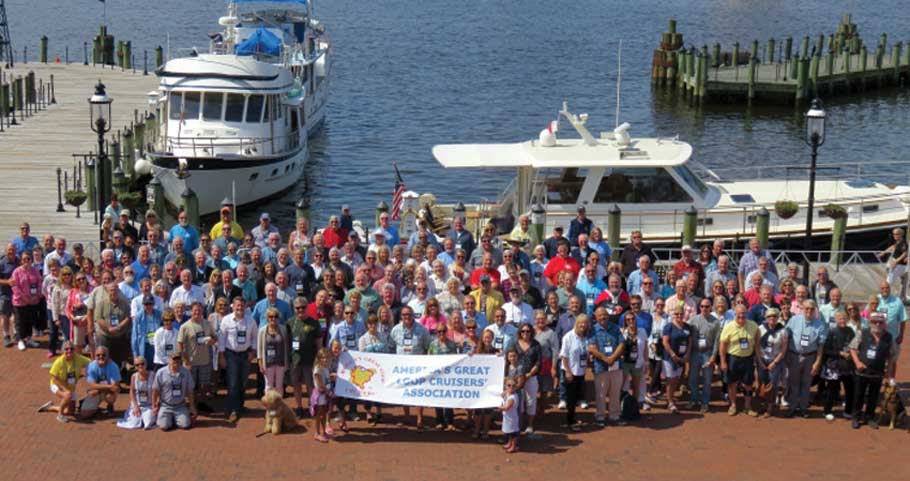 The Great Loop is a 6000-mile circumnavigation of the eastern portion of North America. AGLCA members navigate the route in their own boats, often connecting with one another for multiple passages along the route, which is primarily comprised of protected waterways. The journey takes "Loopers" through 15 or more states and provinces and includes the Atlantic Intracoastal Waterway, Chesapeake Bay, the New York State Canals, the Great Lakes, the Canadian Heritage Canals, the inland rivers of America's heartland, and the Gulf of Mexico. 
Kim Russo, director AGLCA says, "Looper camaraderie is legendary, and AGLCA facilitates connections between members so that new Loopers can learn from those who have come before them. No two Great Loop adventures are the same, so we continuously disseminate information and inspiration through our newsletters and website to help members safely complete the Great Loop in a way that is enjoyable to them."
Members of AGLCA have access to discussion forums, podcasts, webinars, a cost calculator, access to Harbor Hosts, newsletters, member-only events, and more. Harbor Hosts help Loopers as they pass through the host's home waters. They give advice on local places for shopping, dining, boat repairs, and more. They provide local knowledge about their waterways, such as the best anchorages, currents, tides, and more. Sometimes they offer to accept packages that Loopers pick up when they pass through. They may also offer rides to local destinations or perhaps even dockage.
Wondering if this association might be for you? AGLCA's membership webinar will give you an introduction to the benefits AGLCA offers its members and show you the tools and information available through the organization's website. While most webinars are for members only, a few others are also open to non-members.