"A river runs through it" is a phrase that piques the interest of boaters who like to explore new places, yet since Washington, DC, is in the political news all day, it's easy to lose sight of the many recreational opportunities in the city along the Potomac River. There are more ways than ever to get outside and enjoy DC's waterfront by boat, bike, or foot.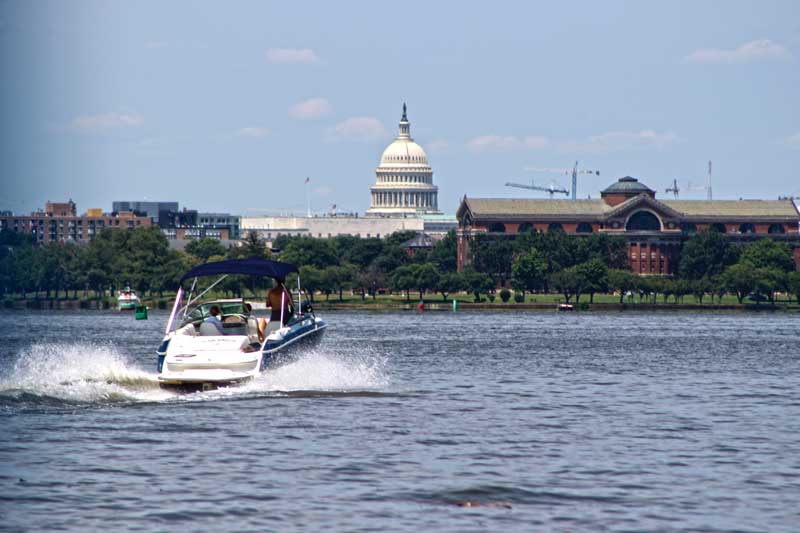 Captain John Smith discovered the Potomac in 1608 and dubbed it the Patawomeke after an Algonquian Indian family place name for the area that is now Washington. The river runs 405 miles from Fairfax Stone Historical State Monument State Park in West Virginia to its 11-mile-wide mouth between Point Lookout in Maryland and Smith Point in Virginia. 
For boaters who don't live in the DC area, traveling the 116 miles from the river's mouth to Washington is an investment, yet well worth it for the scenery along the way and the destination. Once you arrive at the nation's capital, here are seven suggestions for discovering the waterfront:
Washington, DC Waterfront
Dock the boat.
If you haven't heard the buzz about the District Wharf, the newly developed waterfront section in southwest Washington, you may be new to the area. The Wharf Marina, a 306-slip facility for boats up to 300 feet long, welcomes transient boaters for the day, the night, or longer.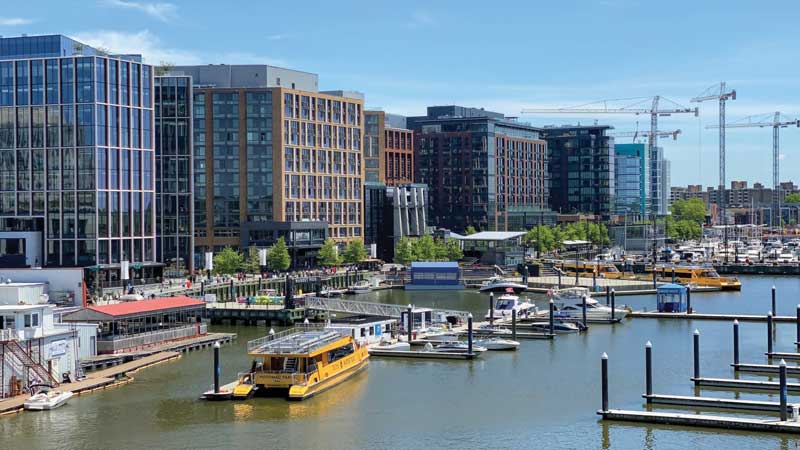 Not only do transient boaters have access to the Wharf's wide variety of restaurants (from $4 falafel to a $60 steak dinner), shopping, live music venues, and the Municipal Fish Market, but they also have access to laundry, pumpouts, ATMs, a grocery store (five-minute walk), and the metro. 
Take a water taxi.
You may catch a water taxi at (and travel to) the Wharf's Transient Pier, Georgetown, Alexandria, VA, or National Harbor. If you don't have time for a longer exploration by water, the water taxi is a great way to get where you need to go and see the sights on the river, too. You may purchase one-way and round-trip tickets, as well as daylong, weeklong, or monthly passes. Reserve tickets online: potomacriverboatco.com/water-taxi. 
Pedal or paddle the city.
Boating in DC rents kayaks, paddleboard, canoes, pedal boats, swan boats, rowing sculls, sailboats, and more from seven different boathouses: Ballpark, Fletcher's, Key Bridge, National Harbor, Thompson Boat Center, Tidal Basin, and the Wharf. You may sign up for guided daytime and sunset monument tours, full moon tours, and of course, cherry blossom tours in spring. You may take a nature tour from Fletcher's Cove, located upriver of Georgetown before you get to the Chain Bridge. In that part of the river, it's worth kayaking to a popular rock formation called the Three Sisters islets near the Key Bridge and also next to the deepest part of the river at 80 feet.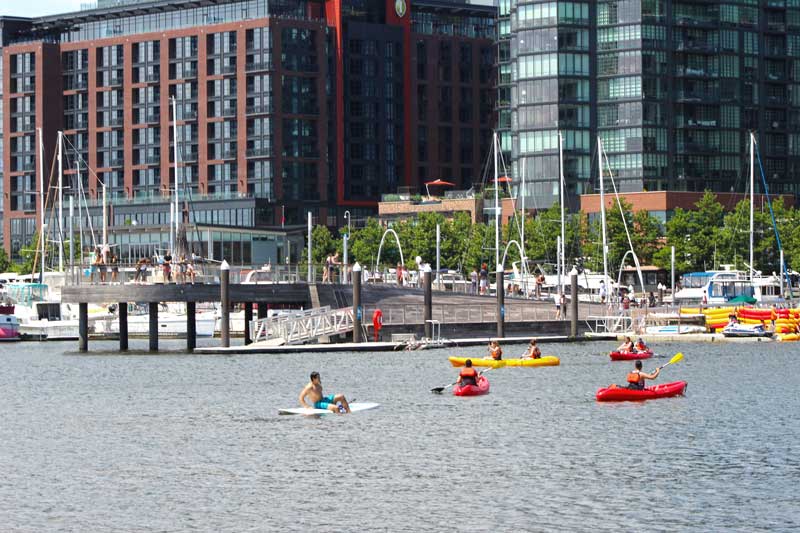 Cycle the city.
There's no need to bring your own bike to DC. Capital Bikeshare offers 4500 bikes at more than 500 locations in the DC area, including two near the Wharf. Renting bikes costs $2 per hour or $8 a day for a 24-hour pass. Other options include a three-day pass, a 30-day one, or an annual membership for $85. All you do is join, find your bike station, unlock a bike, ride, and return it later.  
If you've never cycled in Washington, DC, you are missing out. The city boasts abundant rail trails from the 184-mile-long Chesapeake and Ohio Towpath to the 18-mile paved Mount Vernon Trail, both with great vistas of the river (find more at bikewashington.org). 
Take a cruise on the Potomac.
Seeing the monuments from the water is a must-do part of the DC experience. Hornblower cruises offers dinner, sightseeing, and holiday cruises departing from the Wharf or other locations, including Alexandria.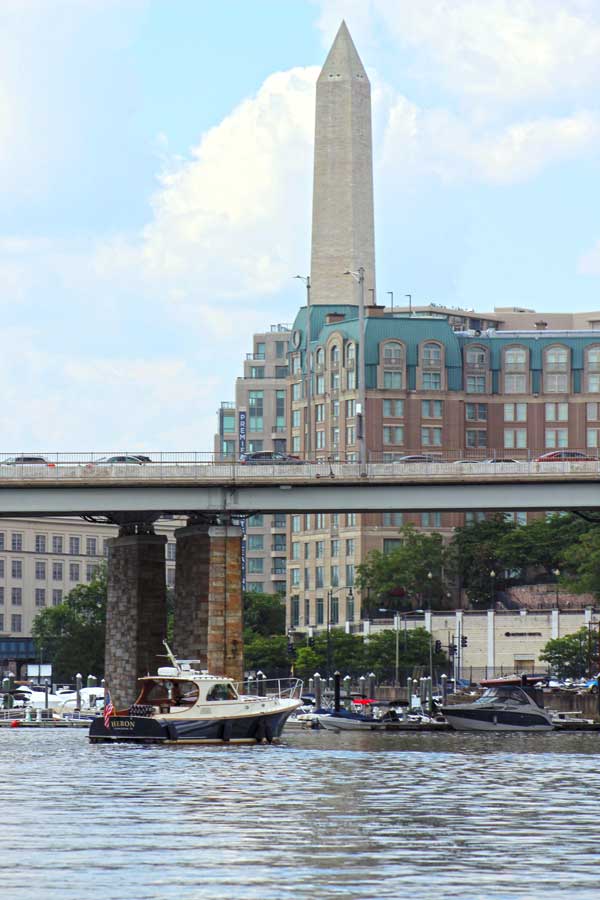 Rent a boat.
Two boat clubs run out of the Wharf: Carefree Boat Club (membership club for boats from 18 to 27 feet long) and Barton and Grey Mariner's Club (membership club for crewed Hinckley Yachts). Because these clubs require membership, they're ideal for those who live regionally or have reason to visit DC often. Short-term visitors would be better served with water taxis, tour boats, or kayak rentals.
Walk it off.
If you're travel weary from a long boat cruise or car ride into the nation's capital, DC is a great place to stretch your legs and see the sights in the open air. A walk along the waterfront, whether in the newly revamped southwest part of the city, at Washington Harbor in Georgetown, or at the Tidal Basin, offers pretty views and fascinating history. Among the monuments that are reachable by foot and open 24 hours per day, 365 days per year are the Lincoln, Jefferson, National World War II, Martin Luther King, Jr., FDR, and Vietnam Veterans Memorials.