It's funny how thinking outside the box can lead you to some creative solutions. That being said, I am a navy chief getting ready to move to Groton, CT, for the next three years. It was just me and my dog and finding a place to rent that didn't break the bank led me to a creative solution—buying a 41-foot trawler that I could liveaboard at the base marina in Groton.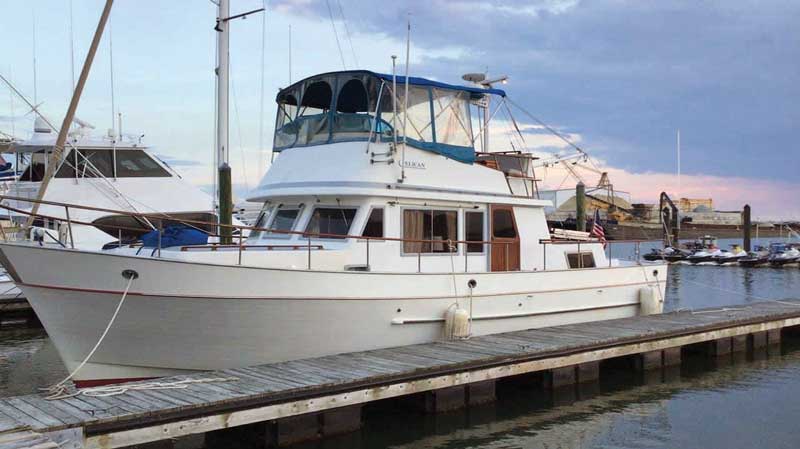 Blame my mother for dating a guy who lived on a 55-foot motor yacht when I was a kid, or just growing up on the water, but I always dreamed of buying a boat to live on. In seventh grade home-ed we had to do a project on budgeting and living in a house. My house was a Nordhavn 61, and I got a D for the project, but I didn't care. The dream has lived on for the last 21 years.
So, I decided the most economical thing to do is rent my house in Greenbackville, VA, and live on a boat in Groton, CT. I set my budget at $75,000 and started looking for something with two cabins and a decent sized galley. First, I looked at a Newburyport 37 in Stevensville, MD, but it felt small, and it only had a converter, not a generator and AC so that's a no-go for a liveaboard.
Then I found a 1981 Present Yachts 41 named Pelican. Was it love at first sight? Not really, love at first sight for me is a Bruno Stillman 42 named Monsta up in Connecticut. However, Pelican has everything I'm looking for in a seagoing home: a spacious master cabin with a separate shower in the head, microwave, electric stove/oven, and forward bunks big enough for a single and a couple. Plenty of storage. Mechanically she has a Ford Lehman 120, Onan generator, 150 gal. of freshwater, and 440 gal. of fuel.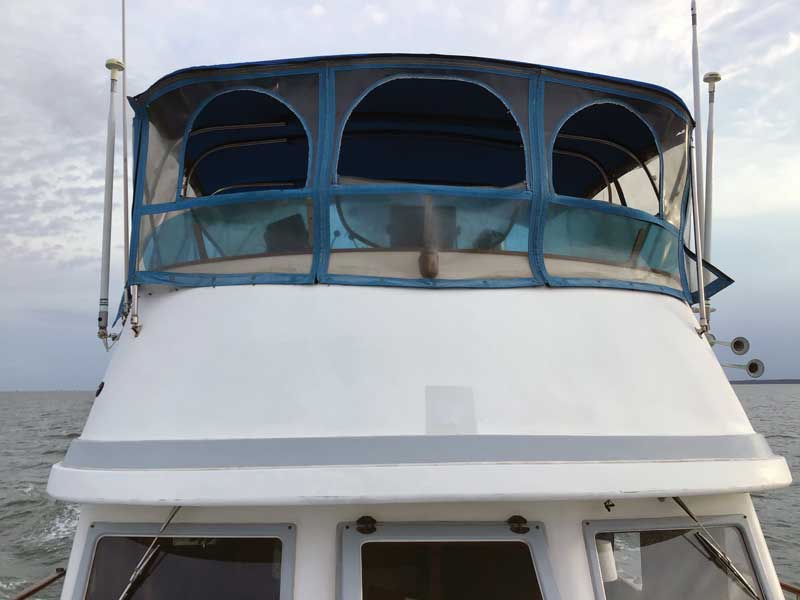 I want to give Gordon at DYC a big shout out for being very helpful with the buying process. A lot of car salesmen and real estate agents need to take some notes from yacht brokers—I didn't feel pressured at any time during the buying process, and he was quick to answer my questions and concerns. Thank you to Harris Marine Financing with helping me find a lender for a 41-year-old boat and thank you to Progressive for insuring it.
After the sea trial, and getting the paperwork done, I finally got to take Pelican home June 11. Special thanks to my father for giving me a ride to Deltaville and putting up with Norfolk traffic. We got to Deltaville, loaded up, did some last-minute checks, and I was underway by 2 p.m. for Cape Charles. The Chesapeake Bay was mild at first, five to 10 knot winds out of the south, with the current going out. That decided to change to 10-15 out of the south, and the current still going out made for an uncomfortable ride for about an hour. At one point I went below from the bridge and found the generator had shut down, the microwave was hanging by its cord, and there were dishes all over the galley deck. I moved to deeper water hoping for a reprieve from the washing machine, and at this point the current was now flooding. Pelican cruises at 16-1700 rpm at seven to seven-and-a-half knots. Going into the current I pushed it up to 1800 rpm just to make five knots. 
By about 5:30 I made it to the marker for the Cape Charles channel and made my way in. I want to thank Matt at the Cape Charles town dock for coming to assist me with docking. We got tied up, I made an adjustment on the Ford's idle, played around with the generator to no avail, and went to get dinner. My first order was a tall glass of water and a Dark 'N Stormy. 
After dinner I went back to the boat and realized that the AC wasn't working. I found that each AC unit has a reset, but the AC cooling pump was air locked, probably from the washing machine effect coming down the Bay. I vented the pump and after giving the pump housing a "love tap" got it spinning again. I took a shower and went to bed.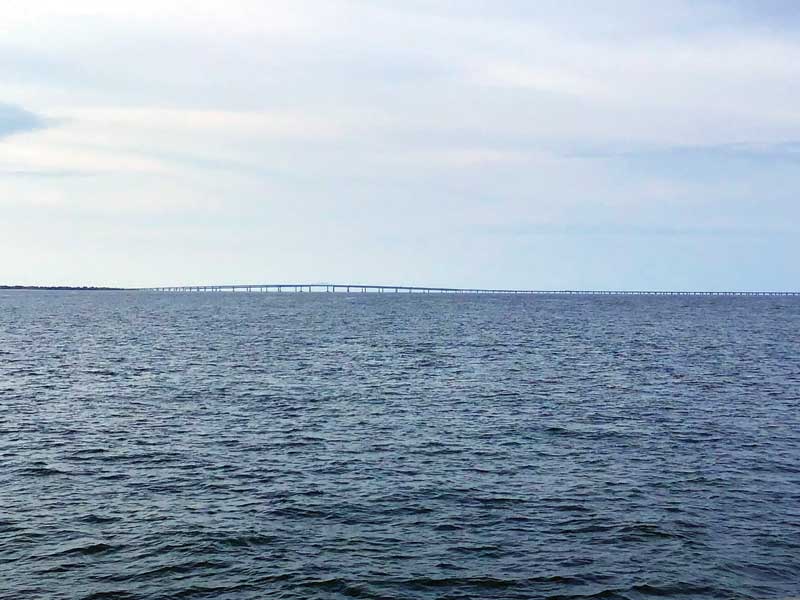 Sunday morning, I woke up before my alarm with the plan to get underway by 6 a.m. Undocking is a lot easier than docking solo, and I found out that the bow thruster doesn't work going to port. So, I backed out of my slip into the harbor and got underway. Once again, I was fighting an incoming current from Cape Charles to Fisherman's Island, but once I made the turn north for Chincoteague, I picked up to seven-and-a-half knots and set my rpms to 1700. Thankfully the autopilot works; you have to give credit to old analog systems for their reliability. I stayed out around three miles off the coast, and I only saw two boats pass by. 
Around 1 p.m. the radio weather alert alarm went off, sending me into a frenzy checking gauges for temperature, oil pressure, water flow. It was the first alarm I'd had. Once I realized it was the radio, I calmed down and learned that there was a cold front moving from the northwest and heading my way. I stored everything topside and steered from the salon station. The storm came in, blew me around a bit, but I barely even took water over the bow. Present Yachts knew how to build their boats like a tank. Once the storm passed, I could see Wallops Island and I knew I was close to home. I prepped the lines and fenders and brought her into Chincoteague inlet. It was a lot different going in at seven knots compared to 22 knots in my North American S22 Offshore, but I don't know if I would have lived through that storm in the S22. My friends met me at the dock, and we got her tied up.
I found that the generator also had a reset that once I pushed it, it came back to life.
My next adventure was heading offshore fishing for Father's Day weekend, and after that, Chincoteague to Groton, straight shot! 
By Joe Roberts