Go-Cat is a 17-foot Boston Whaler. My brother Kit and I cruised and lived aboard it for a few days, as long as it took to get us to get back to our starting point. We were on a route known as the DelMarVa Loop. To the uninitiated, it's a 400-mile circumnavigation of the peninsula that includes the Eastern Shore of Virginia and eastern Maryland and Delaware. Besides open ocean, the trip includes traversing the entire Chesapeake Bay and Delaware Bay plus the C&D Canal at the top of the loop.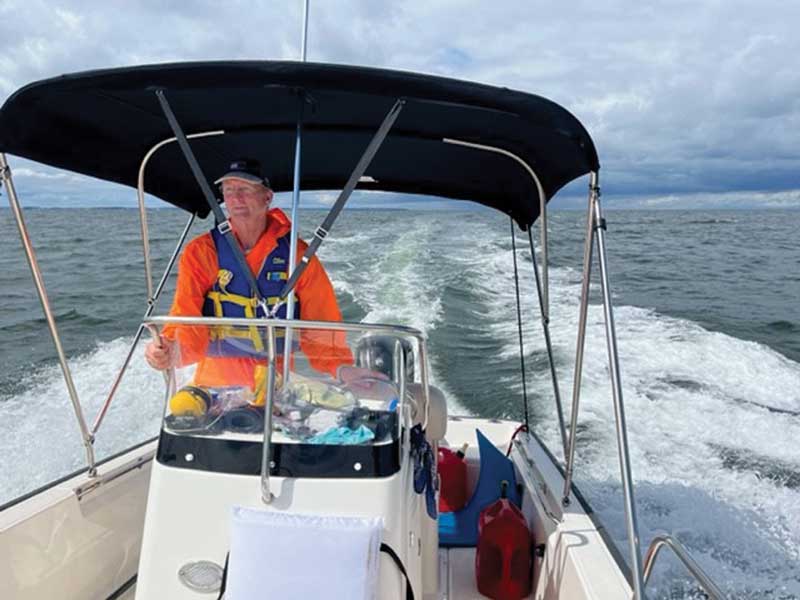 The rolling swells of the Atlantic rhythmically heave under the Go-Cat. Like a living thing beneath our keel, the ocean seems to have a mind of its own. It's a little spooky, but on the other hand, the morning is sunny and full of promise and the breeze is light and favorable. The boat's running well; and we have ample fuel and provisions. Spirits are high. Our next landfall is Ocean City Inlet, 80 miles of desolate ocean and wild coast ahead. I'm smiling at how good it is to be out here finally doing this.
Years in the Making
The trip began at our home port of Locklies Creek on the Rappahannock River. We ran south down the Chesapeake to Cape Charles and spent the night cramped (excuse me, camped in the boat), anchored in a sheltered spot among the shoals and islets of the cape. The day started at first light as we shot out through the swells of the inlet between Wreck and Cobb Islands into the open Atlantic.
I've been thinking about this trip for years. "The loop" has been just sitting there in the wings waiting to be done. It's tricky. As I said, the route totals about 400 miles, but the distance travelled in completing the circle could easily be double that. Depending on the weather and the vessel and the crew, I knew it would take several days to a week. More than that if one really got pinned down by adverse weather.
I couldn't shake the desire to do it—something about curiosity and restlessness—and finally it looked like things were coming together. I had the boat, and it was ready to go. I was flexible on the time, and I had a willing and experienced crew member in Kit to go with me. One more vital requirement: a decent weather window, and in late summer when all was set for the voyage, we went into standby mode. When a promising forecast hove into view, the cry went out: Let's go!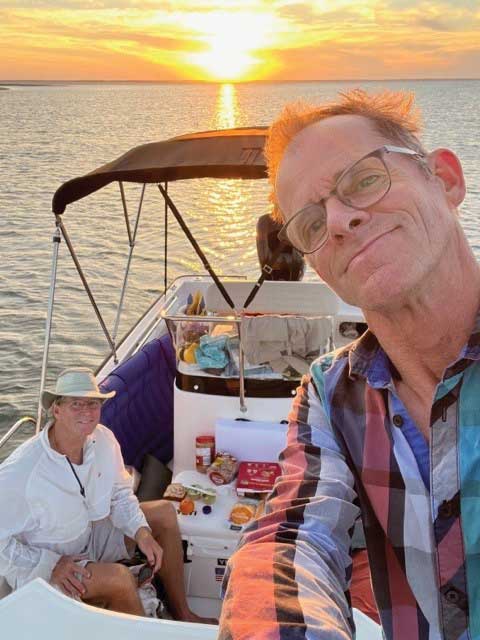 We would be doing the loop in a counterclockwise direction. Since our starting point is in the southern Chesapeake, that would put us on the Atlantic Ocean segment, the most exposed portion, early in the trip. I wanted to get that over with while the weather window held.
Since the meticulous, thinking part of what to bring and how to pack it was completed over the span of months, the packing itself went quickly.   
We organized the limited storage room on the boat for maximum efficiency: food here, safety equipment there, tools and engine spares somewhere else. We also carried extra fuel in four jerry jugs, the placement of which we could vary according to boat trim. We continued to fine tune our system throughout the trip.
The long Atlantic Ocean segment complete, we entered Ocean City Inlet, large breaking waves adding to the excitement. Once inside, we continued north for 22 miles, following intricate channels through broad shallow bays and along narrow canals. Assawoman Canal is eight miles of idle-speed, engine-tilted travel. Logs jut into the minute channel; overhanging trees obstruct the sky. It's beautiful, and our descriptions of it are the usual woefully inadequate: "This is amazing." The scene reminded me of The African Queen. There were doubts that we could make it through, but we met a small skiff going the other way and its crew assured us that indeed we could. Yay!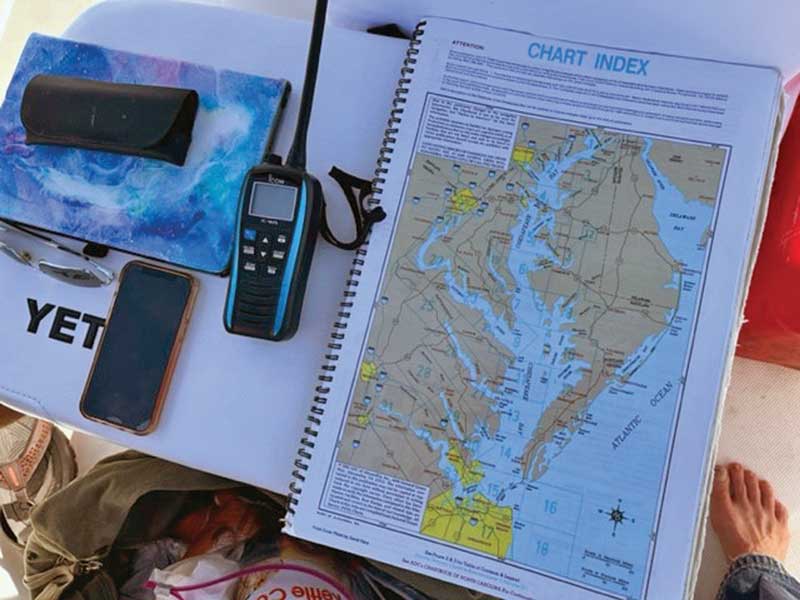 Later, after a timely and prearranged fuel stop at Rehoboth Bay Marina, we traversed another canal, the eight-mile Rehoboth-Lewes. We entered the wide-open waters of Delaware Bay at Lewes, DE.   
Not To Be Taken Lightly
I should say here that a trip of this kind should not be taken lightly; as I said, I've been planning and prepping for it for a long time. Kit and I have been doing these sorts of adventures for decades; we have lots of experience in both coastal and offshore voyaging. We know how to repair stuff. We tolerate discomfort. Our definition of fun is loose and our sense of humor strange.
Our navigation consists primarily of common-sense observation but also with a state-of-the-art chartplotter. Further redundancy is ensured by an old-fashioned compass, binoculars, and paper charts. We love paper charts. Waterproof paper charts. For clothes and sleeping gear we go with the minimum we think we can get away with and still be relatively comfortable: foul weather gear, an extra change of clothes, sleeping pads and bags, rain covers, and the full certainty of getting wet at various points on the trip.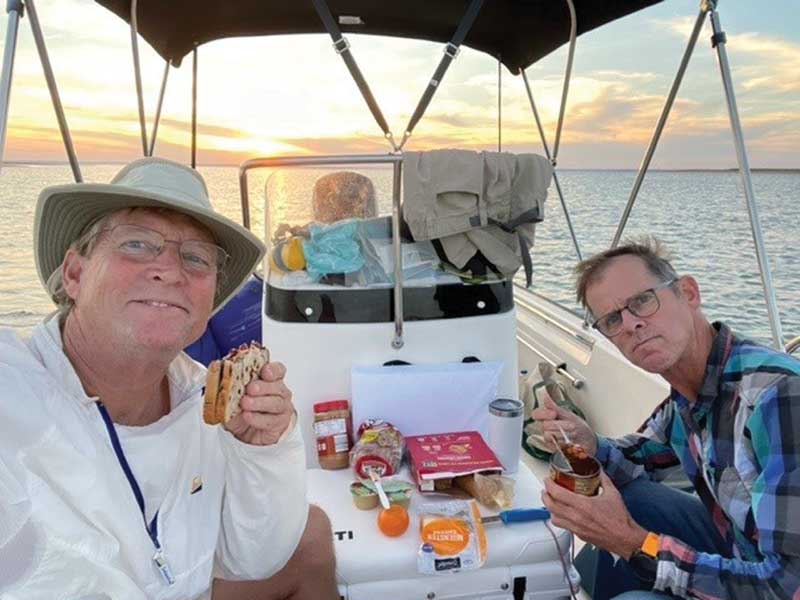 As for provisions we keep it simple. We forego any means for cooking. Meals are easy-grab ones: sardines—yum, crackers, beans, applesauce, cheese, fruit. We have a cooler/seat onboard but find the cooler unnecessary. We carry water in gallon jugs. For sanitation needs we have a bucket Porta-Potty but hope optimistically to use the restroom facilities at the occasional fuel stop instead.
We received a hammering on the rough passage up Delaware Bay. The sky had turned steel grey and the mood was inhospitable. The sea and tide were at odds with one another, and it took all of our concentration to keep making headway. One hand on the wheel, one hand on the throttle, each one continually making adjustments. In these conditions, Kit and I switched places at the helm every 30 minutes. 
A large nuclear power plant looked foreboding on the New Jersey shore. We passed a few rust-streaked commercial craft purposefully underway, but no other vessels. We pressed on to the northwest and 70 miles from departing Lewes, we arrived at the eastern entrance of the 14-mile-long Chesapeake and Delaware Canal. The protected waters of the canal were a sight for sore eyes and oh so lusciously smooth for us in Go-Cat.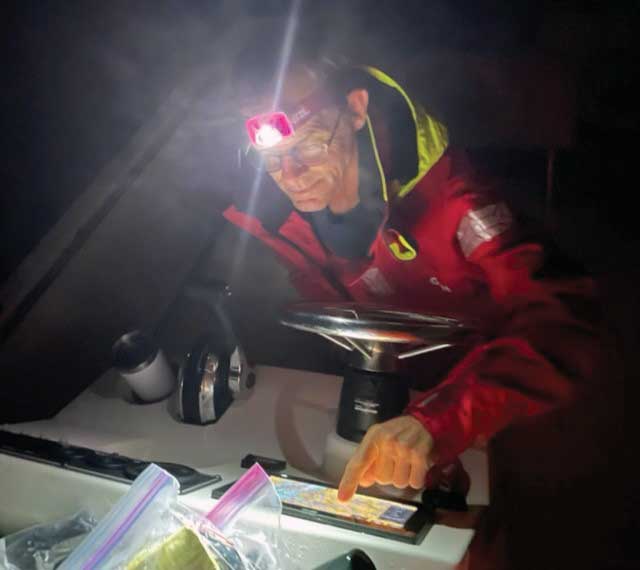 Our "campsite" for the night was Go-Cat anchored in a cove on Herring Creek, on the Chesapeake side of the C&D canal. Rain was coming and we were okay with that. Dinner was much like the night before: cheese and crackers, cans of beans, tuna, apples, bananas… delicious. Over cookies we discussed the events of the long day and planned for the next. We mused at how delightful this wacky trip had been so far, and how the variety of what we'd seen had been way beyond our expectations.
Exceeded Expectations
We stretched out on the floor of our stout little vessel, the rain pattering down on our rain covers. We gradually become wetter and wetter, but we slept surprisingly well. By 4 a.m. we were both awake and exchanging stabs at humor. We were restless to get moving but forced to nap in our damp things until it started to get light. At 6 a.m. we weighed anchor and headed out south into the rain-soaked Chesapeake. One can only remain but so dry in an open boat in the driving rain, and this was no exception; thank goodness for our foul weather gear. Plus, we could hide behind the little windscreen. 
We cruised at 3200 RPM—our standard—which yielded about 19 knots in the relatively smooth water. We followed the channel markers of the shipping lane, their red and green flashers comforting in the gloom. The poor visibility improved and by the time we get to Rock Hall, MD, the rain had stopped, and a breeze filled in.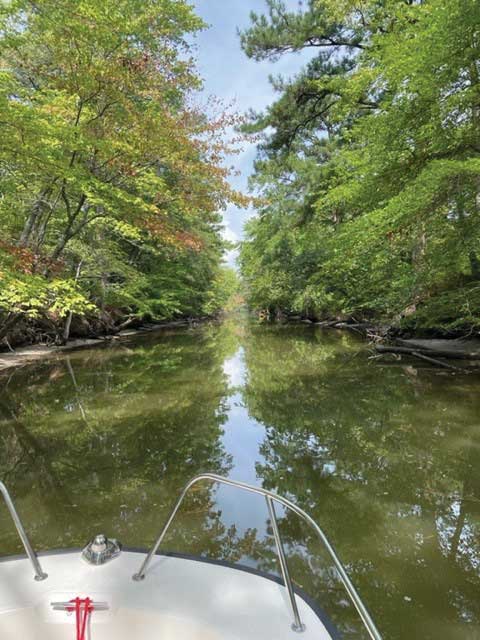 We gassed up at a wonderful marina in Rock Hall—again, planned ahead of time—and we took care of other business there, too. Emerging from Rock Hall Harbor heading south we were greeted by wind on the nose and a chop to match. We settled in for wave smashing at four to five knots. Our next waypoint was the Route 50 bridge at Annapolis, and at that rate, we knew it was going to take us a while to get there.
Throughout the trip we took careful notes on the changing weather and sea conditions, our engine running time, fuel use, engine RPMs, and speed. The chartplotter helped greatly in this figuring. Getting all this data was fun and interesting, and it helped us to get to know the boat that much better, not to mention as an aid in future trip planning.
In the mid-Chesapeake Bay, finally south of Annapolis, we no longer had that crazy headwind we had contended with previously. The wind had swung around to the north, a change that improved our onboard standard of living markedly. In fact, it was a glorious afternoon. We marveled at the big ship traffic and were entertained by the military aircraft training around the mouth of the Patuxent River.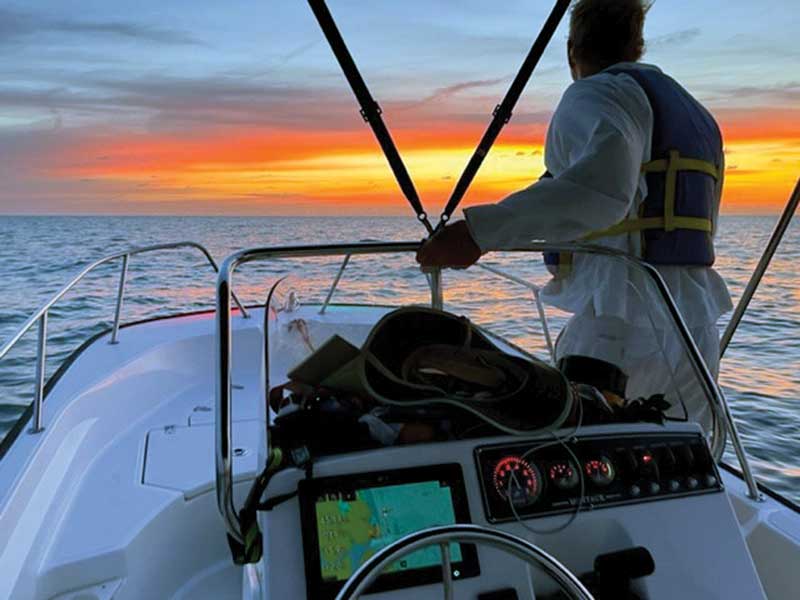 Kit and I were thinking the same thing: This was a great adventure but if these fair conditions held, we could possibly get home tonight. Ahh to be able to sleep in my own bed. We could complete this incredible loop and start planning for the next waterborne adventure.
And that's what we did. We closed the circle by crossing our outbound track as we entered Locklies Creek after another very long day. The final tally was 380 miles, 77 gallons of gas, 28.5 hours run time, 2.7 gallons per hour, and five miles per gallon.
But what the numbers don't tell is just how much fun we had. 
By John W. Robinson
---
If you'd like to read more about the DelMarVa Loop, check out Bo Bollinger's special three-part series: The Great DelMarVa Loop Journey.