The boat shows are long gone, daylight savings time and hurricane season is over. Winter with its slower pace has begun. Looking back over this and recent seasons we notice one problem that seems never to go away: the labor shortage. This problem is not limited to the marine industry of course, but the specialized nature of maritime work seems to make it especially difficult to find good help. It almost seems the labor problem is like the old saying about the weather; "Everyone talks about it, but nobody does anything about it." That's true, but we have some good work going on addressing manpower development in our region.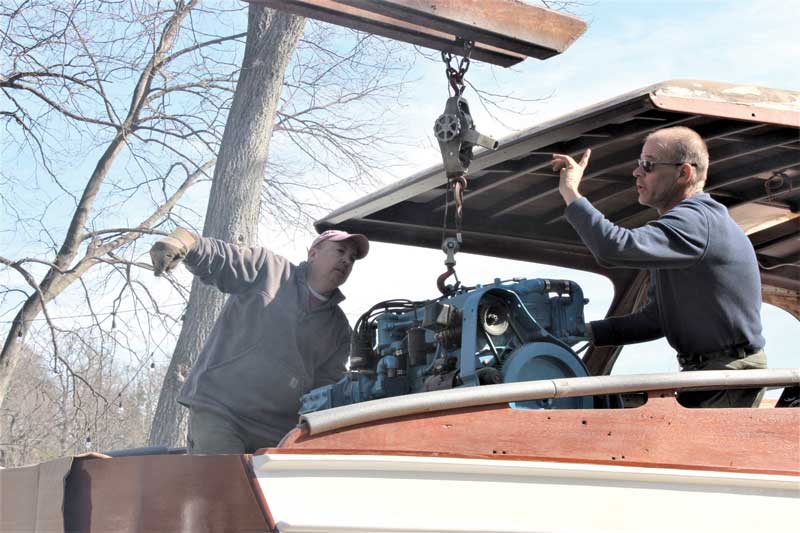 We are fortunate to have a valuable resource in the American Boat and Yacht Council (ABYC) located in Annapolis, MD. Recognized as a national industry standard in service training and a certifying organization, the ABYC also offers a post-secondary curriculum and testing which can lead to certification as a Marine Service Technician. Currently, two community colleges, Cecil College in Bay View, MD, and Chesapeake College in Wye Mills, MD, offer programs based on this curriculum. 
The Center for Applied Technology South in Edgewater, MD, part of the Anne Arundel County school system, offers an elective Marine Service Technology program to high school students.
The Eastport Yacht Club in Annapolis, MD, has a long history of addressing manpower issues. For many years the club, through its foundation, has awarded scholarships to students enrolled in marine and maritime programs. The biennial Marine Wizards Program recognizes outstanding marine service workers and, in conjunction with the county school system, the foundation offers an annual Maritime Career Expo to high school students.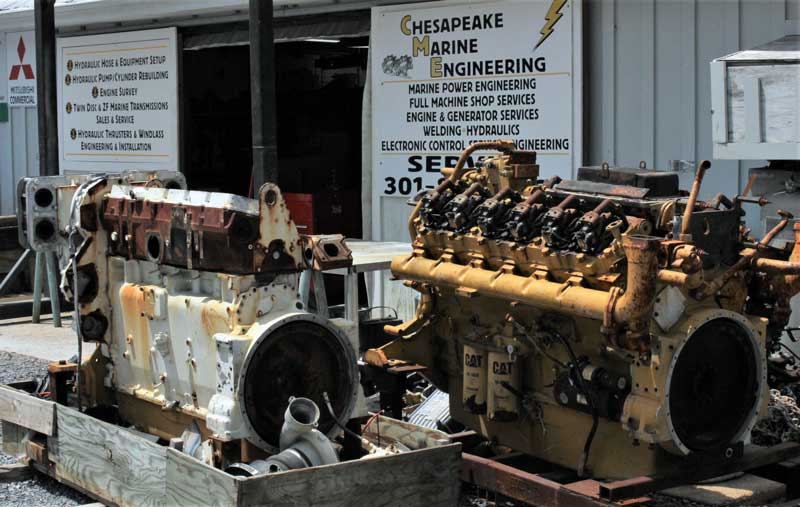 The Annapolis Yacht Club Foundation, in Annapolis, MD, also provides scholarships to students enrolled in maritime programs. Seafarers Yacht Club in Annapolis, MD, makes a unique contribution by sponsoring and supporting a Sea Scout "Ship." One part of the Sea Scout mission is to promote marine skills development and interest in maritime careers.
Probably the best-known manpower development program in our area is the one conducted by the Maryland Marine Trades Association of Maryland (MTAM). With support by a State of Maryland EARN grant, MTAM has a program that recruits and places interested individuals with one of the association's 400 members for a six week on-the-job training (OJT) experience. During this paid training period, the trainee works side by side with an experienced mentor, actually performing the day-to-day tasks that make up the job. At the conclusion of the OJT many participants express a desire to work in the field and many receive job offers from their host companies. The MTAM website features several pages which offer brief job descriptions of the many skills involved in marine trades jobs. Each of the more than twenty descriptions ends with a form to use to apply for an OJT placement. The website also hosts a job board where members can post current job openings. Some people are indeed doing something about it. We just need more!          
This month we got the following update from Alex Schlegel in Galesville, MD.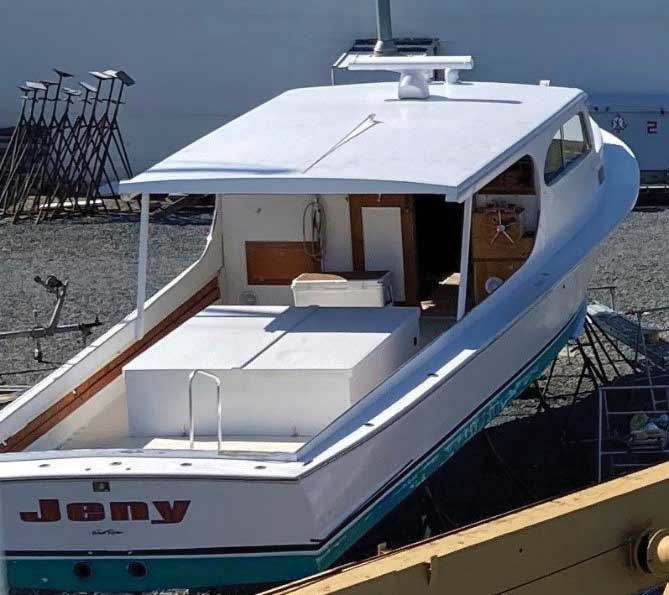 "Hartge Yacht Yard is now operating out of Hartge Yacht Harbor on Lerch Creek as well as our Woodfield location on Tenthouse Creek; both locations are in Galesville and both places are quite busy. In our yard on just about any given week we see a striking and wonderful variety of boats: a sharp O'Neil Dean 46 Baybuilt deadrise yacht was here having the sides waxed, bottom painted, and props serviced. A built for the ocean Buddy Davis 47 Sport Fish with a pair of Detroit 8V71s is in for weeks of engine maintenance. We are installing the hydraulic system for a swim platform for a dinghy lift system and troubleshooting electric problems on a commodious Azimut 50.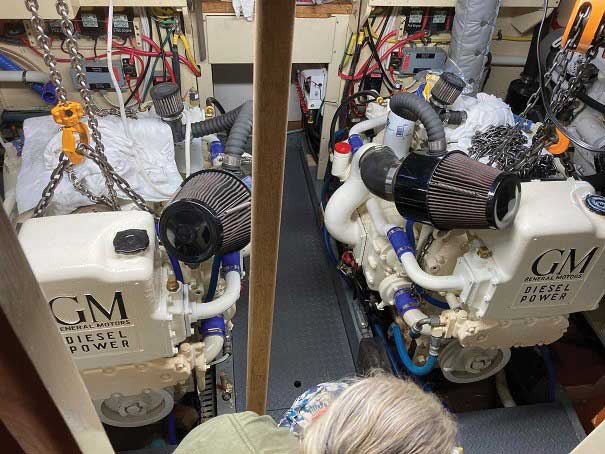 "On a classic 55-foot Trumpy, built in 1950, there is a long list of jobs as small as new sink drains and spigots to a big job of aligning the engines. Previously, the engines were lag bolted to the engine beds. To align the engines, we are making eight U-shaped metal brackets that fit over the engine beds. This means raising and lowering the engines multiple times to make patterns and test the fit of the new pieces. Other jobs keeping our team busy include: installing radar and servicing the Vacuflush heads on a curvaceous SeaRay 420, refitting a cute Fortier 27 New England Bass Boat with a long list of work: installing bow thruster, batteries, battery chargers, refrigeration. Also, cetol and varnish work, Awlgrip to cockpit, cabin, deck, interior, installing new engine controls, new anchor windlass on a bow roller with a shiny polished anchor, new cockpit seats, new cleats, and autopilot.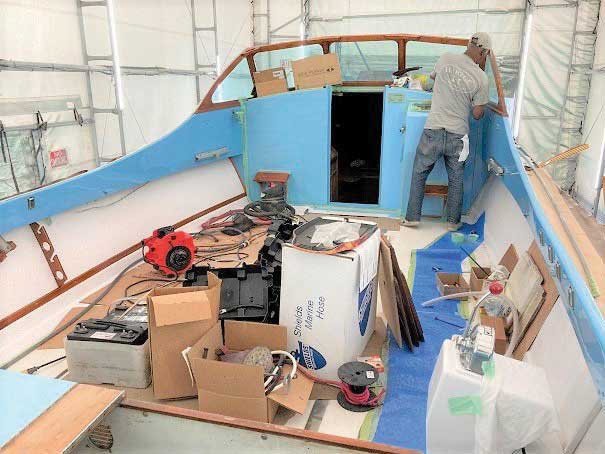 "The whole Country is busy, and we are no exception," Alex concluded. "The spray paint booth has been going nonstop for years and is booked through the fall and much of the winter. The carpenters have been working overtime for years but have finally cut back to a regular work week of 40 to 45 hours just in the last few months. Occasionally we have a slow period for one department or another in fall or winter that we use to catch up on maintenance. It's been good for many years and is getting better." 
We just came across an interesting story from Chesapeake Shipbuilding in Salisbury, MD.
American Cruise Lines has revealed details of Project Blue, a new fleet of go-anywhere ships for the U.S. market. The company announced plans for 12 identical sister ships that will more than double the nation's current capacity for domestic coastal cruises.
Featuring an innovative hybrid catamaran design, these boats will have unprecedented near-shore operating versatility, according to the company. The new U.S.-built fleet will operate exclusively in the United States, with a focus on small towns and close-to-home adventures.
"Project Blue started as a design challenge to create a boat small enough for New England harbors and stable enough for the Alaska Inside Passage, with a draft shallow enough for the Atlantic Intracoastal Waterway," said Charles B. Robertson, president and CEO of American Cruise Lines. "These boats can run almost anywhere, and because there will be 12 of them, they will be deployed all over the United States."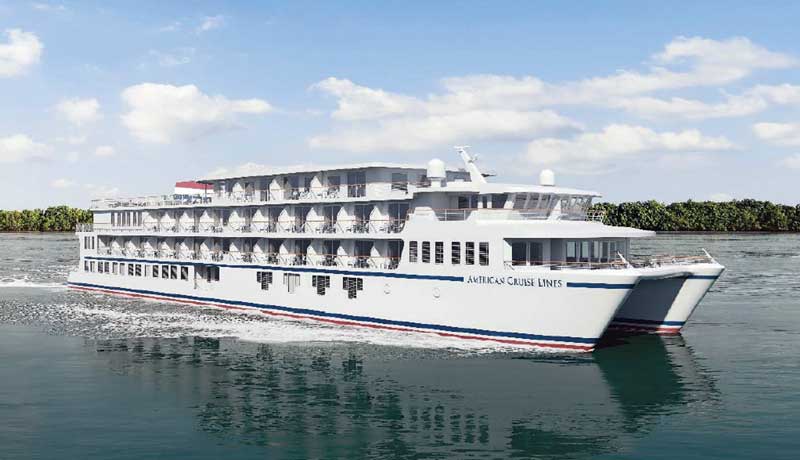 American's Project Blue expansion further reinforces the growing interest in small ship experiences and personalized cruising. Like all of American's new ships, the entire Project Blue fleet will be built by Chesapeake Shipbuilding in Salisbury, MD. The first two Project Blue ships are already under construction and are due for delivery in 2023.
Each boat in the Project Blue fleet will accommodate 109 passengers and 50 crew. They will be 241 feet long, 56 feet wide, and feature the hybrid catamaran design that enables both shallow draft access and stable sailing along lakes, rivers, bays, and America's coastline.
"Together with Chesapeake Shipbuilding, we built the first modern riverboats in the country," Robertson said. "Now we are proud to introduce another new ship design for domestic exploration. American has specialized in small ship cruising for over 30 years and continuing to innovate and expand the possibilities for cruising close to home is central to our mission."
The first two ships will debut along East Coast itineraries and will be named American Eagle and American Glory—namesakes of the company's first two small U.S.-built ships.
Christian Cabral, Shipyard Manager at the Chesapeake Bay Maritime Museum in St Michaels, MD, reports that CBMM is wrapping up railway season for its historic floating fleet with the vessels winterized and moved to their winter slips for safe keeping.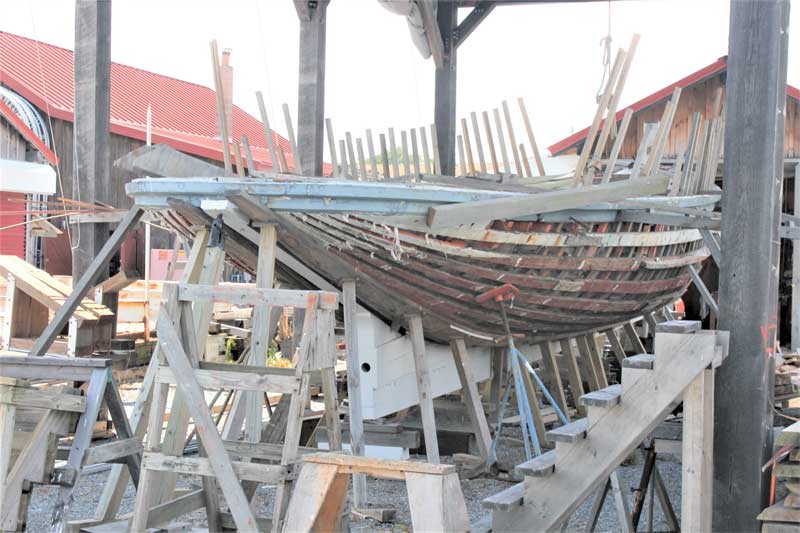 "The close of the internal maintenance season means the shipyard can turn its attention to some out-of-town visitors in need of annual care and repair. First on the docket this fall is the Wm. B. Tennison, a nine-log bugeye conversion buyboat from partner organization Calvert Marine Museum. The balance of the CBMM floating fleet team, led by shipwright Alex Bell, will turn their attention back to the 1912 river tugboat Delaware and begin with the installation of sawn frames, additional structural timbers, and planking. On the other side of the shipyard, the focus is on a trio of Chesapeake buyboats that will be worked on over the course of the next year under the direction of foreman Jeff Reid.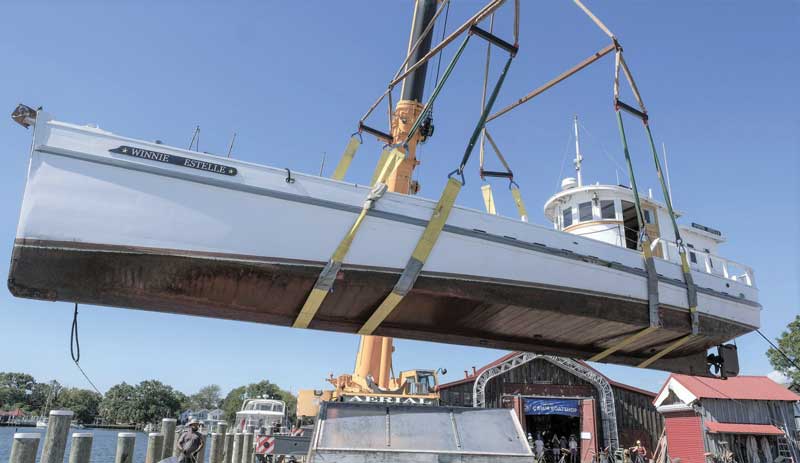 "First on the list is CBMM's very own Winnie Estelle. In celebration of Winnie's 102nd year in commission, the shipyard is completing the refit of the 1920 buyboat's structural timbers with particular focus on the vessel's keel, dead wood, and chines. Simultaneously, construction has begun on a new 36-foot buyboat, a scaled adaptation of the well-known 1928 Virginia-built Mundy Point. This new vessel is a complete keel up construction, the bulk of which will be performed inside CBMM's primary boat shop. Finally, the third project is the completion and outfit of the newly restored 70-foot buyboat, Choptank ex. Crow Brothers II. Choptank is slated for an interior installation, a rig installation and USCG passenger carrying certification.
"The Chesapeake buyboat, the iconic workhorse of the Chesapeake region, historically performed a dizzying number of commercial services, including an integral role in the oyster fishery, cargo transportation, shellfish seeding, and lighthouse supply. As always, please come and visit CBMM's shipyard and experience these iconic vessels and the unique opportunity to witness traditional boatbuilding in all its forms—construction, restoration, and refit."
Enjoy the holidays, and we will see you next year.
By Capt. Rick Franke