The triumphant Annapolis Boat Shows have come and gone, signifying the end of the boating season. Roadside signs now advertise shrink wrap instead of crabs, and the fall haulout season is well underway. This first post pandemic winter season promises to be a busy one. The labor force problem has not gone away, and untangling the supply chain issue is proving much more complex than anyone anticipated. In spite of these problems, the mood is upbeat and optimistic in area boatshops.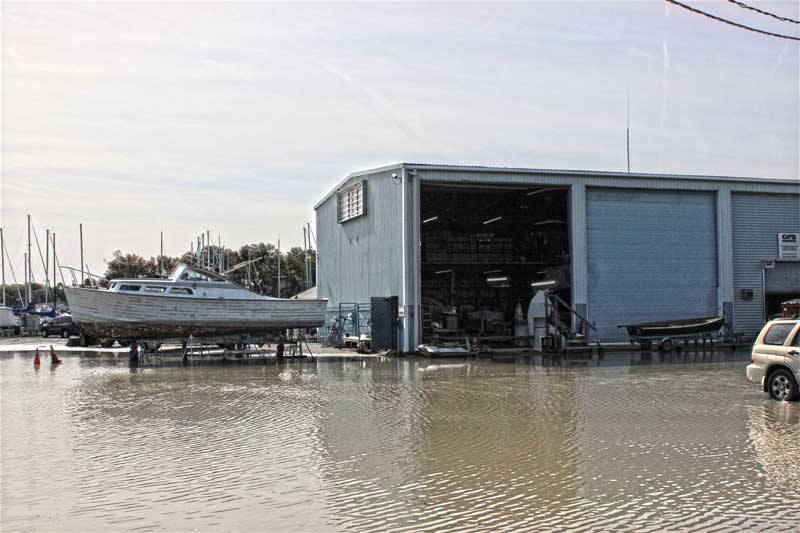 Joe Reid of Mast and Mallet in Edgewater, MD, kicks off this month's reports with a busy worklist for his small shop. "This winter season has brought three Thomas Point yachts to us for needed changes in spray rail removal. Originally, the first boats we built 20 some years ago had wooden spray rails. To make construction efforts less time consuming, we switched to bigger, hard vinyl spray rails. We discovered that over time, temperature changes made the rails succumb to shrinking and expansion. The effect made the rails crack and break away from the hull. Ugly sight. This winter we will remove the rails and install laminated wood rails covered in epoxy as the original ones were made. Lesson learned about plastic parts.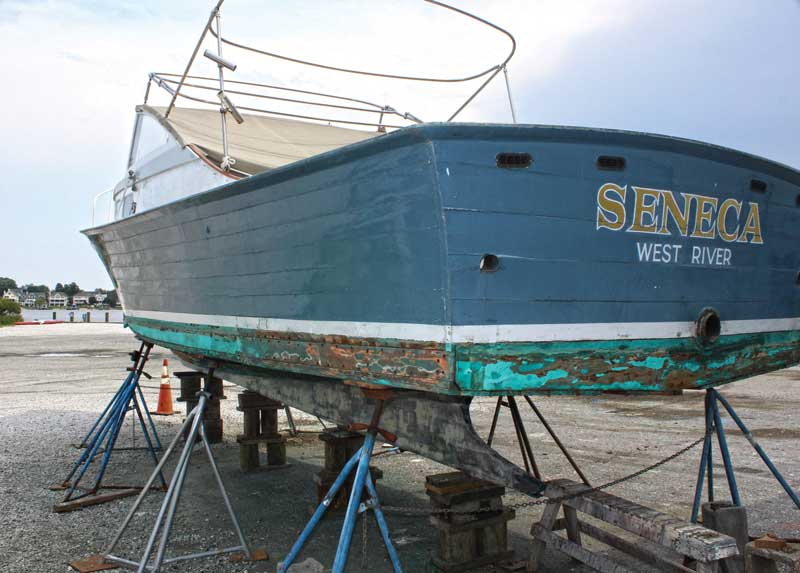 A Thomas Point 44 is in to have the hull sides repainted while the spray rails are replaced. And a 50-year-old Jarvis Newman is in for hull side painting and upgrades to celebrate its birthday. Meanwhile, we continue the restoration of a 32-foot 1964 Brownell Bass Boat after refastening the bottom and painting the hull sides to fiber glassing the bottom with WEST epoxy. Interior upgrades are next to pass this boat on to the next generation."
Hank Reiser, manager of Pocohontas Marina in Edgewater, MD, reports that they are ready for a busy winter. "We took advantage of the brief end of season slowdown to tackle a major cleanup of the marina and the storage yard. We got rid of all the junk, chopped up all the abandoned boats, and regraded the storage lot. As a result, we do still have some space left for new winter storage customers."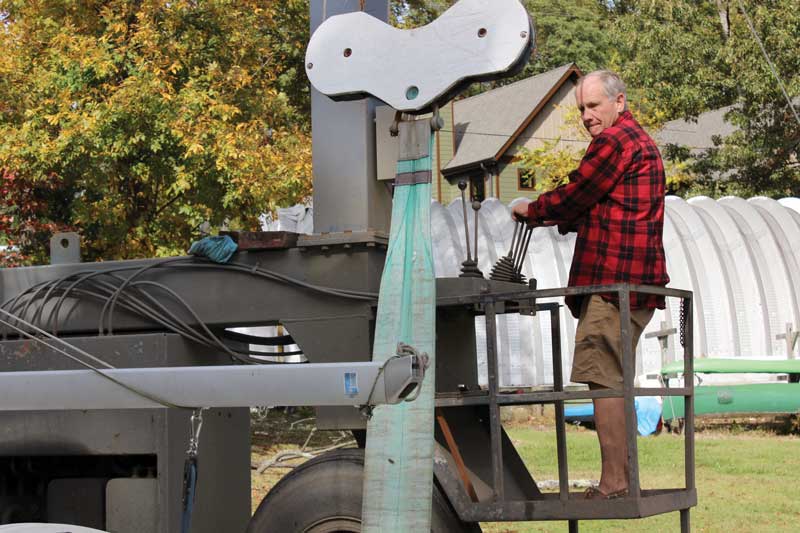 On the subject of the ongoing restoration of the 1950 Chris-Craft Commander, Hank explained, "We are almost there. The engines are here in the shop, the major hull and planking work is done, and a lot of the varnish work is finished. Our research indicated that this boat was originally built with fir cabin soles and decks, stained and varnished. We have now replaced all the decks and soles with fir. I really hope to have her completed by the end of this year," he concluded.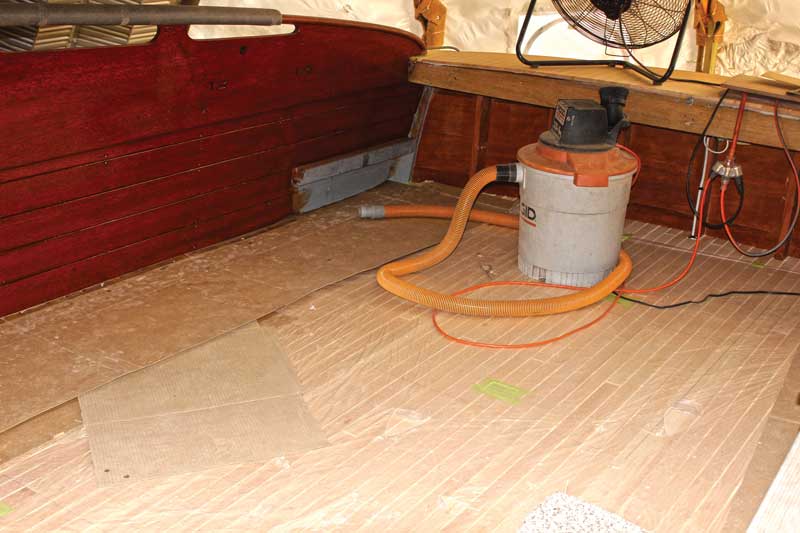 Joe Connor, CBMM's lead shipwright and construction manager on its Maryland Dove project, reports that work on the ship continues onward and upward as its hull is now fully planked and caulked from the main deck down. "Planking on the ship tapers from three inches at the garboard to one and a fourth inches at the top of the quarterdeck bulwarks and transitions in species from white oak to cedar for weight savings. The concentration of work is now on the decks, bulwarks, and transom as the crew is scheduled to finish the exterior of the hull and decks—made from two and a fourth inch thick old growth clear vertical grain Douglas fir—by the New Year. Bronze castings and hardware are being also produced for rudder fittings, chain plates, deadeye straps, and struts.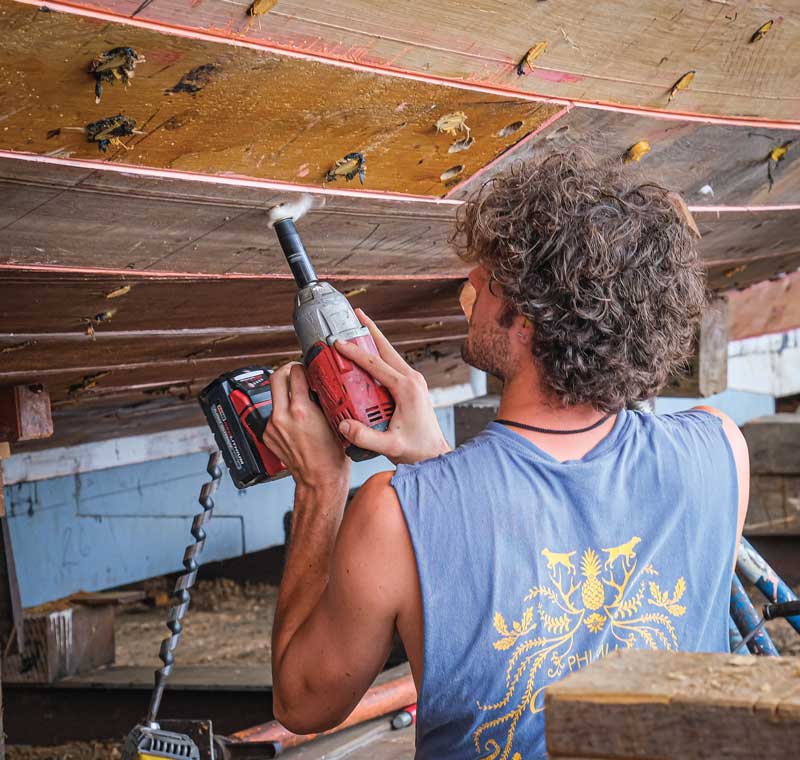 "The rigging crew has finished fabricating all the spars, standing rigging, and is currently working on stropping the 150 plus blocks for the running rigging as well as dressing the spars for early spring installation. Maryland Dove's spars are solid Douglas fir, except for the large main sprit which is a hollow birds-mouth construction. CBMM's marine mechanic has also been busy as he begins laying out plans for electrical, thru hulls, and plumbing systems. Engines will be installed over the winter."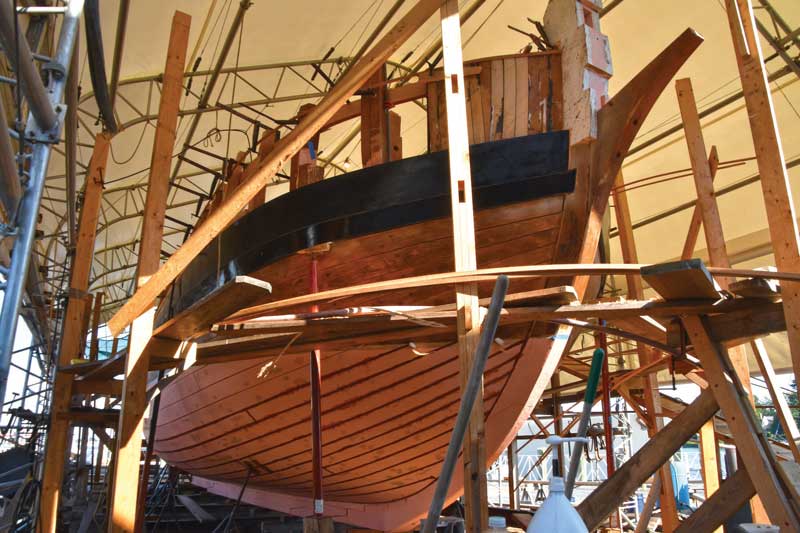 To learn more about the construction of Maryland Dove, a reproduction of the vessel that accompanied the first European settlers to Maryland in 1634 that is owned by the state of Maryland and operated by Historic St. Mary's City, visit marylanddove.org.
Mark Wilkins, newly appointed Boatwright at the Patuxent Small Graft Guild at the Calvert Marine Museum in Solomons, MD, shares a new project with us. "It's the lighthouse keeper's boat, a replica of the boat that hung in the davits of the Drum Point Lighthouse during the 19th century. It's based loosely on a North Carolina shad boat, but we designed it ourselves. We built a couple of half models which I reviewed with George Surgeon, my predecessor. We agreed that it wasn't quite right. We revised the model, and I did a set of lines for her and we lofted the boat full size. From that we made the molds and the pieces for the backbone. We are actively working on the backbone now. It's all white oak. The stem has been bedded and bolted to the keel. The deadwood and the stern post have been bolted to the keel. The head ledges have been fitted, and we are bedding two bed logs of cypress which will be bedded tongue and groove into the keel and fastened. This will make a nice strong centerboard box, which you want, since that's the first thing that starts to leak," he laughed.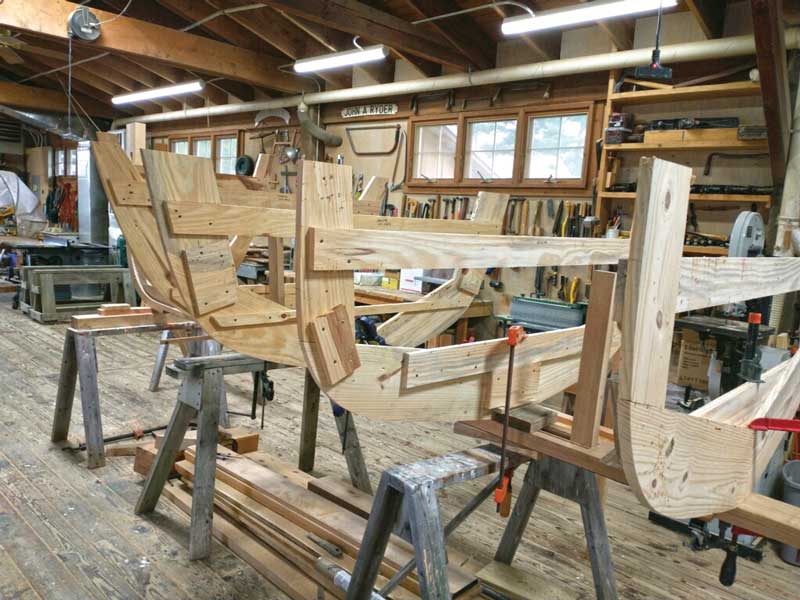 "Basically, we are using all traditional techniques," Mark explained. "This is kind of a departure for us. It's the first time a round bottom, carvel-planked boat has ever been built in the Guild shop's 40-some year history. My taking over came at the perfect time. I've been building wooden boats for about 25 years, so I have had a lot of experience with this type of boat. This is a very good learning experience for everybody. We'll be setting up the boat and turning her up to the ceiling and installing rib bands shortly. Then we will probably be steam bending white oak frames. That might be a good time for an open house event to let the public see what we are doing," he explained.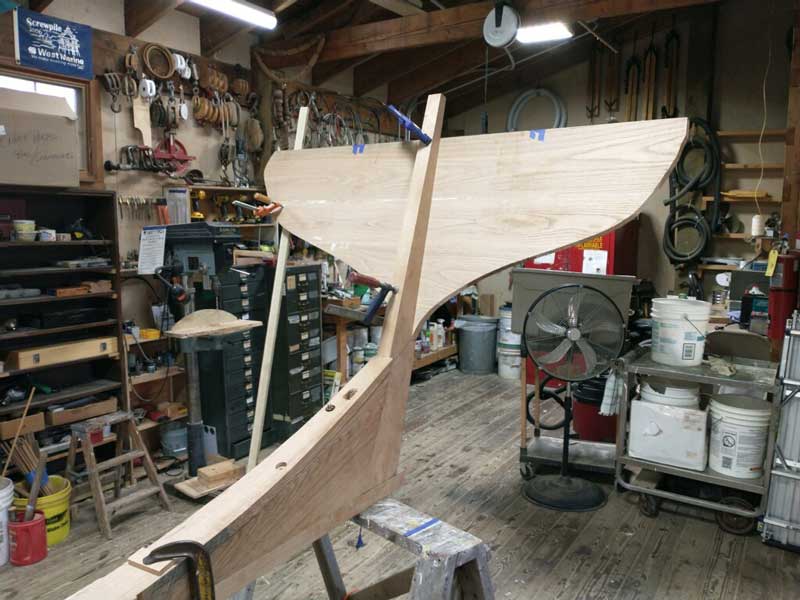 Alex Schlegel of Hartge Yacht Yard in Galesville, MD, sends us this newsy update: "Hartge Yacht Yard is a traditional boatyard that works on both power and sailboats. Sometimes we are jam-packed with sailboats here, but lately the yard has been chockfull of interesting and attractive powerboats. The boats are here for a variety of reasons from just storage to rebuilds. 
"From September through spring 2022, we are working on a 60-foot Chesapeake Bay buyboat. We have a long list of modifications including painting and varnishing and installing new fuel lines, Racor filters, new electronics, and new planks on the starboard side forward. The mast is out for repairs and refinishing. A new boom has been fabricated of pine and is being painted at the ends with varnish in the middle. There will be more coverage of this project in the future. A friend of ours left another 60-foot buyboat here for a week while he was out cruising on his buddy's Trumpy. Both buyboats are from Georgetown on the Sassafras River.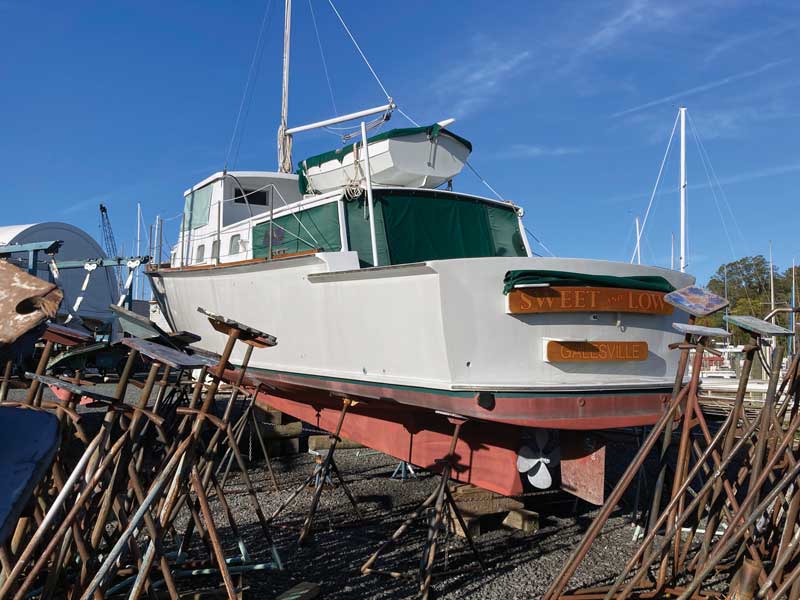 "After four and a half years of work, the Trumpy Manatee was taken on a cruise for a week or so. Manatee's owner gave us a list of things that need adjustment before she goes out for another week. Then she is coming back for transmission rebuilding, new deck boxes, new carpet, davit work so the dinghy can be easily raised and lowered from its cradle on the cabin top, a new aft deck table, and many small improvements throughout. 
"Here for storage and a few repairs found in a purchase survey is the 40-foot Ralph Wiley, Sweet and Low, a wonderful and unique cruiser Wiley built for himself in 1963 using the strip planking process. Ralph Wiley had a well-known boatyard in Oxford where Cutts & Case is now. Onaway, a 36-footer built by Ernest "Dick" Hartge in 1920, is having the cockpit seat, coaming, and cabin sides painted and the cypress ceiling varnished by Peany Matthews, who has been doing great work here since the 1970s. Most of the boats mentioned above have been coming to us for years; some from as long ago as the 1970s."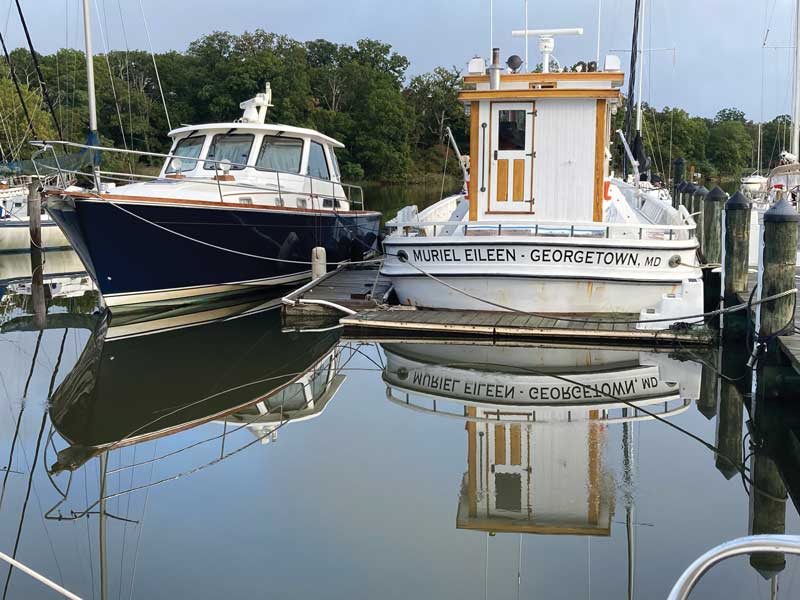 Undeterred by the murky supply and delivery picture which emerged from the two Annapolis Shows, attendees were thrilled to be back and that created a truly festive atmosphere. The success of the shows seems to indicate that the dark days of the pandemic are over, and boating has emerged from that test bigger and better than ever. We certainly hope so.
By Captain Rick Franke