As winter approaches after this hectic and unprecedented boating season and we look back on 2020, we can all agree that it was a difficult and challenging year in so many ways for all of us. Let's hope that the future allows us to return to at least some semblance of the old normal.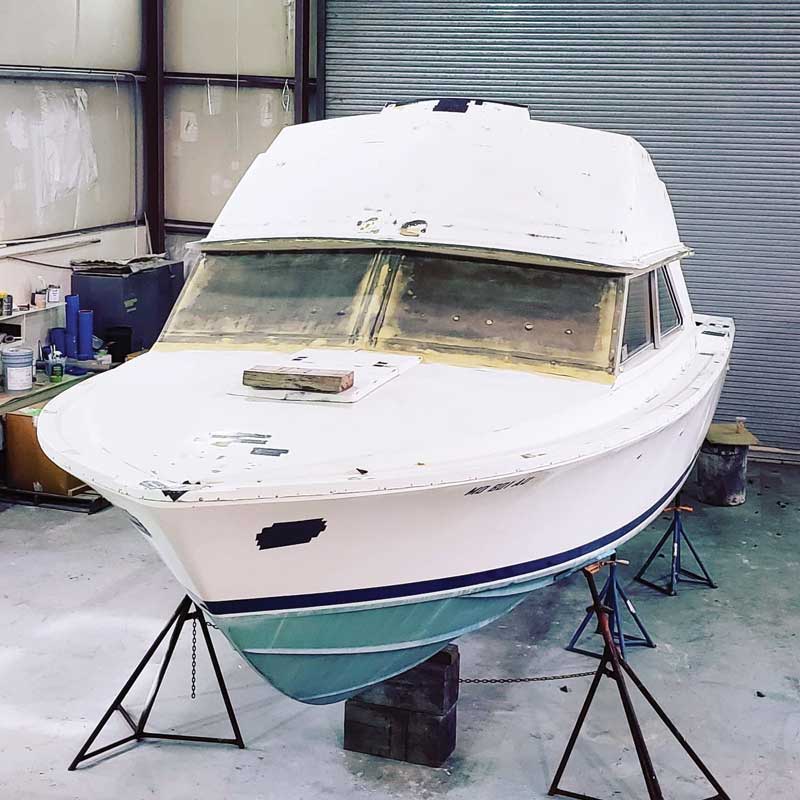 Charlie Petosa, manager of Hinckley Yacht Services of Annapolis, sends us the following touching thought: "In lieu of a boatshop report… On behalf of the team at Hinckley Chesapeake I would like to extend our sincerest condolences to Mary Ewenson and the entire team at the SpinSheet Publishing Company on the passing of Geoff Ewenson. We will remember Geoff exactly as pictured on the front steps of our Annapolis office. We know that his contagious smile will live on in Mary and those throughout the sailing community near and far. Please stay well, and we will get back to reporting on what we are up to next month."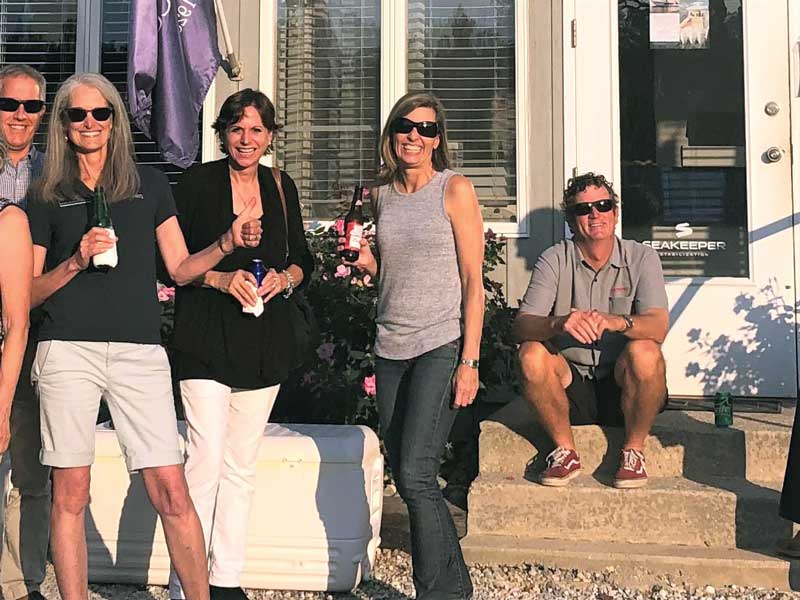 Anjelica Eitel of the Calvert Marine Museum (CMM) in Solomons, MD, sends us the following: "The Patuxent Small Craft Guild is in the process of completing two wooden pedal boats celebrating CMM's 50th anniversary. The guild chose pedal boats for this project because there is a special connection between this type of boat and our local history. One of the early mass-produced North American pedal boats for the 1939 World's Fair was made right here in Solomons!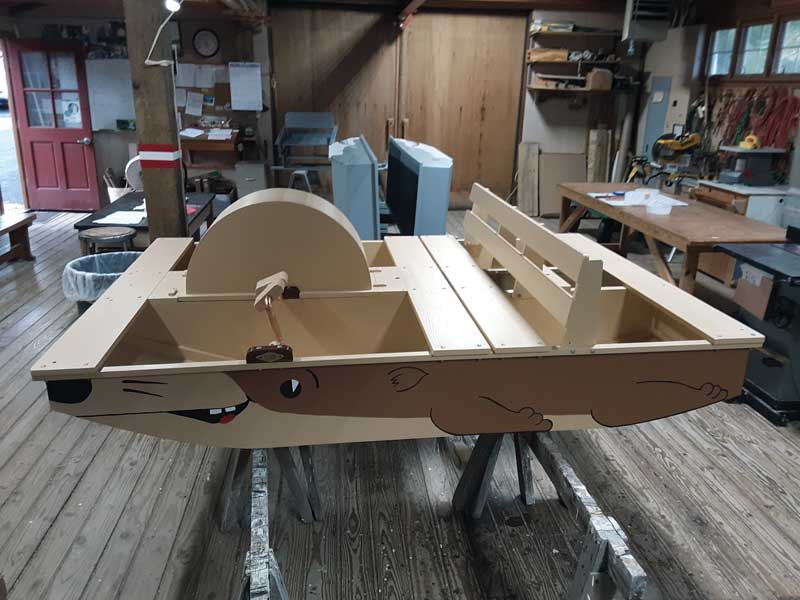 "Each boat is made up of two hulls, similar to a catamaran. That provides opportunities for plenty of names. In an effort to not only celebrate our maritime history but also recognize the other CMM themes of estuarine biology and paleontology, the guild determined that each pedal boat will have three names: one for the pedal boat as a whole and a name for each hull.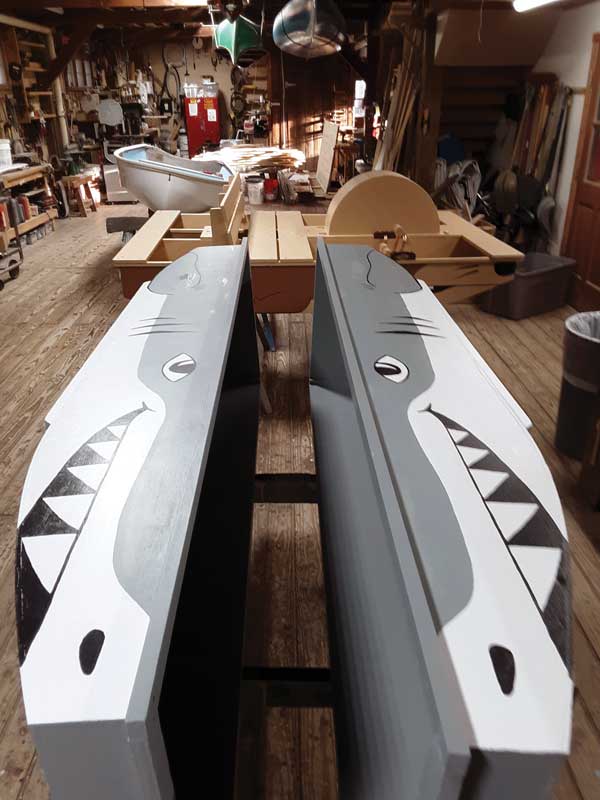 Thus, one of the boats is Sharks with hull names Meg and Don (a nod to the prolific Megalodon shark that once called the Chesapeake Bay home). And the other, Otters, will have hull names Bubbles and Squeak, in memory of CMM's first pair of North American river otters. When completed, the new pedal boats will be available for public use in the basin."
Alex Schlegel of Hartge Yacht Yard in Galesville, MD, looks back on a very busy year: "This year has been different, some changes obviously due to the virus and some maybe not. Normally April is our busiest month; not this year. It was dead due to Covid-19 restrictions on boating. Then starting in May, work increased to more than we could stay ahead of. Our workload normally slows down during the fall, and again, not this year. Typically we work on sail and powerboats 30-50 feet long with inboard diesel engines. That has held true, but we added some work on smaller gasoline powered boats: an outboard powered pontoon boat, gasoline stern drives and outboard runabouts, dual consoles, and walk-throughs. 
"Normally, we do not allow do-it-yourself, however, cousin Robin Hartge's 37-foot fiberglass baybuilt is on shore for just that. He used the roll and tip method to paint the sides with Awlgrip baby blue, painted the bottom, and changed the prop. She was built by Cotton Thomas in Southern Maryland using C-Flex, a process that uses dry fiberglass fabric with longitudinal rods to shape the hull instead of making a full mold. She is powered by a single 380-HP Cummins. He likes to fish close to Poplar Island and he lives on a shallow creek, so we get to see him often for prop changes.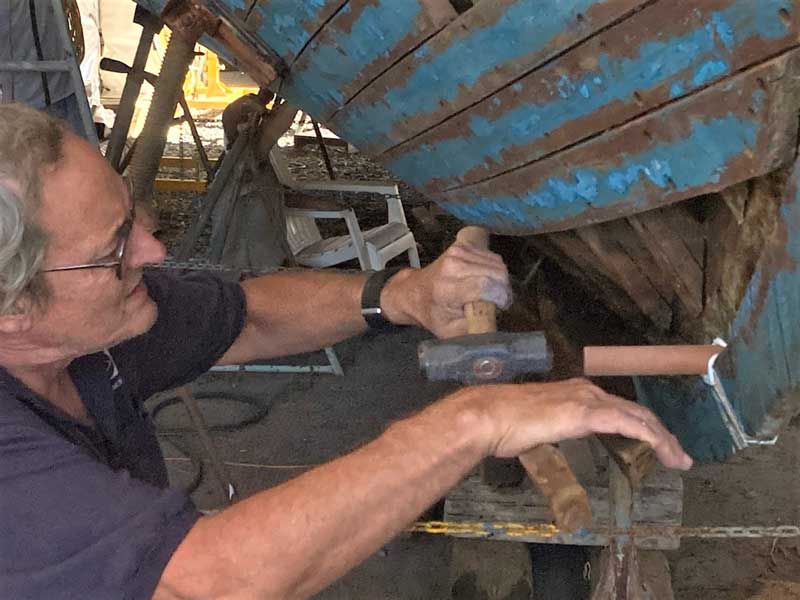 "Just a few of the many projects going on: One of our longtime favorite customers, with a Californian 43, is here for a number of electrical repairs. We removed an old inverter, installed a new one heavy enough and, unfortunately for our mechanic, in an awkward place. The strong young mechanic doing the install took the boat's name in vain, all day long! We are also doing an autopilot repair, making changes to the alternator charging set up, repairing engine gauges and much more, but with a lot less swearing.
"A Tiara 35 is here for fiberglass repairs to wet core in parts of the deck around the cockpit and foredeck… Our retired head mechanic, Bunky Hines, has a 23-foot project boat on shore, a '98 Correct Craft Fish Nautique. He rebuilt the engine and fixed multiple little problems from normal wear and tear typical from use by a sailing club."
Also at Hartge Yacht Yard are a 42-foot Bruno Stillman, a 38-foot Oceans Trawler, a 34-foot Tug, and more.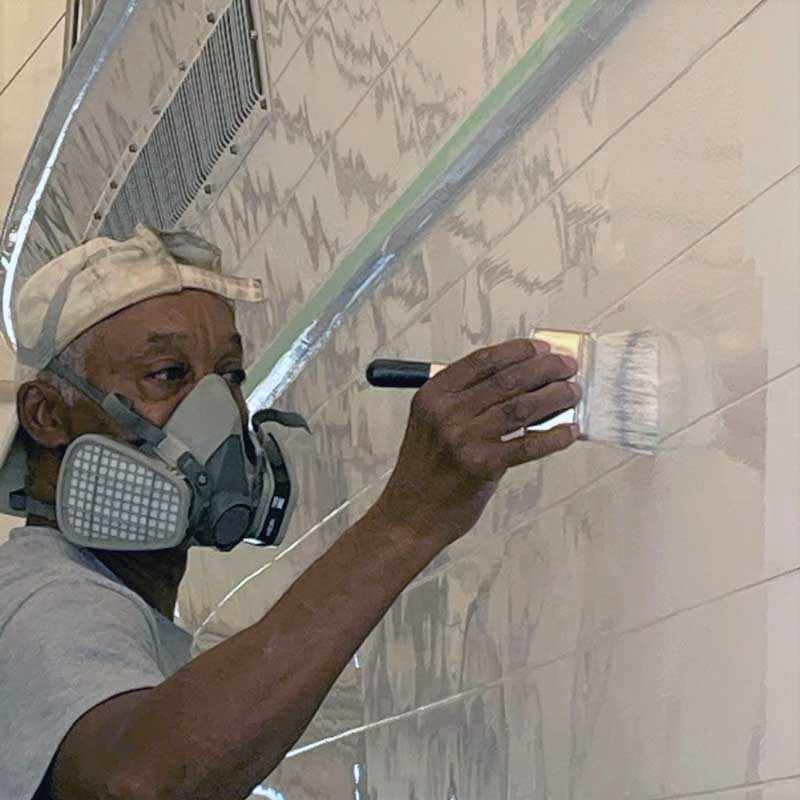 "Continuing years of work on the Trumpy Manatee, we are installing new Vacuflush toilets, new freshwater system tanks and plumbing, a new smoke stack damaged by a collapsed covered slip in a snow storm years ago, some deck leak repairs, and new galley cabinets, appliances, plumbing, and lighting. Also continuing is a yearlong project on a 48-foot Egg Harbor, we are close to finishing. Caulking all the bottom planks, some Awlgrip on the hull sides and hardware reinstallation is all that is left to do.
"One Wednesday evening in October, out in my 1978 Shamrock center console, which still has the original Ford 302, I was replacing a mark for Pirates Cove Race Club. Returning home just before dark, there were boats everywhere, mostly runabouts going in and out of the West River, but also cruisers at anchor for the night, fishermen in the creeks, and a few locals headed to the restaurants in Galesville. It is so good to see people enjoying the great outdoors."
David Jr. of Evans Boat Repairs in Crisfield, MD, is also looking back at 2020. "A year's end usually brings signs of slowing down in the boating industry, at least for a short season. That scenario is nowhere in sight for 2020. We are still going hard and strong with restoration projects like glass over wood jobs, new cabins, deck replacements, keel restorations, and more! We are also continuing to see a surge in the custom boat construction industry. As I continue to mention, we had ceased marketing new vessels, yet the continued interest in new custom boats surged in 2020 and continues! We look back on a year that was full of uncertainties and are quite uncertain how we stayed so busy during this time. We are grateful to God and our customers for a great year, in spite of the times we are experiencing."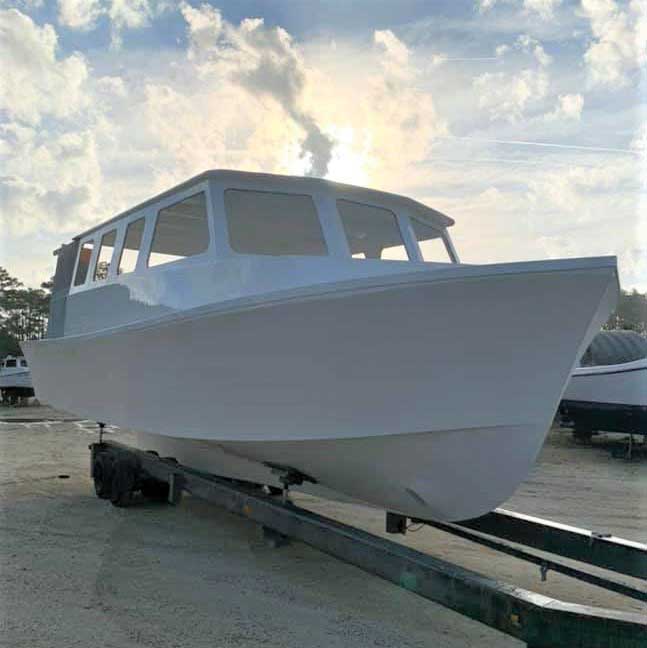 As shipwrights at the Chesapeake Bay Maritime Museum (CBMM) in St. Michaels, MD, begin to turn their attention to the upcoming slate of winter work, now is the time to reflect on one of their busiest and most productive summers. According to shipyard manager Christian Cabral, "The crew has learned to operate in a new environment, one that demands social distancing, increased personal protection equipment use, and a myriad of additional policies to keep shipwrights and guests safe. As always, the summer season was heavily dedicated to the hauling and annual maintenance of CBMM's floating fleet of historic vessels. This year, each vessel underwent a longer and more intensive railway service to accomplish a demanding refit. CBMM shipwrights and apprentices have hauled each vessel and completed structural repairs, cosmetic overhauls, rigging overhauls, mechanical overhauls, solar power installations, and enhanced each vessel's operational capabilities.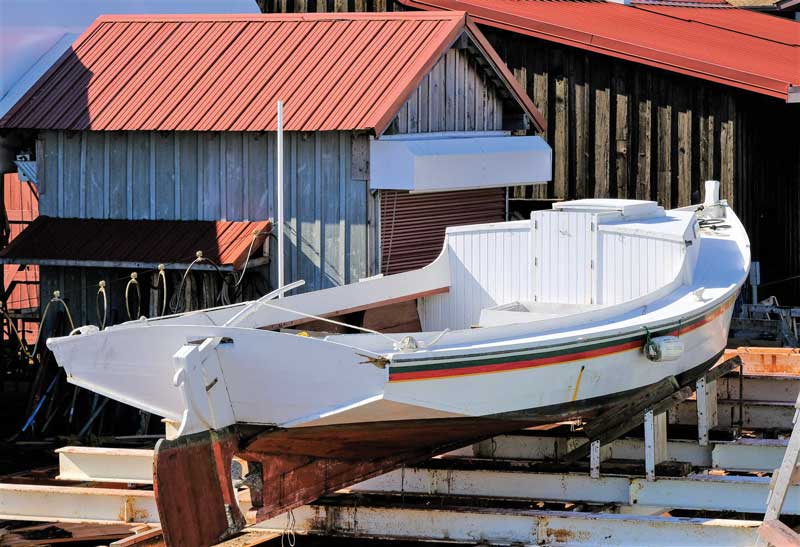 "Though work on its major restoration project, that of the 1912 river tug Delaware, was paused during the shipyard's railway season, shipwrights dedicated time in the summer season to preparing for their fall return to the restoration project.
Preparations for Delaware's restoration have included lumber acquisition, lumber treatment, tooling, redesigning production infrastructure, and a comprehensive review of the vessels build schedule and planning. CBMM's shipwrights are now prepared to spend this winter installing the remaining flooring, installing both sawn and steamed frames, and laying all the groundwork to begin the planking process."
By Captain Rick Franke
More Photos: