The record-setting Annapolis Boat Shows have come and gone, daylight savings time is over, and acres of white shrink wrap are blossoming in boat yards and back yards. Autumn has slipped into winter, and as area boatshops settle down for the long haul to spring, we are hearing the word 'busy' more and more frequently.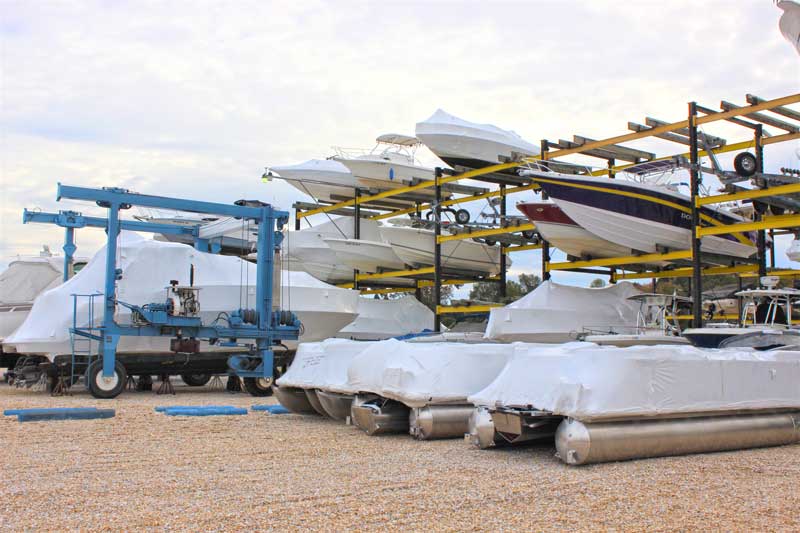 David Evans, Jr. from Evans Boat Repair in Crisfield, MD, reports that the winter season is off to a good start. "As winter approaches, it's still a busy time around Evans Boats. Currently in the shop we are installing a new fuel tank in a Parker. Unfortunately, we found that the floor was rotten, so this fuel tank replacement has turned into a complete floor replacement as well. We have a bay-style wooden boat in the shop that is being glassed all over. We are wrapping up some total restoration jobs, as well as building a new 38-foot Custom Evans heading to New York City upon completion sometime next year." 
This fall has been a busy one at Hank Reiser's Marine Services at Pocohontas Marina in Edgewater, MD. One of the projects is rebuilding the engines on Night Fury, a 1989 Viking Rybovitch. John Cox of Timbolier Industries is re-installing a rebuilt 735-hp Detroit Diesel 8V92TIB turbo inter-cooled diesel into the Viking. "This engine was stripped down to the last bolt and remanufactured by Timbolier," John explains.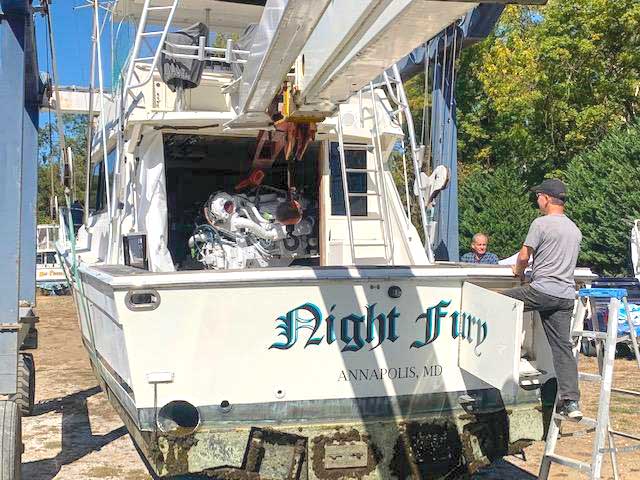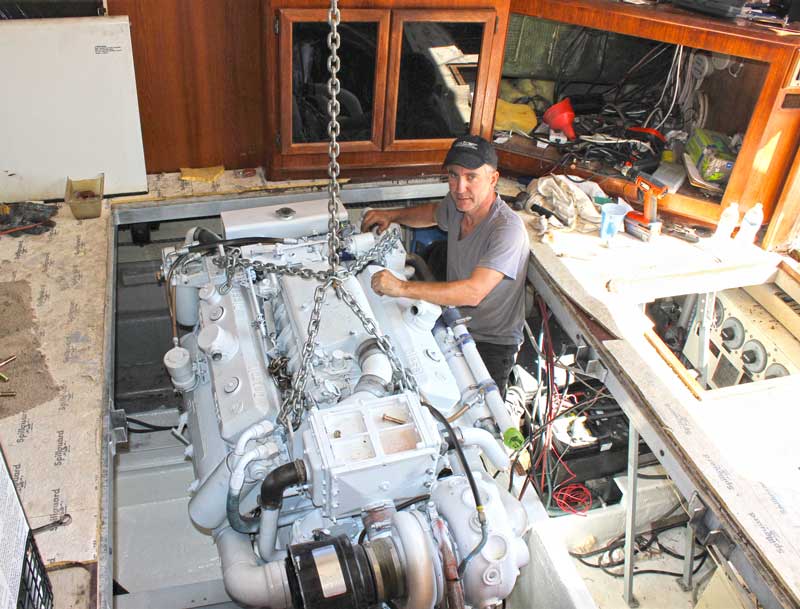 Right next door is a 2009 Sabreline 34 which had extensive re-core work on the starboard side. Blue Heron now has fresh bottom paint and all new zincs installed, and she is ready to go back in the water. Hank has not had much time to work on the two Lymans in his shop, but Jason Corsini is making good progress on the 1950 Chris Craft Commander restoration. The topsides are caulked and painted up to the sheer line, the new transom is varnished, and the starboard shaft and strut are installed. As Hank says, "She's starting to look like a boat again."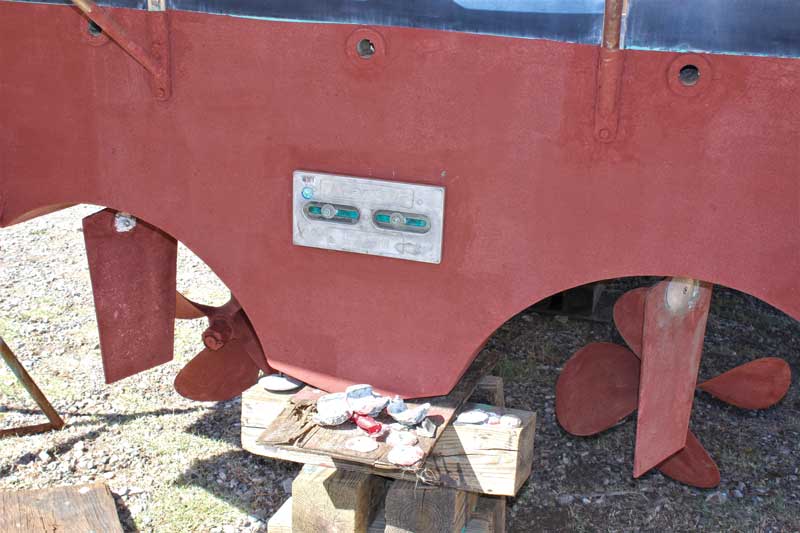 George Hazzard checks in from Wooden Boat Restoration in Millington, MD. "We are painting and varnishing on Mitch and Mollie Owens' 1960 30-foot Owens Flagship. We are also making progress on The 25-foot 1948 Chris-Craft Sportsman, installing chrome that was meticulously done by Don Burch at Polished Treasures Chrome. A 1958 13-foot Lyman is in for a new transom and ribs as part of its full restoration."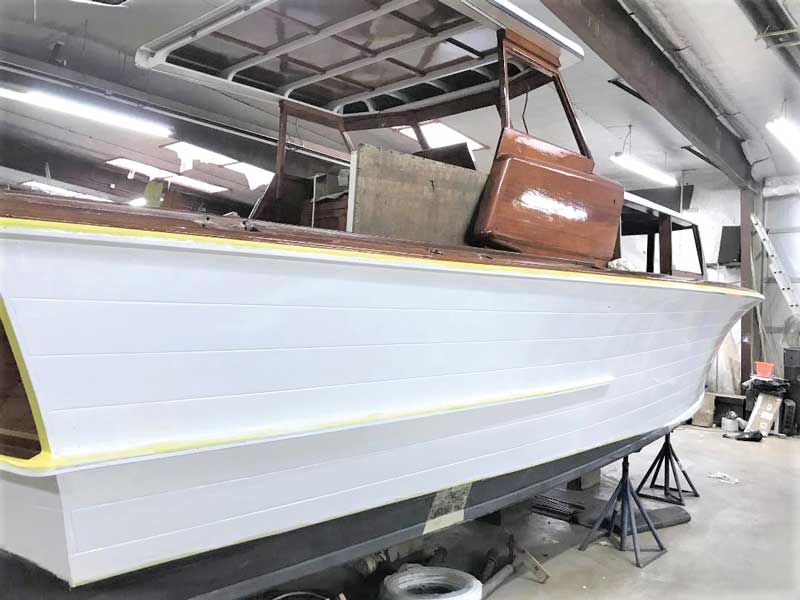 Maryland Dove construction manager and Chesapeake Bay Maritime Museum (CBMM) lead shipwright Joe Connor reports that shipwrights on the project have now completely fabricated the ship's new backbone and installed its first frame. The build officially began in June and will end with the launch of the new Maryland Dove in 2021. All work will be done in full public view in CBMM's working Shipyard in St. Michaels, MD, allowing the public to experience every stage of the project.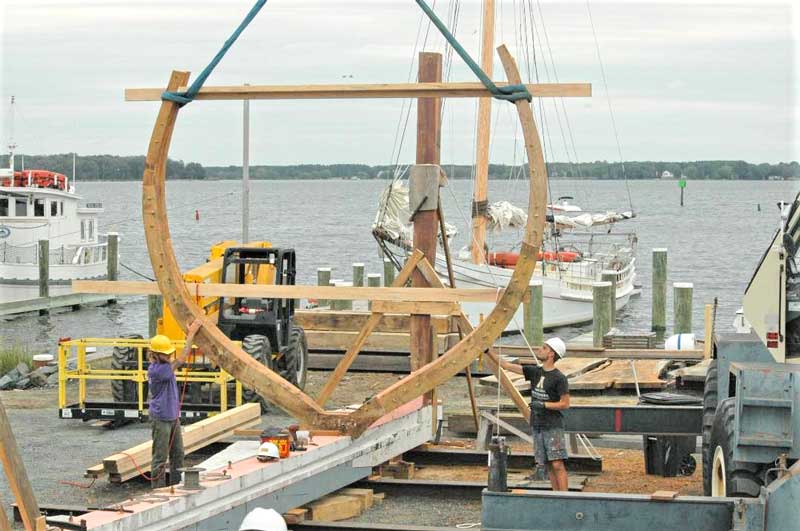 The crew has masterfully worked through lofting the ship, attaching 18,000 pounds of lead ballast to its ironwood/live oak backbone, and beginning construction of its frames, or futtocks. This winter will be a busy one at CBMM's Shipyard, with the staff attempting to build a frame a week over the next few months. In the spring, shipwrights will begin fabricating and attaching planks of various sizes to the frames to create strength and the shape of the ship. Maryland Dove is Historic St. Mary's City's floating ambassador and one of its most popular exhibits. The ship design is based on the original Dove that sailed to the Maryland colony with Ark in 1634. Dove was a small ship used in shallow waterways along the coast while the first colony and capital were being established. To learn more about the ship's past, present, and future, and to get progress updates directly from CBMM shipwrights, visit marylanddove.org. 
At Shady Oaks Marina in West River, MD, DiMillo's Yachts service manager Scott Anderson confirms that they are having a busy fall. "We had a really good show, and we are going to be busy for a while prepping and delivering these new boats to their owners."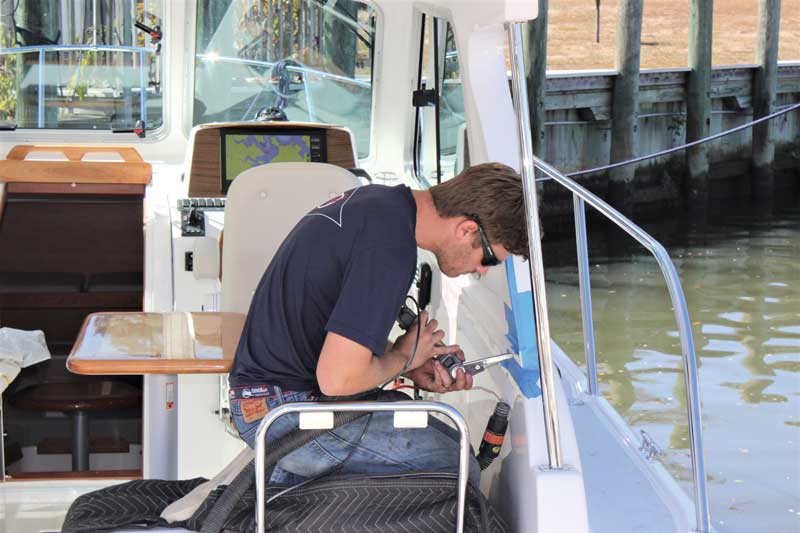 On the dock Ryan Dierks reports. "I'm working on a Back Cove 30, hull number 27, for delivery tomorrow. I'm working out any last-minute kinks to ensure the boat's as perfect as possible for the new owner."
On the railway is a Sabre 42. Scott tells us, "We are putting the final detailing on it for the owner, who has kept this boat here for a while. Now he's going south. We like to make sure the boat's in tip-top shape when it leaves here."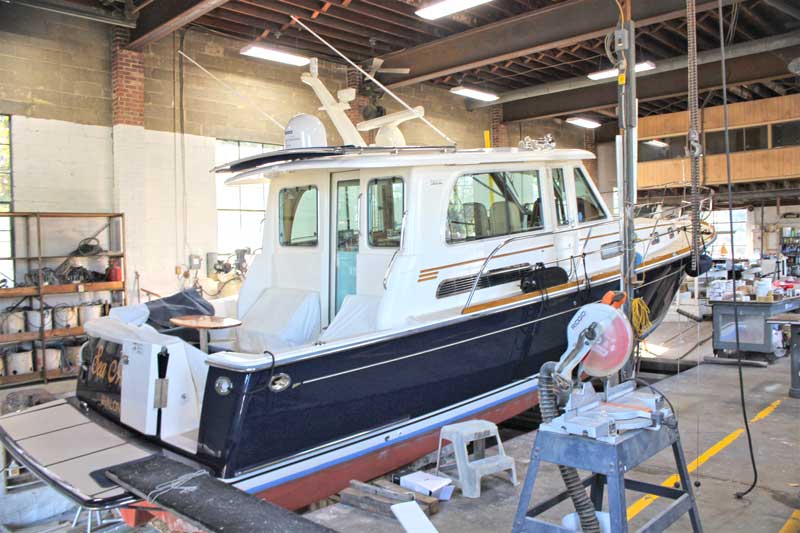 Brandy Wittman from Hartge Yacht Yard in Galesville, MD, says. "It has been a good year for us, and we expect the coming year to be busy also. We are finishing details on a 55-foot Trumpy rebuild. Our next big job (will be) repairs and painting on a 48-foot Egg Harbor. We will brush on Awlgrip to the cabin, decks, hull, and fly bridge. We have cared for this boat since the 70s when it was owned by the father of the present owner. Over the years we have sistered steam bent frames where they cracked at the turn of the bulge, and we also repaired broken floor timbers where they were not up to the job near the aft end of the keel. There was not enough room for structural timbers of sufficient size to carry the load. The space between the sole and the top of the keel was minimal. We had steel beams made up that sat on the keel and fastened to the stringers that were extensions of the engine beds. 
Very little woodwork is needed above the waterline, testimony to the value of keeping wooden boats in covered slips. The carpenters will look into some problems where the bronze shaft logs/stuffing boxes are attached to the wood shaft logs. The logs there have been damaged by electrolysis. This is a process involving wet wood and electrical current on bronze gradually turning wood into a fuzzy mess, or into pudding in the worst cases. We also have a number of woodworking jobs to repair damage to interiors due to leaks of hatches, ports and doors, as well as repairs to bow sprits, toe rails, and dorade vent boxes."
Weaver Boatworks in Deale, MD, reports that they have five boats currently under construction, including the new Weaver 38 Center Console. The 38 is Weaver's first foray into the burgeoning multiple outboard market. The 38 is a completely new design, planned from the ground up for triple Suzuki 350-hp outboards. In addition, a 75, a 70, a 58, and the newest project, a Weaver 60, just began construction in October.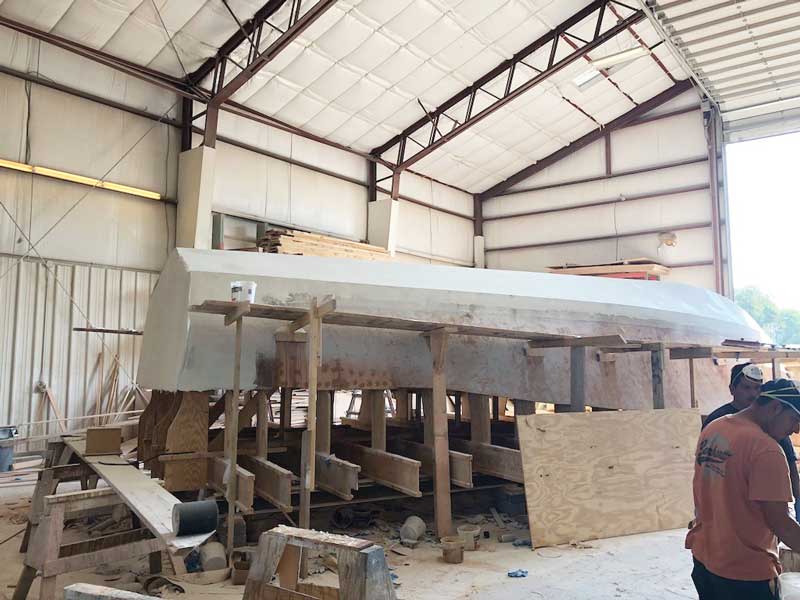 Rob Hardy of Composite Yacht in Trappe, MD, reports that his shop is busier than ever. "It's been crazy here. The carbon fiber inner laminate of the 55 is finished and is pretty impressive. The 55's carbon and Kevlar hull is complete, and we're laminating in her stringers and bulkheads now. The all new CY46 did well on her sea trials, and we're buttoning her up for a delivery in the very near future. Hull number 2 is spoken for, and we're prepping the mold to begin laminating. We have a 35 (built on the 35 Markley mold) well on its way. We're doing an extended pilothouse on it for a family who wants one for day trips and light cruising. We also have a 32 CB underway, and we still have our 34 Walk Around Express we'd like to get finished this winter. Along with that there's a mountain of paint jobs, refits, repowers, and other winter work. Our new building can't go up fast enough!"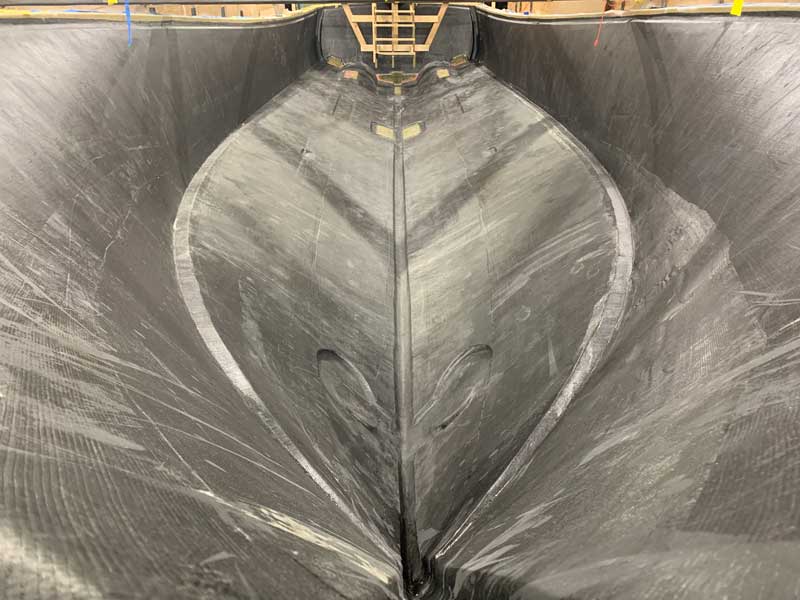 By Captain Rick Franke