This is an ICW journey in three parts. In leg one, we covered the journey from Arnold, MD, to Fernandina Beach, FL. This is leg two, covering Fernandina Beach to Ft. Pierce via Lake Okeechobee and the Everglades, and then back on the ICW to Ft. Pierce.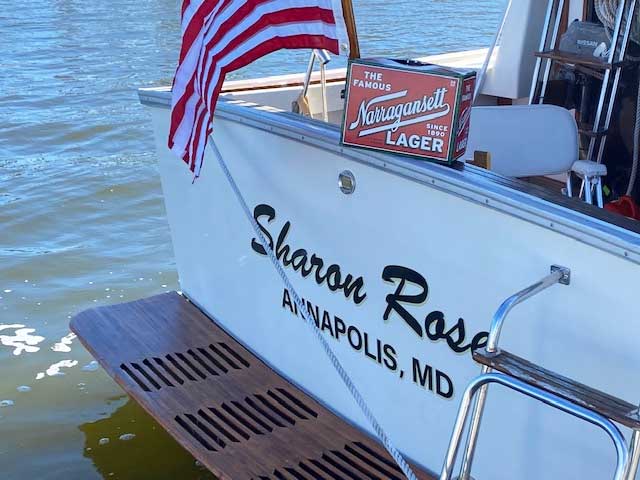 I returned to the Sharon Rose late on January 21 after driving a rental car full of all sorts of gear—the used Seaworthy inflatable, Nissan outboard, and isinglass panels for the flybridge which were not ready when we departed in November. 
I had two friends meet me in Fernandina Beach, Rudy Krock and Chip Bell, while I readied the boat for the next leg of the trip. Only Chip would stay on as crew for the next leg. 
Continuing South 
Departing Fernandina Beach on January 23, we made our way to St. Augustine, FL, taking a dock at the Municipal Marina. Daytona Beach at Halifax Harbor Marina was next. The third day underway had us stopping at Titusville Municipal Marina so that we could see the launch for a SpaceX rocket the next morning. Even though we were a few miles away, the sound was what you'd expect, and the flame from the rocket was so bright it made seeing it difficult. Thrilling would be the adjective I'd use. 
At this point the ICW takes a few "zigs and zags" before continuing mostly south on the Indian River. Our next port of call was Captain Hiram's in Sebastian, FL, to take in some football, beers, and wings in their outdoor bar. I was surprised that several of my friends who were following our exploits on social media knew exactly where we were.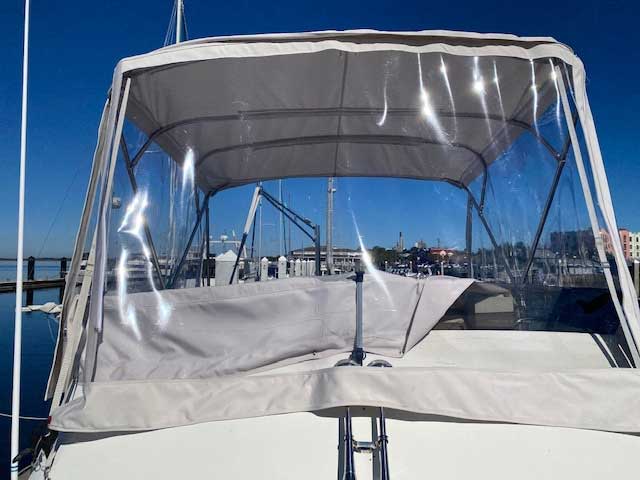 From there it was onto Pirates Cove in Stuart, FL, where we had dinner with friends and studied up for crossing Lake Okeechobee. We topped off fuel, pumped out, and headed west on the St. Lucie Canal to the St. Lucie Locks. Initially we were going to take the "rim" route all the way around but were convinced to take the Port Mayaca locks by a "veteran" to cut across and then head for Clewiston and Roland and Mary Ann Martins Marina and Resort, which we did.   
Arriving just at dusk, we were greeted by Captain Sam, the spryest octogenarian you'll ever meet, who caught our lines and told us about the marina and a little bit about himself.
We enjoyed dinner at their outdoor restaurant and learned that this area of Florida is a big sugar producing area, with miles of sugar cane fields. After the harvest, the fields get a controlled burn to ready them for the next year's crop.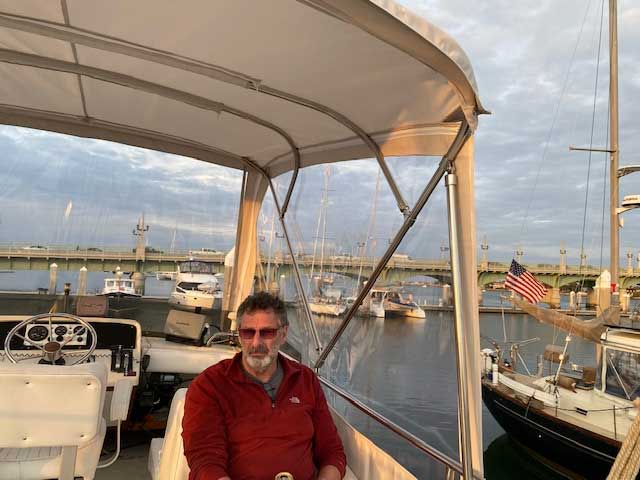 Departing Clewiston the next morning, we followed the Southern Rim Route to the Moore Have Locks. There were Eagles flying and alligators sunning on our trip; we even got a picture of one on the rocks just outside the Ortona Locks. Always looking for a bargain we decided to see if we could get a free dock in LaBelle, FL, at their city dock, which we were able to. LaBelle's name is from Laura June Hendry and Carrie Belle Hendry, daughters of pioneer cattleman Francis Asbury Hendry. We were able to get some provisions from the nicest and biggest Dollar General and a delicious Italian dinner just a short walk from the docks. 
We left LaBelle and continued west on the Caloosahatchee River and through the Alva Swing Bridge, where the bridge tender must walk out onto the bridge section that swings to open the bridge for traffic. After transiting the W.P. Franklin Locks, we were about 10 statute miles from Ft. Myers where I had reserved dockage.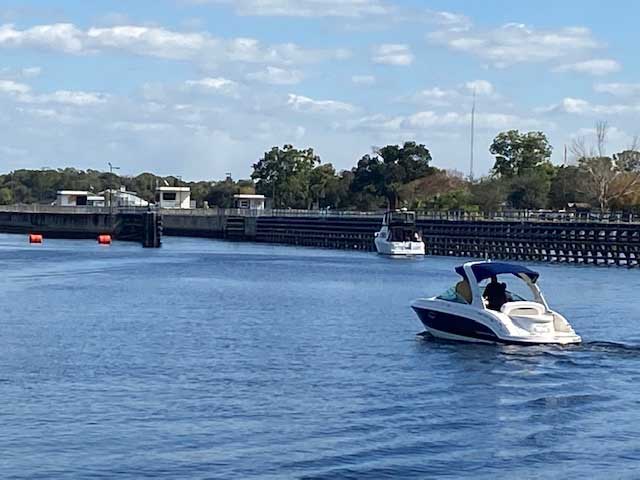 Sharon's Return
At this point, Chip was heading home to Seattle and a scheduled Covid vaccine, and I was awaiting Sharon to join me. I spent the next couple of days doing some projects like installing speakers on the flybridge and having lunch with my friend, Tim Henry, who was vacationing in Estero Beach.   
Sharon was greeted at the airport by Mike and Peg Connor who were spending a couple of months in Naples to escape the harsh winter of Cleveland.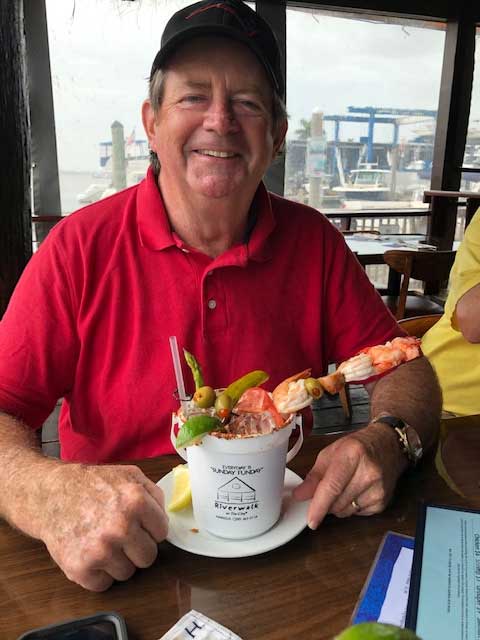 The next day we departed Ft. Myers and headed out into the Gulf of Mexico and south to Naples FL, where we docked at the Naples Boat Club and were greeted on our arrival by Mike and Peg Connor and Ned Campbell (Peg's brother). We had docktails and snacks before walking downtown for an outside dinner. In the morning, while washing down the boat, I exchanged good mornings with a young crew member on a large yacht as he was setting out cushions. He inquired how old my boat was. I replied that it was a 1982 to which he said, "Wow! We don't get boats in here that old!" I thanked him for the compliment and continued washing.   
We left Naples and made our way slowly to Marco Island and the Marco Island Marina. Richard, the manager, and his staff make you feel at home and the grounds and pool are spotless. We spent an enjoyable five days there, reading, taking the inflatable out, and changing the oil and filter on the engine.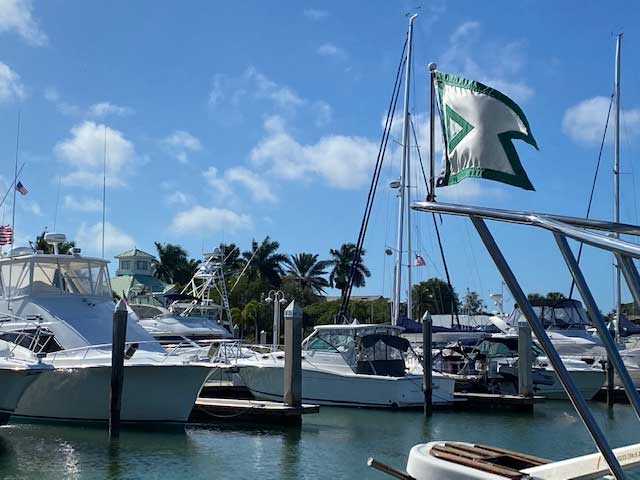 The Esplanade Marina is a great stop if space is available, with multiple dining spots and shops for everyone. 
We departed Marco after topping off at Rose's Marina and headed under the Jolley Bridge and into the Big Marco River. We passed Goodland, which is home to several restaurants and watering holes, and continued slowly through some very skinny water into Coon Key Pass, which led us to Gullivan Bay, and we proceeded eastward towards the Indian Key Pass and Everglades City. We ran approximately three miles offshore and consistently were marking only nine or 10 feet of depth on our depth sounder! 
Everglades City RV Park and Marina was a great stop, though stay in the channel and follow your breadcrumbs out when leaving. Camellia Street Grill had some delicious yellowtail on the menu, and their wine prices made buying a bottle reasonable.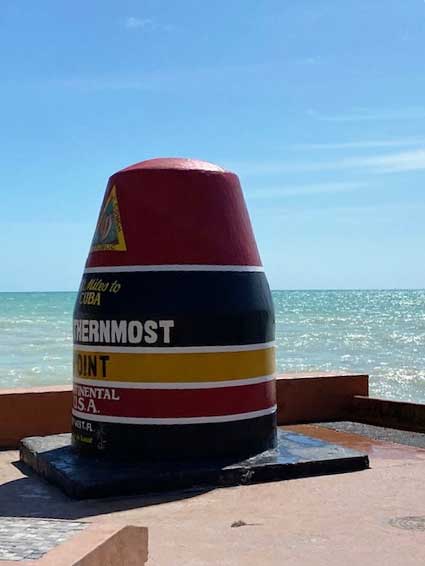 Reversing our course in the Indian Key Pass to get us back out into the Gulf, we continued along the Everglades to Little Shark River where we anchored out. It was a little disconcerting that reception on our VHFs would cut in and out, and our cell phones had no service. We anchored up the river a bit, as there were several other boats anchored near the mouth. We had been warned of the No See Ums but when they came it was like a black cloud that descended on the boat. Some were small enough to get in through the screens, so we had to close the windows. I had just finished cooking on the grill and managed to get in the cabin before we were totally engulfed.   
After coffee and toast in the morning, we hoisted the anchor and set off in a southerly direction for the Seven Mile Bridge and the Marathon Marina. We had wanted to head for Key West but were finding dockage without prior reservations difficult. The reason we were told was that since the Bahamas were still closed due to Covid, many of the folks who would've been wintering there were in Key West. Our accommodations at Marathon Marina were great, and their walk-in saltwater pool meant that we could enjoy a sundowner while floating in its warm water and good food from Lazy Days South, the restaurant at the marina.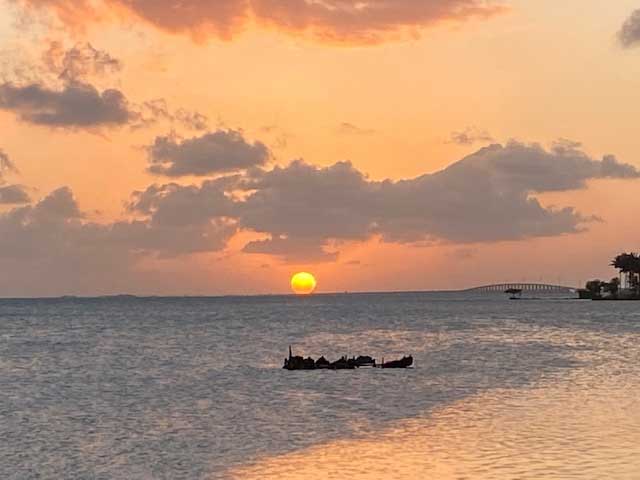 Not to be deterred, we learned that the Key West Transit Buses had a stop on US 1 right at the top of the marina road, so we got up early one morning, masked, and boarded the Covid-spaced bus to Key West. The price? One dollar for seniors! We traveled the 47.5 miles in about an hour and were dropped off downtown to begin exploring. The Conch Train was first, which provided us with an overview of the city and where we might want to visit afterwards. Sloppy Joe's for day drinking and tee shirts for the family, conch fritters at another stop, some sun shirts for us, the Butterfly Conservancy, and a really nice yellowtail dinner with a view at the Southernmost Beach Cafe. After another Covid spaced bus ride back, we were ready to call it a day aboard the Sharon Rose. 
Some other notable highlights: Burdines Restaurant for their green chili burgers and Sombrero Beach with its soft sand and exceptionally clean bathrooms.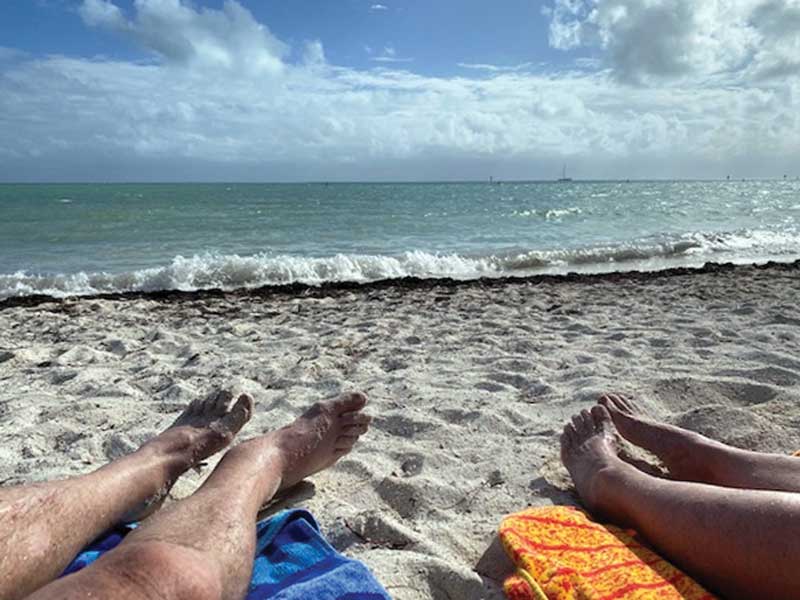 Northward Again
As much as we wanted to stay, we needed to make our way north, so out into the Hawk Channel we went heading to John Pennekamp Coral Reef State Park. I only wished we had more time to enjoy all they had to offer, from lessons, to guided trips, kayak rentals, and more. We felt far away from it all, but just a walk out the access road brought you to Route 1 and Key Largo. 
Leaving Pennekamp and proceeding north in the Hawk Channel we made our way north to Angelfish Creek and into Card Sound. Staying in the channel we made our way into Biscayne Bay and over to the Dinner Key Channel and the Coconut Grove Section of Miami. Due to the docks being damaged, we took a mooring but went ashore several times to enjoy the art deco of Coconut Grove, some fine dining and shops, and to marvel at the re-utilization of the original Pan Am seaplane terminal to become the Miami City Hall. The water at the mooring was crystal clear and warm. We could see manatee and dolphins swim by as we gazed at the Miami skyline.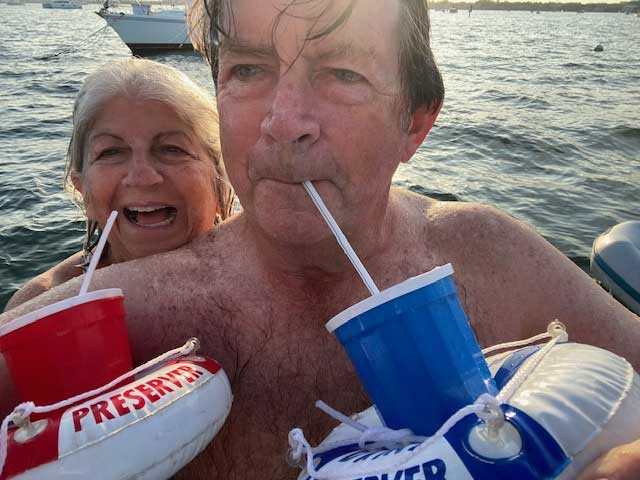 We'd been told that the waters in and around Miami are crazy on the weekends, so we departed on a Friday morning to continue north and got a glimpse of what we had been warned about! Friday night we secured a dock at the Lighthouse Point Marina, enjoying live music as we dined outdoors on some great seafood.   
Saturday, we traversed some very scenic areas of the ICW: Fort Lauderdale, Del Ray Beach, West Palm Beach, Peanut Island, and Jupiter on our way to a quiet night on the hook in Hobe Sound. It was very easy to spot the "haves" and the "have nots" at the Rybovich Super Yacht Marina. The "haves" had a helicopter on the upper deck next to their 35-foot dinghy! 
Sunday took us past Stuart, and we continued onto Ft. Pierce where we spent a couple of relaxing days and one very fruitful morning where we were able to get our Covid vaccines scheduled and a flight to come home. 
Next: The Long Slog Home. 
By Sam Moynihan
---