Croatia is a strange place. It's part Eastern Europe and part laidback Mediterranean. Then, you mix in a heaping helping of Byzantine and Roman architecture, add some Egyptian relics "borrowed" from pharaohs, and top it off with medieval castles that served as backdrops in "The Game of Thrones," and you have a country that's just perfect for a yacht charter which winds through the centuries and past dozens of history-soaked islands on the Dalmatian Coast in the Adriatic.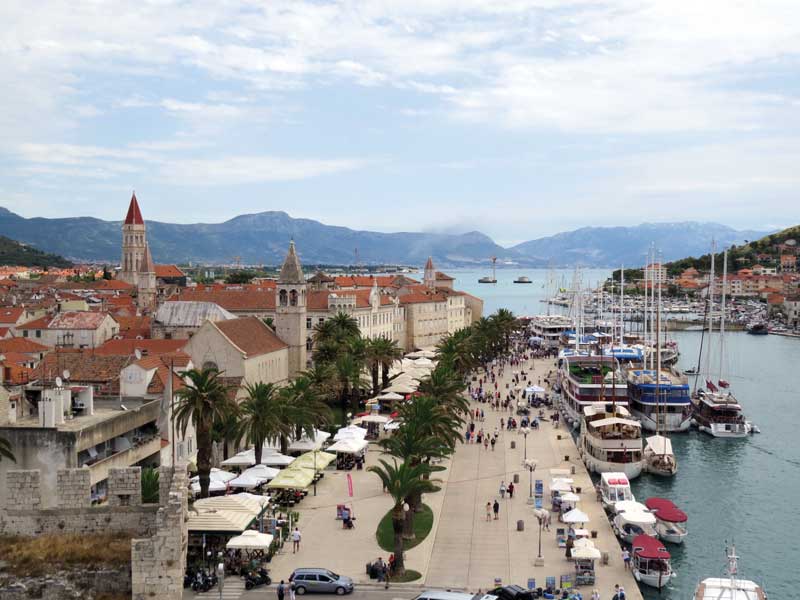 A few charter companies including Dream Yacht Charter offer powercats from their bases in Trogir which is a UNESCO Heritage Site. Stroll along Trogir's waterfront and check out the gulets (large tourist barges) stacked three and four deep on the quays as professional crews scramble to trade out visitors each week. An old walled town, Trogir can take a day of sightseeing on its own, and its markets are great places to provision. 
Just up the road is the magnificent town of Split, another UNESCO site. Diocletian's Palace (which is not so much a palace but rather the entire boundary of the old town) is surrounded by a mix of temples, statues, and houses. The palace itself was built by a fourth century Roman Emperor. It's been "repurposed" dozens of times since and now is a busy mishmash of all the cultures that left their mark on Split over the centuries.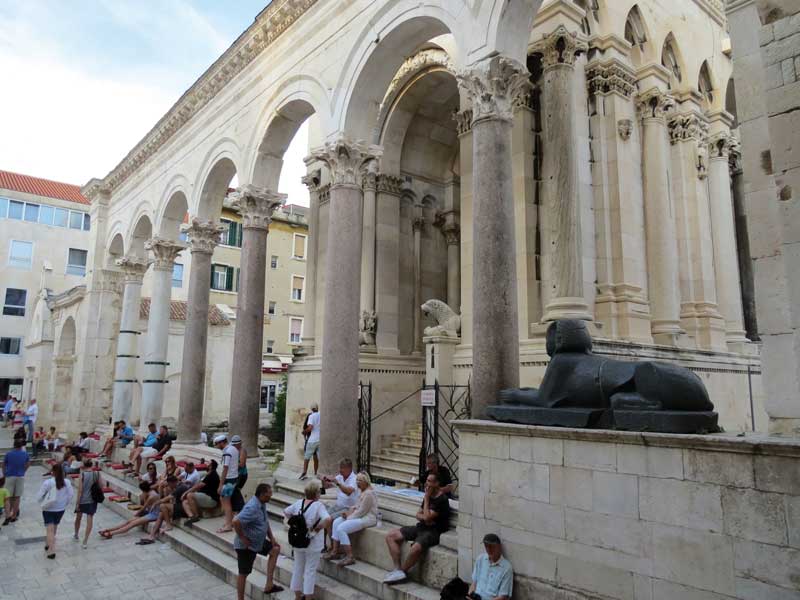 The peristyle at the center of the palace blends neoclassical architecture with the Roman temple of Jupiter on one side and the Cathedral of St. Domnius on the other. In the middle are Egyptian granite columns and a sphinx. It's like Disneyland but real. 
A one-week charter is pretty short in these beautiful waters, but that's where a powercat comes in handy. When you cruise from island to island at 20 knots, you can cover serious distances and maybe even get down to the world-renown Dubrovnik while checking in on a half dozen islands along the way.
First, head to Vis Town, on Vis Island, and tie up Med-moor style to the wall. You can't be shy when you're snuggling in tight between a bunch of other boats, fenders squeaking against your neighbors. Nobody seems to mind.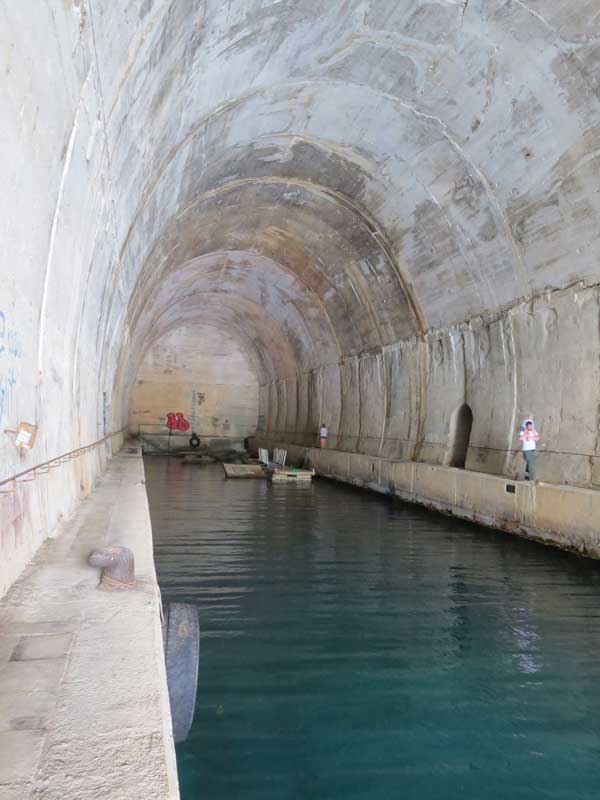 On Vis, there's a heavy trade in all things pertaining to Yugoslavian dictator Josip Tito. Croatians seem to have recovered from being a part of Yugoslavia and now market that history with gusto. You can tour old gun embattlements and learn about partisan resistance while firing a Kalashnikov (thankfully, not a real one). Best of all, you can dinghy inside Tito's submarine tunnel which is a huge draw. 
Next to Vis is Bisovo Island, the home of Modra Spilja (Blue Cave). You can't take your own dinghy inside, but for a small fee, pangas will blast in to check out the eerie blue light which reflects off the sandy bottom. It's a brief but interesting visit.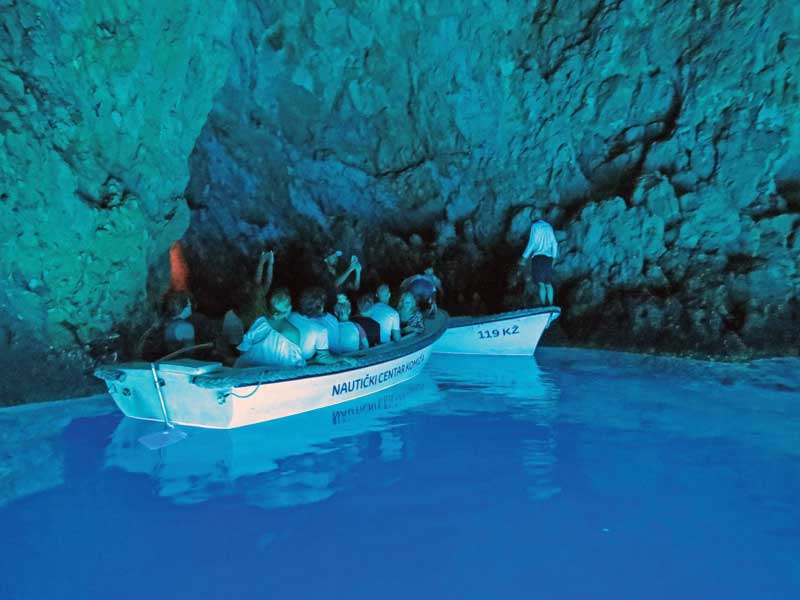 Make your way south to Hvar Town on the island of Hvar, a bustling little place packed with cafes and beautiful people who are chauffeured ashore from superyachts. This is an international destination where Onassis-type yachts tower over humble local fishing craft. The fortress that hangs over the city is worth the hike up if only for the views and the ice cream up top.
From here you can go around the corner on the same island to Stary Grad (Old City) on the north shore. It's much less glitzy than Hvar Town, but it's much more charming and mellow. No longer a part of the dour Eastern Bloc, Croatians now make excellent entrepreneurs as is evident around every corner in Stary Grad where cafes and gourmet food shops offer everything from lavender candy to exotic olive oil.
The holding in Hvar Harbor is poor, so you can either Med-moor on the wall in Stary Grad or head over to the nearby Pakelni Otoci which loosely translates to "Hell Islands." There's nothing hellish about them. The anchoring is easy in 30-50 feet over sand, the beaches are white, and sunsets are spectacular.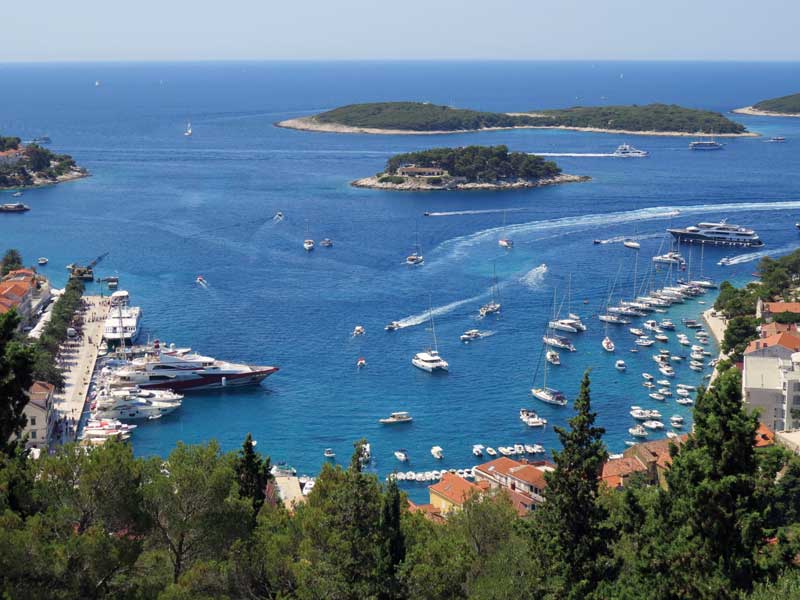 From Hvar you can pick your way south all the way to Dubrovnik via Brac, Korcula, and Sipan Islands. Once in Dubrovink you can take what seems like a million steps as you make your way around the walled city. It's a great place to spend a day, have fabulous cocktails overlooking the Med, and maybe even take in an evening of traditional dancing. 
In Croatia you can't drop anchor in anything but a beautiful harbor with a historic town and charming restaurants. You can lounge on plush, curtained sofas perched on a rocky beach, relaxing with a glass of "rakija," Croatia's answer to grappa or slivovica, a plum brandy that will take paint off your car. 
Practicalities
The food and wine in Croatia are excellent and affordable. Every menu features fish and the Croatian national specialty of cevapcici, which are sausages made of minced meat that are eaten at all times of the day. 
To most anglophones, the Croatian language is a mess of more consonants than vowels, but the locals love to practice their English. Tipping in restaurants is about 10 percent. The local currency used to be the kuna which made everything affordable. As of January 2023, the country runs on the euro. May to July and September to October are the best times to visit. Steer clear of August when it's beyond crowded and prices climb. Be sure to check charter licensing requirements ahead of time.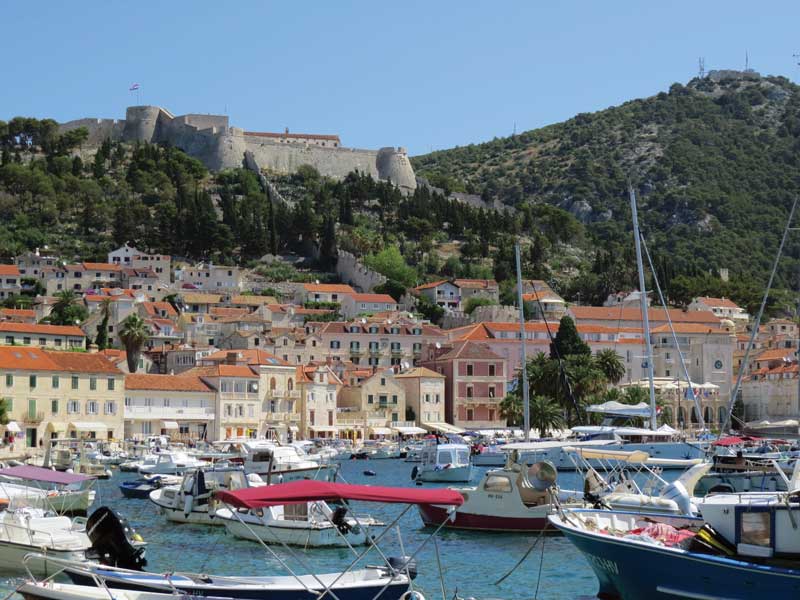 Bring your sense of humor because Croatia is the Wild West of yachting. Right-of-way rules are mere suggestions, and toxic masculinity is a sport. Poorly trained sailors would rather collide than lose face, and personal space is nonexistent. Lots of yachties feel the need to go naked on their boats, especially visiting Germans and the French, so if you don't want a show with your morning coffee, stay below. 
Croatia is a perfect charter destination, especially for powerboats that can reel off the knots. The people are friendly, the prices are reasonable, and there aren't many places where you can charter so much history in so short a time. 
By Zuzana Prochazka
---
For more on charter tips and destinations, visit our Charter page.