With a grant from the Meridian Foundation, Chesapeake Region Accessible Boating (CRAB) has purchased a Gemini Freestyle 399 powercat named Dream Catcher that will be used by guests in wheelchairs (who do not want to leave their chairs) or any disability to go fishing or cruising on the Chesapeake Bay.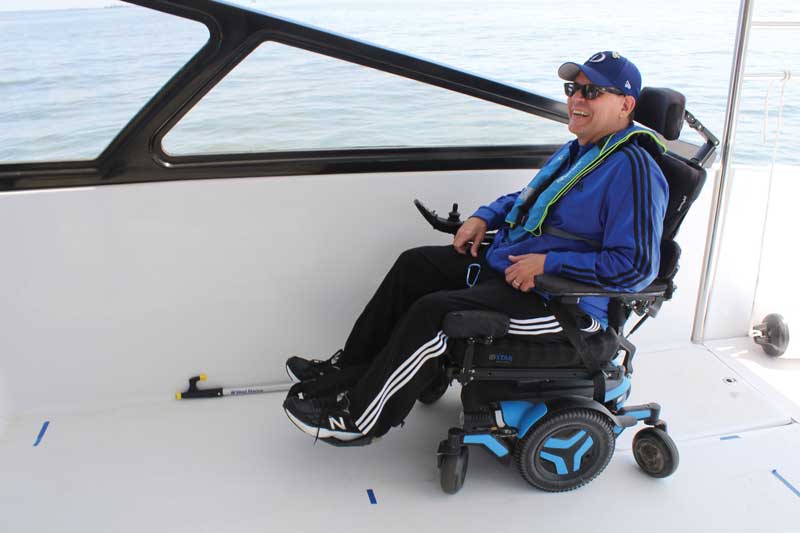 The boat has been delivered to its Annapolis dock, and CRAB is working with boat vendors and Koons Ford Mobility to customize the boat with adaptive modifications so that people using wheelchairs can safely board, stay secure while underway, and disembark. The new adaptive catamaran will allow up to five guests, plus family members or friends, the opportunity to learn powerboating skills and earn a Maryland Boating Certificate. 
The Gemini provides a new opportunity for CRAB guests in wheelchairs to enjoy the beautiful Chesapeake Bay. The boat has more than 140 square feet of open floor space that is completely covered by a hardtop with a sunroof for protection from the sun or inclement weather. The ability to offer an alternative to sailing is expected to make CRAB an even more attractive destination for guests with disabilities who desire to be on the water. Regardless of the weather, the Gemini Freestyle will be able to accommodate guests comfortably and safely.
In addition to this new vessel, in May CRAB celebrated the grand opening of its long-awaited Adaptive Boating Center on Back Creek in Annapolis. The $6 million project was supported by funding from the State of Maryland, Anne Arundel County, the City of Annapolis, and CRAB donors. The new facility is an essential part of CRAB's strategic plan to increase accessibility to the Chesapeake Bay for people with disabilities, recovering warriors, and youth from underserved communities.
CRAB started as a small nonprofit with a big vision to give people with disabilities opportunities to sail and boat with their neighbors on the Chesapeake Bay. Founded in 1991 by Don Backe, who was paralyzed in a car accident in 1987, CRAB has grown from serving a few hundred guests per year to over 1200 in 2022. To learn more, donate, or volunteer your time, visit crabsailing.org.