The 2021 Wye Island Challenge for electric boats took place on October 1 as scheduled. Ultimately, only two boats participated, with Covid 19 at least partly responsible for the small turnout. Tom Hesselink, organizer of the event, reports that he is edging back to normal after more than a year battling the continuing effects of a serious bout with the coronavirus. His work on his Budsin boats has been running behind, and he hasn't been able to give the Wye Challenge the time it needs. Perennial competitor Paul Kydd had to scratch only a week before the race due to Covid exposure in his support crew. But the race went on, in the best tradition of the event.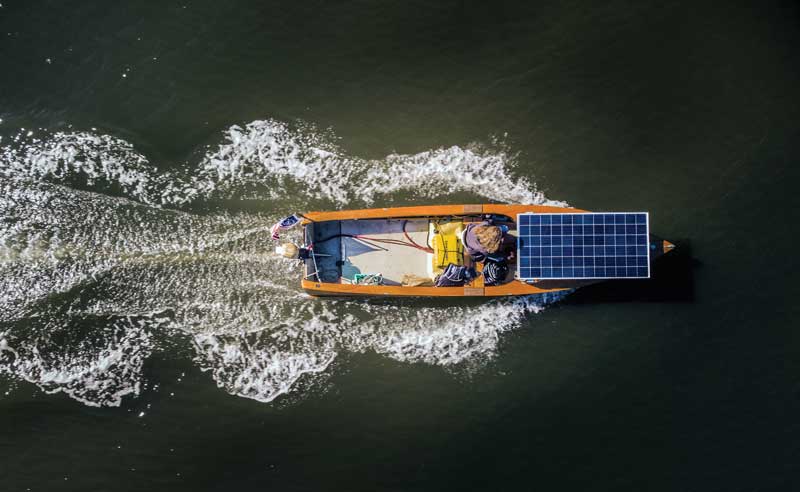 Jim Campbell and Al Sutton in the perennial competitor eCanoe ran in the Picnic Class—which requires a flower arrangement aboard the boat. Their report:
"Here are the measurements and times for the run. We stopped frequently here and there for snack breaks and watching the bald eagles. Time was not important to us in the picnic class… Yes, we did carry a vase of flowers.
"Great weather, stunning scenery. Wish you had been there."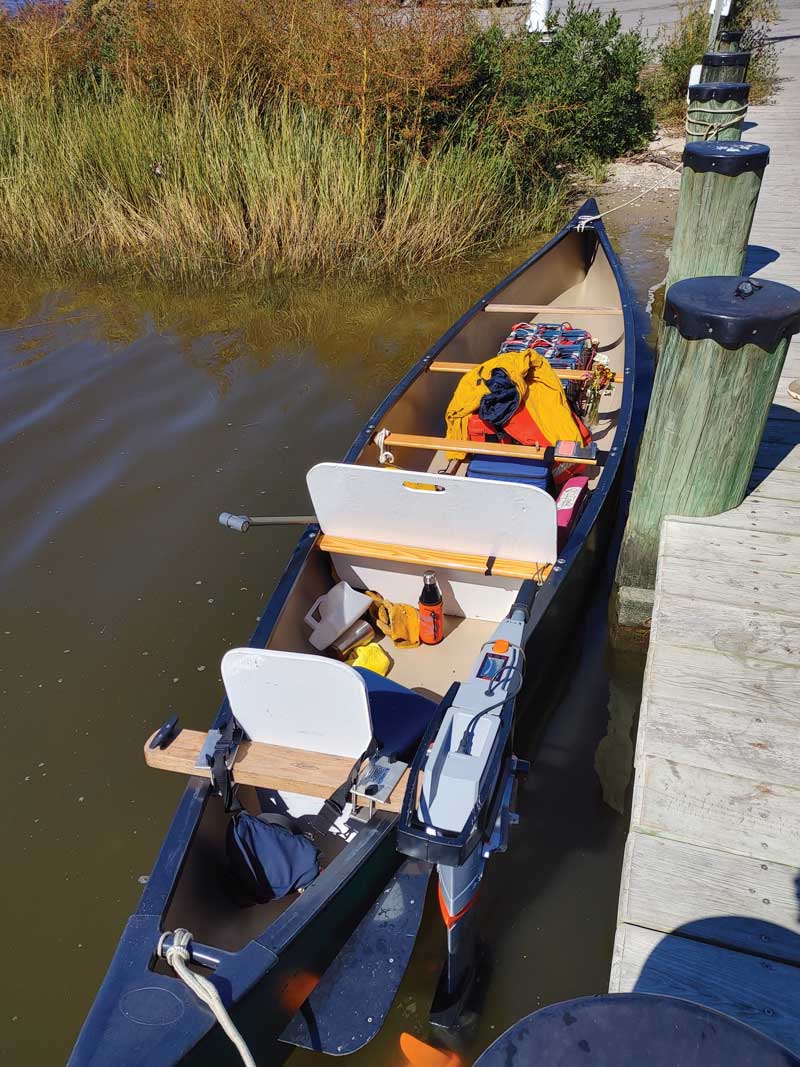 Start 11:09 a.m. (left club entrance) BattV 50.0V (no load)
GPS cruising speed 6 kts, avg. (6.6 mph)
Plenty of breaks
Wye Lndg AV 1:27 p.m. Batt: 49.2 V
LV Wye Lndg. 1:54 p.m.
AV Club Beach 3:43 p.m. Batt: 47.5 V
Trip Odometer: 23.78 mi total
Total time minus Wye Landing rest = 2:18 + 1:49 = 4:07 hrs:min
5.8 mph, avg. for the run
See you next year!
Taking a different and more technical approach to the challenge was the team from the IDEAWORKS Innovation Center at Washington College, led by program director, Brian Palmer. This was their fifth year racing and third year completing the race. The driver is Evan McCarthy (WC class of '22) who is a dual major in mathematics and computer science, but the team over the past five years has included students across all majors and backgrounds since this is a club activity and not tied directly to an academic program.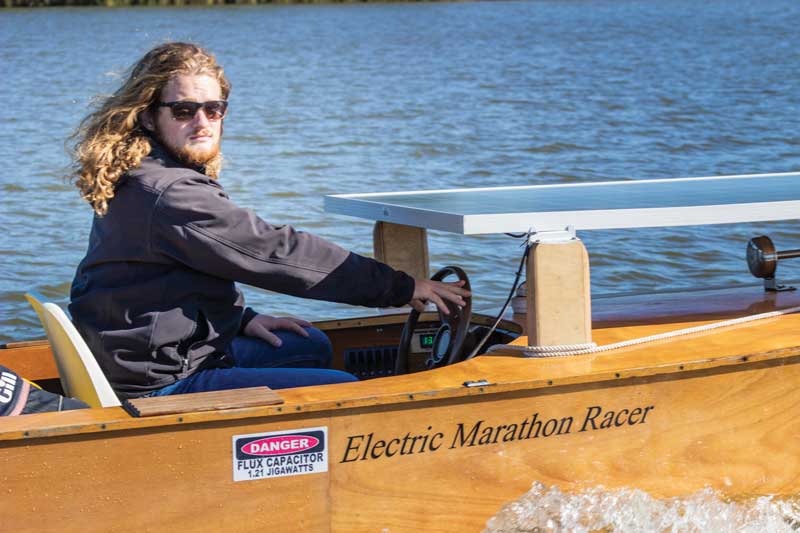 The IDEAWORKS team ran their course on the Chester River (closer to home). They set up four marks to designate a one-mile loop, and then ran the 24 miles based on the driver's GPS (in case there was any slight error in setting the course that would compound over 24 laps). With the 10 minutes adjusted for the 10-minute mandatory break, the total time around the course was two hours 48 minutes. Their report: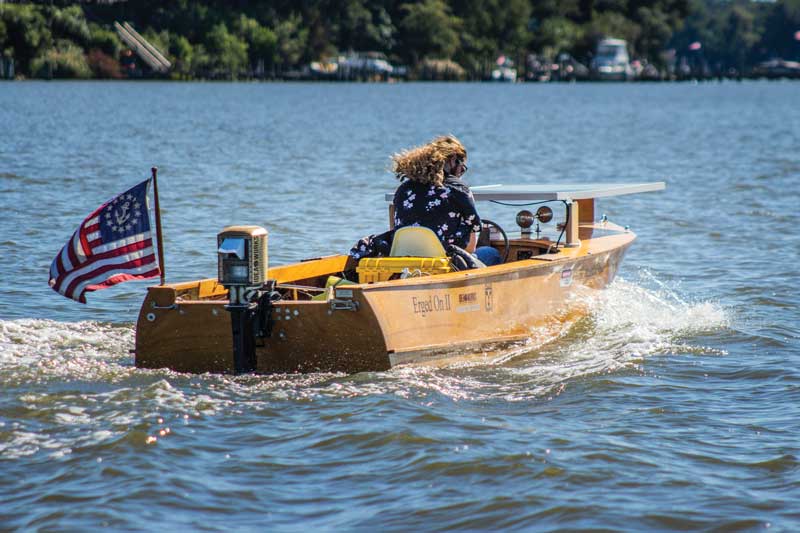 Systems overview:
Battery—(16) 280Ah LiFePO4 cells in series to make a 48v nominal pack with an OverKill Solar 48v BMS.
Motor—48 V brushed motor mated to a 1994 Evinrude lower unit. We maxed out at about 4.4 kW during the race
Solar—325 w PV panel with a Victron MPPT charge controller
Hull—custom 18 ft okoume plywood (glassed over under waterline)
Two quite different competitors of the many types that make the Wye Challenge such a great event. Jim and Al, in the eCanoe, had superb weather and were able to enjoy the trip around Wye Island, one of the prettiest waterways anywhere.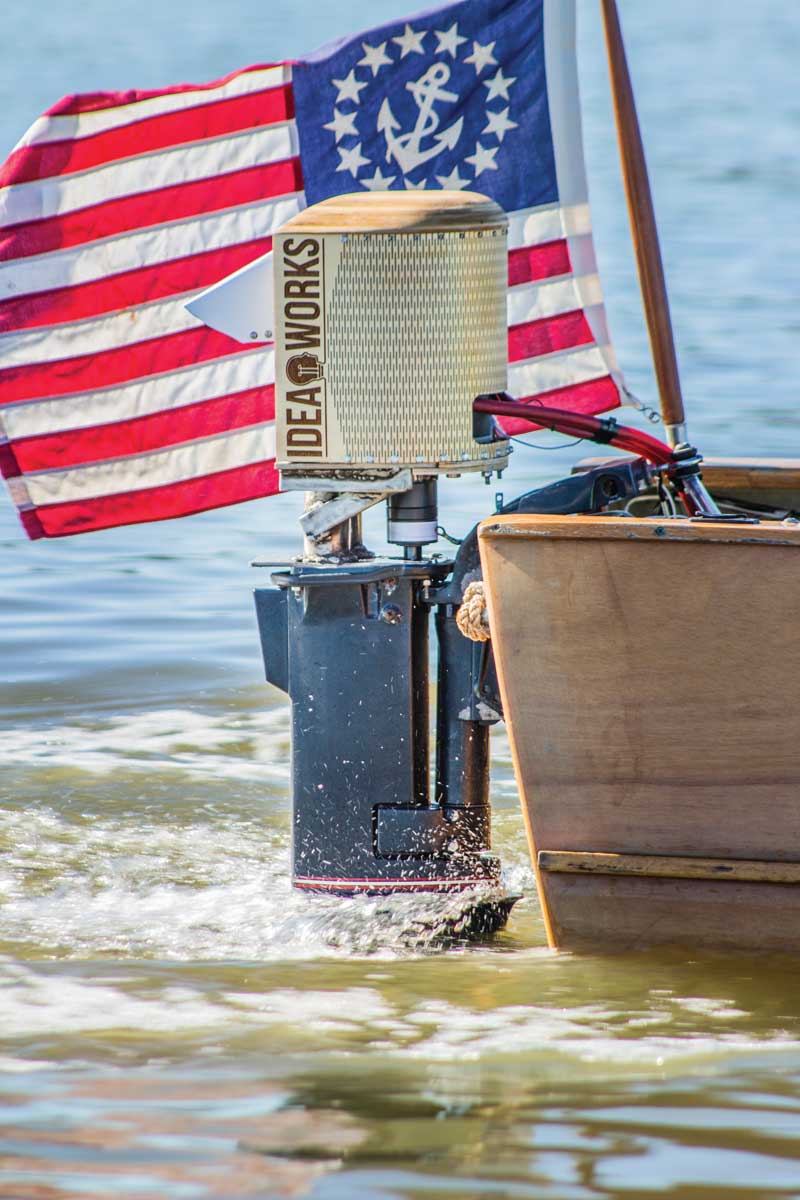 The IDEAWORKS team increased the data in their experimental electric system and learned from their scientific measurements. Those two competitors will certainly be back as the pandemic winds down and the event gets back to greater participation, and the awards banquet in which everyone is a winner. Paul Kydd's catamaran will be back, perhaps some of the growing list of commercial electrics, like the Pure Watercraft and Flux Marine outboards, both of which are current class record holders from past years. And there's a good chance that the 1930 Elco Marinette 27 Volta will be running in the Picnic Class.
It's a cruise, a race, a great waterway, and a lot of fun. For more information, take a look at electricboats.org/wye-island-challenge.
By Charlie Iliff
---
To read more about this great waterway, check out A Cruise On the Wye River.