Hannah Gribbin wants to rewrite your morning on the water. Gribbin grew up sailing in Annapolis, with fond memories of "glorious spring and summer days sailing, swimming in the Chesapeake Bay, playing board games, and laughing into the night," all "just to wake up to a Pop Tart and juice box for breakfast." Gribbin aspires to tastier treats than the cold, shelf-stable breakfasts her parents would pack for the boat. That's why she started Cocoa and Pearl Bakery.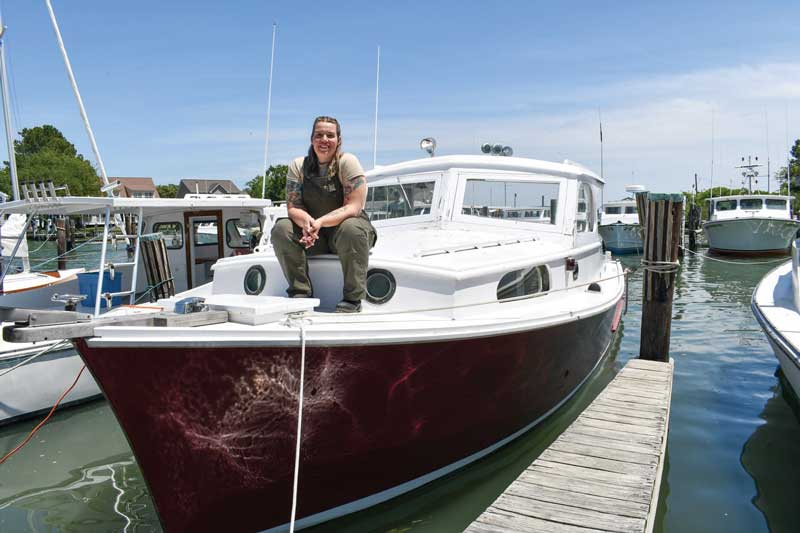 That's why she's hard at work in her small cottage kitchen in Annapolis: folding pastry dough, reducing simple syrups, and piping icing onto a variety of delectable creations. She'll don her boots and foulies and head out to her 1959 restored crabbing boat, Honey Bun (built by Virginia boat builder Harvey Hurley), to deliver the breakfast pastries and baked goods to the mooring fields and dock slips around Annapolis Harbor. 
Gribbin is the founder and owner of Cocoa and Pearl Bakery, a new bakery bringing muffins, buns, cakes, cookies, and more to boaters spending the summer on the water in Annapolis. Everything she makes is handmade and from scratch, with the help and observation of her three daughters, two dogs, and husband. 
After six years in the US Coast Guard, Gribbin attended pastry school, where she was class valedictorian and honed her skills at a busy Boston bakery before her family returned to their Annapolis roots. Now, she's working to create baked goods for her own family and the local boating community. Boaters will be able to wake up to the smell of fresh cinnamon rolls wafting from a beautiful Cocoa and Pearl bakery box—delivered directly to their own boats. 
"I want to set a good example for my daughters of taking a risk and following your dreams," Gribbin says of starting her own business. "I am excited to see where this takes us." 
Cocoa and Pearl will deliver treats to boaters mooring and dockside starting this summer. They are now accepting orders for delivery online through their website.