A big Gray Marine V-8 for power, a throaty exhaust, lots of style, a touch of automotive history (automotive windshield glass), more than a little chrome, and plenty of bright finished mahogany wood planking make a Century Coronado a thing of beauty on the water. This model and the Chris-Craft Cobra set the high-water mark for wooden boats in my book.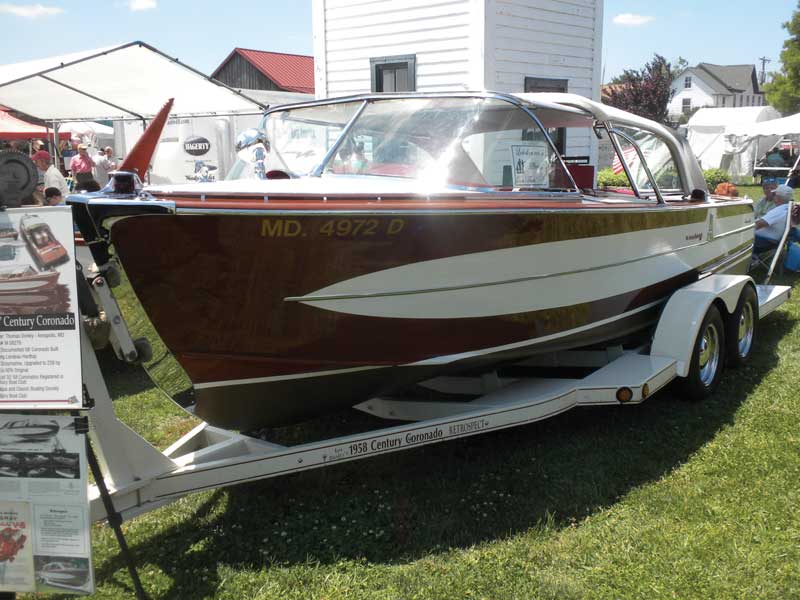 Tom Donley is the owner of this sweet Century Coronado. He's a retired boat racer with an extensive background, first in a Spico-brand boat and then in a Rayson-Craft (more about that later) Tom placed fourth in a Ski Racing Runabout in 1967 and was High Point Champion for Region 4 in 1971 in his JS 39 Jersey Speed Skiff. He also raced at the Miami Marine Stadium.
Since Tom is a racer, are the Coronados fast? Yes, when tuned up and lightly loaded. One can expect to achieve speeds between 55 and 60 mph, though speed alone was not what they were all about. A Coronado built on a wood hull could reportedly deep-water-start a dozen water skiers. The Coronado is known as a "pulling workhorse" among classic boats.
Century Boat Company produced this model in wood from 1955-1968. Slightly more than 1700 were made during that period. This is one of several styles over the years that were available on essentially the same running surface hull. Century later produced this model with a fiberglass hull and a deeper vee.
Typically, the Coronados have more glitz than almost any other runabout. For many years their windshields were fashioned from automotive industry glass. Often Coronados were highly styled by Richard Arbib, who previously worked for General Motors and Packard. For styling clues on the Coronado, reflect back to the Chrysler Imperial between 1959-63, when cars were heavy with chrome trim. Styling was always a calling card for the Coronado, regardless of the model year.
These boats are also famous for their deluxe padded interior amenities. For a moment, you might think you're sitting on an over-stuffed living room sofa when you're in any of the Coronado's three rows of seating.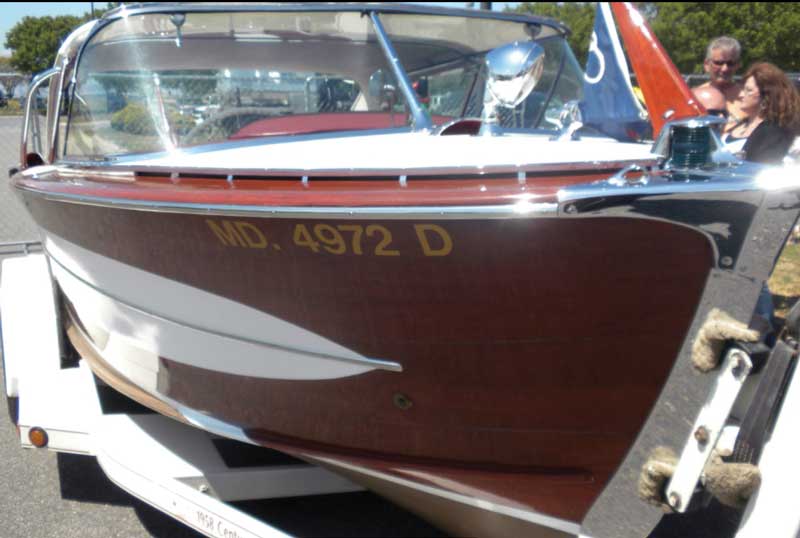 The Century Boat Company started in 1926 in Milwaukee, WI. The company quickly moved to Manistee, MI.
Century also built hydroplanes, stepped hulls, inboard ski boats, outboard runabouts, inboards, fishing boats, canoes, sailboats, cabin cruisers, and perhaps a surf boat, in addition to these top-of-the-line speedboats. Century even built a pink detailed outboard. If you regularly attend Antique and Classic Boat Shows, you may have seen women in line waiting to have their photos taken with the nicknamed "Barbie" boat.
A Century Resorter was another storied model name associated with this boat builder. Resorters were produced in 15-, 16-, 17-, 18-, 19-, and 21-foot lengths. Although Resorters were also classic inboard, center engine boats, they featured a more open cockpit than a Coronado model. They were extremely popular for watersports.
In the second half of the 1960s, Century replaced its wooden boats with fiberglass versions of the same models. This practice was typical across the boating industry for original wooden boat builders. The owner of Tara Yachts made the tooling and molds for many of the fiberglass hull Century boats.
Now back to Tom's racing accomplishments. Here's an interesting anecdote about why he switched from his Spico to a Rayson-Craft. Tom frequently raced against Rudy (who owned Rayson-Craft boats), yet always seemed to lose ground going around turns on the racecourse. After one race in which they both competed, Rudy needed to get back to the West Coast and wanted to make the trip without a boat in tow. Tom saw an opportunity to get a better turning boat, so he bought Rudy's.
The Rayson-Craft definitely handled turns better on a racecourse. Rudy took Tom aside and told him it was because his boat was wider at the driver's cockpit. That allowed the driver to get a better bite in the water going through the turn!
By the way, Tom's Classic Coronado is frequently on display at the annual Antique and Classic Boat Festival in St. Michaels, MD. Mark your calendars for June 16-18.
By Chris "Seabuddy" Brown