When was the last time you had a chance to see 50 classic boats—displayed both on land and in fresh water—adjacent to row upon row of pristinely restored classic cars, all on the same day?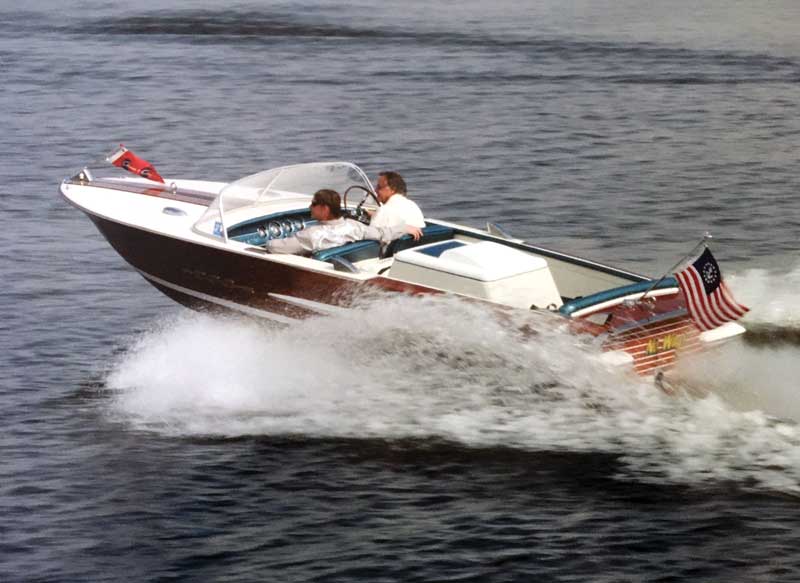 You probably answered, "July 2022 in Bristol, PA!" if you attended the inaugural Mahogany and Steel event last summer like I did. And I'm sure that it was equally memorable and fun for you as it was for me.
Several factors make this a unique and special experience created through the collaboration of the Mid-Atlantic Chapter of the Antique and Classic Boat Society (ACBS) and the Bristol Cultural and Historic Foundation. To their credit, last year's event was such a success that we'll all be coming back for more!
When you first arrive in Bristol you're taken in by this quaint town, alive with interesting shops, restaurants, and vendors. As you continue to drive into the center of town heading closer to the Delaware River, you come down a hill that opens up into a magnificent setting that is at once a park, a well-designed stretch of new docks, and an adjacent parking lot full of those classic cars. Where to begin?!

The second annual (judged) Mahogany and Steel Boat and Car Show will be held on Saturday, July 15. This remarkable one-day event is free. It runs from 10 a.m. to 4 p.m. at Historic Bristol Park, at the foot of Mill and Radcliff Streets, in Historic Downtown Bristol, PA.
Mid-Atlantic is one of over 50 chapters that comprise the International Antique and Classic Boat Society. This chapter was formed in 2018 through a merger of the former Philadelphia chapter with the former Barnegat Bay chapter. Its members are a diverse group of people who have a common love of antique and classic boats, from the "woodies" and classic fiberglass boats to today's contemporary class of "wooden" boats. The chapter's members never miss a chance to enjoy cruising or racing in a beautifully restored mahogany or fiberglass runabout—one of the greatest pleasures in life.
Once again, this show will feature antique and classic boats from manufacturers such as Chris-Craft, Hacker-Craft, Century, and other legacy boat builders, each with a history as far back as 100 years of boat building. You'll also find American as well as foreign antique and classic cars on display.
This year the Mid-Atlantic chapter has reserved both land and dock space on Bristol Wharf for the Cocktail Class Wooden Boat Racing Association (CCWBRA) to display and demonstrate Cocktail Class racers on the Delaware River.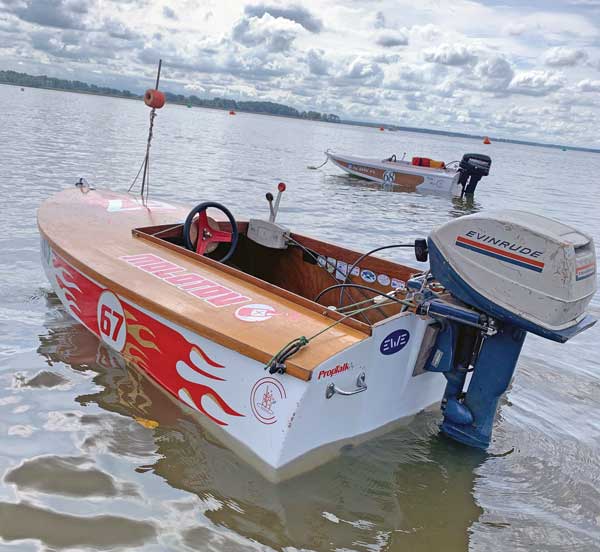 Being among an outstanding gathering of antique and classic boats and cars (and their owners and fans), we will have a great opportunity to share our enthusiasm for Cocktail Class racing. Although the boat design used for cocktail racers dates back to 1939, it's recently become a popular choice for friendly competition as a new, low-cost way to go racing. 
Chesapeake Light Craft in Annapolis, MD, came up with a kit boat using the construction method called stitch-and-glue, suitable for first-time builders. Their kit features a slot-together scheme of wood pieces and using wire ties to hold the wood shapes in their proper place until you fiberglass the parts into a permanent boat. Then you move on to painting it along with installation of the steering and other rigging that makes it "work" as a boat. A 143-page instruction book, with plenty of photos and drawings for each step, make it an easy-to-build boat kit.
Be sure to attend the July 15 event for this special class of racing boats. They may not be lightning-fast, but they're fun, and the crowd watching the action knows it. And that's contagious in a good way. 
Hopefully we'll see you in Bristol this July, but if you can't make it, consider attending some of the Mid-Atlantic chapter's other events this summer. Great fun! 
By Chris "Seabuddy" Brown