Her fins. Her bright two-tone. Her white hull against the strong contrast of a turquoise deck and cockpit. Her look that says: "I was the epitome of boating in the late 50s!" She caught every eye at a recent boat show. She's a Lake 'n Sea brand fiberglass speedboat.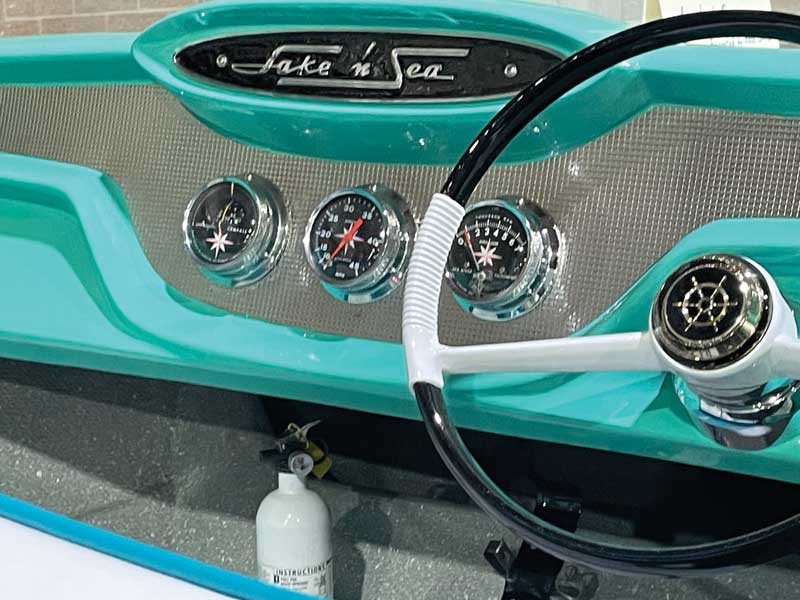 This boat is a classic treasure for three reasons:
There were only a few limited production runs back in the day (three different boat builders produced the same model at different times during the 50s and 60s). 
Only a handful of this model across the entire United States are restored.
Her 1950s era fiberglass in a rich color like this turquoise is seldom seen. 
In a single cockpit she seats five in two rows (each with storage pockets) and has a futuristic dash panel that telegraphs high, 1950s style has arrived via this boat. 
Ross Gale, her owner from New Jersey, is a collector of classic cars (a 40s era Woodie station wagon) in addition to several classic wood boats of the Century Palomino outboard model. Ross will display one of those boats at the next Mid-Atlantic Boat Show on July 9 in Bristol, PA. Ross and his dad are also planning a car travel event with his Woodie Wagon in June. That way, he gets to enjoy both collector hobbies during the summer season.
Ross loves the classics and appreciates the styling that was popular in earlier times. He has impressive collections in both of his hobbies. Each classic is an authentic restoration of that make and model.
Another attention grabber on this boat is her period-correct four-cylinder Mercury outboard motor. Its distinctive cream and black housing are the way it was delivered from Merc to the dealer. Back in the day, the boats and motors were not pre-matched and offered as a package by the boatbuilder to the dealer. Instead, each dealer decided which motor to match with a specific boat at the time of sale. 
This outboard motor has an interesting lineage...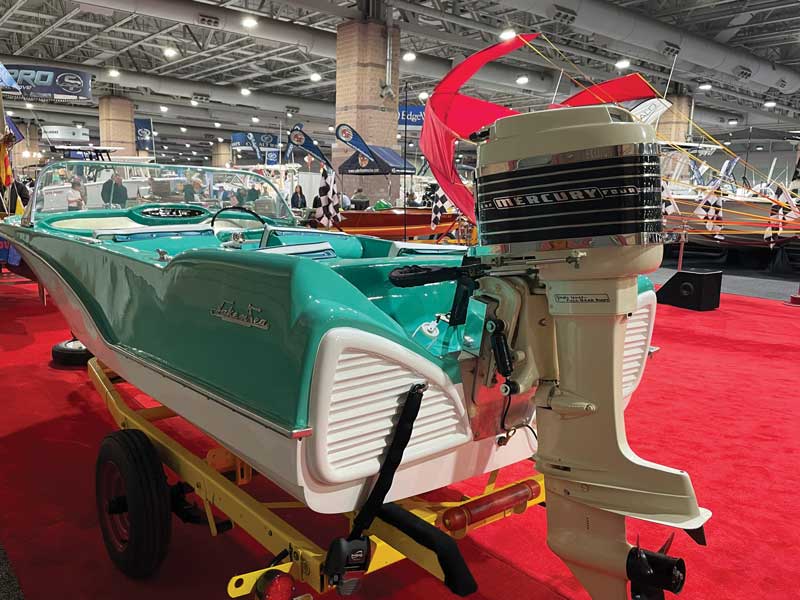 "In 1939, E. Carl Kiekhaefer purchased a defunct engine manufacturing plant in Cedarburg, WI, not far from the Kiekhaefer family farm. Included in the plant assets were 300 outboard engines that had been rejected by a large mail-order retailer due to defects and operating problems.
The rejected boat engines were Thor outboards, named after Thorwald Hansen, founder of the original engine company. The name was supposed to evoke images of Thor, the 'God of Thunder,' but the poorly designed engines more often evoked images of boats without power.
On February 8, 1939, two weeks after assuming control of the bankrupt manufacturing plant, Kiekhaefer sketched a rendering of the improved engine and sent it to the retailer. He and his team initially focused on redesigning the engines into outboards that Kiekhaefer's first brochure described as 'A motor heavy enough to drive your boat, regardless of wind, weeds, waves, and weight.'
Kiekhaefer and his team replaced the original low-quality crankshafts with a forged version from the retailer's largest rival."
At the 1947 New York Boat Show, Mercury introduced "Lightning," a two-cylinder alternate firing design of 19.8 cubic inches. Rated at 10 horsepower, it outperformed competitive engines that were rated twice as powerful.
In 1948, Kiekhaefer built a prototype of the engine he had been promising since before World War II, the Mercury Thunderbolt. It was a larger, more powerful outboard to meet the growing demands of the post-war boating boom. Thunderbolt was the industry's first four-cylinder-in-line, two-cycle, 40-cubic-inch engine. It delivered a whopping 40 horsepower—well in excess of its advertised 25 hp.
In 1957, Mercury introduced the Mark 75 as the industry's first six-cylinder, 60-hp outboard motor. At Lake X, two Mark 75s set a world endurance record, each propelling a family-sized runabout over 50,000 miles in 68 3/4 days of continuous night-and-day running. Refueling on the run, they maintained an average speed of 30.3 miles per hour.
Ross' unique classic speedboat and Mercury outboard motor were definitely attention grabbers when they debuted in the ACBS Mid-Atlantic Chapter's booth at the boat show. If you happen to meet Ross at one of these events, he'll have several interesting stories to share.
By Chris "Seabuddy" Brown