This 1937 Chris-Craft wooden cabin cruiser has been cared for by only three families in her 85 years. In fact, Idle Hour has been local to the Severn River and the Washington, DC, area for her entire boating life.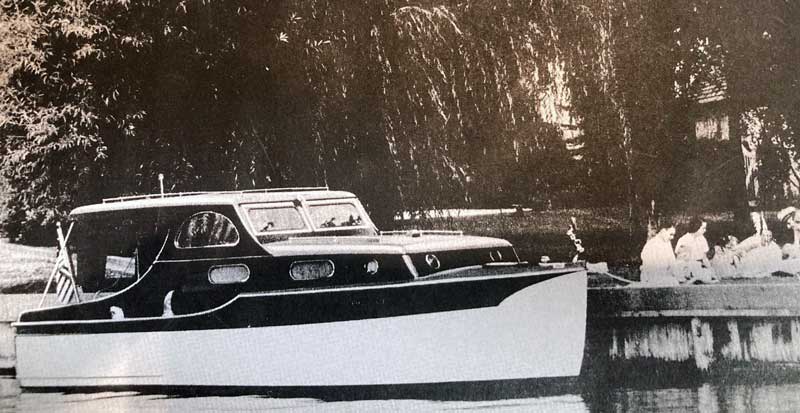 She currently resides with Chuck Warner and Linda Nagle Warner in Annapolis. Both Chuck and Linda have been active in a variety of leadership roles for the Chesapeake Bay Chapter of the ACBS (Antique and Classic Boat Society). Linda has a gift for orchestrating the land display at boat shows, and Chuck has a friendly yet persuasive talent that attracts boat owners to participate in those boat shows. Both are also lifelong members of the international ACBS organization. 
Idle Hour has attended many Chesapeake Bay area events over the years, representing the long history of wooden boats and classic boating in this community. When the Warners attended the 2015 re-christening of the USS Constellation naval vessel in Baltimore, Idle Hour was the second oldest boat at that event. Built in 1854, the USS Constellation is a sloop-of-war, the last sail-only warship designed and constructed by the United States Navy. She is now preserved as a museum ship in downtown Baltimore and is also a National Historic Landmark.
This 32-foot boat has double-planked one and a quarter-inch decks and a double-planked seven eighths-inch Philippine Mahogany bottom with single-planked three fourths-inch Philippine Mahogany hull sides (backed up by closely spaced battens). Her cabin sides are also Philippine Mahogany and bright finished.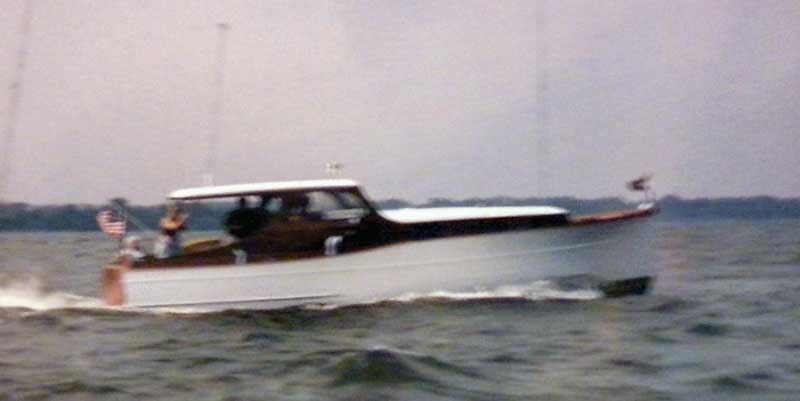 By the way, Philippine Mahogany is not the same species as other mahoganies. Actually, it's not a mahogany at all, but rather a hardwood species of the family Dipterocarpaceae, also known as the meranti family. "Philippine" mahogany is a trade name applied to a variety of different species of the genus Shorea. These species are common in the Philippines, Malaysia, and Indonesia. Other trade names associated with the species are meranti, lauan, and balau. 
The propellor shafts are made of bronze with a one and a quarter-inch diameter. Other machinery specs are also of a good grade and size. Chris-Craft's hull cards, since preserved at the Mariners' Museum in Newport News, indicate that they built 73 of these boats between 1937-1938. Direct from the factory, she had a green bottom and a black waterline along with white hull sides and a hull-varnished accent stripe. Those specs were published for the Chris-Craft dealers on September 8, 1936, for the 1937 models. 
The Chris-Craft brand evolved from 13-year-old Christopher Columbus Smith's first skiff in 1874. In 1910, it became the Smith Ryan Boat Company, known for its mass production of affordable runabouts. In 1922, the name changed to the Chris Smith & Sons Boat Co. In 1930, the company was renamed again, this time as the Chris-Craft Corporation, which it held for 30 years. 
There were some interesting events in the early 1900s for this iconic boat builder... 
As a result of the Depression, Chris-Craft Corporation lost $263,730 in 1932, but fortunately had a reserve of $350,000. To get through this challenging time, the advertising budget was eliminated, along with the company's direct mail, boat show expenses, and photography budget. A Christmas campaign that was a holiday favorite was eliminated, too. 
In addition, a labor dispute and two wage increases were in motion during the time when Idle Hour was under construction. This labor issue was a first for the Chris-Craft Corporation. At least two five-percent pay increases occurred during that period. Company president Jay W. Smith (Chris Smith's son) spoke to his workers as well as the press. Under his leadership for 31 years, Chris-Craft became known as the world's largest builder of mahogany powerboats.
By 1937, Chris-Craft was well in the black, returning to continuous production of boats and yachts. The company created a seasonal price structure: fall delivery for the 1937 boats was cheaper than spring and summer. This pricing strategy enabled its plants to be productive year-round.
Chuck and Linda Warner are expected to be at the 34th Annual Antique and Classic Boat Festival in St Michaels, June 17-19, 2022, on the grounds of the Chesapeake Bay Maritime Museum. Stop by and say hello! 
By Chris "Seabuddy" Brown